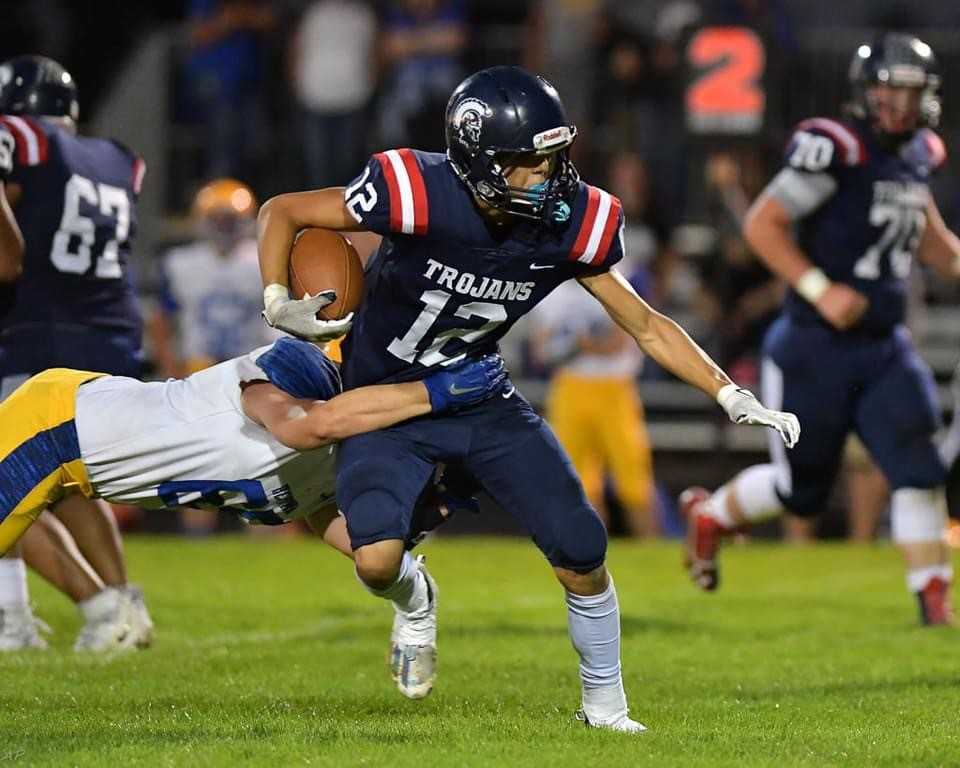 The highly competitive 3A football classification just got even more treacherous.
The addition of state powers Banks and Kennedy from 4A and 2A, respectively, bolsters a division that has featured six different teams in the last three state finals.
Banks – the 4A champion in 2018, runner-up in 2019 and quarterfinalist last year -- has dropped down due to a declining enrollment. The Braves won their last 19 games in the Cowapa League, where they played since 1994.
"There's so much unknown," Banks coach Cole Linehan said of joining 3A. "I know what we're capable of, so it'll be interesting to see what 3A has in store."
Kennedy played in four of the last six 2A finals, winning the title in 2018. The Trojans, who left the Tri-River Conference on a 16-game winning streak, opted to move up to 3A rather than switching to the nine-man game in 2A this year.
"This is what my guys wanted to do," Kennedy coach Joe Panuke said of his players and coaches. "Not one person said they wanted to stay in 2A. They wanted to accept the challenge.
"We played 3A teams in preseason every year and we usually did pretty well against them. With so many returning starters and so many seniors, we felt like we could still be competitive at the 3A level."
Banks lost about half of its starters from last season, including its big guns on offense in quarterback Cooper Gobel, running back Jamar Flippen and tight end Charlie White. The Braves have only seven seniors on their roster.
"It's a bunch of new guys stepping up," Linehan said. "It's fun to see. We might not have the dudes going to Portland State next year, but we do have a bunch of guys that can play good football."
Banks is counting on big seasons from senior running back/defensive end Daevon Vereen, senior receiver Logan Kind, senior quarterback Christian Lyda and his cousin, senior receiver Jackson Lyda.
"Everybody's thinking we lost so much, which we did," Linehan said. "It's hard to replace our big three that we had. But I'm pumped to see these guys play, for sure."
The Braves will play in Special District 1, which includes perennial 3A power Rainier. Banks and Rainier were Cowapa rivals before the Columbians left the league in the six-classification split of 2006.
Linehan, a 2004 Banks graduate, anticipates facing Rainier's power-running game when the Columbians visit Oct. 7.
"We know the diesel is coming," Linehan said. "They ran the diesel back then. That'll be fun to kind of create that new rivalry, one that was definitely a rivalry back in the day. Our youth teams have played them for years. All of our kids, if you just mention the diesel to them, they know we're talking about Rainier."
Kennedy will rekindle rivalries with Amity and Scio as part of Special District 2. The Trojans and Amity were in the same Class A district in the 1970s and 1980s. Kennedy and Scio – who met in the 2A final in 2009, with Scio winning 14-7 -- were longtime members of the Tri-River.
Special District 2 has five teams that have won state championships since 2009 with Amity, Dayton, Kennedy, Santiam Christian and Scio,
"A lot of traditional powerhouse teams in our conference," Panuke said. "It's going to be a lot of fun. It's like I told the guys, 'Every week is like a playoff game. You have to bring your A game every week.'"
The Trojans – with a turnout of about 40, roughly 10 more than usual -- are deep and talented.
They are anchored up front by two three-year starters in seniors Matt Hopkins (6-3, 255) and Briggs Snell (6-2, 250). They are loaded at receiver in seniors Ethan Kleinschmidt, Luke Beyer and Owen Bruner.
Junior quarterback Elijah Traeger, who filled in for the injured Riley Cantu last year and helped lead Kennedy to the state final, is competing with senior Andrew Cuff for the starting job.
If that's not enough, the Trojans added two experienced transfers in senior running back Javier Rodriguez (Blanchet Catholic) and senior linebacker Carlos Recendiz (Silverton).
"I felt if we had stayed in 2A, we would've had a really good shot at making a run for a state championship," Panuke said. "I'm excited to see how that talent carries over to 3A. A lot of guys know how to win football games."