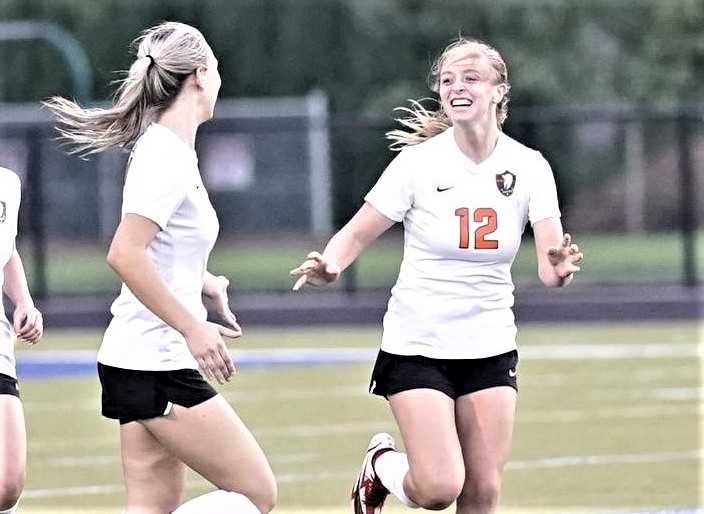 For first-year Gladstone girls soccer coach Anna Heuberger, taking over a team that has lost only 39 games in the last 16 seasons could be a daunting task.
But Heuberger, who came over from McMinnville to replace Tyler Lewis as coach, has discovered that her players are more than willing to assume their share of the burden.
"There's not really pressure for me. The girls just hold themselves to a high standard," said Heuberger, whose team was voted No. 1 in OSAAtoday 4A preseason coaches poll. "It's interesting having a senior-heavy group, the maturity level they have when it comes to reaching those team goals."
Given what they have gone through in their careers, Gladstone's seniors have unfinished business this season.
As freshmen, they helped Gladiators earn the No. 1 seed in the 4A playoffs before losing to Woodburn 2-0 in the quarterfinals. After COVID shortened their sophomore season, they came back as juniors to once again earn the No. 1 playoff seed, only to lose to Woodburn 1-0 in the semifinals.
The home playoff loss to the Bulldogs – who won their second title in three years – was a bitter ending to a dominant season in which the Gladiators outscored opponents 65-5 and finished with a 15-2 record.
"They talk about it all the time," Heuberger said.
The five fourth-year varsity players – forward Rhyli Grim, midfielders Delaney McNett and Sam Jedrykowski, defender Hanne Hopkins and goalkeeper Emersyn Stepp – will get their final crack at it this season, and they are intent on making it count.
McNett was the Tri-Valley Conference player of the year and a 4A first-team selection last season, when she had eight goals and 11 assists.
"She knows what to do with the ball 10 seconds before she receives it," Heuberger said. "She directs traffic for us. She's a super strong player. We're lucky."
Grim had a monster junior season, racking up 27 goals and seven assists.
"She's one of the fastest girls I've seen on the soccer field, especially at the 4A level," Heuberger said. "Rhyli definitely has that competitive attitude. She's just one of those players that has a knack for finding the back of the net."
Helping Grim up front will be sophomore Tori Vera (10 goals, six assists last season) and junior Madison Hill (seven goals, five assists). Hopkins (seven goals, 10 assists) has moved from forward to center back to compensate for the graduation of defensive stalwarts Emma May and Alyx DeVeny.
Heuberger, a former all-league player at 4A Stayton, steps in for Lewis, who went 34-10-1 in four seasons as the team's coach. She made an impact in her first head coaching job at McMinnville, going 11-26-6 in her first three seasons and 14-8-3 in the last two seasons.
The shorter commute to Gladstone was part of the appeal for Heuberger, who teaches social studies at the school.
"It was one of those jobs I always kind of had my eye on, and it popped open," she said.
Huskies in mix
Once again, Gladstone figures to have its hands full in the Tri-Valley with third-ranked North Marion.
The Huskies were league runners-up last year, splitting two matches with the Gladiators, and reached the 4A semifinals before falling to Hidden Valley. This season, North Marion brings back all but four starters, including a first-team all-league pick in junior midfielder Caile Lader.
The Huskies lost some key players, but coach Benjamin Bonser – who guided them to the 2019 semifinals and to the 4A Showcase title in the COVID-shortened season – is confident.
"We have some fantastic players stepping up. I don't expect to see much drop-off," Bonser said. "The team is talented. All but one starter has significant varsity experience and playoff experience."
The team must find a way to replace the offense of its leading scorer, Dominique Huapeo, a 4A first-team pick who is a freshman on the team at Chemeketa Community College. Senior Saylor Swanson returns to start at forward.
The defense, which yielded only 10 goals last year, brings back seniors Adrie Lader and Ashley Delgado, junior Melanie Kirstein and sophomore Chloe Comerford.
Not rebuilding
Despite graduating eight players from last year's 4A quarterfinal team, Marist Catholic coach Stefan Schroffner isn't conceding that the second-ranked Spartans are in a rebuilding year.
"The impact of graduating a large, experienced senior class like this one is significant, however, it will give other upcoming leaders a chance to guide this team," said Schroffner, who coached the Spartans to runner-up finishes in the 2019 state final and the 4A Showcase the following year.
Marist Catholic is loaded in the midfield, led by junior Cloe Chase, the Sky-Em League player of the year and a 4A first-team pick last season when she posted 26 goals and 10 assists in 17 games.
The Spartans' midfield also has all-Sky-Em selections in senior Paige Meador (nine assists) and sophomore Ella Braunger (six goals, eight assists). And they picked up an impact transfer from Churchill in senior Sela Freeman, a three-time 5A Midwestern League all-star.
Schroffner said his team "might have the best midfield in the state. … We can build around that."
Freeman will provide a spark.
"Sela is a physical presence, very technical, has great vision and can shoot from 30-plus yards with both feet," Schroffner said. "She will, without a doubt, be a huge impact to our season."
The coach also likes what he sees in freshman center-back Piper Paslay, who gives the team a "dominant and commanding defensive presence."