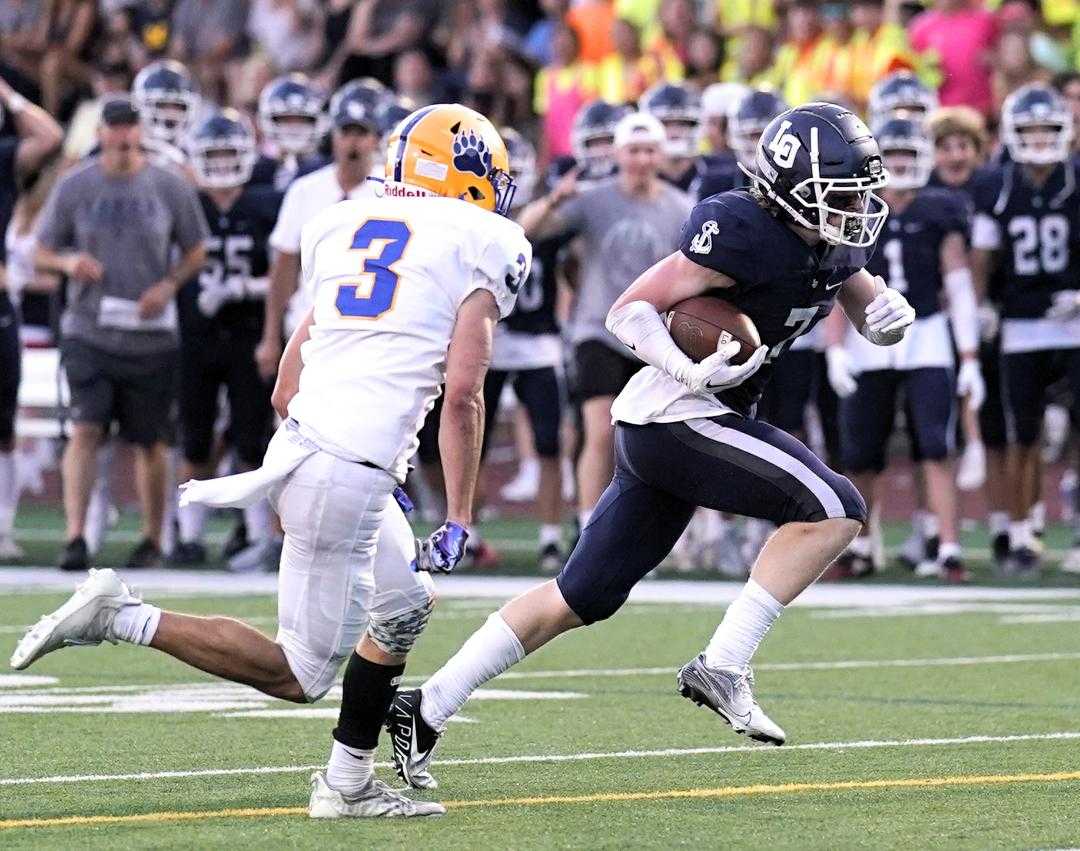 Coming off a 16th quarterfinal appearance in the last 20 seasons as Lake Oswego's football coach, Steve Coury knew the degree of difficulty would be higher this season.
The Lakers lost 23 players from a team that finished 10-2, including the Three Rivers League co-offensive player of the year in quarterback Jack Layne and electric running back Gabe Olvera.
For a program that has been dealing with declining turnout for the past half-decade, finding new players to fill those gaps is a chore for Coury and his longtime assistant coaches.
"It's going to be a huge challenge for the kids and the coaches," Coury said. "It's kind of fun putting the puzzle together.
"It's a cyclical deal. We've been very fortunate. We've had a decent program for a lot of years. We're not going away, but we've got our work cut out."
Coury was encouraged by what he saw when the Lakers opened the season Thursday with a 20-8 home win over Barlow. Junior quarterback Max Brauner completed 16 of 29 passes for 207 yards and two touchdowns, both to senior Henry Smith, who had four catches for 85 yards.
Lake Oswego had more than its share of mistakes and missed opportunities – "You kept thinking we should be up by 28 at one point," Coury said – but it was a solid first step.
"We've got to figure things out," Coury said. "We played a lot of kids, which is always good. As time goes on, we'll settle in to the guys that play longer. We're trying to figure out who's ready for the moment."
Smith, who missed much of last season after having emergency brain surgery for a sinus infection, was one of the bright spots. He caught both of his touchdown passes in the first half as Lake Oswego took a 13-0 lead.
"He's a faster, more athletic kid, and it showed up last night," Coury said. "We're really excited for him and his family, to think a year ago where he was. You have a different perspective when things hit you right in your face. He brings that perspective to practice and games. He's a great leader."
Revenge served cold
It took 14 years, but Central Catholic got some payback for a home loss to Bellevue in 2008, the last meeting between the teams.
Central Catholic struck a blow for Oregon high school football Saturday by going on the road for a dramatic 24-23 win over the Wolverines, Washington's reigning 3A champions and top-ranked team in the state's second-highest classification.
Senior Bo Robertson kicked a 22-yard field goal as time expired to cap a 12-play, 76-yard drive and give the Rams the win. Central Catholic had trailed 23-14 with nine minutes left.
"I feel like our kids showed a lot of grit and resilience down the stretch," said Rams coach Steve Pyne, who was coach in 2008 when Central Catholic fell to Bellevue 41-13. "I have a ton of respect for their program. They're a great team, they're disciplined. They'll win a lot of games this year, for sure."
Central Catholic junior Timmy Mitchell scored on a two-yard run with four minutes left as the Rams drew within 23-21. They got the ball back at their own 20 with 2:10 left and drove for the winning field goal.
On the drive, Central Catholic got big chunks of yards on a pass from junior quarterback Cru Newman to sophomore Zhaiel Smith and a run by Mitchell. Newman threw incomplete twice into the end zone before the Rams lined up for the winning kick with three seconds left.
Newman completed 16 of 26 passes for 228 yards and ran for a touchdown. Mitchell ran for 84 yards and had a 99-yard kickoff return for a score.
Smith caught three passes for 92 yards and senior Solomon McDaniel had two catches for 72 yards and added 11 tackles from his linebacker position.
It was the 15th consecutive win for the two-time reigning 6A champion Rams.
'Monkey off our backs'
No. 1 Wilsonville's chance at redemption nearly slipped away Friday at No. 2 Thurston in a highly anticipated 5A battle.
The Wildcats appeared to be in command with a 22-point lead in the third quarter, but needed overtime to repel the Colts 38-35. The win was especially sweet considering Wilsonville's last three postseasons ended with losses to Thurston in the 2018 final, 2019 quarterfinals and 2021 semifinals.
"We got the monkey off our backs a little bit," Wildcats coach Adam Guenther said. "They've had our number. It didn't seem to work out the last few years. They're a familiar foe, so it was nice. The kids were pretty jacked up about it, as well they should be. Hopefully we won't see those guys again until the last game of the year."
Thurston took the lead in overtime on a 35-yard field goal by Connor Nevin, but Wilsonville answered with a game-winning touchdown, a five-yard run by junior quarterback Kallen Gutridge.
Guenther liked how his players kept their heads despite losing a 32-10 lead.
"We just needed to get back to what got us there to begin with," he said. "Once we did that, we were fine again."
Senior receiver Cooper Hiday caught six passes for 100 yards and two touchdowns and ran for a 37-yard score for Wilsonville.
Thurston had a 433-330 advantage in total yards as sophomore quarterback Noah Blair completed 23 of 31 passes for 278 yards and three touchdowns. But the undersized Wildcats found a way to win.
"We've got some special athletes," Guenther said. "Their line dwarfed ours. They had us by 50 pounds a guy. But we're fast. They just keep flying around and kept coming. We made plays when we needed to."
Wilsonville's rugged nonleague schedule continues with games against Westview, 6A No. 4 Tualatin and 5A No. 3 Summit in the coming weeks.
Hawks soar
Nelson of Happy Valley, which played with one senior in its debut season last year, showed off its newfound muscle in opening with a 28-0 home win over Aloha on Thursday.
The Hawks not only recorded their first shutout in their short history, but they ran for two touchdowns, something they did only once in all of last season, when they finished 2-7.
"You see the growth. We're just more physically mature," said coach Aaron Hazel, whose team allowed 33.8 points per game a year ago. "We're not overpowered across the board. We match up well."
Nelson had four sacks in stuffing the Warriors. Boone Standley, a 6-5, 245-pound junior lineman, had two sacks and a team-high 12 tackles. Junior linebacker Owen Hunt (6-2, 195) had eight tackles.
"We've made a ton of improvement just in tackling," Hazel said. "We didn't have a ton of missed tackles."
Senior running back Jaidon Siler, a transfer from Virginia, made his presence felt by running for two touchdowns and catching a pass for 24 yards. Hazel said the 5-9, 175-pound Siler has a thick lower body in the mold of former Oregon State tailback JacQuizz Rodgers.
"He's dynamic. He got on campus and started turning some heads right away," Hazel said. "He's got a top gear that we didn't have last year."
Sophomore quarterback Avirey Durdahl had a big night, completing 13 of 17 passes for 291 yards and one touchdown. Senior Reid Gray caught five passes for 153 yards and one score.
Durdahl, who started the last five games as a freshman and threw 10 touchdown passes, was efficient in completing passes to seven different receivers.
"He's picking up the nuances of it," Hazel said. "He's always had a strong arm and been super athletic, but now he's starting to understand defenses. His development as a leader has been impressive."
Road warriors
No. 4 Mazama shook off a sluggish start after making a 285-mile bus ride and rolled to a 26-14 win at No. 3 Estacada in a showdown of 4A powers on Friday.
Estacada converted an early interception into an 8-0 lead, but the Vikings responded by scoring the next 26 points. Junior quarterback Tyson Van Gastel ran for two scores and threw two touchdown passes to senior Tyler Aguiar.
"Estacada's one of the more physical teams we've played in a few years, but that bus ride was tough," Mazama coach Vic Lease said. "We got off the bus and it felt like we were still on the bus. The boys settled in and we just played Mazama football from that point."
The Vikings won despite the Rangers having a 298-224 edge in total yards.
"Defensively, they gave us some issues just because of their physicality," Lease said. "We could not match that in practice. It took our boys a while to adjust. … Nobody better sleep on them, because they will get you. We'll probably see them in the playoffs."
After Rangers senior quarterback Cory James ran for the game's first score, Aguiar returned the ensuing kickoff to the Estacada 4-yard line, setting up a one-yard touchdown run by Van Gastel.
Van Gastel threw a 19-yard touchdown pass to Aguiar and ran for a 17-yard score as the Vikings took a 19-8 lead at half. Van Gastel connected for a 20-yard score to Aguiar to make it 26-8 in the third quarter.
The 6-3, 210-pound Van Gastel not only had a hand in all four touchdowns, he also had an interception on defense.
"He didn't get a lot of respect last year because he was a sophomore, but he is phenomenal," Lease said. "He told me before the game, 'Coach, I'm going to be the best quarterback on the field tonight.'"
'Vortex of emotion'
After having its program shut down for the past two seasons, South Eugene was happy to simply be playing a game Thursday night when it made the road trip to McDaniel for a nonleague game.
So it's understandable that the Axe could hardly contain its excitement after a come-from-behind, 26-20 win.
"Controlled mayhem," coach Chad Kessler said of his team's mood after the game. "It was absolute high-voltage electric. Overwhelming emotion of being ecstatic over the situation. It was just a celebration of bringing this thing together and making it happen. It was a culmination of all that. It was a vortex of emotion."
Down 20-13 early in the fourth quarter, South Eugene got a touchdown run by junior Ronan Schmidt. The Axe went for a two-point conversion but a run came up short, keeping them at a 20-19 deficit.
Junior Brian Fadness scored on a 25-yard run with 1:29 left to give South Eugene the lead, and the defense held the Mountain Lions to protect the 26-20 win.
Kessler was impressed by the performance of his players, many of whom were playing in their first high school game.
"First time they've been on a football field, some of them in their lifetime," Kessler said. "Others had only been on a field when they were playing youth football. And their response was tremendous. They played with a ton of enthusiasm. They rallied around each other. It was a fantastic evening for us."
South Eugene mustered only 147 yards of offense – about half of McDaniel's output – but came up big down the stretch.
"In the second half, we started to put it together," Kessler said. "We found some things that were working and just stuck with it."
Schmidt and sophomore Matthias Gardner returned fumbles for scores in the first half.
Other highlights from Week 1:
6A
Tigard rolled David Douglas 48-0 as Nate Duenas caught two touchdown passes from Brady Jordan and Austin Goetz had two interceptions returns for scores. … Antonio Martinez had an interception and Hank Blaha recovered a fumble in Reynolds' 41-0 win over Cleveland. … Josiah Davis rushed for 200 yards and three scores and Jerrik Wangler stood out on defense with two sacks, a fumble recovery and an interception for North Salem, which dispatched Roosevelt 35-3. … Newberg drove 85 yards in the last two minutes to beat Grant 28-27. The Tigers tied at 27-27 on Gannon Williams' touchdown run and Isaac Heveron added the go-ahead extra point. … South Medford scored touchdowns on its first six possession in drilling Beaverton 41-0. Andrew Walker caught four passes for 138 yards and two touchdowns and Ryder Scheid ran for 113 yards on 13 carries for the Panthers. …Jack Wagner threw two touchdown passes to Richie Anderson in Tualatin's 19-12 win over Summit. ...
West Linn defeated North Medford 52-7 in its debut under coach Jon Eagle, scoring 45 points in the first half. Mark Hamper scored on a run, catch and punt return, Earl Ingle returned an interception 30 yards for a touchdown and Sam Leavitt tossed three scoring passes for the Lions. … Jackson Tunick led Grants Pass past Shasta (Calif.) 38-24 with three touchdown catches from Jace Blanchard and a 78-yard kickoff return for a score.. … Sunset forced five turnovers – four on interceptions – to turn back Sandy 14-9. Quarterback Drew Nees rushed for 153 yards and two touchdowns on 26 carries and completed 13 of 20 passes for 113 yards for the Apollos. … Tytan Rekow rushed for two touchdowns and threw a 15-yard scoring pass to Elijah Streeter to lift Liberty over Sprague 21-19. Jayson Ochoa clinched the victory with an interception in the final two minutes. … Sherwood gave interim coach Mark Gribble his first victory, rushing for 313 yards to beat West Salem 31-14. Kasen Covert ran for a score and threw a touchdown pass to Oliver Fisher. West Salem's Kaden Martirano passed for 243 yards and one touchdown. …
Westview's Jordan Fisher rushed for 237 yards and two scores in a 31-28 win over Clackamas. The Wildcats trailed 20-6 in the second quarter. … Sheldon got three touchdown runs from Grafton Robinson in dropping Glencoe 56-0. … Jesuit edged Skyview of Vancouver 24-21 as Payton Roth rushed for 157 yards and one touchdown and Lonnie Burt ran for 97 yards and two scores. … Lakeridge's Ryan Oliver passed for 356 yards and five touchdowns in a 47-0 win over McNary. Baylor Corbin caught 12 passes for 225 yards and three touchdowns and Joey Olsen had four catches for 88 yards and two scores. … Mountainside threw for two scores and ran for another to lead a 35-0 victory over Roseburg. … Century doubled up Forest Grove behind Elijah Garcia, who ran for 118 yards and three touchdowns, and Jonny Ellis, who passed for 254 yards and two touchdowns and ran for a score. ... Daschel Smith completed 22 of 30 passes for 350 yards and two touchdowns in South Salem's 34-28 overtime win over Liberty. Zach Wusstig caught an 54-yard touchdown pass from Smith and returned an interception 11 yards for a score.
5A
Bend smothered Lincoln 48-0, getting three touchdown runs from Logan Malinowski. … Konnor Bickford threw three touchdown passes, two to James Bauman, and Jackson Heath returned an interception for a score as Putnam handled Milwaukie 28-7. … Andrew Kelly ran for three touchdowns in the first half as Crater built a 49-0 lead and beat North Bend 52-0. Shane Wood threw two touchdown passes for the Comets. … South Albany held off Central 17-7 as sophomore Logan Johnson rushed for 104 yards, including a 73-yard score, and Deshawn Gilliam returned a kickoff for a touchdown. Jr Vasquez and Max Williams had interceptions for South Albany. … Marcus Allen rushed for 115 yards and three touchdowns on nine carries in West Albany's 40-13 win over Corvallis. Lukas Hews completed 18 of 26 passes for 311 yards and three scores for West Albany. … Southridge's Jack Klee threw five touchdown passes – three to Errol Moreland and two to Alisjah Tucker – to lead the Skyhawks past Centennial 42-13. … Colton Horner threw four touchdown passes to Nate Wachs in the first half of a 44-8 win over Hood River Valley. …. Jackson Pfeifer scored five touchdowns – two rushing, one receiving, one on a kick return and another on an interception return – as reigning 5A champion Silverton held off Dallas 40-29 in coach Dan Lever's debut. … Canby edged Mountain View 21-18 behind Tyler Konold, who rushed for 243 yards and two touchdowns on 23 carries.
4A
The Dalles thumped Parkrose 46-6 in the debut of head coach Marc Schilling. Manatu Crichton-Tunai returned a blocked punt for a touchdown, Evan Baldy turned a strip-sack into a 70-yard fumble return for a score, Anthony Jara had two interceptions and Josh Taylor threw two touchdown passes to Andre Niko, who also ran for a score. … Quarterback Jack Davis had a big night in Pendleton's 27-0 win over Caldera. He passed for 206 yards and two touchdowns, ran for a score and had three interceptions on defense. Payton Lambert rushed for 90 yards for the Buckaroos. … La Grande fell to Weiser (Idaho) 13-8, getting only a 13-yard touchdown run from Wyatt Livingstone. Quarterback Logan Williams ran for 79 yards for La Grande. … Marist Catholic ran away from Churchill 38-7 as Drew Salnas ran for 185 yards on 16 carries and Jackson Gibeau threw two touchdown passes. … Reigning 4A champion Marshfield got two touchdown passes from Austin Fitzgerald Thornton to beat Tillamook 15-14. … Trey Dieringer ran for two touchdowns and Warren Haatia had four sacks to propel Scappoose past Gladstone 26-7. … Henley scored on a two-point conversion with no time left to beat Seaside 22-21. The Hornets pulled within 21-20 on a five-yard pass from Shaw Stark to Luke Bennett as time expired.
3A
Tyson Delplanche completed all eight of his passes for 190 yards and three touchdowns for St. Mary's, which dropped Sutherlin 35-6. TJ Flowers caught scoring passes of 28 and 62 yards for the Crusaders, who led 28-0 at half. … Cascade Christian blasted Douglas 53-6 as Kameron Rague had three touchdown runs and Triston Wallace rushed for 101 yards and one score on eight carries. … Jacob Logan rushed for 106 yards and four touchdowns for South Umpqua, which built a 50-0 halftime lead and defeated Phoenix 50-6. … Dayton rushed for 369 of its 409 yards in beating Yamhill-Carlton 48-13. Zach Smith ran for 201 yards and four touchdowns on 18 carries and Nate Arce rushed for 102 yards and one score and had an interception return for a touchdown for the Pirates. … North Valley won 16-13 over Lakeview, which got 91 rushing yards from Brandon Markus. … Kade Long returned a kickoff 100 yards for a touchdown and Andrew Brown scored on an interception return as Banks blanked Astoria 28-0. ... Down 13-6 in the third quarter, Warrenton came back to top Amity 20-13.
2A
Dylan Damewood rushed for 220 yards – including touchdowns of 45, 20 and 60 – threw a scoring pass and had 12 tackles to lead Glide past Grant Union 35-8. … Oakland dominated Monroe 42-14 as Cade Olds rushed for 125 yards and two touchdowns and Cole Collins passed for two scores. … Landon Mitchell ran for two touchdowns and threw for a score and Hayden McMahon rushed for 86 yards on five carries as Heppner beat Toledo 40-6. Toledo's Raydon Taylor ran for 156 yards and a touchdown on 12 carries. ... Regis rallied from a nine-point, fourth-quarter deficit to defeat Gaston 29-28. The Rams got two safeties in the fourth quarter to make it 29-23, and after a fumble recovery, got the go-ahead score with two minutes left on a 30-yard pass from Collin Schumacher to Tim Crowell. Schumacher sealed the win with an interception. ... Maddox King rushed for 114 yards and two touchdowns on 17 carries and Easton Berry connected with Cameron Reich for two scoring passes to lead Weston-McEwen past Culver 36-26.
1A-8
Lost River knocked off reigning 8-man state champion Adrian 44-28, avenging a 62-20 loss in last year's semifinals. The Raiders rushed for 385 yards, getting 240 yards from Nathan Dalton, who scored on runs of 75 and 71 yards. Connor Dunlea scored on a 91-yard kickoff return and 82-yard catch and had an interception. Jace Bateman threw three touchdown passes for Adrian. ... St. Paul rushed for 443 yards and nine touchdowns – getting scoring runs from seven players – in routing Dufur 66-6. Quarterback George Pohlschneider and Clay Smith each ran for two touchdowns and Aiden Britten rushed for 97 yards and one score for the Buckaroos, who led 52-6 at half. ... Ione/Arlington stopped Wallowa 48-0 as Carson Eynetich threw three touchdown passes and Bryce Rolling had five sacks. ... Imbler built a 36-0 halftime lead and coasted past Pilot Rock 44-8.
1A-6
Powers won at Elkton 14-7, getting 118 rushing yards and two scoring runs from Alex Mahmoud. Charlie Shorb had a sack and 2.5 tackles for loss and Jayce Shorb forced a fumble for the Cruisers. … Joseph took advantage of five Echo turnovers to open a 24-6 lead at half and hang on to win 24-21. … Spray/Mitchell/Wheeler defeated Huntington 73-0 as Carter Boise, Nate Clark and Raider Poppe each rushed for two touchdowns. Clark and Poppe returned interceptions for scores and Damien Doblas had a fumble recovery for a touchdown.