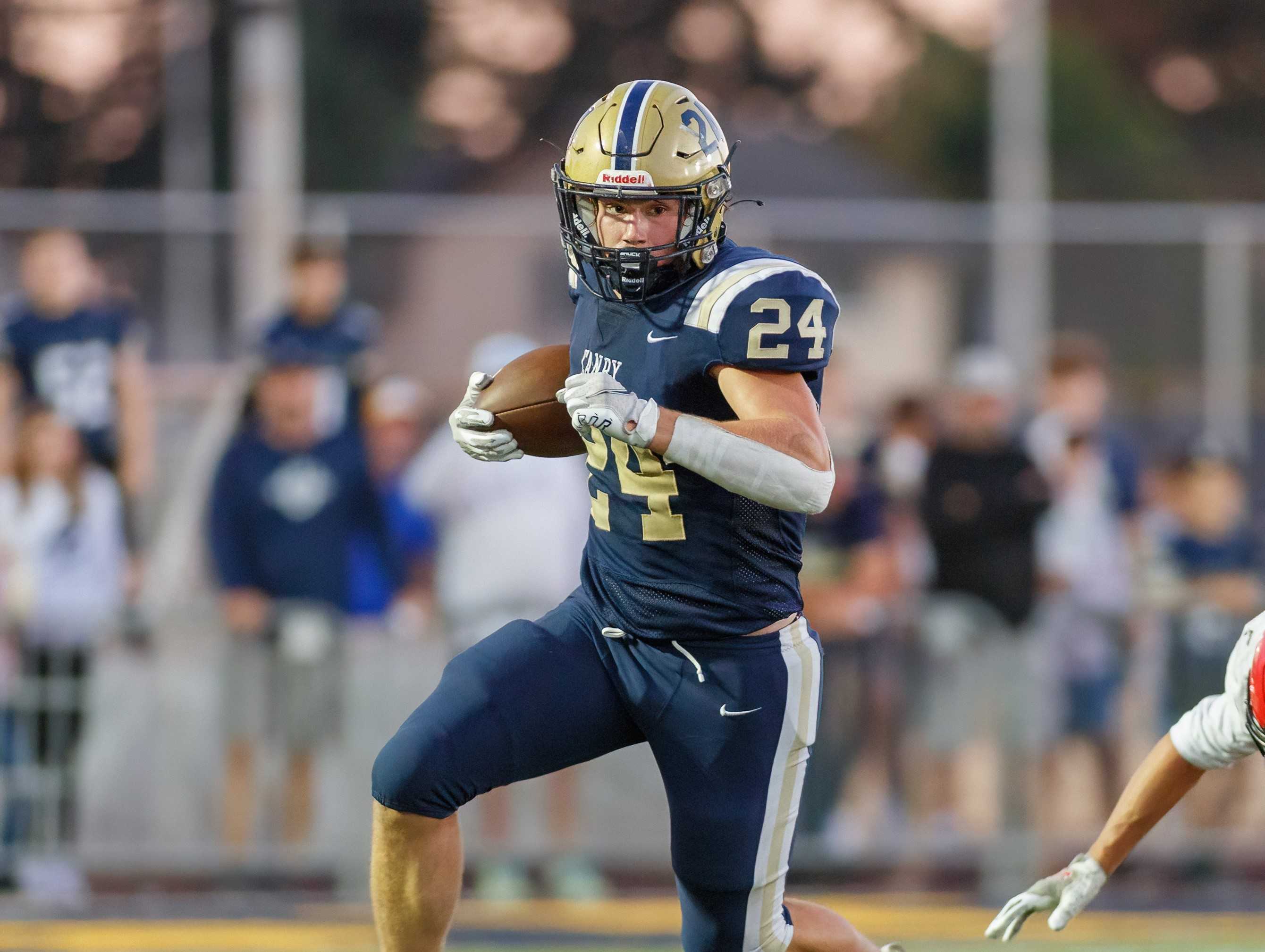 Rising 5A power Canby showed its resilience by overcoming the absence of star running back Tyler Konold and its top two quarterbacks to win 37-7 at 6A Beaverton in a nonleague football game Thursday.
Konold, a junior who rushed for a 5A-high 495 yards in the first two games, suffered a sprained ankle on the opening kickoff and saw limited action in one quarter before coming out of the game.
The third-ranked Cougars (3-0) had to go with their third-string quarterback, sophomore Kellen Oliver, after junior starter Gage Millar injured his knee in practice Tuesday and junior Parker Ackerman injured his ankle in the second quarter against the Beavers (0-3).
"We suffered injuries and we still were able to handle our business," Canby coach Jimmy Joyce said. "The depth that we've been able to create, and having higher numbers, is great. I'm really happy with the way the kids just battle."
The young Cougars got a breakout performance from speedy junior receiver Cohen Hall, who ran for an 18-yard touchdown on a reverse and caught scoring passes of 22 yards from Ackerman and 38 yards from Oliver. They were Hall's first varsity touchdowns.
"He's a kid that's coming into his own," Joyce said. "We've been pretty high on him for a while. He's kind of a track star. He can really stretch the field."
Oliver threw a 25-yard completion on his first varsity snap and was steady behind center. The Cougars got touchdown runs from Landon Sprague and Ethan Ensrud.
Konold finished with 34 yards on four carries. Joyce said Konold wanted to keep playing after taping the ankle but sat the final three quarters as a precaution.
"He toughed it out. You could tell he had a hitch in his step, but he was still running really hard," Joyce said. "He kind of tweaked it again on a pass play, so we pulled him. It's something we'll have to evaluate. We want him to be healthy for our stretch run in league. He'll be back sooner rather than later."
Canby plays host to No. 6 Bend (3-0) in a nonleague game before starting Northwest Oregon Conference play Sept. 30 at Southridge (3-0). The Cougars' first six opponents played in 6A last season.
After going 8-3 and reaching the 5A quarterfinals last year, Canby believes it can make a playoff run this season.
"We feel we can compete with pretty much anybody," Joyce said. "We're not the biggest team, in terms of size, but we fight. We're looking forward to it. We want to be playing in November."
The Cougars are winning despite having only 14 seniors on their roster. The future is bright considering Canby had 38 freshmen turn out and the youth program has more than 300 players.
"Football is kind of exploding again in Canby," Joyce said. "It's really cool to see. We have some big-time talent coming up in the seventh- and eighth-grade classes."
Back on track
No. 4 West Linn bounced back from a home loss to No. 1 Sheldon with a convincing 31-20 win at No. 3 Jesuit on Thursday, winning on the Crusaders' field for the second season in a row.
First-year Lions coach Jon Eagle liked how his team responded after the 35-31 loss to the Irish.
"Losing exposes problems, so we just went to work," he said. "The kids carried it out."
West Linn dominated the first half, taking a 24-0 lead into the locker room. But Jesuit pulled within 24-13 midway through the third quarter and was driving for another score early in the fourth quarter when, on 4th-and-7 at the West Linn 29, defensive end Jake Holmes batted down a pass.
"That was huge," Eagle said. "The momentum had swung to them, and we needed a guy to step up and make a play, and Jake did it."
Eagle was less than thrilled with how his team protected its big lead, however.
"We've got to play four quarters," he said. "It felt like a very young team in terms of, at halftime, they were all smiling and laughing. I thought, 'This is not good.' I've seen things go south too many times."
The Lions put away the game with a seven-minute drive that ended with a 27-yard touchdown run by Ben Winjum, making it 31-13. Eagle lauded his offensive line – junior center Ridge Huot, junior guard Hunter Harding, senior guard Eric Murtaugh, sophomore tackle Jake Normoyle and junior tackle Stephen Del Guidice – for igniting the run game.
"They're very young and we've been challenging them," Eagle said. "We've got to develop a run game, and I thought we were able to do that. We finally started to get a sense of how we want to run the ball."
The Lions ran for 156 of their 368 yards, led by Koffi Kouame, who had 21 carries for 88 yards and one touchdown. Quarterback Sam Leavitt ran for a 17-yard touchdown and passed to Mark Hamper for a score.
West Linn also got a lift from senior Jackson Shelstad, a University of Oregon basketball commit playing his first varsity football game. Shelstad made a 48-yard catch in the second quarter to set up a field goal.
The Lions' tough nonleague schedule continues Friday when they play host to Lake Stevens, the top-ranked big-school team in Washington.
4A showdown
No. 1 Mazama is firmly established as the 4A favorite after thumping No. 2 Marist Catholic 42-7 at home Friday night in a rematch of the 4A Showcase final from the COVID-shortened season.
But Vikings coach Vic Lease is tamping down the hype.
"We know that it's going to take a lot to get us there," Lease said. "And we're not very deep. My first group is pretty good, and I'd line them up against anybody. But an injury, or something of that nature, we're a completely different football team. We have to stay healthy."
In Friday's win, junior quarterback Tyson Van Gastel ran for 153 yards and three touchdowns on 17 carries and threw for a score to lead the Vikings (3-0), who held the explosive Spartans (2-1) to 119 yards.
Senior defensive back Treyce Horton had two interceptions, returning one for a score. And defensive lineman Keegan McDonald, a 6-5, 285-pound senior, was a force up front as the Vikings held Marist Catholic to negative rushing yards in the first half.
Lease said his team is making steady improvement since opening the season with a 26-14 win at No. 4 Estacada.
"We are getting better, just execution on offense," he said. "Defensively, we're reading a ton better. Against Estacada, we had some really bad blown assignments that really could've hurt us, and we've taken care of those over the last couple weeks. That's the reason why I scheduled games against these caliber of teams, because we knew we'd get good looks."
The offensive line, with four new starters, is making big strides.
"They're getting a crash course on how we do things against some very good opponents," Lease said. "The learning curve is sharp, and they're getting it done for us."
Reversal of fortune
One year after Pleasant Hill finished 0-8, its first winless season since 2007, the Billies are off to a 3-0 start under first-year coach Jeremiah Heacock.
Pleasant Hill won 20-14 at Harrisburg (1-2) in their 3A Mountain Valley Conference opener Friday. Sophomore Kaden Howes scored touchdowns receiving and on an interception return, junior Colton Kaiser caught a scoring pass and freshman Jacob Neely had two interceptions.
It's the first 3-0 start since 2012 for the Billies, who haven't had a winning season since going 6-4 in 2016.
"I'm super proud of our kids," said Heacock, who came over from 5A Thurston, where he spent 21 seasons as an assistant. "It's been great to see them rise to the occasion and embrace the challenges. There are so many guys that are stepping up and buying in. It's been great to see them enjoy and play for each other."
The offense reached 20 points in only one game last season but has done it three times this season. The passing game, with senior quarterbacks Matthew Dutton and Brasen Holliday, is evolving as five players have caught touchdown passes in Kaiser, Howes, Neely and seniors Dominic Weimer and Travis Gielish.
"Our quarterbacks have done a good job of spreading it around," Heacock said. "The offense is starting to come together. We're starting to really utilize the playmakers that we have, and get into a rhythm with our quarterbacks and offensive line."
The defense is holding opponents to 8.0 points per game. The defensive line – ends Cam Griffiths and Garett Foglio and tackles Dominic Duckett and Brazen Ellis – has been stout against the run. Neely has six interceptions, two in each game.
The Billies forced four turnovers against Harrisburg, including three interceptions of quarterback Jack Lidbeck, who was coming off a 395-yard, six-touchdown performance against Corbett.
"He put the ball in some really tight windows. He was impressive," said Heacock, who spent the previous two seasons as Thurston's defensive coordinator. "We just tried to play tight man coverage and forced some tight windows."
Up next for the Billies is a home date against No. 1 Banks (3-0) on Friday.
Seeing the light
As much as longtime Crane coach Stub Travis reveres tradition, even he is being won over by the new lights on the school's football field.
The 1A-8 Mustangs, who had played afternoon home games since the program started in 1948, finally moved into prime time Thursday when they beat Imbler 44-0 in the first night game on their field.
"The lights are great, as good of lights as I've seen around the state," said Travis, whose team improved to 3-0. "A lot of eight-man fields, the lights aren't very good. The lights they put here, they're pretty nice."
Travis, who is 162-59 in 23 seasons at Crane, said initially he had mixed feelings about the lights, in much the same manner as when the school remodeled its gym, where he has coached three state champion girls basketball teams in 27 seasons.
"I kind of hated seeing them put plastic bleachers in and take the old wooden ones out," Travis said. "Maybe I'm getting old and I don't like change. But I'm pretty excited about the lights, and I know the kids are."
Crane played its first two home games on the road, facing Myrtle Point at Dufur and playing Dufur at Ridgeview. The Mustangs had their first practice under the lights Wednesday night.
Crane is among a handful of eight-man teams adding lights in recent years, such as Adrian and Powder Valley.
"We're a ranching community, so I think our spectators are pretty happy with it, because a lot of them left work to come to games before," Travis said. "I know the school board members have kids, and they're sure happy about it. That was a big part of the push to get them."
The school district contributed $169,000 for the project and another $50,000 was donated, much of it in-kind contributions from local construction workers and electricians.
Other highlights from Week 3:
6A
South Medford stayed unbeaten with a 55-21 win over McNary as Deacon Edgar completed 18 of 24 passes for 267 yards and five touchdowns and ran for a score. Ty Henry and Andrew Walker each caught two touchdown passes for the Panthers. … Ty Pugliano ran for three touchdown and AJ Pugliano caught two scoring passes from Caiden Lacey to lead North Medford past West Salem 35-14. … Avirey Durdahl threw three touchdown passes in the first quarter, two to Reid Gray, to propel Nelson past Reynolds 41-6. … North Salem blanked Roseburg 26-0 as Josiah Davis ran for 138 yards and three touchdowns and DeMari Thompson ran for 164 yards, including an 87-yard score. … Sentori Martino returned the opening kickoff 90 yards for a touchdown and Elijah Greenup caught two scoring passes from Jett Fay as Barlow beat Gresham 40-14. Gresham's Andre Miller had nine catches for 117 yards, ran for a score and had a fumble recovery and blocked PAT. …
Clackamas smothered David Douglas 41-0, getting two touchdown catches and a scoring run from Cooper Beltz. … Kellen Hicks had an interception return for a score and Brayden Boe caught a touchdown pass as Mountainside overcame Lake Oswego 24-7. … Central Catholic brushed off Sandy 41-6 as Cru Newman completed 13 of 21 passes for 251 yards and two touchdowns and ran for 64 yards on five carries. Michael Williams returned a kickoff 92 yards for a score for the Rams. … Newberg throttled Aloha 60-7 as Gannon Williams scored touchdown rushing and receiving. … Konner Grant rushed for 129 yards and two touchdowns in Tigard's 48-20 win over Glencoe. … Tualatin held 5A Wilsonville to 84 total yards in a 44-7 win. Jack Wagner threw four touchdown passes and Luke Ash rushed for 157 yards for the Timberwolves. …
Top-ranked Sheldon got a big game from Brock Thomas, who passed for five touchdowns, ran for a score and had an interception on defense to lead a 41-0 win over Sprague. … Sherwood's Nick Gribble rushed for four touchdowns in the fourth quarter and finished with 143 yards to lead the Bowmen past Lakeridge 47-35. The Pacers' Ryan Oliver threw four touchdown passes, two to USC-bound Joey Olsen. … Trailing Liberty 35-28, Sunset got a 34-yard touchdown pass from Drew Nees with five seconds left, and a two-point conversion pass from Nees to Cole Massar, to win 36-35. The Falcons had taken the lead with 39 seconds left on a 19-yard run by Vincent Cabezudo. … McMinnville held Ridgeview to 54 total yards in a 15-7 win. Austin Rapp rushed for 121 yards and two touchdowns for the Grizzlies. ... South Salem led 48-0 at half and beat Grants Pass 48-7. Saxons quarterback Daschel Smith played one half and completed 21 of 24 passes for 281 yards and five touchdowns and ran for a score. Several different Saxons scored touchdowns.
5A
David Brown ran for a 69-yard touchdown in the fourth quarter to give Eagle Point the lead in a 23-20 win over Churchill. Brown rushed for 240 yards and three touchdowns on 31 carries for the Eagles, who fell behind after leading 17-0 at half. … Springfield took advantage of five turnovers to defeat Crater 33-15. Dwayne Fotta caught two touchdown passes from Caeleb Kasperek for the Millers. … Luey Campos caught four touchdown passes from Rocco McClave – three in the first quarter – in Crescent Valley's 32-27 win over rival Corvallis. … South Albany had a 363-9 edge in rushing yards in dispatching McKay 39-8. Anthony Vestal rushed for 122 yards and two touchdowns for South Albany. … Connor Crum passed for four touchdowns and Ben Yundt ran for two scores for Mountain View in its 42-7 win over Forest Grove. …
Sam Stephens rushed for two touchdowns to spark Summit past 6A Westview 28-12. The Storm had a 320-205 edge in total yards and held Wildcats standout running back Jordan Fisher to 78 yards and one touchdown on 21 carries. … Thurston held North Eugene to 14 total yards in a 35-0 win. Noah Blair completed 7 of 8 passes for 193 yards and two touchdowns and Darien Witham scored on a run and interception. … Southridge's Jack Klee passed for five touchdowns, including the go-ahead 25-yarder to Alisjah Tucker with 25 seconds left, to beat Hood River Valley 35-28. … Emilio Miranda and Zayvian Webster combined to rush for 258 yards and five touchdowns as Dallas cruised past Lebanon 41-12. … Bend knocked out Centennial 54-0, getting two touchdown passes from Logan Malinowski to Blake Groshong. … Tyler Creswick returned an interception, kickoff and punt for touchdowns to lead Putnam past La Salle Prep 36-13.
4A
Henley's Logan Whitlock rushed for 169 yards and two touchdowns on eight carries, and Shaw Stork passed and ran for two scores each, to help beat Ashland 48-19. The Grizzlies' Jojo Harrower passed for 289 yards and three touchdowns – two to Gavin White – in defeat. …Pendleton suffered its first loss, falling to Lewiston (Idaho) 49-14. Jack Davis threw a touchdown pass to Ben Jennings and Payton Lambert ran for a touchdown in the loss. … Scappoose got two touchdown passes from Max Nowlin and a kickoff return for a score from Johnny Clothier to roll over The Dalles 47-8. … Marshfield beat North Bend 41-13 in the Civil War as John Lemmons rushed for 147 yards and three touchdowns on 23 carries. …
Madras improvedto 3-0 by holding off 5A Caldera 14-6. Caldera's Darik Taroli scored on a five-yard run, the school's first touchdown, for a 6-0 lead, but Madras' Dru Boyle threw for two scores in the second half, including a 50-yard strike to Tyler Clarkson in the fourth quarter. … Milwaukie built a 20-0 lead after three quarters and held on to repel Molalla 20-14, getting a game-clinching interception in the end zone by Jayden Robertson. … Estacada outlasted La Grande 32-28 as Waylon Riedel rushed for two touchdowns and James Durand caught two scoring passes. … Tillamook ran for 327 yards in taking out Woodburn 28-7.
3A
Tyson Delplanche completed 6 of 8 passes for 93 yards and four touchdowns and ran for a score as St Mary's handled Phoenix 56-16. Bradley Patten had a 75-yard interception return for a touchdown and caught a 37-yard scoring pass for St. Mary's. … Ashton Moody scored on a kickoff return, catch and run in Cascade Christian's 55-0 win over Brookings-Harbor. The Challengers held the Bruins to minus-12 total yards. … South Umpqua thumped Lakeview 41-0, getting 142 rushing yards and three touchdowns from Jacob Logan. Lancers quarterback Jace Johnson had six carries for 111 yards and two touchdowns and threw for 143 yards and one score. … Douglas ended an eight-game losing streak by rallying from a nine-point, third-quarter deficit to beat Sutherlin 26-22. Alex Metianu returned a kickoff 95 yards for a score to pull the Trojans within 22-20, and Branson Willis ran for a five-yard touchdown, his third score of the game, for a 26-22 lead with 4:13 left. …
Santiam Christian overran Salem Academy 42-0 behind Jayden Christy, who rushed for 201 yards and three touchdowns on 15 carries. …Baker topped Vale 33-14 as Paul Hobson ran for a touchdown and threw two scoring passes to Hudson Spike. Vale's Brooks Haueter had eight catches for 112 yards and one touchdown. … Banks trailed 9-7 late in the second quarter before taking control and beating Warrenton 24-9. Logan Kind returned an interception 62 yards for a score and caught touchdown passes of 39 and 15 yards from Christian Lyda in the win. ... Evan Berkey threw three touchdown passes, two to George Meeker, to lead Amity past Scio 35-18. Meeker also had an interception. ... Kennedy rolled Jefferson 64-0, getting two touchdown runs each from William Schaecher and Charlie Beyer. Carlos Recendiz ran for a score and recovered a fumble for a touchdown.
2A
Gold Beach ran over North Douglas/Yoncalla 36-18 behind Nelson Willstead (189 yards) and Jake Westerman (138 yards). … Bandon turned back Glide 35-12 as William Panagkis ran for two touchdowns and threw for another. … Oakland built a 54-14 halftime lead on its way to a 54-28 win over Illinois Valley. Gabe Williamson, Brayden Webb and Cade Olds each ran for two touchdowns for Oakland. … Kaden Salamanca threw three touchdown passes to Emilio Jaimez and ran for a score to lift Umatilla over Grant Union 44-0. … Heppner rolled over Irrigon 46-8 as Hayden McMahon ran for 116 yards and one touchdown and Caden George scored rushing and receiving. .. Said McWillie had scoring runs of 46 and 10 yards to propel Rogue River to a 22-0 win over Reedsport. ... Nate Young carried 16 times for 301 yards and four touchdowns as Monroe defeated Waldport 48-0.
1A-8
No. 2 St. Paul turned back No. 1 Lost River 46-32 at home in a battle of powerhouse teams. The Buckaroos trailed 16-0 in the first half and 32-30 in the third quarter but came back behind George Pohlschneider, who completed 11 of 18 passes and four touchdowns, three to Warren Rose, who had six catches for 110 yards. Clay Smith had 20 carries for 201 yards and two scores for St. Paul. Lost River's Chase McAuliffe rushed for 101 yards and two touchdowns on 10 carries. ... Myrtle Point dropped Camas Valley 48-8 as Logan Backman threw four touchdown passes, two to Andreas Villanueva, who also had an interception return for a score. ... Cole Martin ran for three touchdowns and passed to Braxston Gollar for a score as Powder Valley pulled away from Sherman 51-12. Jackson Chandler ran for a touchdown and had an interception and lineman Case Lind dominated on both sides of the ball for the Badgers. ... Mohawk edged Bonanza 22-20 behind Randy Turner, who had six catches for 87 yards and three touchdowns. Konor Robinson passed for 144 yards and three scores and sealed the win with a sack on a Bonanza two-point try with three minutes left. Bonanza's Adrian Mojica ran for 163 yards and three touchdowns. ... Enterprise beat Dufur 42-16 as Ashtyn Irwin rushed for 204 yards and three touchdowns on 11 carries. Chase Fent had 19 carries for 116 yards and one touchdown and added a scoring catch from Tyler Knapp, who completed 10 of 16 passes for 197 yards and two touchdowns. Enterprise pulled away in the second half by racking up 353 yards and five touchdowns.
1A-6
Nathan Rausch ran for 198 yards and three touchdowns and Christian Halstead added two rushing scores for Elkton, which dominated Days Creek 46-0. … Echo blasted Huntington 44-0, getting two touchdown runs from Tanner Arbogast, in a game called at halftime. Keegan Chitty had an interception for Echo. ... Rene Sears rushed for 126 yards and two touchdowns, passed for a score and returned a kick for score, in Powers' 54-13 win over North Lake. Alex Mahmoud also ran for two touchdowns and passed for a score for the Cruisers. ... Siletz Valley turned back Eddyville Charter 40-39 behind Tyee Yanez, who rushed for 242 yards and two touchdowns and had a team-high 14 tackles. Sterling Buckley added 86 rushing yards and 11 tackles for Siletz Valley. ... Triangle Lake blitzed Glendale 55-6 as Garrett Warren ran for 184 yards and four touchdowns and Gus Gamache passed for 180 yards and four scores, two to tight end Mitch Dumford. Brothers Matt and Ben Wyse combined for nine tackles for loss, two sacks, two forced fumbles and three fumble recoveries in the win. ... Spray/Mitchell/Wheeler downed Pine Eagle 36-0 as Nate Clark scored touchdowns on a run, punt return and interception return. Carter Boise and Arram Ford rushed for scores.