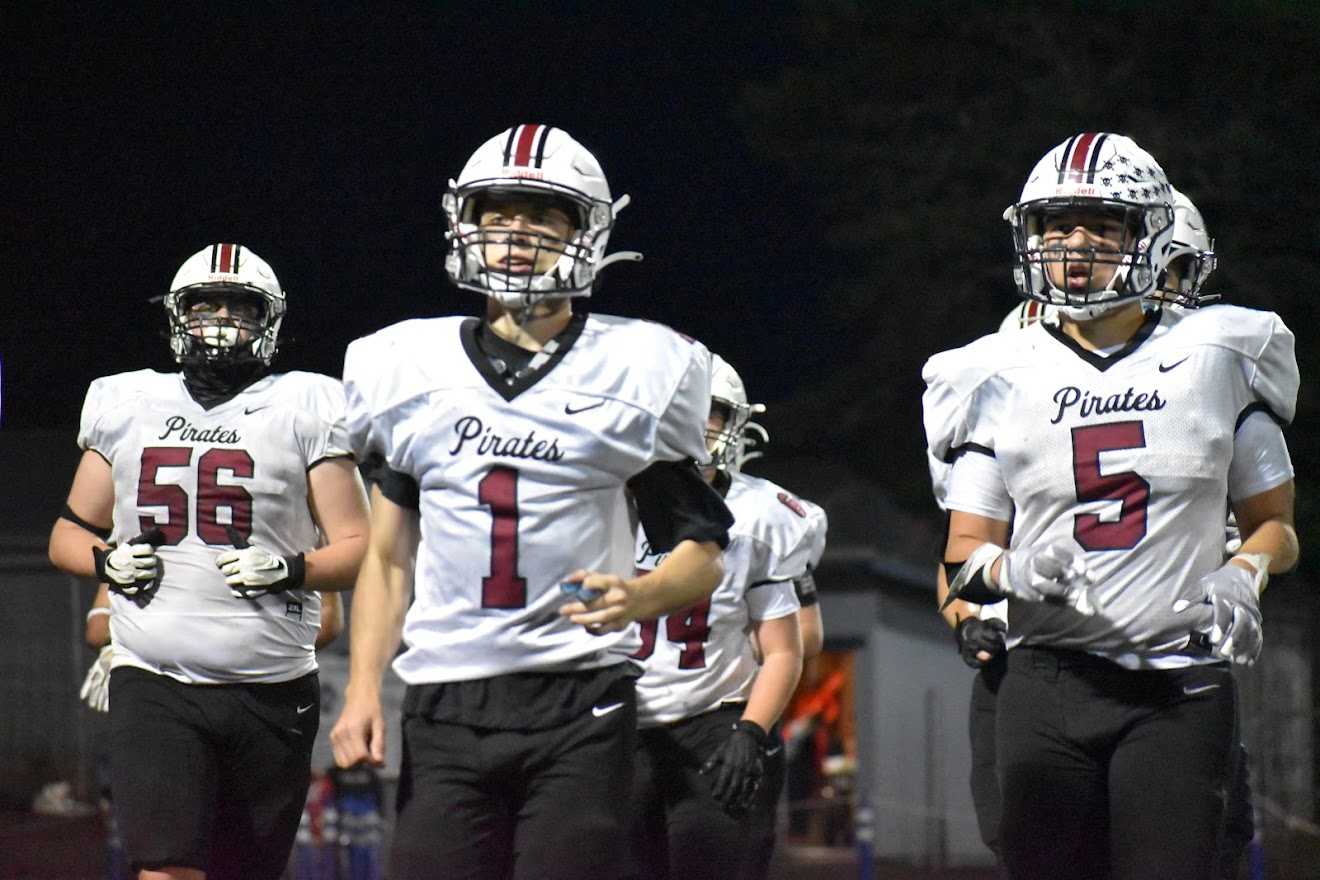 Returning most of the lineup from its first league title team in five years, Dayton believed it was ready to trade blows with the best in 3A football this season.
So when the Pirates found out that Kennedy and Santiam Christian – teams that have combined for five state-final appearances in the last five years, each winning a title – would be entering their league this season, they welcomed the challenge.
"The kids want to play tough games. They want to earn things," Dayton coach Jacob Peterson said. "Us, Kennedy and Santiam Christian could all probably beat anybody on a given day. We'll have to see how it shakes out. I'd rather coach meaningful games all season than coast."
The Pirates (3-0, 1-0), ranked No. 4 in the OSAAtoday 3A coaches poll, will get their first taste of that competition Friday when they play host to No. 5 Kennedy (3-0, 1-0) in a pivotal Special District 2 game.
Both teams have been dominant so far, Dayton winning by an average of 33.0 points and Kennedy's margin at 44.0. The game promises to be a clash in styles, featuring Dayton's grinding wing-T offense and Kennedy's explosive passing attack.
"Breaking down film with Kennedy, everywhere we look, they're faster than us," Peterson said. "Every matchup, we go, 'Well, we're stronger. ' We're going to have to help our guys, put them in the right spot to handle the speed. Hopefully we'll punch them in the mouth a bit and give them a more physical game than they're used to."
Dayton's offense features junior running back Zach Smith (5-11, 185), who has rushed for 624 yards and seven touchdowns. He and senior running back Nate Arce (5-10, 205), who has run for 152 yards and four scores, are a dangerous duo.
"The first two teams, especially, they were keying so hard on Arce," Peterson said. "Teams can't do that when we've got a balanced running game. Arce and Smitty are both unselfish. They don't care about the numbers."
Smith, Arce and sophomore Tristan McGann (5-9, 185) are powerful runners.
"They all squat over 400," Peterson said. "They block their tails off, and they know when their number is called, it's their turn."
Pirates junior quarterback Boston Hodges has thrown only 18 passes in the first three games, completing 11 for 147 yards and two touchdowns. They prefer to stick to the ground behind a line that is led by senior Ethan Hedgecock, a 6-5, 295-pound tackle who has offers from Western Oregon and Southern Oregon.
Peterson knows his team can't afford to be too predictable against Kennedy, which is coming off back-to-back shutouts in beating Siuslaw 24-0 and Jefferson 64-0. The Trojans held reigning 3A champion Siuslaw to 97 total yards.
"We're going to have to get in some different things and keep them honest," Peterson said. "We can't let them put 10 in the box. We're going to be more balanced when the games call for it."
Kennedy has two three-year starters on the offensive line in seniors Matt Hopkins (6-3, 255) and Briggs Snell (6-2, 250). The Trojans have a dual-threat quarterback in junior Elijah Traeger and a stable of talented receivers in seniors Ethan Kleinschmidt, Luke Beyer and Owen Bruner.
Peterson, in his third season as Dayton's coach, has a history with Kennedy. He was the coach at Sheridan when Kennedy won the 2A title in 2018, beating the Trojans 44-7 in a Tri-River Conference game and losing to them 27-6 in a state quarterfinal.
Kennedy, which moved up from 2A this season, won at Dayton 41-20 in the COVID-shortened season in the spring of 2021.
"This will be the real test because Kennedy's really good," Peterson said. "We're going to see if we've taken the next step in our program, or if we've got more work to do."
The Pirates, who lost to Santiam Christian 7-6 in the first round of the 3A playoffs last year, will face the sixth-ranked Eagles (3-0, 1-0) at home Oct. 14.
"That one-point loss in the playoffs last year is eating at them," Peterson said of his players. "In our weight room, it's one of the things that's been on the board for six months now, reminding them every day why we're working so hard."
Other notable matchups in Week 4:
Thursday
6A No. 5 Jesuit (2-1) at. 6A No. 8 Sherwood (2-1), 7 p.m.: The Crusaders and Bowmen get one more challenging nonleague game to tune up for the start of league play next week. Jesuit will try to rebound from last week, when the Crusaders fell behind West Linn 24-0 at half and lost 31-20. Sherwood defeated Lakeridge 47-35 last week after losing to Clackamas 34-25 in Week 2.
Newberg (3-0) at 6A No. 7 Mountainside (3-0), 7 p.m.: Mountainside cracked the top 10 in the coaches poll this week after winning 24-7 at Lake Oswego to improve to 3-0 for the first time ever. Newberg, coming off a 3-7 season, stayed perfect last week with a 54-7 win over Aloha.
Friday
Nelson (2-0) vs. 6A No. 2 Central Catholic (2-1) at Hillsboro Stadium, 7 p.m.: Nelson, in its second varsity season, is feeling good about itself after outscoring Aloha and Reynolds 69-6 in the first two games behind sophomore quarterback Avirey Durdahl and a big, sturdy defensive front. But the two-time reigning 6A champion Rams are a much different beast.
South Medford (3-0) at 6A No. 10 South Salem (3-0), 7 p.m.: Two hot quarterbacks meet in a Special District 1 game. South Salem senior Daschel Smith has thrown for 1,187 yards and 12 touchdowns. South Medford senior Deacon Edgar passed for five touchdowns last week to lead his team past McNary 55-21.
Lake Stevens, Wash. (2-1) at 6A No. 3 West Linn (2-1), 7 p.m.: An interstate showdown between the Lions and Vikings. Lake Stevens, ranked No. 1 in Washington's big-school division, has a Notre Dame-bound running back in Jayden Limar, who rushed for 242 yards in a win over state power Bellevue in Week 2. West Linn shook off a loss to Sheldon to dispatch Jesuit 31-20 last week.
5A No. 6 Bend (3-0) at 5A No. 4 Canby (3-0), 7 p.m.: The Lava Bears visit the Cougars for a nonleague game in a battle of rising 5A powers. Bend is leading 5A in scoring offense (142 points) and scoring defense (7 points). Canby junior running back Tyler Konold rushed for a 5A-high 495 yards in the first two weeks but left last week's win over Beaverton after one quarter with an ankle injury.
4A No. 9 Cascade (2-1) at 4A No. 4 Henley (3-0), 7:30 p.m.: The last time Cascade made the trip to Klamath Falls, it pulled off a 31-28 win over Mazama last season. This time, the Cougars will square off with Henley, which beat Ashland 48-19 last week as quarterback Shaw Stork passed for two touchdowns and ran for two scores.
3A No. 9 Coquille (3-0) at 3A No. 1 Cascade Christian (3-0), 7 p.m.: Coquille, hit hard by graduation after winning the 2A title last year, has worked its way into the 3A top 10. The Red Devils have allowed only 12 points this season, but the Challengers, who vaulted from third to first in the coaches poll this week, are leading 3A with 163 points with a balanced offense that averages 199.7 yards rushing and 177.3 passing.
3A No. 2 Banks (3-0) at Pleasant Hill (3-0), 7 p.m.: Under first-year coach Jeremiah Heacock, Pleasant Hill has made an about-face from last season, when the Billies finished 0-8. But they haven't faced a team the caliber of Banks, which has one of the state's best two-way players in senior tight end/middle linebacker Logan Kind.
1A-6 No. 1 Spray/Mitchell/Wheeler (3-0) at 1A-6 No. 5 South Wasco County (2-0), 3 p.m.: Spray/Mitchell/Wheeler, the unofficial six-man champion last year, puts its 13-game winning streak on the line against much improved South Wasco County in a Special District 1 contest. The Redsides lost the matchup 59-25 last year, but have made strides, as evidenced by a 44-21 win last week over Prairie City/Burnt River, a team that fell to Spray/Mitchell/Wheeler 34-18.
Saturday
5A No. 2 Wilsonville (2-1) at 5A No. 1 Summit (2-1), 4 p.m.: The top two ranked teams in 5A have faced the same three nonleague foes, both losing to 6A Tualatin and beating 5A Thurston and 6A Westview. Combined scores heavily favor Summit, though, with the Storm outscoring its opponents by 47 points and Wilsonville at minus-24, thanks to a 44-7 loss to Tualatin last week.