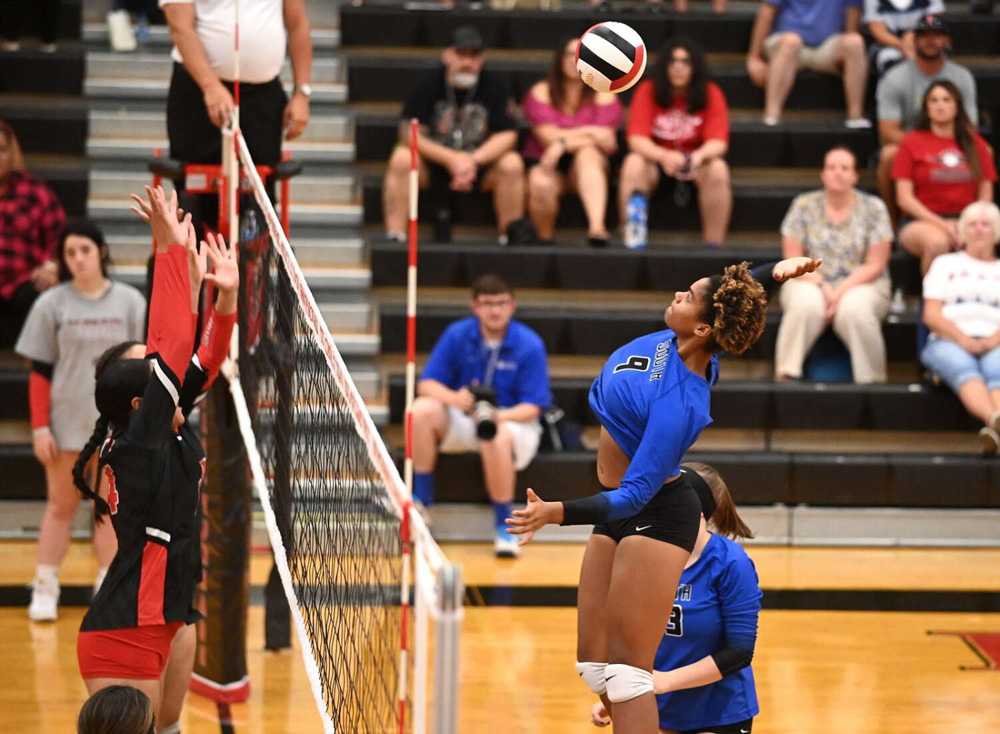 The Undefeateds/State Preview
Last week, I shared that there were nine teams across all classifications with undefeated records according to the results pages at www.osaa.org. I predicted that there would only be three as of today.
Well, as of today, the answer is there are four unbeaten teams according to the results pages, but there really are only three. I will explain, but first, let's look at the teams that went down.
Damascus Christian (16-0) won the 1A showdown of unbeaten schools, downing St. Paul, 25-23, 25-17, 25-22, on Saturday. St. Paul is 15-1. These appear to be the top two teams in 1A, although Crane might be part of the conversation.
The other 1A school, Nixyaawii, which began the week 5-0, lost three of four over the past week and now stands 6-3.
Cascade, one of the top 4A teams in Oregon, dropped Philomath from the unbeaten ranks with an impressive sweep last Tuesday.
Ida B. Wells, as predicted, did not lose last week. The Guardians (8-0) have played only teams in the PIL this year.
That leaves the three teams that battled in the State Preview at South Albany on Saturday. Two of the three, Jesuit and Wilsonville, emerged with unbeaten marks still intact, while Bend lost for the first time all year.
Jesuit (17-0) won the Championship Bracket, outdueling Westview in three sets in the final, 15-10 in the third.
Improved defense keyed the Saturday run for the Crusaders. Sophomore libero Addie Azavedo was stellar in the back row, while junior Tiana Takayama sparked the team with tough serves that scored scores of points.
Jesuit had its usual strong attacking, keyed by CeAnna O'Loughlin, Isabel Patterson and Lilly Lansing; got consistent setting from Jackie Carle and key blocking from Lansing, Avery Pickard, Morgan Olsen and freshman Jada Johnson.
"This team never gives up and there are many players contributing to the success of Jesuit Volleyball," said coach Teresa Zimmerlee.
Okay, so we have Damascus Christian, Ida B. Wells and Jesuit as actually still undefeated.
Wilsonville, which beat Ridgeview, Bend and Sprague, to win the Consolation Bracket, is still officially undefeated even though it lost 2-0 to both Central Catholic and Westview in pool play. That's because the OSAA does not count matches that are a maximum of two sets as official contests. (In other parts of the country, they count and teams that split sets are each credited with a tie).
We asked Wilsonville head coach Scott Thompson to share his perspective on the State Preview and he gave it to us straight.
"The State Preview Tournament is my favorite tournament of the year," he said. "You find out how good you are and how resilient you are.
"We had an incredibly tough pool. Ridgeview is always good and well coached. We've played them 3 times this season - twice at this tournament. I told my team that it is difficult to beat a good team three times in a season, but we were able to do it (barely).
"The three seed in our pool was Central Catholic - when was the last time they were the 3 seed in any pool? We played them tough in the first set, but when they won that hard-fought set, they played with a lot of confidence in the second set and got us pretty good.
"Lastly, we had Westview, which in my opinion should have been a 1 seed. They're a team with few weak spots: Good ball control, great defense/blocking, solid setting and can put the ball away from multiple positions. They got off to a big lead in the first set, but once we settled down, our team outscored them for a decent period of time. But in the end, their ball control, scrambling defense and distributed offense got the better of us."
Having twice tasted defeat, Wilsonville proved to be resilient in bracket play. The Wildcats started by outlasting Ridgeview, 16-14 in the third, overcoming adversity by losing its outstanding senior middle, Emma Alewine, to a severely sprained ankle.
"The team rallied and filled in well to win," Thompson said. "I tell my entire program that I want volleyball players - I don't want one position players, I want players."
Bend was next. The Lava Bears also were undefeated heading into Saturday but could not get out of pool play unscathed.
"They're big and athletic with two very talented OHs," Thompson said. "Our team plays with an even-keeled mentality - focused intensity, but not too high and not too low. We just kept playing our game - had some excellent defense/blocking. We are at our best when we distribute our offense, but I must say that our OH Makenna Wiepert was exceptionally good all day. We beat Bend in two close sets.
"We played Sprague in the finals. Similar to Bend in that they don't have a lot of weaknesses. We were able to serve tough. I think we won the serve/serve receive battle. We played aggressively and were able to beat a very good team in straight sets."
Fabulous Freshmen!
We asked coaches this week to tell us about their freshmen making big impacts on varsity this fall.
Mayenabasi Akpan, 6-1 MB, South Medford – Akpan is a massive presence in the middle. Averaging two stuff blocks per match, she forces opponents to change their plan of attack. She also is improving on the offensive end while averaging five kills per match for the 12-4 Panthers.
Madi Andrews, 6-0 OH, Nelson – Andrews is an all-round player and terminator who stuffs the stat sheet for the 11-2 Hawks. She has amassed 129 kills, 48 aces, 89 digs and 15 blocks.
Ellie Bartel, 5-11 OH, Crosshill Christian – Bartel is an all-around player and a steady point maker for the 7-4 Eagles. She leads the team in kills and aces and is third in digs, just three behind the team's libero.
Lillimae Brumble, 5-9 MB, Crook County – One of the Cowgirls' most productive hitters, Brumble has used her 9-8 jump touch to produce 90 kills and 11 blocks over 44 sets so far. "She is taking charge of the front row in her rotations and producing points," noted coach Kristy Struck.
Shelby Cenova, DS/libero, St. Mary's Academy – Pulled up to varsity because of injuries and illness to Blues players, Cenova made an immediate impact as a passer, defender and server. "We kept her on varsity permanently," said coach Wendy Stammer. "She has started for our varsity team since we added her to our roster mainly as our libero."
Olive Clapp, 5-1 libero, Portland Christian – A starting libero who bring energy, fights for every point and doesn't let anything hit the floor? I'd say she personifies the position!
Jada Johnson, 5-10 MB, Jesuit – It's hard for a freshman to make an impact on the state's best team but Johnson is doing just that. She is a very athletic leaper with great future potential who, even now, is taking pressure off of the vaunted Jesuit outsides because of her threat as an attacker.
Karina Lee, 5-7 OH, Cleveland – Lee has shined in six rotations for the Warriors. The freshman has recorded 52 kills, 128 digs and 24 aces over the first half of season.
Finley Marine, 5-7 OH, Portland Christian – A good athlete with plus vertical leap, Marine has been an asset hitting at the net, but it is her defense that has stood out most and helped the Royals win matches.
Ryland Minnick, 6-0 MB, Crosshill Christian – Coach Julie Bennett called Minnick "an unassuming player that sneaks in and makes things happen." She is second on the team in hitting, aces and digs and is the team's best passer. In her last league match she hit 100 percent (8 for 8)!
Madison Sherby, 5-7 OH, Hillsboro – Sherby averages 10 kills per match, with a high of 25. She also is a top passer and clutch player. Sherby also is fearless on the volleyball court. Recently, when Hilhi's setter was out due to injury, she stepped into that role, something she'd never before done, and led the team.
Any coach wanting to add someone may email [email protected].
Quick hits…
Oregon City won its home tournament. The Pioneers were undefeated in pool play and then went on to defeat McMinnville, South Eugene and Sunset to win the championship.
"The team really showed their relentlessness in pursuit of victory as they never got down during the tournament," said coach Erica Frajford. "All team members contributed to the victories with excellent team serve receive stats and a solid performance from our offense. The Pioneers are continuing to build on a successful season so far and are ready to compete as the season progresses."
***
Mazama competed in the Sisters Tournament on Sept. 17 for the first time ever and finished fourth, behind Burns and Valley Catholic. Mazama tied for third with Cascade. The big news is that the Vikings swept Burns, 2-0, in pool play, then lost by the same set score to the Hilanders in the semifinals.
Freshman MB Cali Bitzer, senior libero Kaylea Rietdyk, junior S/RS Alexia Lowe and senior OH Ella Baley have been among the Mazama standouts this year.
***
Sherwood competed in the State Preview. The Bowmen split with South Salem, then edged Crook County and Bend in pool play to reach the Championship Bracket. Sherwood then swept Central Catholic before falling in the semis to Westview for the second time this season. Top hitters for Sherwood were RS Aria Birdsong with 36 kills, OH Campbell O'Connell with 35 kills, and OH Emily Fulton with 31 kills on the day. Starting setter Hannah Brown had 78 assists and 7 aces.
"Overall the Bowmen came out fighting and had a great day of play, and are excited to move forward with their season," noted coach Jenette Brotnov.
***
Crook County ended up in the Consolation Bracket at the State Preview despite taking a set from Bend and playing well against South Salem and Sherwood. The Cowgirls then got a great win in bracket play over West Albany in three sets.
"Our team is starting to communicate better and trust in their abilities to play solid volleyball," said coach Kristy Struck. "As a coach, I saw a lot of growth from our younger and less experienced players. We are improving every time we step on the court and starting to believe we can compete with good volleyball teams, and beat them."
Senior MB McKenzie Jonas, junior libero Jaycee Villastrigo and senior setter Jacey Ramoss led the way for Crook County.
***
Despite missing players due to injury or illness, St. Mary's Academy had a great 3-0 week, which included a five-set Thursday win over defending 6A state champion West Linn, the Blues first win over the Lions in 16 years! Adrienne Nyugen led the way in assists with 44 for the match and, at 5-6, managed four blocks! Julissa Pernsteiner led the team in kills with 21 kills as a middle.
St. Mary's Academy also outlasted Tigard and Lake Oswego in TRL play.
"We are so proud of our team and the resilience that they have shown being down on players due to illness and injury," said coach Wendy Stammer.
Stat stars
This week, I asked coaches on our bulk email list to help me compile a list of astounding single-game statistical achievements! We will keep a running tally of players who stat at these levels for a single match:
50 assists or more in a match
30 kills or more in a match
30 digs or more in a match
10 blocks or more in a match
10 aces or more in a match
Here's what we have so far…
30 or more digs in a match
Hallee Hughes, 5-11 Sr. OH, Willamina – 30 kills in a five-set loss to Culver on Sept. 22
30 or more digs in a match
Kaili Kirkhart, 5-3 Jr. libero, Oakridge – 45 digs in a four-set win over Oakland on Sept. 17
Olivia Lyons, 5-1 Jr. libero, Warrenton – 38 digs in a four-set loss to Banks on Sept. 20
Alli Hu, 5-6 junior libero, Umpqua Valley Christian – 33 digs in a match
Delaney Mitchell, 5-4 Sr. libero/setter, Molalla – 31 digs in a 3-1 win over Cottage Grove on Sept. 6.
Any coaches may email [email protected] to add to the list at any time.
Nose-bleeders
Jumping 10-feet on approach remains a lofty goal for most volleyball players. If you get enough air to touch a regulation basketball rim, you have the ability to hit over blockers and pick your own spots. That makes you a very dangerous scorer on the court!
In this space, we will recognize those Oregonians who have achieved that lofty mark. We will add to it in each Volleyball Notebook as coaches tell us about the players who have reached rare air. Here's where we stand currently in the 10-Foot Club:
Katie Clevenger, 6-0 Sr. OH, South Medford
Kortney Doman, 5-9 Jr. OH/MB, Crane
Hailey Heytvelt, 6-2 Jr. MB, La Salle Prep
Sophia Gregoire-Salagean, 6-2 Sr. OH, Newberg
Faith Meyer, 5-11 Jr. MB, Beaverton
If you are a HS coach and want to add someone to the list, by all means email me, [email protected], put "10-foot club" in the subject line and provide the info in the manner shown above.
College-Bound!
In this space, we list those players, playing Oregon high school volleyball in the current senior class and younger, who have made a commitment to attend a college or university of their choice and play volleyball. Please email [email protected] to add players to the list, using the format you see below.
Emily Blagg, 5-8 Sr. MB, McNary -- George Fox University
Halsey Brummit, 5-11 Sr. OH, Clackamas – Dominican University of California
Kayleigh Carpenter, 5-7 Sr. OH, South Salem – Boise State (for defense)
Tatum Chase, 6-1 Sr. MB, Catlin Gabel -- Seattle University
Katie Clevenger, 6-0 Sr. OH, South Medford – Cal Poly
Maddie Corpe, 5-10 Sr. S, McNary -- Oregon State University
Mia Fedota, 6-2 Sr. MB, St. Mary's Academy -- University of Puget Sound
Gwen Fife, 6-0 Sr. OH, Sheldon – University of Utah (Beach)
Emma Frye, 5-10 Sr. MB, Tigard -- Schreiner University
Bella Gamache, 6-0 Sr. MB, Monroe - USC (Beach)
Bridget Gould, 5-11 Jr. RS, Marshfield - University of Oregon
Sophia Gregoire-Salagean, 6-2 Sr. OH, Newberg – University of Oregon
Riley Hackett, 5-11 Sr. RS, Westview – Southwestern University (TX)
Alexis Haury, 5-10 Jr. S, Silverton – University of Washington
Kennedy Hines, 5-10 Sr. OH, Roseburg -- Umpqua CC
Brooksie Isham, 5-10 Sr. OH, South Salem -- Air Force Academy
Vivi Kaelin, 5-10 Sr. OH, Lake Oswego -- Cal State Bakersfield (Beach)
Sidney Knowles, 5-8 Sr. libero, Sherwood -- Eckerd College
Kalista Lukovich, 6-0 Sr. OH, Nelson – Eastern Washington University
Grace Luttrell, 6-0 Sr. MB, Roseburg -- Linn-Benton CC
Olivia Maulding, 6-2 Sr. MB, La Salle Prep - University of Notre Dame
Julia Mitchell, 5-10 Sr. MB/RS, Damascus Christian – Spring Arbor University
Elsa McDermott, 5-8 Sr. OH, Catlin Gabel – University of Pennsylvania (for defense)
Ceanna O'Loughlin, 5-11 Sr. OH, Jesuit - Colorado State University - Pueblo
Isabel Patterson, 5-11 Sr. OH, Jesuit – University of Oregon (Beach and Indoor)
Tia Picknell, 5-9 Sr. MB, Oakland — Bushnell University
Hayden Pinard, 5-10 Sr. S, Roseburg -- Western Oregon University
Mia Starr, 5-10 Sr. S, Central Catholic – UC Davis
Jillian Stein, 5-8 Sr. OH, Bend -- Austin Peay (Beach)
Brooke Womack, 5-10 Sr. OH, Sandy -- Eastern Oregon University
Kait Wood, 5-11 senior MB, Sheldon – Rocky Mountain