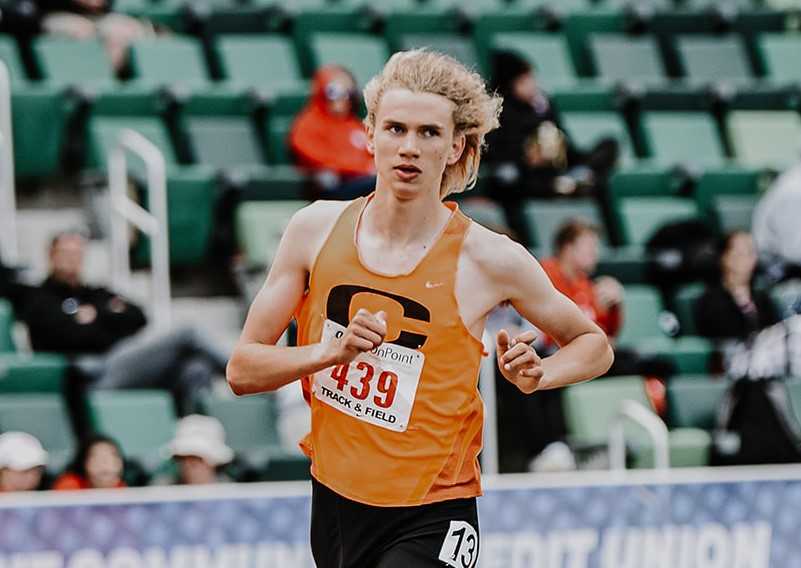 Coming off a busy summer that included a national title in the 5,000 meters and an appearance in the World Athletics U20 Championships in Colombia, Crater senior Tyrone Gorze is easing into the cross country season.
In two meets, it's clear that the reigning 5A champion already is in fine form.
Gorze started his season Sept. 16 by winning the three-mile Woodbridge Classic in Orange County, Calif., setting a course record by clocking 13:42.8. His performance led Crater to second place out of 29 teams.
In his second meet Sept. 28, he dominated the field to win the Max King Invitational, a 14-team event featuring southern Oregon schools at the Jackson County Expo. Gorze's time of 14:43.53 not only is the best in the state this season, but it beat the course record of 14:51.0, set by Ashland's Evan Holland in 2019.
"He looks great. Workouts are great," Crater coach Justin Loftus said. "He prepares better than anybody I've seen in any sport. He's like pro level. He's very serious."
Gorze, who won the 1,500 and was second in the 3,000 in the 5A track meet in May, got a taste of high-level competition during the summer. In the USATF U20 Championships at Hayward Field in late June, he won the 5,000 and was second in the 3,000. In August, at the U20 World Championships in Cali, Colombia, he he placed 12th in the 5,000.
"He had a busy January through August," Loftus said.
The experience provided a springboard into his senior year.
"It does give him a level of confidence going into these races, for sure," Loftus said of Gorze, who visited the University of Washington during the weekend. "But I never worry about that with Tyrone. Not like he's overconfident, he's just so prepared."
Gorze is looking to improve on the school records he holds for cross country and the 1,500 and 3,000 meters. He will get a good test Oct. 13 in the Crater Track Twilight meet, where he is set to duel on the track against Marshfield senior Alexander Garcia-Silver, who has the state's No. 2 time this season (14:45.1).
In last year's Crater Track Twilight, Gorze recorded the best 5,000 time of his cross country career, running 14:29.3.
"We're going to see how fast he can push that," Loftus said.
Gorze had hoped to complete a distance double in the 5A track meet but was foiled by a runner-up finish to then-freshman teammate Josiah Tostenson in the 1,500, losing by three-tenths of a second. He was visibly frustrated after the race.
"That was a good learning experience," Loftus said. "It was one of those things where we had many talks after that. There are pro runners that lose all the time, and they don't get that upset. He was pretty upset."
Gorze is leading Crater's push for its fifth 5A title in seven seasons. The Comets showed their strength in the Max King Invitational, holding down the top four spots with Gorze, juniors Caleb Doddington and Shaun Garnica and sophomore Tayvon Kitchen to outscore runner-up South Medford 19-83.
Crater dominated even though it was missing Tostenson and junior Jeffrey Hellmann – the team's No. 2 and No. 4 runners, respectively – due to illness.
"We're gelling," Loftus said. "We've had a few guys just go from not really close to varsity to running sub-16. When you get a kid like Tyrone, he just raises the bar as far as what you can do. It's that whole mentality of, 'If this guy's doing this, why can't I do this?'"
Crater's girls also won at the Max King Invitational, beating North Medford 28-53 for first place. The Comets took the top three spots with junior Lindsay Siebert (18:31.03), sophomore Emma West (19:36.18) and senior Samantha Payne (19:39.3).
"They're rolling," Loftus said of the girls team. "We've found our group. It's been a few years, with COVID and everything. It kind of knocked things our of kilter."
The coach likes how Siebert is progressing.
"I usually don't say this, but I would put her up against anybody in the state right now," he said.
Notes: Milwaukie senior Logan Law edged Jesuit senior Jacob Nenow by nine-tenths of a second to win the Nike Twilight Invitational at Cedarcrest Golf Course in Marysville, Wash., on Saturday. Law's time of 14:51.9 is No. 4 in the state this season. Jesuit finished first in both meets, which featured 37 boys teams and 32 girls teams. Nenow and senior Gus Clevenger (fourth) led the Crusader boys. Sophomore Maura O'Scannlain (second) and junior Liliana Hudnut (eighth) paced Jesuit's girls. …
Wilsonville senior Carter Cutting won a battle of top 5A runners to finish first in The Harrier Classic on Saturday at Bryant Park in Albany. Cutting finished in 15:27.4, ahead of Crescent Valley senior Kanoa Blake (15:29.4) and Ashland senior Nathan Stein (15:35.3). Wilsonville won the 34-team boys meet with 93 points, ahead of Glencoe (129). Crescent Valley sophomore Emily Wisniewski stayed undefeated this season by winning the girls race in 18:30.1, helped the Raiders outpoint Corvallis 76-84 for first place. Putnam senior Noemi Lundgren (18:49.8) was second. …
Central Catholic won the boys and girls titles at the 15-team Champoeg Invitational on Saturday. Rams senior Wesley Shipsey (15:25.0) held off Newberg senior Zachary Giesch (15:26.7) to win the boys meet. Central Catholic junior Ella McGillis (18:41.2) beat Canby sophomore MacKenzie Bigej (18:43.9) in the girls race. …
La Grande's girls finished 1-2-3 – junior Emily Tubbs, sophomore Cecilia Villagomez and freshman Brooke Perry – to beat runner-up Enterprise 27-66 and win the Baker Invitational on Friday at Baker City Golf Course. Union's boys scored 50 points to outpace second-place Heppner (99). Senior Taylor Fox (first) and junior Eli Williams (second) led Union.