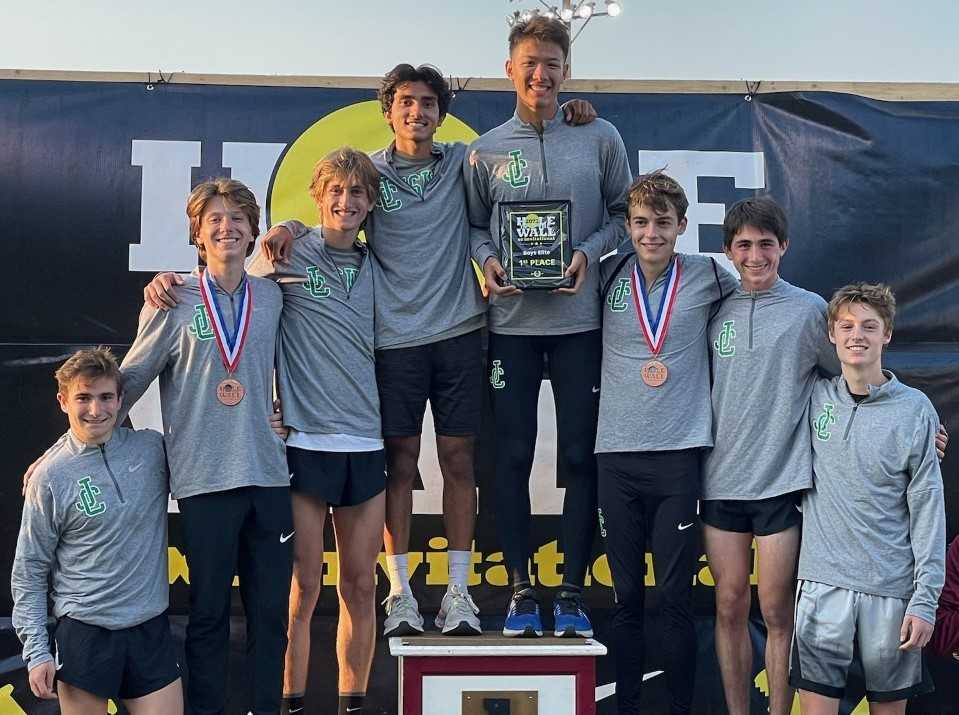 One week after sweeping the team titles at the Nike Twilight Invitational in Marysville, Wash., Jesuit made another trip north to duplicate the feat Saturday in the Nike Hole in the Wall Invitational in Arlington, Wash.
Jesuit's reigning 6A champion boys, led by a third-place finish from senior Jacob Nenow, scored 84 points to hold off West Salem (109) and Eastlake, Wash. (110) for the title of the 20-team, multi-state event.
The Crusader girls, with sophomore Maura O'Scannlain leading the way in sixth place, scored 97 points to pull away from Torrey Pines, Calif. (144), and Central Kitsap, Wash. (145), in the 19-team race.
"It was a bit of a battle. Unseasonably warm and dusty," said Jesuit coach Tom Rothenberger, whose teams are both ranked No. 1 in the OSAAtoday 6A coaches polls. "It was really good national-level competition. It was a good day."
The coach liked how both of his teams responded in the Hole in the Wall meet, which had a deeper field than the Nike Twilight Invitational.
"We're proud of how gritty we competed when we're not in tip-top shape yet," he said.
Rothenberger chose to compete in the events in back-to-back weeks to simulate the challenge his teams are likely to face with the 6A meet (Nov. 5) and Nike Cross Regionals (Nov. 12) only one week apart this year. In past seasons, the Crusaders have had at least two weeks to get ready for regionals.
"That's why we rehearsed two big races seven days apart, just to see how we feel," Rothenberger said. "This week we'll evaluate each runner. We're just preparing them as best we can."
Nenow's time on the 5,000-meter course of 15:03.4 was eight seconds behind the winner, Zack Munson (14:55.5) of Sehome, Wash. The Crusaders' other top finishers were senior Gus Clevenger (17th), junior Caden Swanson (23rd), senior Joshua Augustine (32nd) and sophomore Coen Strub (38th).
Rothenberger said his boys team, with a mix of veterans and inexperienced runners, ran "strong and gritty, but we still have some icing to put on the cake" as the season enters the final weeks.
"We're kind of figuring out what our personality is, what kind of pack we are," he said. "We're not real sharp, so I knew they were going to get late in the race, and when everything gets fast, they were going to feel like, 'I can't respond.' I had to tell them, 'It's OK, we're a month from the state meet.'"
Nenow, runner-up to Milwaukie senior Logan Law in the Nike Twilight Invitational the previous week, has the No. 2 time in 6A this season behind Central Catholic senior Wes Shipsey. Nenow was fourth in the state meet last year.
"He's done all the things he needs to do to put himself in position to contend for an individual state title and lead us to a state title," Rothenberger said of Nenow. "And those are the goals."
O'Scannlain ran 18:13.7 to pace Jesuit's girls, well behind the winner, junior Anna Callahan (17:32.6) of Skyline, Wash. Jesuit's next finishers were junior Liliana Hudnut (16th), senior Natalie Jack (36th), junior Amelie Beil (44th) and senior Maggie Bennett (55th).
O'Scannlain, who was third in the Nike Twilight Invitational, has the No. 3 time in 6A this season. She was 13th in the 6A meet as a freshman.
"She's a tenacious kind of athlete in the sense that she trains hard and knows how to go to that dark place when she races," Rothenberger said. "She's still a sophomore and still physically maturing. She gets after it. She's not afraid to mix it up. Up to this point, she's given us that low runner so that we can put a pack behind her."
O'Scannlain's presence is key considering the Crusaders not only graduated Chloe Foerster, last year's 6A runner-up who now runs for Washington, but sophomore Emma Bennett, fifth at state in 2021, has yet to run this season due to a sore hip.
In the 6A track meet in May, Bennett set a state freshman record in the 1,500 (4:27.09) in placing third behind Foerster and Franklin senior Kaiya Robertson. But Bennett hit a growth spurt during the summer that has resulted in soreness, according to Rothenberger.
"She ran through the summer, and mid-August it started acting up," Rothenberger said. "She'll be back in the next month. We just have to take it slow. What it's done is it's changed the dynamic. The group's come together well, though. They're kind of finding their place."
Notes: Philomath's boys and girls prevailed at the team's own Paul Mariman Invitational on Saturday, holding off second-place Siuslaw in both meets. The girls outscored Siuslaw 36-81 with a first-place performance from sophomore Adele Beckstead (19:36.8), who beat Molalla freshman Anika Jenson (19:42.9). Beckstead and Jenson are ranked second and fourth, respectively, in 4A this season. Philomath's boys beat Siuslaw 46-63. Cottage Grove senior Jaden Owens (16:34.6) was the top finisher, edging Philomath senior Ben Hernandez (16:39.9). …
North Medford senior Marisela Villa (19:45.1) turned back senior teammate Eleanor Nichol (19;46.1) by one second to win the Stan Goodell The Legend Invitational on Saturday at Valley of the Rogue State Park, leading the Black Tornado (27 points) to first place over Grants Pass (41). In the boys meet, South Medford (42) defeated Hidden Valley (70) and Grants Pass (70). Junior Matt Rieman of Grants Pass was the winner. … Knappa senior Isaiah Rodriguez won the Rainier Invitational by more than one minute Saturday, leading the Loggers (43) to first place over Woodland, Wash. (87). Banks freshman Sophie Schoolmeester won the girls race. …
Host McMinnville swept the team titles in the Flat & Fast Invitational at Joe Dancer Park on Saturday, getting wins from senior Kellen Reed and sophomore Yemi Rue. … Oregon Episcopal's boys and girls triumphed at the Stayton Regis Invitational at Stayton Middle School on Thursday. The individual winners were Santiam Christian senior Benjamin Bourne and East Linn Christian sophomore Daisy Lalonde. … The Dalles senior Juan Diego Contreras took the Mustang Invite at Thompson Ranch in Heppner on Thursday, but his team finished second to Pasco, Wash., 47-58. Enterprise beat The Dalles 38-69 to win the girls meet, which was won by sophomore Emma Gis of Chiawana, Wash. Heppner freshman Lily Nichols was second.