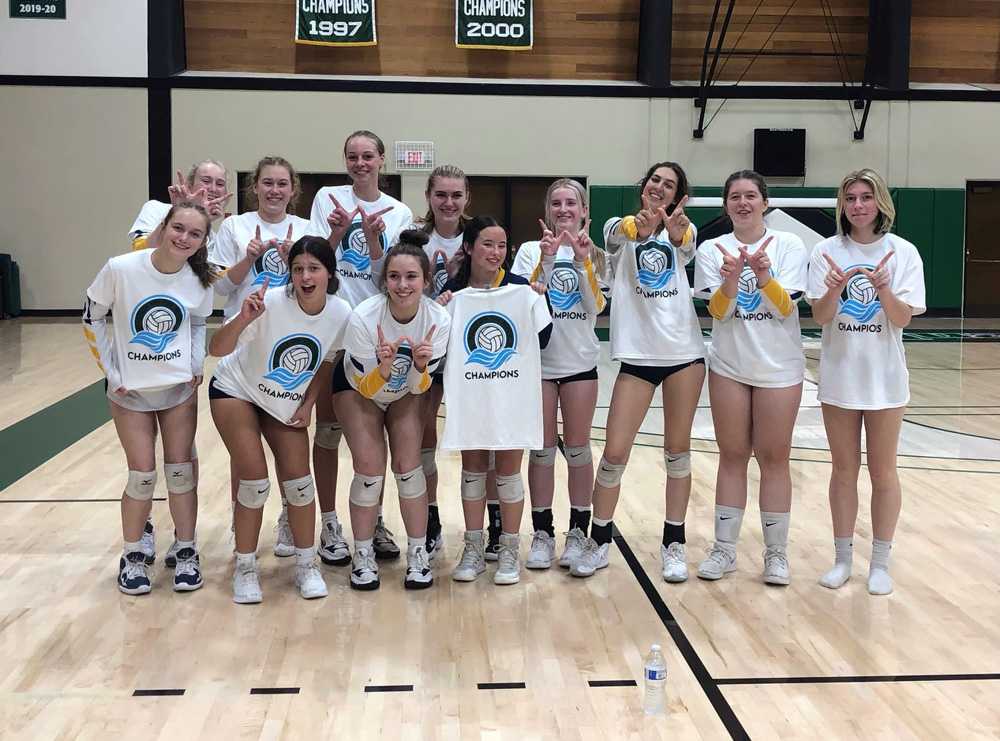 Here's what happened last week in Oregon volleyball:
The Undefeateds
Last week, we told you that only two of 270 teams playing volleyball in Oregon were undefeated. That remains true this week also, as both Jesuit (6A) and Damascus Christian (1A) won all of their matches over the past seven days.
Jesuit (23-0) highlighted a successful week by going down to Bend to win Saturday's Clearwater Classic. The Crusaders swept the championship bracket, defeating South Salem, Sheldon and Bend in turn. Avery Pickard had three monster blocks in the final versus Bend and the defensive duo of Addie Azavedo and Tana Takayama was very good. Azavedo had 29 digs in the three bracket play matches.
"We are definitely progressing in the areas where we needed to improve, but still working to speed things up and block even better than we are now," said Jesuit coach Teresa Zimmerlee.
Zimmerlee also gave credit to Jesuit's bench players.
"They have challenged the starters every day in practice and give us a positive feeling about them as future leaders, and providing quality opposition at all practices," she said.
Jesuit hasn't lost since last year's 6A championship match to West Linn, but actually almost lost its season opener this year. The Crusaders dropped the first two sets to Sherwood before rallying. Since then, Jesuit has lost just three sets, two to Metro League rival Westview in successive late-September matches.
Jesuit will play in the West Linn Tournament on Saturday, its final regular-season event. Four teams ranked in top six in the latest 6A OSAAtoday Coaches Poll, Westview, Nelson, McNary and Sheldon; as well as the defending 6A champion host school and 5A No. 2 Wilsonville and 5A No. 3 Bend, will attend. Jesuit will be favored, but there will be many teams attending that are capable of putting a scare in the 'Saders.
Damascus Christian (25-0) had a relatively light week after running the gauntlet at its own tourney the Saturday before. Sierra Hale, Abbigayle Bailey and Julia Mitchell shined as the Eagles defeated three top 10 teams, including 1A No. 3 North Clackamas Christian in the championship match.
"My girls were able to dig deep and gut out a grinding, tough-fought game against NCCS in the final," said coach Emily Russau.
Damascus Christian heads into this week having dropped just three sets on the season. It's been 17 days since the Eagles last lost a set, but they will be tested this week. On Thursday, they take on North Clackamas Christian again. NCCS is 23-3 on the year. Then, on Saturday, Damascus Christian plays a tri versus defending 1A champion North Douglas and 21-5 Central Christian. What better way to prepare for a title run?
Could these Billies be goats?
Pleasant Hill was 7-9 and missed the 3A playoffs last year. After shocking 3A No. 1 Sisters on Monday, 18-25, 26-24, 21-25, 25-23, 18-16, the Billies stand 16-2 and are officially contenders for their first-ever 3A state title.
"What a match!" exclaimed coach Jessica Crawford. "Sisters is a great team with a lot of weapons. Our team dug deep, kept fighting to earn points and believed we could win. We showed a lot of growth and resilience to finish the match with the win."
The team's sophomores led the effort. Cheyenne Green, a 6-1 OH touching almost 10-0, finished with a career-high 32 kills and 17 digs. Sophomore setter Claire Crawford contributed 45 assists and 16 digs. Sophomore Emily Krauss had 18 digs and sophomore Ruby Jackson contributed 9 kills.
Pleasant Hill has won 11 matches in a row since being swept by Sisters, 25-18, 25-9, 25-16, on Sept. 14. The Billies have defeated top 10 teams like Creswell and Horizon Christian during the streak.
Green had 23 kills and 22 digs in the four-set win over Creswell. Junior libero Emily Baker had 22 digs and Crawford contributed 42 assists and 13 digs in that win.
The win over No. 2 Horizon Christian came in the championship match of Saturday's Rally on the River Tournament.
As quickly as the team has turned around under coach Jessica Crawford, the best may be yet to come: all of the team's key contributors are underclassmen!
Mighty Mites!
This past week, we asked high school coaches to tell us about their "Mighty Mites," those six-rotation or front row varsity starters who stand 5-6 or shorter. This is a recurring list and we will add to it in the coming weeks. Here are the players we've uncovered so far:
Vivian Buford, 5-6 Soph. OH, Crescent Valley – A dynamic player who is part power, part finesse when on the offensive, Buford suffered an early-season injury, which slowed her transition from the back row to a six-rotation pin. But she's healthy now and coming on strong as the 5A No. 1 Raiders push for a state title.
Avery Bushey, 5-5 Sr. RS, Rogue River – Bushey was a libero last year, but returned to the right side, where she started as a sophomore, for her senior season. "Avery consistently stays in the top three on our team for kills, digs and blocks every game," said coach Sarah Wicks.
Morgan Cole-Hand, 5-2 Soph. OH, Spray / Mitchell / Wheeler – A great six-rotation player who is always hustling, coach Crystal Rey says that Cole-Hand "plays the net like she is 7-2."
Ella DeCarli, 5-5 Soph. OH, Beaverton – A knee injury to power hitting Destiny Hernandez opened up the door for the left-handed DeCarli, who has the highest vertical jump on the team. "What started as a needed back-up has turned into a go-to player for us," said coach Ashley Waggoner.
Callie Denney, 5-3 Sr. RS, Spray / Mitchell / Wheeler – Denney is a great team leader who works hard on every point. She is one of the leading scorers for the Eagles.
Hannah Griffith, 5-5 Jr. OH, Portland Christian – A natural leader and the captain of the Royals this year, Griffith is best known for her serving. She averages four aces per match!
Ayah Hassouneh, 5-3 Sr. OH, Hillsboro – Injuries forced Hassouneh into a six-rotation role, where she'd previously been a serving specialist. She is doing a terrific job and finding ways to score.
Alana Keepes, 5-4 Jr. OH, la Salle Prep – A defensive player only the past two seasons, Keepes has proved this fall that she can play at the net in a dynamic way. "She has a really good arm swing and a can hit a variety of shots," said coach Anna Dillard.
Emma Kirschenmann, 5-5 Fr. OH, Cascade –Kirschenmann has a high arm swing and can jump. "She is a freshman who has had to step up this year and play that outside position and shows so much potential!" said coach Cristina Williams. "Not only is she athletic, she also is so coachable and is eager to learn more about the game."
Zewditu (Zewdi) Lampi, 5-1 Soph. S/RS, Portland Christian – Lampi is a huge contributor to the Royals. She had 25 assists on Oct. 6 versus Clatskanie as a front row setter and had a one-handed block. She also plays right back on defense and is sterling in that role.
Mikayla Moore, 5-5 Sr. OH, Rogue River – A varsity starter on the left side since her freshman year, Moore routinely leads her team in kills and is often top three for aces and digs.
Miracle Moore, 5-2 Sr. OH, Hillsboro – A former DS, Moore is now a fearless OH who averages five kills per match. "She will usually only be blocked once, then she figures out how to hit around the block, no matter how big the block is," noted coach Suzan Hopman.
Valentina Pagani, 5-6 Sr. S/RS, Beaverton – An Italian exchange student, Pagani plays all the way around. Her high-level experience has made an unexpected impact on our team and has allowed starting lefty setter, Kaarina Geymann, to be able to attack successfully from the right side. Pagani is a great small player who has attacked and blocked consistently.
Kamryn Sande, 5-6 Soph. OH, Cascade – Sande is mighty despite being short of stature. She is super athletic and, coach Cristina Williams says, can "hit that line shot like a six-foot player." Sande is a huge asset defensively, but has shown the ability to be a positive force at the net as well.
Any coach wanting to add someone may email [email protected].
Most Improved
We asked coaches last week back to tell us about their "Most Improved" players. This is a recurring list. Those players denoted with an [*] are new this week.
Shea Appleyard, 5-6 Soph. DS/libero, Cleveland – Appleyard was on JV2 her freshman year and is now an important part of the Warrior varsity as a sophomore. "She worked incredibly hard in the off season to improve and it shows," said coach Sydney Hammond. Appleyard has passed 106 serves, recorded 42 digs and served six aces so far this season.
*Harry Berry, 6-1 Soph. MB, Milwaukie – A JV2 player as a freshman just getting started in volleyball, Berry's love for the sport and a year of club ball had Berry this fall looking like a completely different player. "Harry is a blocking machine and they are getting their hits down and are working on hitting it hard!" noted coach Carol York! "Harry is someone to watch out for in the next couple of years."
Ursula Harrington, 6-2 Soph. MB, Corbett – A JV player last year who swung varsity for the postseason, Harrington is now the MB2 for the 9-3 Cardinals. She has 11 solo stuff blocks on the year and is becoming a more efficient attacker every match. "She has quickly emerged as an aggressive and effective blocker and hitter and is developing the confidence and speed that will most definitely continue to result in steady improvement each week," noted coach Angela Davis.
Emily Hegar, 5-10 Sr. MB, Central Catholic – A three-year varsity player, Hegar came off the bench for a few plays here and there her sophomore and junior years. Hard work in the off-season has paid off, as Hegar now is a starting middle for the Rams and putting up big numbers. She has 77 kills (hitting .250) and 17 blocks and is a team leader for Central.
*Caitlyn Horrell, 6-0 Soph. MB, Burns – A JV player for most of 2021, Horrell has grown and gained confidence and is now a major contributor for the defending 3A-champion Hilanders. She is hitting .285 so far this year with 60 blocks and 56 aces.
Grace McQuain, 5-10 Sr. MB, Rogue River – A varsity starter the previous two years, McQuain has taken her game to an entirely different level as a senior. She leads the Chieftains in blocks and has been a blocking machine in Far West League play, typically getting 6-8 blocks per match.
*Haley Moreschi, 5-9 Jr. S/OH, David Douglas – Moreschi primarily set for the Fighting Scots last year. She now hits when she is in the front row. "Along with having great setting hands, Haley is a team leader in kills and is one of the top two earners of service aces on the team," said coach Janeen Rainey.
*Kylie Rankins, 5-9 Sr. libero, Springfield – An outside hitter the past two seasons, Rankins' passing prowess led her to the libero jersey this year. She has shown tremendous growth. She finished last year with 196 digs and has eclipsed 300 digs already in 2022. She also is currently passing a 2.2 (out of 3) for the entire season and has a serving percentage of 97 percent for the entire season. "She is an impact player and part of our improvement here at Springfield High School," said coach Keri Schwarz.
*Reese Rothwell, 5-10 Sr. RS, Burns – An injury late last year derailed Rothwell's season, but she has come back with confidence and perseverance. "She is a major contributor to the program as is a very strong server, with 60 aces so far and over a 90 percent serving percentage," said coach Paula Toney.
Any coach wanting to add someone may email [email protected].
Quick hits…
Woodburn defeated Lebanon in five sets on Sept. 29. It marked the first league victory for the Bulldogs in over 15 years!!! OHs Kaileah Peterson and Lilli Bellman had the best matches of their career and backup setter Kaylee Arroyo did yeoman work after the team's starting setter suffered an early injury. "Everyone contributed to a historic win!" noted coach Kasi Pankey.
***
1A St. Paul was awfully impressive at the Nike Tournament of Champions Southwest in Phoenix two weekends ago. The Buckaroos went 3-4 against MUCH larger schools, with wins over Lehi of Utah, and Mountain Pointe and Desert Mountain of Arizona.
"We were competitive in every match and had two more that we could have won," said coach Les Hiller, whose team has lost only once in-state this season against 18 wins. "All the teams ran quicker plays than we see at home so it was great to be challenged at that speed and still be competitive. Most of these teams play year round together with the same coach, which we cannot do in Oregon. We have about the same team back from last year and they have a great rhythm going."
St. Paul continued its winning way by taking down 2A No. 1 Salem Academy in five sets yesterday. Gracie Koch had 47 assists, Stella Koch, Audra Rose and Mer Coleman teamed for 40 kills and the team played well defensively, both at the net and in the back row.
"We scouted and came in with a game plan that the team executed well, hitting to their holes and serving to their weaknesses," Hiller said. "Our team is reading really well defensively since we came back from the Nike Tournament in Arizona. Playing against those teams prepared us to play quicker and to always be reading the other team. This team just keeps improving. I am so very impressed with their passion for the sport."
***
Scio (12-5) broke a three-match losing streak with two wins this week. Sophomore S/OH Taryn Ramsey led the way for the Loggers against Dayton with 13 kills, 15 assists and 28 digs. Junior Kadence Soto also recorded a triple-double, with 12 kills, 11 assists and 23 digs.
Scio followed that up with a dominating win over Jefferson, which featured 22 aces by the Loggers. Libero Addy Wessles led the way with six and MB Myleigh Cooper had five.
***
South Medford won the Bear Creek Bash, held at Phoenix HS on Oct. 1. The Panthers defeated Foothill of Palo Cedro, California in the finals after splitting with the Cougars in pool play. Senior libero Cameron Christian was spectacular defensively in the first set. Aggressive serving from Brooke Johnston, great setting choices from Baylee Davis and big swings from Katie Clevenger and Mayenabasi Akpan helped South Medford rally from a 17-10 deficit to sweep.
"It was very rewarding to finish a long day and long week with a 1st place finish," said coach Robin Akpan.
Fabulous Freshmen!
We asked coaches a few weeks back to tell us about their freshmen making big impacts on varsity this fall. This is a recurring list. Those players denoted with an [*] are new this week.
Mayenabasi Akpan, 6-1 MB, South Medford – Akpan is a massive presence in the middle. Averaging two stuff blocks per match, she forces opponents to change their plan of attack. She also is improving on the offensive end while averaging five kills per match for the 12-4 Panthers.
Madi Andrews, 6-0 OH, Nelson – Andrews is an all-round player and terminator who stuffs the stat sheet for the 11-2 Hawks. She has amassed 129 kills, 48 aces, 89 digs and 15 blocks.
Ellie Bartel, 5-11 OH, Crosshill Christian – Bartel is an all-around player and a steady point maker for the 7-4 Eagles. She leads the team in kills and aces and is third in digs, just three behind the team's libero.
*Alexia Braden, 5-7 OH, Beaverton – Braden is new to volleyball, but she is catching up fast due to incredible, natural athletic ability. "She plays with this cool, ease, and innocence that makes it look so fun," noted coach Ashley Waggoner.
Lillimae Brumble, 5-9 MB, Crook County – One of the Cowgirls' most productive hitters, Brumble has used her 9-8 jump touch to produce 90 kills and 11 blocks over 44 sets so far. "She is taking charge of the front row in her rotations and producing points," noted coach Kristy Struck.
Shelby Cenova, DS/libero, St. Mary's Academy – Pulled up to varsity because of injuries and illness to Blues players, Cenova made an immediate impact as a passer, defender and server. "We kept her on varsity permanently," said coach Wendy Stammer. "She has started for our varsity team since we added her to our roster mainly as our libero."
Olive Clapp, 5-1 libero, Portland Christian – A starting libero who bring energy, fights for every point and doesn't let anything hit the floor? I'd say she personifies the position!
Jada Johnson, 5-10 MB, Jesuit – It's hard for a freshman to make an impact on the state's best team but Johnson is doing just that. She is a very athletic leaper with great future potential who, even now, is taking pressure off of the vaunted Jesuit outsides because of her threat as an attacker.
*Emma Kirschenmann, 5-5 OH, Cascade –Kirschenmann has a high arm swing and can jump. "She is a freshman who has had to step up this year and play that outside position and shows so much potential!" said coach Cristina Williams. "Not only is she athletic, she also is so coachable and is eager to learn more about the game."
Karina Lee, 5-7 OH, Cleveland – Lee has shined in six rotations for the Warriors. The freshman has recorded 52 kills, 128 digs and 24 aces over the first half of season.
Finley Marine, 5-7 OH, Portland Christian – A good athlete with plus vertical leap, Marine has been an asset hitting at the net, but it is her defense that has stood out most and helped the Royals win matches.
Abby Maulding, 5-9 S, La Salle Prep – Maulding is already making an impact for one of the state's top teams, as part of a setting tandem replacing a three-year starter who graduated last spring.
Ryland Minnick, 6-0 MB, Crosshill Christian – Coach Julie Bennett called Minnick "an unassuming player that sneaks in and makes things happen." She is second on the team in hitting, aces and digs and is the team's best passer. In her last league match she hit 100 percent (8 for 8)!
Madison Sherby, 5-7 OH, Hillsboro – Sherby averages 10 kills per match, with a high of 25. She also is a top passer and clutch player. Sherby also is fearless on the volleyball court. Recently, when Hilhi's setter was out due to injury, she stepped into that role, something she'd never before done, and led the team.
Any coach wanting to add someone may email [email protected].
Stat stars
We are continuing to ask coaches on our bulk email list to help me compile a list of astounding single-game statistical achievements! We will keep a running tally of players who stat at these levels for a single match:
50 assists or more in a match
30 kills or more in a match
30 digs or more in a match
10 blocks or more in a match
10 aces or more in a match
Here's what we have so far…
50 assists or more in a match
Jackie Carle, 5-6 Soph. S, Jesuit – 58 assists in four-set win over Westview on Sept. 29
30 or more kills in a match
Halsey Brummit, 5-11 Sr. OH, Clackamas – 37 kills in five-set win over David Douglas on Oct. 3
Cheyenne Green, 6-1 Soph. OH, Pleasant Hill -- 32 kills in a five-set win over Sisters on Oct. 10
Hallee Hughes, 5-11 Sr. OH, Willamina – 30 kills in a five-set loss to Culver on Sept. 22
30 or more digs in a match
Kaili Kirkhart, 5-3 Jr. libero, Oakridge – 45 digs in a four-set win over Oakland on Sept. 17
Olivia Lyons, 5-1 Jr. libero, Warrenton – 38 digs in a four-set loss to Banks on Sept. 20
Angeleena Acosta, 5-4 Jr. libero, David Douglas – 35 digs in a five-set loss to Sandy on Sept 29
Jadyn Daviscourt, 5-6 Jr. libero, Cascade – 34 digs in four-set win over Stayton on Sept. 27
Alli Hu, 5-6 junior libero, Umpqua Valley Christian – 33 digs in a match
Delaney Mitchell, 5-4 Sr. libero/setter, Molalla – 31 digs in a 3-1 win over Cottage Grove on Sept. 6.
10 or more aces in a match
Frankie Lear, 5-6 Sr. DS, St. Paul -- 15 aces (11 in one set) in an Oct. 4 sweep of Falls City / Kings Valley Charter.
Annabelle Peterson, 5-9 Jr. MB, Cascade – 14 aces in four-set win over Stayton on Sept. 27
Jeryn Hildenbrand, 5-7 Soph. RS, Westside Christian – 11 aces in three-set win over De La Salle North Catholic on Sept. 27
Ellie Bartel, 5-11 Fr. OH, Crosshill Christian – 11 aces in sweep of C.S. Lewis Academy on Sept. 30.
Vanessa Makarenko, 5-9 Jr. MB, Crosshill Christian – 11 aces in sweep of C.S. Lewis Academy on Oct. 4.
Ryland Minnick, 6-0 Fr. MB, Crosshill Christian – 10 aces in a sweep of Jewell on Oct. 6.
Reese Rothwell, 5-10 Sr. RS, Burns – 10 aces in sweep over Umatilla on Oct. 3
Any coaches may email [email protected] to add to the list at any time.
Nose-bleeders
Jumping 10-feet on approach remains a lofty goal for most volleyball players. If you get enough air to touch a regulation basketball rim, you have the ability to hit over blockers and pick your own spots. That makes you a very dangerous scorer on the court!
In this space, we will recognize those Oregonians who have achieved that lofty mark. We will add to it in each Volleyball Notebook as coaches tell us about the players who have reached rare air. Here's where we stand currently in the 10-Foot Club:
Katie Clevenger, 6-0 Sr. OH, South Medford
Kortney Doman, 5-9 Jr. OH/MB, Crane
Hailey Heytvelt, 6-2 Jr. MB, La Salle Prep
Sophia Gregoire-Salagean, 6-2 Sr. OH, Newberg
Faith Meyer, 5-11 Jr. MB, Beaverton
If you are a HS coach and want to add someone to the list, by all means email me, [email protected], put "10-foot club" in the subject line and provide the info in the manner shown above.
College-Bound!
In this space, we list those players, playing Oregon high school volleyball in the current senior class and younger, who have made a commitment to attend a college or university of their choice and play volleyball. Please email [email protected] to add players to the list, using the format you see below.
Emily Blagg, 5-8 Sr. MB, McNary -- George Fox University
Halsey Brummit, 5-11 Sr. OH, Clackamas – Dominican University of California
Kayleigh Carpenter, 5-7 Sr. OH, South Salem – Boise State (for defense)
Tatum Chase, 6-1 Sr. MB, Catlin Gabel -- Seattle University
Katie Clevenger, 6-0 Sr. OH, South Medford – Cal Poly
Maddie Corpe, 5-10 Sr. S, McNary -- Oregon State University
Mia Fedota, 6-2 Sr. MB, St. Mary's Academy -- University of Puget Sound
Gwen Fife, 6-0 Sr. OH, Sheldon – University of Utah (Beach)
Emma Frye, 5-10 Sr. MB, Tigard -- Schreiner University
Bella Gamache, 6-0 Sr. MB, Monroe - USC (Beach)
Bridget Gould, 5-11 Jr. RS, Marshfield - University of Oregon
Sophia Gregoire-Salagean, 6-2 Sr. OH, Newberg – University of Oregon
Riley Hackett, 5-11 Sr. RS, Westview – Southwestern University (TX)
Alexis Haury, 5-10 Jr. S, Silverton – University of Washington
Kennedy Hines, 5-10 Sr. OH, Roseburg -- Umpqua CC
Brooksie Isham, 5-10 Sr. OH, South Salem -- Air Force Academy
Lauryn Johnson, 6-1 Jr. OH, West Salem – Arizona State
Vivi Kaelin, 5-10 Sr. OH, Lake Oswego -- Cal State Bakersfield (Beach)
Sidney Knowles, 5-8 Sr. libero, Sherwood -- Eckerd College
Kalista Lukovich, 6-0 Sr. OH, Nelson – Eastern Washington University
Grace Luttrell, 6-0 Sr. MB, Roseburg -- Linn-Benton CC
Olivia Maulding, 6-2 Sr. MB, La Salle Prep - University of Notre Dame
Julia Mitchell, 5-10 Sr. MB/RS, Damascus Christian – Spring Arbor University
Elsa McDermott, 5-8 Sr. OH, Catlin Gabel – University of Pennsylvania (for defense)
Ceanna O'Loughlin, 5-11 Sr. OH, Jesuit - Colorado State University - Pueblo
Isabel Patterson, 5-11 Sr. OH, Jesuit – University of Oregon (Beach and Indoor)
Tia Picknell, 5-9 Sr. MB, Oakland — Bushnell University
Hayden Pinard, 5-10 Sr. S, Roseburg -- Western Oregon University
Mia Starr, 5-10 Sr. S, Central Catholic – UC Davis
Jillian Stein, 5-8 Sr. OH, Bend -- Austin Peay (Beach)
Brooke Womack, 5-10 Sr. OH, Sandy -- Eastern Oregon University
Kait Wood, 5-11 senior MB, Sheldon – Rocky Mountain