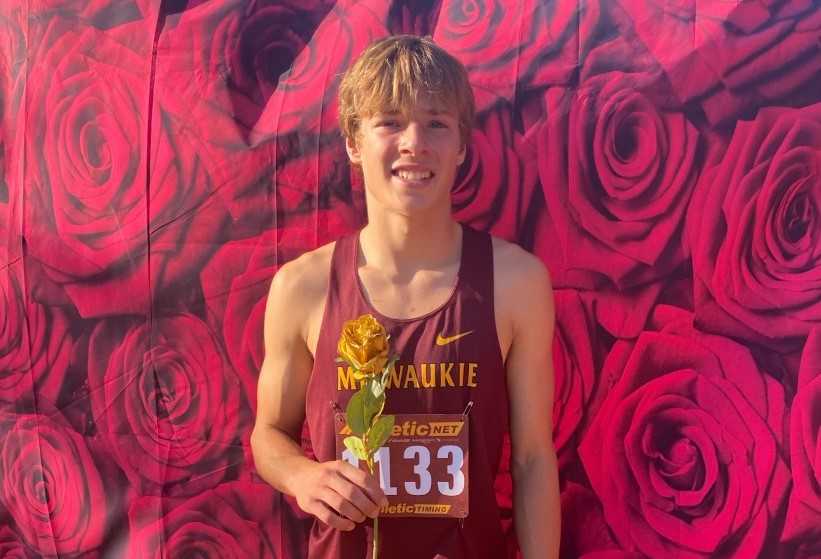 Considering the enormous challenge that lies ahead for Logan Law, the last two weeks have been highly encouraging for the Milwaukie senior cross country standout.
Law defeated Lincoln senior Samy Anderson by .30 seconds to win the Rose City Championship Invitational on Friday at Rose City Golf Course in Portland, one week after beating Jesuit senior Jacob Nenow by .90 seconds to take the Nike Twilight Invitational in Marysville, Wash.
"It boosts my confidence," Law said. "My kick hasn't been where it should have been in the past. As I've gotten stronger, slowly it's gotten better. This year it's to the point where in a race, one-on-one, I might take that 50-50 matchup at the end."
Law, who placed fifth in the 5A championships last year, has high goals for the state meet this year. To win a title, though, he will have to go through Crater senior Tyrone Gorze, the reigning champion and overwhelming favorite.
"Tyrone, he's Tyrone. He's a one-on-one talent," Law said. "It's going to take a very good day to beat him. I'm just preparing myself. It's going to take probably the hardest race of my life so far to be in contention to win."
Gorze has clocked the best 5,000-meter time in the state this season for all classifications at 14:43.6, but Law isn't far behind at No. 4, running a season-best 14:51.9 at the Nike Twilight Invitational.
"I'm coming for him," Law said. "He's a great guy, and I love him, but it's all about competition on the course."
At Rose City, Law and Anderson separated from the pack at the two-mile mark and exchanged the lead in the last half-mile. It wasn't until passing the three-mile mark that Law took the lead for good and finished in 15:17.2, edging Anderson (15:17.5).
It was similar to how the race played out the previous week in the Nike Twilight Invitational, reflecting on the improvement Law has made in the past year.
"I'm just a lot stronger and faster than I was last year," Law said. "Definitely, fitness-wise, I'm where I need to be going into state."
Law opened the season by running 15:07.7 to win the Northwest Oregon Conference Preview meet, an improvement from when he ran 15:54.0 to win the meet last year.
At the Meriwether Classic – where Law was runner-up to Central Catholic senior Wesley Shipsey on Sept. 16 -- his time of 14:54.4 was a 26-second improvement from last year's meet. He also was 12 seconds faster than last year in the Nike Portland XC, where he finished fourth.
Milwaukie coach Josh Hodney said much of Law's improvement is mental.
"He's one of the most cerebral runners I've been around. He's a thinker," Hodney said. "Logan has taken a lot of things he's learned in the last few years, and he's running smarter and a little bit more aggressive.
"At times with some of the talented kids the last couple years that graduated, he would let them set the pace, and try to base off of how they ran. And now he's thinking, 'Why don't I set the pace?'"
The 5-foot-10 Law is different than most runners in that he's also a basketball standout. He had a 40-point game against Putnam last season, when he averaged 21.8 points and was named to the NWOC first team.
"Basketball is always going to be in my heart, and my starting point," said Law, the son of Milwaukie basketball coach Don Law and the grandson of Rusty Law, the former football coach at Putnam (1982-88, 1994-96). "I wouldn't be running if I didn't have basketball.
"I'm just grateful that I was able to play for so long. This year will be my last year of competitive basketball. I'm just going to give it everything I have this year."
Law, who plans to run in college, has received interest from Notre Dame, Gonzaga, Boise State, Brigham Young, Oregon and Wake Forest. He has visited Gonzaga (partial offer) and Boise State and plans to leave Thursday to visit Notre Dame along with Wilsonville senior Carter Cutting.
Law said Notre Dame has offered a "90 percent scholarship. It's a pretty good package. I'm going to go to the campus and see how it is. I'm pretty stoked for it."
Law will go for his third consecutive NWOC title this year, then set his sights on the 5A meet at Lane Community College in Eugene on Nov. 5.
He expects to duel with the Crater duo of Gorze and sophomore Josiah Tostenson, among others. In the 5A track meet in May, he was third behind Tostenson and Gorze in the 1,500, and third to Gorze and Tostenson in the 3,000.
Other highlights from last week:
West Salem won the boys team title at the Rose City Championship Invitational. The Titans, led by a third-place finish from junior Jack Meier (15:42.3), scored 78 points to beat Central Catholic (96) and Lincoln (108). Crescent Valley sophomore Emily Wisniewski added to her impressive list of wins this season by taking the girls race at Rose City, finishing in 18:25.7, ahead of Summit seniors Ella Thorsett (18:32.2) and Barrett Justema (18:35.1). Summit beat Lincoln 73-92 for first place, followed by Crescent Valley (157) and Central Catholic (161). …
Crater's Gorze ran the fastest time in the state this season (14:11.38) to beat senior Alexander Garcia-Silver (14:40.23) of 4A Marshfield in a duel between reigning state champions in the Crater Track Twilight meet Thursday at Crater High School. Ashland senior Nathan Stein (14:59.30) was third. In the girls race, Phoenix senior Kyla Potratz (18:19.59) took first, finishing ahead of three Crater runners in senior Samantha Payne (18:40.57), junior Lindsay Siebert (18:50.63) and senior Haylee Baldwin (18:52.36). …
Forest Grove senior Jacob Friesen (15:26.1) and North Salem freshman Nelida Dalgas (18:36.7) were the winners in the Lewis and Clark Invitational on Saturday at Milo McIver State Park. Sheldon's boys were runners-up to Cheney, Wash., and Corvallis' girls were second to Washougal, Wash., in the meet, which featured 31 boys teams and 22 girls teams. …
Sisters junior Ella Bartlett (20:50.0) held off Burns freshman Sydney White (20:56.8) to win the Clash in the Cascades meet Thursday at Sisters. Philomath beat Burns 64-72 for first place in the eight-team girls race. Cottage Grove senior Jaden Owens (17:10.3) won the boys race over Caldera freshman Mason Morical (17:21.8). Sisters outpointed Crook County 64-78 to win the 10-team boys race. …
The Dalles senior Juan Diego Contreras (15:39.0) and Molalla freshman Anika Jenson (19:16.9) won by 45 and 31 seconds, respectively, in the Estacada Invitational on Wednesday at Milo McIver State Park. Team titles went to The Dalles boys and Oregon City girls.