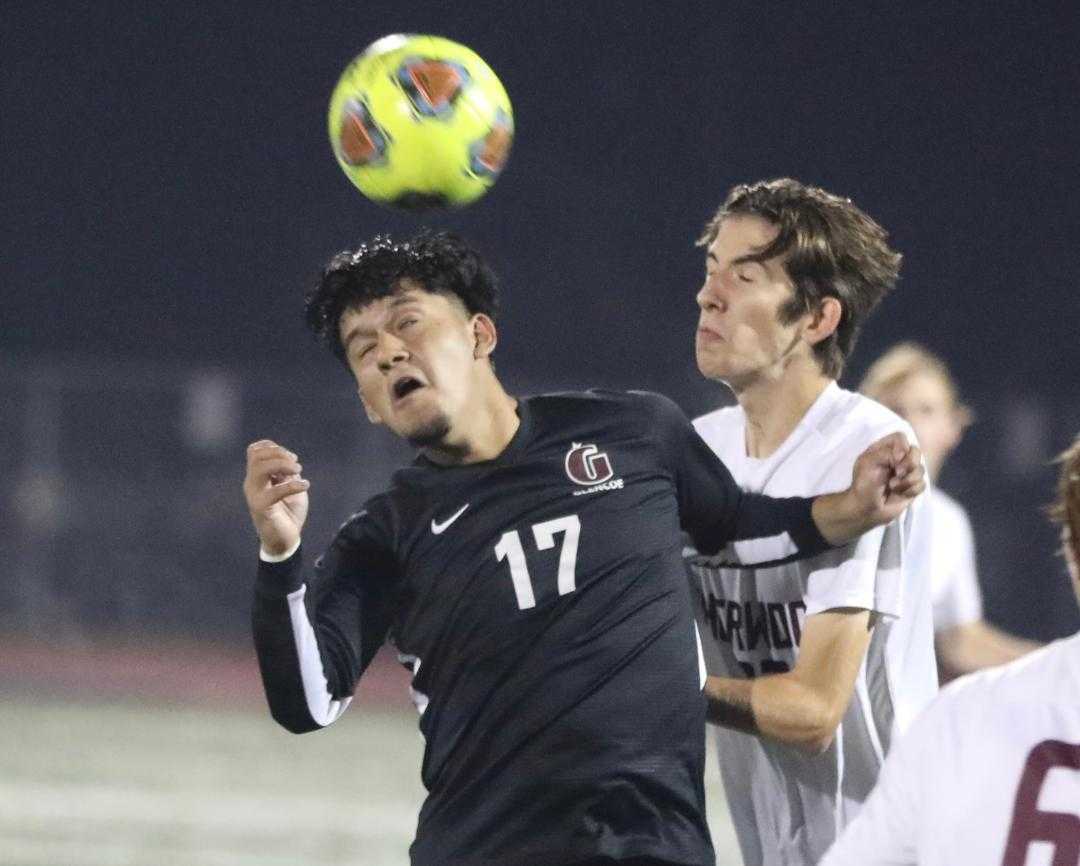 A season that started with so much promise seemed to take one bad turn after another for Glencoe's boys soccer team.
Injuries and illness kept the Crimson Tide's lineup in a constant state of flux, and if that wasn't enough, the team had a steady stream of bad luck in close matches.
"It's just such a crazy season," coach Tom Stephens said. "We just have not been healthy yet, and we just could not get on the right side. The ball bounced the wrong way."
But Glencoe's fortunes turned late in the season, and with some key wins, improved health and a bit of help from other teams, the Crimson Tide (5-4-5, 3-1-2) has earned a share of the 6A Pacific Conference title with Century (8-2-3, 3-1-2). In regular-season finales Monday, Glencoe tied Sherwood 0-0 and Century defeated Forest Grove 1-0 to leave the teams even atop the conference.
For the Crimson Tide, it's the third league title in five seasons, and given the obstacles in their way, perhaps the most gratifying.
"I kept telling the guys to believe in the system, and believe in each other," Stephens said. "And then we got on a little bit of a roll. A lot of things had to go right in league for us to be in the postion we're in."
Despite bringing back eight starters from a team that went 12-2-2 and lost in the second round of the 6A playoffs, Glencoe was 2-4-4 overall after opening league play with a 2-2 tie against Century and a 2-0 loss to McMinnville.
But the Crimson Tide defeated Newberg 3-0 behind goals from senior Miguel Lopez, sophomore Vicente Spindola Santoyo and junior Christian Martinez Trejo, and after falling behind at Forest Grove 2-0, Glencoe came back to win on three goals in the last 18 minutes by Lopez, junior Hector Venegas Rocha and sophomore Diego Alvarado Roldan.
"We played one of our best games against Forest Grove," Stephens said. "That was a huge win. That was a turning point."
The Crimson Tide won at Liberty 1-0 on a goal by Alvarado Roldan with eight minutes left, and was in position to win the Pacific title outright with a home win over Sherwood on Monday.
Glencoe had a chance to take the lead over the Bowmen late in the first half, but Lopez was stopped on a penalty kick. The Crimson Tide settled for a tie and a co-title.
"We weren't playing for the tie," Stephens said. "There might've been people out there thinking that, but not at all. We had three or four good chances in the last 10 minutes. We weren't playing stupid, but we were still pressing, and putting balls on goal."
Stephens said that Monday's match was the first time that his preseason starting 11 was available.
Venegas Rocha missed two games with illness, senior defender Ruben Tapia-Rodriguez was out two games with an injury and Martinez Trejo sat for two weeks with a broken hand until returning to play Monday with a cast. Senior center back Damian Palominos, the team's top defender, missed one game after receiving a red card.
Junior left back Aaron Hochstetler has missed three weeks after suffering a knee injury but is likely to return soon. Senior goalkeeper Nick Lermon, who splits time with sophomore David Downey, suffered a concussion in Monday's game and his status for the playoffs is unknown.
"We've just caught a lot of bad luck," Stephens said.
Also, Glencoe couldn't seem to catch a break in tight games. The Crimson Tide gave up a goal with five minutes left in a 2-2 tie with Beaverton, allowed a goal with 24 seconds to go in a 2-1 loss to Westview and yielded a penalty kick with three minutes remaining in the tie with Century.
Glencoe's luck seemed to turn late in the season, however. The Crimson Tide got some outside help when Sherwood lost to Century and Liberty, and McMinnville and Century fought to a draw.
All that matters to Glencoe now is the playoffs. The Crimson Tide – which faced several top 6A teams in nonleague games, losing to No. 3 Lakeridge 4-2 and No. 5 Westview 2-1 and tying No. 9 Aloha 2-2 – are battle-tested.
"Last year we didn't play anywhere close to as good of a schedule," Stephens said. "I think we're pretty dangerous. This is the best offensive team I've had in a long time. We're a talented team."
Title connection
Scappoose clinched its second league title in the program's 32-year history with a 4-0 home win over second-place Tillamook in a 4A Cowapa League match Saturday.
Seniors Preston Cooper, Paul Parral and Aimar Cancinos and freshman Cameron Dierdorff scored for the No. 6 Indians (11-2-1, 9-1-1) in the win over the Cheesemakers (9-3-1, 9-3).
"It's always an amazing feeling," Scappoose coach Scott Stanton said. "These boys are a special bunch. … There are a lot of really good leaders in this team that have helped solidify our team culture."
Scappoose's other league title came in 2014 in Stanton's third season as coach. Seniors from the current team were coached by players from the 2014 team in a summer camp as fourth-graders.
"Being able to bridge the gap and connect the players from that 2014 squad to this year's squad has been awesome, even if it makes me feel old," Stanton said. "The support the 2014 team has been sending to this year's team has been incredible."
Aloha turnaround
No. 9 Aloha got a late goal to defeat visiting Sunset 1-0 on Monday and earn a share of the 6A Metro League title with No. 1 Jesuit.
With four minutes left, senior Yahir Ocampo-Navarro scored off a free kick on a shot inside the right post. The win in the regular-season finale improved Aloha to 9-2-3 overall, 4-0-2 in the Metro, and tied the Warriors with Jesuit (9-1-4, 4-0-2).
In their only meeting this season, Jesuit and Aloha tied 3-3 on the Crusaders' field Oct. 6.
Last season, Aloha finished 2-10-2 overall and 0-5-1 in the Metro, tied for last place. The Warriors lost to Jesuit 6-0.
Record-setter
Pleasant Hill senior Adrian Arellano is adding to his state career record for goals.
Arellano scored five goals Monday in a 6-0 win over La Pine in the last regular-season match, hiking his career total to 90. He broke the record Oct. 17 with two goals in a 4-3 loss to Central Linn, giving him 85.
Arellano has 32 goals this season for Pleasant Hill (8-4-1). He scored 40 goals last season, the third-highest single season total in state history.
Henley repeats
Henley put the final touch on a repeat 4A Skyline Conference title Monday with a 3-0 win at second-place Phoenix. The visiting Pirates (6-6-1, 6-2) could have taken the title with a win, but the Hornets (13-0-1, 7-0-1) were up to the task.
Junior Aiden Hayes scored in the ninth minute off an assist from senior Jacob Gonzales, and Gonzales made it 2-0 in the 23rd minute by converting a feed from Hayes. Hayes added an insurance goal in the 76th minute, taking an assist from senior Lello Sguera.