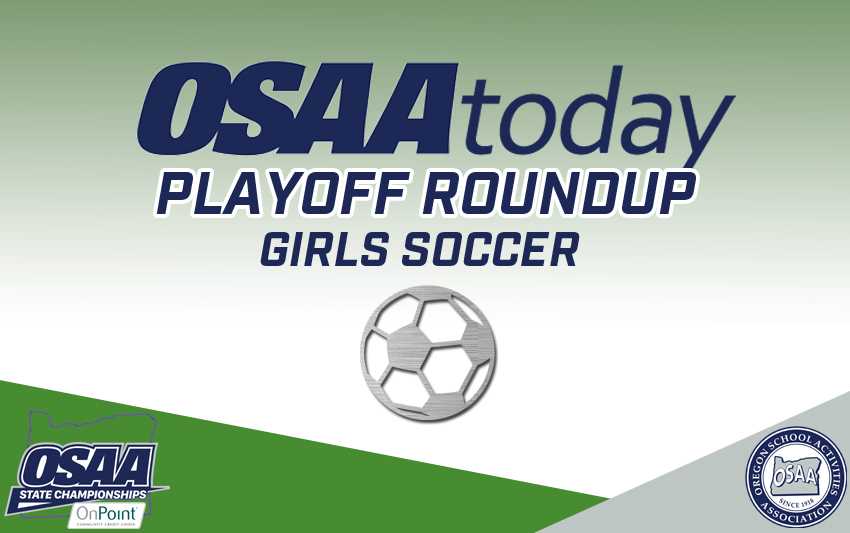 Highlights from Saturday's quarterfinal matches:
6A
Top-seeded Jesuit remained unbeaten by topping Cleveland 3-0, getting two goals from Hanna Slama and one goal from Mariane Dunne. … Maya Loudd had a hat trick for Tualatin in its 3-0 road win over Sheldon. …. West Linn vanquished Lincoln 2-1. Cassidy Harding gave the Lions a 1-0 lead, and after Lincoln pulled even at 1-1 before half, West Linn's Kate Cheldelin scored the go-ahead goal with six minutes left in the match. … Lake Oswego topped host Sunset 2-1 as Megan Ko got the go-ahead goal with 10 minutes left off an assist by Katlin Winquest. The Lakers took a 1-0 lead in the first half when Ko's corner kick led to a scramble in front of the goal, and Sunset drew even 1-1 on a penalty kick before intermission.
5A
No. 8 seed Crescent Valley got goals from Maegan Cooper in the sixth minute and Abby Smith in the 11th minute and held on to upend top-seeded Caldera 2-1. … North Eugene scored twice in a three-minute span in the second half to take out Ashland 2-0. Else Langan got the first goal, on an assist by Makennah Hobbs, and Kendal Priaulx added the second goal, on a pass by Langan. … Ava Simone and Maddie Gardner found the net for Summit, which defeated La Salle Prep 2-1. … Camryn Schaan scored in the 25th minute as visiting Wilsonville turned back second-seeded Thurston 1-0.
4A
Delaney McNett scored in the 62nd minute and Emersyn Stepp recorded a shutout for Gladstone in its 1-0 win over Newport. … North Marion dropped Scappoose 2-0 behind Saylor Swanson, who made a penalty kick in the 32nd minute and added a goal five minutes later. … Paige Meador scored with 10 minutes left in the first half and Cloe Chase added a goal with 10 minutes left in the second half, assisted by Sela Freeman, to propel Marist Catholic past Philomath 2-0. The Spartans had a 19-5 edge in shots. … Hidden Valley made a first-half goal stand up for a 1-0 win over La Grande. In the 19th minute, Gabrielle Heverly scored on a sliding, left-foot shot after the goalkeeper deflected a shot by Hannah Rommes off a free kick by Gracelyn DaVault.
3A/2A/1A
North Valley held off Sutherlin 4-3 despite a hat trick by the Bulldogs' Paige Edmonson. The Knights trailed by one goal three times but came back to win behind two goals from Addi Smith and single goals by Maddison Mockridge and Jessica Mockridge. … Amity edged Sisters 1-0 in a penalty-kick shootout. Warriors goalkeeper Kylie Kendall blocked the first shot of the shootout, and Mya Haarsma, Adie Nisly, Eliza Nisly and Caden Christensen converted their opportunities to seal the win. … Catlin Gabel handled Corbett 3-0. Grace Mueller and Elise Kim scored in the first half and Mueller deposited a penalty kick early in the second half after Campbell Swaim drew a foul. Annika Sirtori and Aanna Farhang had assists. Holland Shaw needed only one save to record the shutout. … Valley Catholic routed Riverdale 7-2.