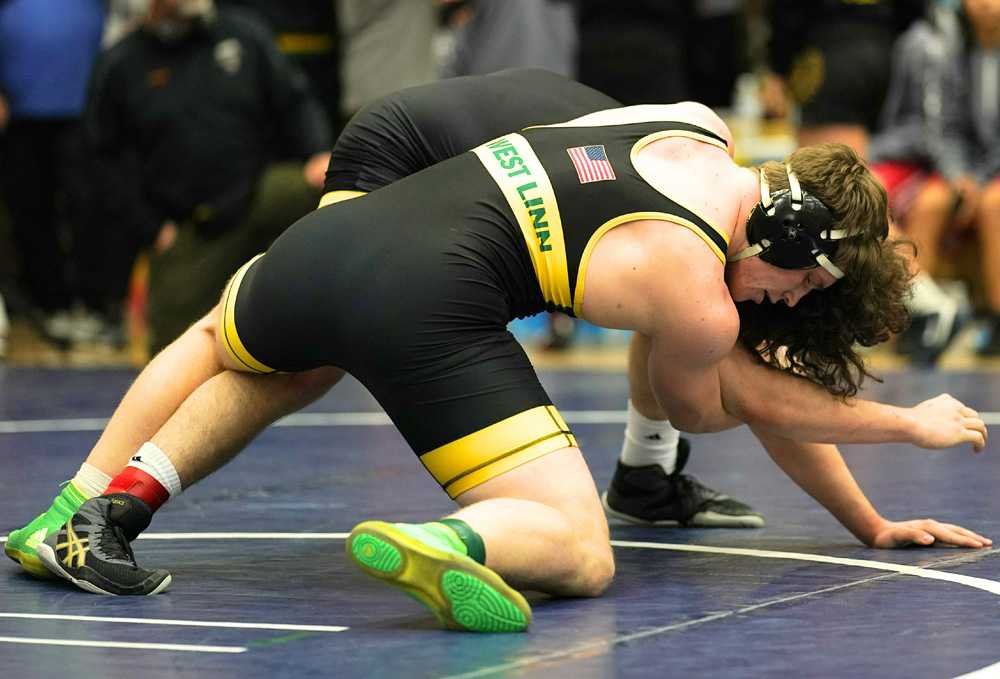 There were a ton of events this past weekend in Oregon, headed by the Rose City Championship at Westview HS. Let's talk about them shall we?
My kingdom for the Rose City
Twenty-seven (37) teams, entering a maximum of two wrestlers per weight division, descended upon Westview HS Friday and Saturday for the Rose City Championship.
Sixteen (16) of the squads were from Oregon, including defending 6A champion Newberg, 6A runner up Sprague and two others that finished among the top five; two teams that placed top five in 5A and 4A runner up Sweet Home. The 11 from out-of-state included powerful Nampa from Idaho, several formidable sides from Washington State and a group from Walnut in California, which brought just seven wrestlers, two of whom took home belts.
Nampa, which had two champions and four runners up, won the team competition, just ahead of Newberg, which had two champions itself and three runners up. Local squads Sweet Home, Thurston and Dallas rounded out the top five.
Oregon wrestlers won half of the weight divisions, including Vaun Halstead of Thurston, who won a battle of reigning state champions at 195, when Newberg's Hudson Davis was forced to retire late in the second period due to a split lip that wouldn't stop bleeding. Halstead was ahead, 4-2, at the time in a very competitive match.
Other Oregon champions included two-time defending state champion Zach Keinonen of Newberg at 126 pounds, Newberg sophomore Gus Amerson at 145, defending state champ Liam Byrne of now-5A Mountain View at 170, senior Ethan Spencer of Sweet Home at 182; West Linn football star Earl Ingle at 220 and Sprague heavyweight Cole Steketee, another defending state champion.
Mountain View's Drew Jones, the reigning 6A champion at 132 pounds, placed second at the same weight at Rose City in a remarkable bracket that included five state champions. Jones won a decision from reigning 4A champion Jake Sieminski of Sweet Home in the semifinals before losing the championship bout to a Washington state champ from South Kitsap. Jones also defeated a state champion from Washington in the quarterfinals.
Keinonen's win at 126 pounds came over a teammate, freshman Gavin Rangel, by a 5-4 score.
Amerson, who placed fifth at 138 pounds a year ago, won an all-Oregon final at 145 pounds versus West Linn's Charlie Spinning, 4-2. Spinning was second at 138 in 2022.
Spencer's win at 182 is notable because the Sweet Home senior placed fourth at the 4A state championships at 160 pounds.
Newberg's team total of 403 points left the Tigers 47 points behind Nampa in second place, not bad for a team that graduated four state champions and four other state placers.
"We thought we competed very well and wrestled pretty well," said Newberg coach Neil Russo. "It is always interesting when kids compete for the first time in a season; you never really feel like you're quite ready - even those kids with a lot of experience at this level. As coaches we are excited to see the kids compete and to evaluate the things that we need to focus on going forward. That tournament was as good a tournament as we are going to see in the state of Oregon - maybe the deepest and most talented all season. We feel good about where we are but know that we have some work to do - physically, mentally, and technically. We will continue to focus on the process and point toward late February, like we always do."
Every Newberg wrestler entered in the tournament won matches and scored points for the team, which was encouraging.
"We entered some very young and experienced kids that found a way to contribute to our collective effort," Russo said. "That is always an emphasis. Our veteran wrestlers were great leaders and are doing a great job of helping our younger kids find their way."
Russo was thrilled to see Amerson beat Spinning, saying the two have gone back and forth through the years.
"We are pretty sure that's not the last time that they'll meet this year!" he exclaimed.
Russo also was excited to see how well youngsters Rangel and Josh Brucken (fifth at 113) did, as well as how strong Daniel Valdez competed at 195.
Sweet Home coach Steve Thorpe was thrilled to see how well his Huskies, who finished third overall, fared against the big schools, but noted room for improvement. Thorpe lauded Spencer for winning his division.
"He is working hard and focused on January and February," Thorpe said. "He does all the extra things and is a leader in our room."
Dallas, which placed fourth, had five wrestlers place among the top six in their brackets, including Eli Nava at 220.
Fifth-place finisher Thurston had four podium finishers in addition to Halstead's win at 195.
Mountain View took seventh, just 10.5 points out of third place.
"That was pretty encouraging," said coach Les Combs. "It was a good start to our season at such a tough event."
A total of 19 wrestlers scored points for Mountain View, including freshman Henry Moore, who placed sixth at 106 pounds.
Battle of the buds?
At the same time that the Rose City Championship was taking place, the War of the Roses also was throwing down at Westview HS.
Thurston, which had three champions, Rubie Winterburn (100), Krystal Zamora (140; pinned her way through the tournament), and Bella Castleberry (145) and runner up Kaylee Annis (110); finished first, just two points in front of Sweet Home, whose only champion was freshman Bailey Chafin at 130 pounds.
"Our girls exceeded all expectations and are turning heads," said Steve Thorpe of Sweet Home.
Oregon captured 10 of the 14 weight classes. Most impressive were defending state champions Haley Vann of Cleveland and Destiny Rodriguez of West Linn, who pinned their way through the 135- and 170-pound weight divisions, respectively.
Dallas, which placed fifth overall, had two individual champions in Polly Oliff (105) and Ivy McIntosh (120). Tualatin junior Madi Randels punned all of her opponents on her way to the title at 155 pounds. Sunset's Arianna Boyd prevailed at 190 pounds.
News and notes
The Scio Holiday Tournament, which took place last weekend, was renamed the Gary McDaniel Memorial to honor a Scio athlete and wrestler who passed away in February at age 18.
The tournament bestows Santa hats to its division winners, including Regis brothers Lucas Bischoff (170) and Thomas Bischoff (182), both of whom pinned their way through the tournament.
Yamhill-Carlton, 27 wrestlers strong, won the 12-team event. The Tigers had three champions, Alex Shipman (113), Isaac Tindall (120) and Jesse Luttrell (220) and six runners up.
Santiam brought just nine wrestlers, but had one, Wyatt Dayton, win at 145 pounds; and another, Lukus Lebahn, place second at 152.
***
Defending 4A champion La Grande hosted the annual Muilenburg Tourney this past weekend. The host Tigers won the tourney, scoring over 400 points, and finishing ahead of the second place team from Idaho by over 100 points.
Junior Kai Carson, a reigning state champion, won a title for La Grande in the 20-team event, as did freshmen Colton Livingston (113) and Tommy Belding 132). Three others, Cole Shafer, Wyatt Livingston and Ridge Kehr, made the final bouts in their divisions.
Burns finished third. The Hilanders had three champions, Kempton Richardson (106), Hunter Kemper (152) and Easton Kemper (170). Fourth-place Sandy saw senior Nate Shea win at 285. Scappoose football star Trey Dieringer won the 182-pound division.
***
The 30-team North Bend Coast Classic featured many highly-ranked Oregon schools, including 6A Roseburg and Grants Pass, 5A Crater, Redmond and Eagle Point, 4A Crook County and 3A Harrisburg.
Crook County, without an individual champion, but five runners up, edged Eagle Point for the team title. Tygren Lopez won at 126 for EP.
Eleven schools altogether produced individual champions, led by Grants Pass and McNary with two each. Owen Hull (145) and Parker Jarvis (285) won for the Cavemen, while Max Blanco (106) and Josh Friesen (170) reached the top of the podium for the Celtics.
Blanco, a junior, did not give up a single offensive point over the weekend, and only gave up one point otherwise. Friesen defeated a returning state placer on his way to the championship.
Logan Clyburn of Myrtle Point's championship run at 220 included pinning a state runner up last year in the semifinals and pinning a wrestler in the finals, junior Houstyn Lee-Perry, who himself pinned a reigning state champion in the second round.
***
North Medford won the girls event at the Coast Classic. The Black Tornado entered eight and had three champions: Skyler Hall (105), Sadie Hall (125) and Estella Gutches (140).
McNary finished third and celebrated junior Ali Martinez winning the 190-pound bracket. Martinez only allowed two points the entire tournament and won each match via first-round pin. She is 9-0 on the season and all her matches have been won via first-round pin!
More boys (and girls!) of summer-y
Ashland qualified five wrestlers for last year's state tournament, the most for the Grizzlies over the past six years. Two graduated and one moved to Minnesota, where he is one of the top-ranked wrestlers in the state as a sophomore. Those back include District finalist Alan Helsel and state qualifier Will Downs, who is battling through a recent injury. Jack Bauer, Ollie Tegarden and Perrin Helsel also have great potential, as does Sophia Cellini on the girls' side.
Yamhill-Carlton showed its strength by winning the Gary McDaniel Memorial over the weekend. The Tigers return all 10 wrestlers who placed in Districts for them. Add freshman Kalob Dallas and Sean Nonamaker's team, which is led by fourth-place state finishers Erik Potter and Alex Shipman, should make a bid for the top five at 3A this season.
Legends of the fall
In this section, we list wrestlers recording pins this season in under 20 seconds.
7 seconds
Wylie Johnson, Sr., Culver, 285, Dec. 2
8 seconds
Wylie Johnson, Sr., Culver, 285, Dec. 2
10 seconds
Brash Henderson, Soph., Silverton, 220, Dec. 3
13 seconds
Breanna Meek, Soph., North Valley, 235, Dec. 3
16 seconds
Lilliyan Jaramillo, Jr., Rogue River, 235, Dec. 3
17 seconds
Quinton Foster, Sr., Oregon City, 170, Dec. 3
19 seconds
Mason Thynes, Soph., Redmond, 126, Dec. 3
20 seconds
Landyn Philpott, Soph., La Pine, 132, Dec. 2
Krystal Zamora, Soph. Thurston, 145, Dec. 10
Undefeateds
In this recurring category, we list wrestlers with 10 or more wins who are currently undefeated on the season.
10-0 – Liam Byrne, Sr., Mountain View, 5A (170 pounds)
Pin to the end
In this section, we list wrestlers who pinned their way through an even with four or more wins.
Haley Vann, Sr., Cleveland, 135, War of the Roses, Dec. 10, Average pin: 42 seconds
Marwan Aman, Beaverton, 152, Tyrone Woods Memorial, Dec. 3, Average pin: 43 seconds
Mason Buss, Sr., Siuslaw, 195, North Bend Coast Classic, Dec. 9-10, Average pin: 44 seconds
Derek Torres, Sr., Culver, 138, Adrian Irwin Memorial, Dec. 2-3, Average pin: 44 seconds
Wylie Johnson, Sr., Culver, 285, Adrian Irwin Memorial, Dec. 2-3, Average pin: 57 seconds
Cole Steketee, Sr., Sprague, 285, Tyrone Woods Memorial, Dec. 3, Average pin: 1:24
Brody Lybarger, Soph., Mountainside, 113, Tyrone Woods Memorial, Dec. 3, Average pin: 1:40
Noah Morris, Sr., Mountainside, 170, Tyrone Woods Memorial, Dec. 3, Average pin: 1:41
Ryan Gaskin, Soph., North Valley, 182, Dan Vidlak Invitational, Dec. 3, Average pin: 1:43
Gage Singleton, Jr., Roseburg, 113, North Bend Coast Classic, Dec. 9-10, Average pin: 1:51
Logan Clayburn, Jr., Myrtle Point, 220, North Bend Coast Classic, Dec. 9-10, Average pin: 1:55
Krystal Zamora, Soph. Thurston, 145, War of the Roses, Dec. 10, Average pin: 2:04
Madi Randels, Jr., Tualatin, 155, War of the Roses, Dec. 10, Average pin: 3:06
100 % COMMITTED!
In this section, we identify those wrestlers who have made commitments to wrestle in college.
Hudson Davis, Sr., Newberg, 197 -- Wyoming
Riley Davis, Sr., Sprague, 174 -- Wyoming
DJ Gillett, Sr., Crescent Valley, 133 – Oregon State
Vaun Halstead, Sr., Thurston, 197 – Oregon State
Daschle Lamer, Sr., Crescent Valley, 174 – Cal Poly San Luis Obispo
Justin Rademacher, Sr., West Linn, 174 – Oregon State
Destiny Rodriguez, Sr., West Linn, 152 – McKendree University
Hayden Walters, Sr., Crescent Valley, 197 – Michigan
If you are a high school varsity head coach and want to know how you can contribute to future Notebooks, contact John Tawa at [email protected]