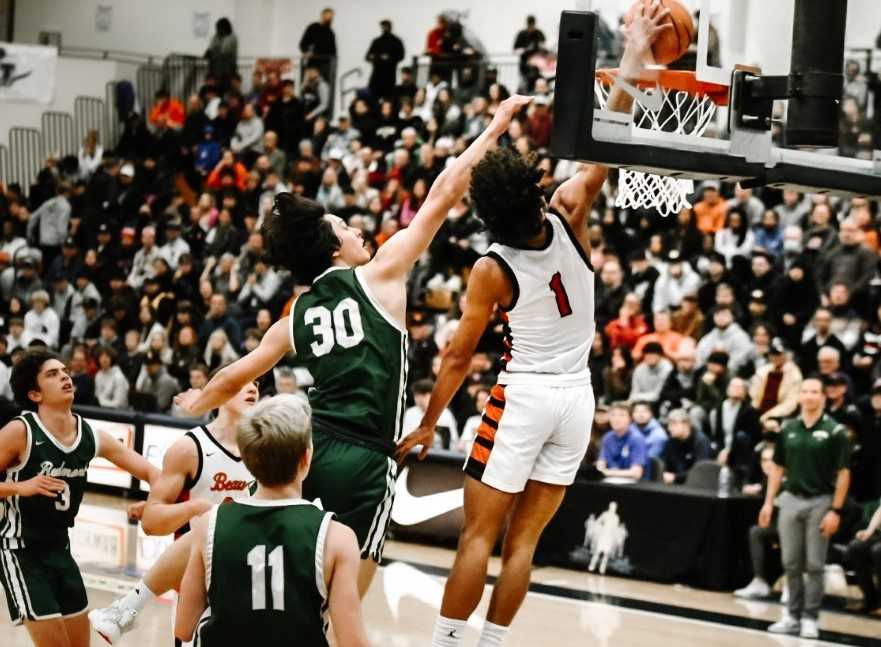 No. 3 Beaverton built a double-digit lead in the first quarter and coasted to a 69-38 win over Redmond (Wash.) in the first round of the Les Schwab Invitational boys basketball tournament Tuesday at Liberty High School.
The Beavers (7-2) led 20-10 after one quarter, 34-21 at half and 58-30 after three quarters. Beaverton, which has lost only to No. 1 West Linn and No. 2 Lincoln, advances to a Wednesday quarterfinal against Duncanville (Texas).
Brady Rice and Jalen Childs scored 13 and 12 points, respectively, to lead the Beavers, who also got 10 points from Max Elmgren. They shot 59.1 percent from the field, including 10 of 15 on three-pointers, getting two triples each from Elmgren and Andrew Perkins.
Chance Winter had eight rebounds for Beaverton, which held a 27-13 edge on the boards.
Redmond (3-4) shot 36.8 percent. Kyle Paddleford led Redmond with 12 points, making 4 of 5 from three-point range.
Redmond has taken the place of Brophy College Prep (Ariz.), which was unable to make the trip from Phoenix when its flights were canceled.
Bishop Gorman (Nev.) 89, Grant 60: Ohio State-bound John Mobley Jr. scored a game-high 20 points to lead the Gaels (7-2) past the Generals (1-4) in a first-round game.
Mobley made 7 of 11 shots, including 4 of 6 from three-point range, and had five steals for Bishop Gorman, which will meet Lincoln in a quarterfinal Wednesday.
Grant was within 46-34 at half before the Gaels pulled away. Christian Green had 19 points and four steals to lead the Generals.
Duncanville (Texas) 85, Cleveland 54: Guard KJ Lewis, who has signed with Arizona, had 19 points, 11 rebounds, four assists and four steals as the Panthers (13-0) dominated the Warriors (1-3).
Cameron Barnes, a 6-10 forward, made 10 of 11 shots and scored 22 points for Duncanville, which shot 61.4 percent. Cleveland got 17 points from Jamel Pichon.
Sierra Canyon (Calif.) 87, Jesuit 61: Bronny James made 8 of 10 shots, including 6 of 7 from behind the three-point arc, and scored 22 points to propel Sierra Canyon (11-2) past the Crusaders (2-4). The Trailblazers also got 12 points from Ashton Hardaway and six points and 11 assists from Dylan Metoyer.
Dashawn Gatson and Nico Rafalovich had 13 and 12 points, respectively, for Jesuit.