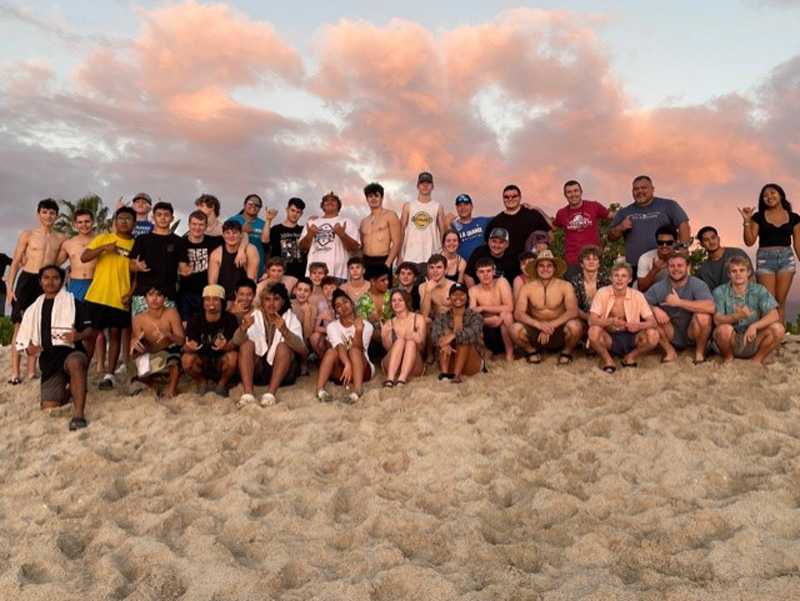 Happy New Year everyone!
Now that the revelry is in the rear window, let's get back to the mat action taking place around Oregon.
Putnam brothers know their place
Rex Putnam had a great run in the early 1970s. The Kingsmen won a state title in 1971and placed among the top five three more times. Despite that success, they have only had seven individual state champions in their history. Crescent Valley, the 2022 5A champions, had seven LAST YEAR!
Putnam's last individual champion was Juan Hernandez at 220 back in 2015. Hernandez was the first of four brothers to wrestle at the school. Gio Hernandez placed second at 160 in 2018. Johnny Hernandez, a 2019 grad, was the first Putnam wrestler to place at state all four years. (Drew Greco, who graduated last year, was the second). Johnny Hernandez finished among the top four three times, including a runner up finish at 145 his senior year.
The Hernandez brother, Jesse Hernandez, is a sophomore at the school. He qualified for state last year as a freshman Longtime head coach John Telesmanich hopes that Jesse not only repeats as a state qualifier, but also that he joins his older brothers as state placers.
La Grande vacances
La Grande's wrestling squad traveled to the Big Island of Hawaii over the holiday break. The Tigers wrestled in a dual meet while there, losing just one match, but the trip involved so much more than wrestling. The team members stayed with host families for part of the time and learned about Ohana, the spirit of Aloha and the Hawaiian culture. There also was a luau, snorkeling, etc., but the most important thing was learning how others, different than themselves, live.
"It was way more than just wrestling," said coach Klel Carson.
Hoping to come out on top
Three Oregon programs, Crescent Valley, Roseburg and West Linn, are sending wrestlers to the Doc Buchanan Wrestling Invitational in Clovis, California this weekend. The "Doc B" is one of the top five high school events nationwide, hosting teams from 16 states and more than 60 nationally-ranked wrestlers.
Last year, Crescent Valley saw its senior star, Gabe Whisenhunt, win his division at the Doc B and take home the coveted cowboy hat bestowed on all champions. Whisenhunt, a four-time state champion, is off to an 8-3 start as a freshman at Oregon State.
This year's Raider team is taking six to the Doc B, headed by three-time state champion, senior Daschle Lamer. Lamer is off to a good start this year. He is ranked No. 1 in Oregon in 5A at 182 pounds, placed third at the Ironman Tournament in Ohio at 165 and dominated at the Reno Tournament of Champions at 165. He is looking to bring home the hat this year to match Whisenhunt.
Other Raiders who could do well include DJ Gillett, who was fifth a year ago; Everest Sutton and Jayden Cobb.
West Linn, led by standouts Earl Ingle, Justin Rademacher, Charles Spinning and Ben Winjum; is taking 11 wrestlers south to Clovis. Ingle is ranked No. 1 statewide in 6A at 220 pounds by www.oregonwrestling.net.
Roseburg hit the road at 6:13 a.m. today with 13 wrestlers, led by undefeated junior Gage Singleton, a defending state champion. He certainly figures in the mix and could contend for a cowboy hat.
Who's on first?
Oregon Wrestling (www.oregonwrestling.net) recently came out with its ranking of the top wrestlers statewide in each of the 14 divisions in each of the five enrollment classifications. The group ranked 20 wrestlers per division in 6A and 5A and 10 each in the three smaller classifications, a total of 980 wrestlers listed, topped by 70 ranked first in their respective divisions.
Singleton, a 6A champion last year at 106 pounds, is No. 1 at 113. The Newberg duo of state champion Zachary Keinonen and fellow junior Brandon Smith are 1-2 at 132 (6A). Sprague senior Cole Steketee, the reigning champion at 285, is the top-ranked 6A heavyweight.
In 5A, the 138 pound rankings include Mountain View's Andrew Worthington, injured all of last season, at No. 1, with DJ Gillett of Crescent Valley,
, a three-time state champion, ranked second. Undefeated Kolton Malone and Vaun Halstead of Thurston, both defending state champions, top 5A's 152 and 220-pound classes, respectively.
In 4A, a freshman, Chance Yancey of Crook County, is No. 1 at 106. Another freshman, Elijah Hatfield of Glide, is No. 1 at 113 pounds in 3A. The Burns brother duo of Hunter Kemper (152) and Easton Kemper (170) top their respective divisions. Culver senior Wylie Johnson is No. 1 at 285 in 2A/1A and seeking to repeat his heavyweight state title earned last season.
Might-osis
When you peruse the rankings put out by Oregon Wrestling, you won't see a separate girls ranking. The group says that the data set it uses does not distinguish between genders. That's why you'll girls like Haley Vann of Cleveland ranked 14th overall at 132 pounds in 6A, for instance.
That may soon change, however.
That's because girls wrestling is growing very quickly.
This past summer, the OSAA made the decision to split girls wrestling into two divisions for the state tournament: 6A/5A and 4A/3A/2A/1A. In each classification, eight wrestlers per division will qualify for state, making for 224 girls at Veterans Memorial Coliseum in late February, 50 percent more than a year ago.
Top Frosh!
This week, we asked coaches to tell us about the top freshmen in the state. There was only a light response, perhaps owing to school still being out. We expect to add to this list in future Notebooks.
Leyton Adams, Hood River Valley, 113 (5A) – Adams, ranked 15th in his division, has a bright future after starting his career with a 7-5 record. "Leyton continues to show his leadership skills, even as a freshman," noted coach Tony Rolen. "He hasn't missed a practice, competition, or team event this season!"
Tommy Belding, La Grande, 132 (4A) – One of two key freshmen that have made the defending 4A champs that much stronger, Belding has won both the Estacada and Muilenburg tourneys early in the season. He is ranked third at 132 pounds.
Brody Buzzard, Harrisburg, 152 (3A) – A football star and consummate workhorse, Buzzard is 19-5 on the season and ranked third in the state in his division. He took first place at the Liberty Invitational over a returning 6A state placer.
Alexander De La Torre, The Dalles, 152-160 (4A) – De La Torre is 10-3 on the season with his signature move being the blast double leg takedown. He won his bracket at the Kelly Bledsoe Invite, the first tourney of the year, and is showing himself to be the hardest worker on the team.
Skyler Hall, North Medford, 105 (6A/5A) – Hall is undefeated on the season (14-0) against all competition, is 3-0 versus the boys and owns a win over the No. 2 ranked 6A boy. Ranked sixth at 106 in 6A, Hall won her division at the Coast Classic, Tyonne Woods and Winter Classic.
Colton Livingston, La Grande, 113 (4A) – One of two key freshmen that have made the defending 4A champs that much stronger, Livingston has just one loss on the season. He won his division at Muilenburg and was second at Estacada. Livingston, who is ranked fifth in the state; and Belding are the first two freshmen to win Muilenburg in 27 years!
Kiya Roe, Knappa, 100 (4A/3A/2A/1A) – Roe is 10-3 to start her career, with just one loss coming versus another female wrestler. She pinned last year's third-place state finisher, is currently ranked sixth overall at 106 pounds and has an unbeatable crackdown finish.
News and notes
Mountain View participated in the Sierra Nevada Classic in Reno, Nevada at the end of December with 76 other West Coast schools. The Cougars emerged with three individual champions -- Drew Jones (132), Jackson Potts (157) and Liam Byrne (175) -- and two other placers – Scout Santos (fourth at 120) and Andrew Worthington (fifth at 138) on their way to a second-place team finish in which all 11 wrestlers scored points…
Ridgeview competed in the Northwest Duals last weekend, finishing 5-3 overall and second in its bracket on Day 2. This was Ridgeview's first time at the event. Dylan Lee, wrestling at 160, went undefeated as one of the Raven's outstanding wrestlers at the event.
Warrenton won the 11-team Paul White Classic at Clatskanie High School last weekend, edging Yamhill-Carlton. Warrenton, fifth in the 3A pre-season coaches poll, had five individual champions: freshman Mason Gorr (113), sophomore Brayden Greenawald (145), senior James Mickelson (170), junior Max Smith (182) and sophomore Kaison Smith (285). Max Smith won each of his matches by fall.
Knappa junior wrestler Corbin Roe stands 18-0 on the season and has pinned every opponent he has faced this season. He is three pins away from breaking
the school record for consecutive pins, 12 wins away from the consecutive wins mark and only 16 wins away from most wins in a season, a record held for the past 15 years by the Loggers' 2007 heavyweight state champion.
North Valley wrestler Ryan Gaskin recently won the 182-pound division at the Grants Pass Winter Kickoff. He is 12-1 on the season. Two girls on the North Valley squad also did well. Breanna Meek finished first at 235 and Delanie Burton placed third at 115.
Baker / Powder Valley has three sisters who all could be on the podium at this year's 6A/5A/4A state tournament. Twins sisters Kaci Anderson (145) and McKay Anderson (135) each recorded pins in less than 30 seconds minutes apart at a recent tournament. Younger sister, Oakley Anderson, scored four pins at 170 in the same event on her way to a third-place finish).
Legends of the fall
In this section, we list wrestlers recording pins this season in under 20 seconds.
5 seconds
Eric Larwin, Soph., Bend, 132, Dec. 2
7 seconds
Wylie Johnson, Sr., Culver, 285, Dec. 2
8 seconds
Wylie Johnson, Sr., Culver, 285, Dec. 2
10 seconds
Brash Henderson, Soph., Silverton, 220, Dec. 3
13 seconds
Breanna Meek, Soph., North Valley, 235, Dec. 3
16 seconds
Lilliyan Jaramillo, Jr., Rogue River, 235, Dec. 3
17 seconds
Quinton Foster, Sr., Oregon City, 170, Dec. 3
19 seconds
Kaci Anderson, Sr., Baker / Powder Valley, 145
Mason Thynes, Soph., Redmond, 126, Dec. 3
20 seconds
Landyn Philpott, Soph., La Pine, 132, Dec. 2
Krystal Zamora, Soph. Thurston, 145, Dec. 10
Undefeateds
In this recurring category, we list wrestlers with 10 or more wins who are currently undefeated on the season.
20-0 – Liam Byrne, Sr., Mountain View, 5A (170 pounds)
18-0 -- Corbin Roe, Jr., Knappa, 2A/1A (126)
14-0 – Kai Carson, Jr., La Grande, 4A (126)
14-0 -- Skyler Hall, Fr., North Medford, 6A/5A (105)
13-0 – Sadie Hall, Soph., North Medford, 6A/5A (125)
13-0 – Estella Gulches, Sr., North Medford, 6A/5A (135)
11-0 -- Logan Clayburn, Jr., Myrtle Point, 2A/1A (220)
Pin to the end
In this section, we list wrestlers who pinned their way through an even with four or more wins.
Haley Vann, Sr., Cleveland, 135, War of the Roses, Dec. 10, Average pin: 42 seconds
Marwan Aman, Beaverton, 152, Tyrone Woods Memorial, Dec. 3, Average pin: 43 seconds
Mason Buss, Sr., Siuslaw, 195, North Bend Coast Classic, Dec. 9-10, Average pin: 44 seconds
Derek Torres, Sr., Culver, 138, Adrian Irwin Memorial, Dec. 2-3, Average pin: 44 seconds
Wylie Johnson, Sr., Culver, 285, Adrian Irwin Memorial, Dec. 2-3, Average pin: 57 seconds
Cole Steketee, Sr., Sprague, 285, Tyrone Woods Memorial, Dec. 3, Average pin: 1:24
Corbin Roe, Jr. Knappa, Phil White Classic, Dec. 29. Average pin: 1:27
Brody Lybarger, Soph., Mountainside, 113, Tyrone Woods Memorial, Dec. 3, Average pin: 1:40
Noah Morris, Sr., Mountainside, 170, Tyrone Woods Memorial, Dec. 3, Average pin: 1:41
Ryan Gaskin, Soph., North Valley, 182, Dan Vidlak Invitational, Dec. 3, Average pin: 1:43
Gage Singleton, Jr., Roseburg, 113, North Bend Coast Classic, Dec. 9-10, Average pin: 1:51
Logan Clayburn, Jr., Myrtle Point, 220, North Bend Coast Classic, Dec. 9-10, Average pin: 1:55
Krystal Zamora, Soph. Thurston, 145, War of the Roses, Dec. 10, Average pin: 2:04
Madi Randels, Jr., Tualatin, 155, War of the Roses, Dec. 10, Average pin: 3:06
100 % COMMITTED!
In this section, we identify those wrestlers who have made commitments to wrestle in college.
Hudson Davis, Sr., Newberg, 197 -- Wyoming
Riley Davis, Sr., Sprague, 174 -- Wyoming
DJ Gillett, Sr., Crescent Valley, 133 – Oregon State
Vaun Halstead, Sr., Thurston, 197 – Oregon State
Daschle Lamer, Sr., Crescent Valley, 174 – Cal Poly San Luis Obispo
Justin Rademacher, Sr., West Linn, 174 – Oregon State
Destiny Rodriguez, Sr., West Linn, 152 – McKendree University
Hayden Walters, Sr., Crescent Valley, 197 – Michigan
Andrew Worthington, Sr., Mountain View, 133 – Minot State
If you are a high school varsity head coach and want to know how you can contribute to future Notebooks, contact John Tawa at [email protected]