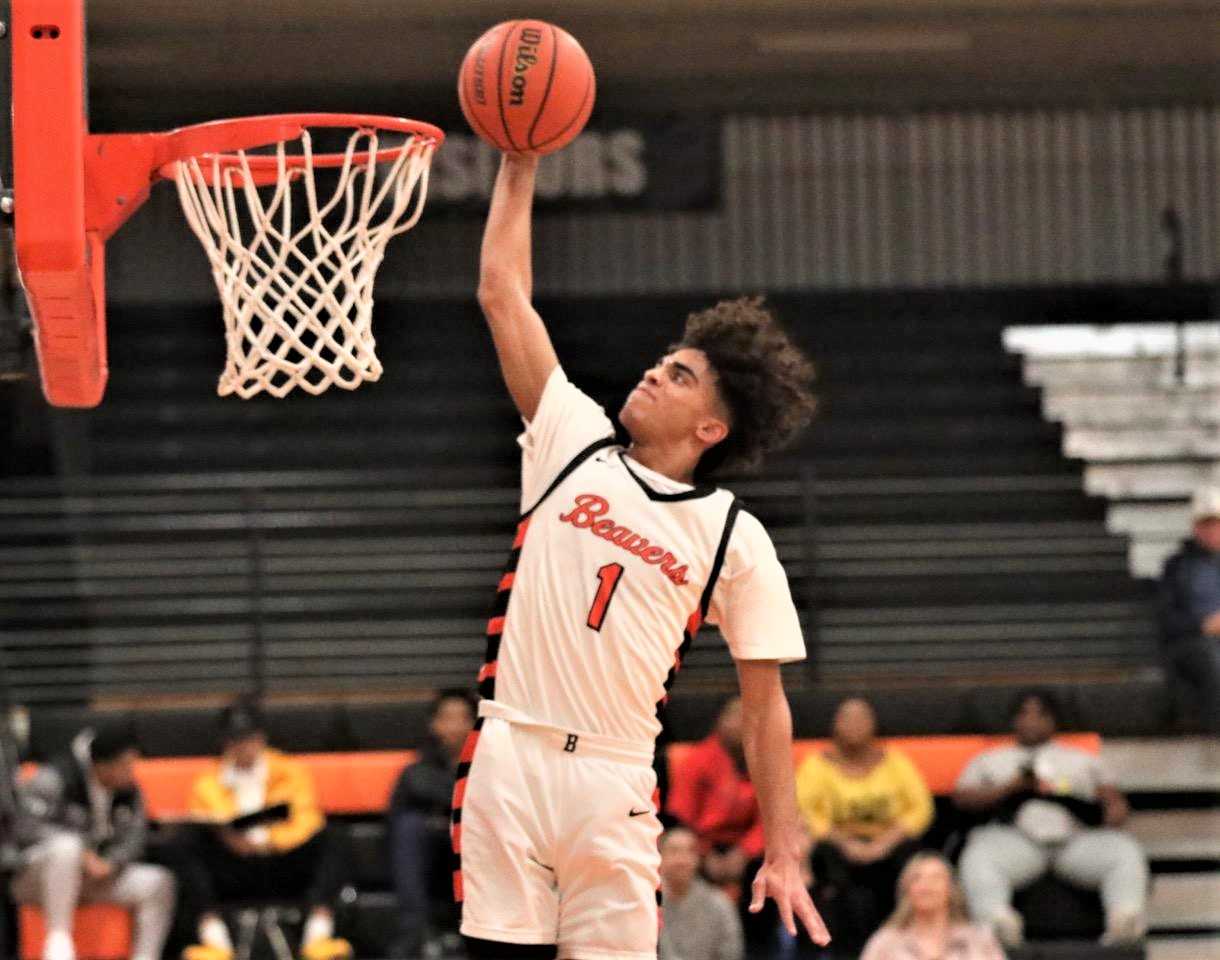 Beaverton spent the first month of the boys basketball season integrating two talented transfers in senior Jalen Childs from Sunset and junior Chance Winter from Glencoe.
The way the third-ranked Beavers (9-4) concluded nonleague play Friday with a 56-38 home win over No. 5 Central Catholic (4-6), it appears that the process is coming along nicely.
The 6-foot-4 Childs scored a season-high 21 points, making 9 of 12 shots, and was instrumental in limiting Rams sophomore sharpshooter Isaac Carr to six points. The 6-11 Winter was a force inside with 13 points, eight rebounds, three blocks and two steals as Beaverton held Central Catholic to a season-low point total.
"We need those two guys playing at a high level," Beavers coach Andrew Vancil said. "I think it's taken them a little bit of time to come in and learn our style and the guys around them. I feel like it's finally starting to come together."
Childs is averaging 14.1 points per game, second on the team behind senior guard Brady Rice (15.5). An explosive scorer, Childs is focusing more on distributing the ball at point guard, a position he is likely to play in college.
"Competing against him the last three years, he's a scorer, a shoot-first point guard. He can drop 30 on you," Vancil said. "Coming over here with this group, I've really tried to preach being more of a floor general. I want to him to lead the Metro League in assists, be a defensive stopper, play a floor game, think his way through the game and not just rely on his athleticism."
Childs took the challenge of guarding Central Catholic's Carr, a 6-3 sophomore who shot 18 of 35 from three-point range in the Les Schwab Invitational and entered averaging 17.4 points per game. He repeatedly ran Carr off the three-point line, holding him to 0 for 4 from behind the arc.
"I thought it was his best game defensively," Vancil said.
Vancil said that Childs is talking with Sacramento State and Idaho State and is receiving interest from Portland State, as well as Division II schools. Prep school also is an option for Childs next season.
The wiry, high-flying Winter – the son of former Glencoe girls star Stephanie Block, who played at Oregon State – is developing as an interior player. The Beavers made it a point to work the ball inside to Winter early against Central Catholic and he was effective with his passing and offensive rebounding.
"I've been telling him that he needs to be a player by March to where we can throw him the ball on the block, and he has developed a low-post game," Vancil said. "He came here very raw. I don't think he's really been taught how to play on the low block."
Winter grew up playing on the perimeter and is learning how to use his size.
"I think he's got the highest ceiling of anybody in the league, if not around the state," Vancil said. "He's still a little puppy. He's not done growing. He needs to play more high-level basketball and buy into being a post. He's really bought into playing inside this year."
Beaverton's in-state losses have come against No. 1 West Linn, No. 2 Lincoln and No. 4 Tualatin.
The Beavers lost at Lincoln 74-63 on Dec. 9, but got payback by defeating the Cardinals 65-56 in the LSI on Dec. 28. They fell behind by 15 points early in the first meeting, but came out strong against the physical Cardinals in the rematch, taking an 11-0 lead.
In a 64-48 loss to West Linn in the Capitol City Classic on Dec. 19, Beaverton led by eight points at half before fading.
"We felt we were right there with West Linn," Vancil said.
The Beavers were in position to beat Tualatin in the LSI on Dec. 30, leading by one point with six seconds left. But Childs missed the front end of a one-and-one free throw opportunity, then accidentally fouled Timberwolves senior Josiah Lake, who made two free throws for a 53-52 win.
"That's a game we absolutely shouldn't have lost," Vancil said.
IMC heating up
No. 5 Redmond (9-1) opened defense of its 5A Intermountain Conference title Thursday with a 71-57 home win over No. 4 Mountain View (7-2).
The path to the conference title promises to be much tougher this season in a new-look IMC that now includes No. 2 Summit (6-3), a 6A finalist last season. Summit plays host to Redmond on Monday and Mountain View on Thursday.
"Everyone in the state of Oregon knows this is the hardest league in the state in 5A," Redmond senior Evan Otten told the Bend Bulletin.
Redmond led 24-11 after one quarter and held off the Cougars. Otten, who is averaging a team-high 15.8 points this season, scored 28 points and senior guard Tanner Jones had 17 points, including 10 in the fourth quarter. Junior guard Colon Horner added 13 points, making three three-pointers.
Mountain View got 22 points from junior Quincy Townsend, who is averaging 26.0 points per game.
Griffin resigns
Gregg Griffin has stepped down as the coach at Putnam, where he was in his 18th season with the Kingsmen.
Kevin Mixon, Griffin's assistant for the past 10 seasons, took over as interim coach for the team's 58-27 loss to No. 1 Wilsonville on Jan. 3.
Griffin compiled a 131-259 record at Putnam, including 5-3 this season. He also went 106-180 in 13 seasons at Newberg (1986-99).
"I enjoyed my time at Putnam," said Griffin, whose best season at Putnam was 16-10 in 2016-17. "The stress and strain of a lot of different things was wearing on me. I planned to more than likely retire at the end of this year, but this came a little early. Putnam's a great place, great kids. I'm going to miss it."
Griffin, who taught for 40 years before retiring three years ago, said he has been dealing with stress from family and friends dealing with illness.
"It's becoming overwhelming," he said. "A lot of things going on in my life, and it was just time to move on. Seventeen years is probably too long to be in one spot."
Mixon earned his first win as coach Friday when Putnam (6-4) defeated visiting Hillsboro 60-44. Putnam athletic director Jesse Eveland said the school will review the coaching position after the season.
"We're going to see how this season goes and how he does, and go from there," Eveland said. "It's a good chance to see if it's something he wants to do."
Crane bounces back
Reigning 1A champion Crane established itself as the state frontrunner with wins over two top contenders this weekend.
The Mustangs (12-1), ranked No. 1 in the OSAAtoday 1A coaches poll, defeated No. 2 Nixyaawii 66-52 at home Friday and went on the road to beat No. 3 Trinity Lutheran 70-57 on Saturday.
The wins came after Crane had its 41-game winning streak snapped by a 49-45 loss to 2A Salem Academy.
"I'm really pleased that we responded," Mustangs coach Eric Nichols said.
Carter Nichols scored 16 points as Crane defeated Nixyaawii (12-2) for the second time this season. Cody Siegner and Taylor Krueger had 14 points each and Jared Zander added 13 points for the Mustangs. Aaron Barkley led Nixyaawii with 24 points.
Crane trailed Trinity Lutheran 39-37 at half but gained control with a 16-3 run in the third quarter.
"Trinity was on fire in the first half," Eric Nichols said.
Zander scored 15 of his 20 points in the second half for the Mustangs, who got 19 points from Nichols and 17 points from Siegner. Andrew Imhoff scored 21 points for Trinity Lutheran (11-3), 19 in the first half.