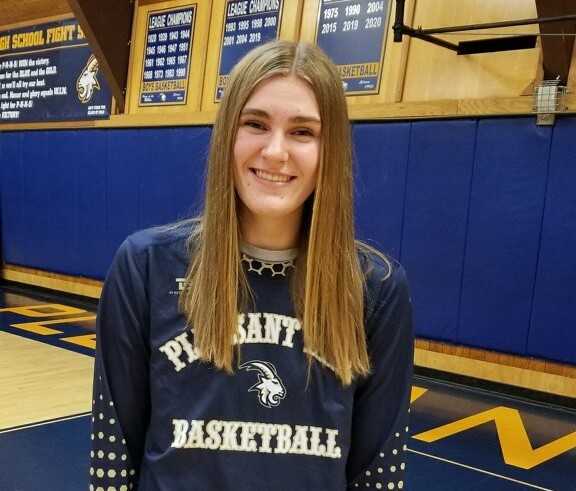 When it comes to coaching girls basketball, Kim Beer always has relished a challenge.
At La Pine, he took over a program that had endured 17 consecutive losing seasons and led the Hawks to a 3A championship four years later in 2009. At Pleasant Hill, he inherited a team that went winless the previous year and guided them to 11 wins in his first season in 2010-11.
Yoncalla had posted five straight losing records before Beer took over in 2019, and he went 40-15 in the last three seasons.
So when Beer, 70, had a chance to return to Pleasant Hill this season, he was intrigued by the prospects. The Billies, who did not have a senior on a team that finished 6-11 last season, looked like an ideal fixer-upper.
"I looked at the roster, and I thought, 'On paper, they look pretty good,'" Beer said. "That's kind of what I've looked for in the past. I don't really like taking over a program that's on top because all you can do is go downhill."
Through the first half of the season, Beer has Pleasant Hill trending up. The Billies are 11-1, No. 9 in the OSAAtoday 3A coaches poll and looking like a serious threat to win the Mountain Valley Conference. Their confidence is growing with each victory.
"I don't think that they're suddenly thinking we're going to win the state championship or anything, but at least they're starting to think, 'Maybe we aren't so bad,'" said Beer, whose team's only loss came against 4A Junction City.
Pleasant Hill is winning with defense, holding opponents to 22.8 points per game, tops in 3A. Beer installed a 2-3 zone defense that has put a vise-like grip on offenses.
"We really concentrate on that," Beer said. "That's kind of what we're hanging our hat on."
The Billies are averaging about 15 steals per game, led by sophomore Brooke Weimer (4.0) and senior Shyanne Fenley (3.3). Sophomore Claire Crawford (5-10) anchors the middle of the zone, flanked by sophomore Cheyenne Green (6-1) and senior Kiley Campos (5-9).
The defense showed what it could do Dec. 10 when Pleasant Hill won at No. 7 Santiam Christian 42-28, which stands as the Eagles' lowest point total of the season. The victory opened the team's eyes about what it could do this season.
"That was a nice surprise," Beer said. "I don't know what I expected, I just hoped that they would come along. They actually were skilled, they just didn't understand basketball yet."
It helps that Fenley, who missed most of last season with a shoulder injury, is healthy and has assumed the point guard role. She is joined in the starting lineup by Crawford, Green, Campos and either senior Kaia Taylor or Weimer (7.2 points), a transfer from Springfield, where she was a member of last year's 5A runner-up as a freshman.
Crawford is averaging team highs of 9.0 points and 6.2 rebounds. She had 24 points and 13 rebounds Tuesday to lead the Billies to a key 63-39 conference win at Creswell (8-4).
"That was our most important win," Beer said. "I was really nervous going into that game. Creswell has been playing well. As it turns out, I think maybe our size was the overwhelming part of that game."
Green, who had a perimeter role last season, has moved into the post and is averaging 7.1 points and 5.9 rebounds.
"That's the first thing I decided, 'Hey, this girl is going to be a post,'" Beer said.
Beer went 34-42 in his first stint at Pleasant Hill (2010-13) before returning to La Pine, where he coached for three more seasons (2013-16). He left La Pine for a second time and became the boys coach at 2A Lowell for three seasons, then moved on to Yoncalla, his alma mater.
Beer – whose daughter, Mindy, was a three-sport standout at North Douglas in the 1990s -- has won more than 300 games in 21 seasons as an off-campus coach for girls teams. Now retired, he is enjoying his return to Pleasant Hill, where his wife Glenda is the JV coach.
"One thing I'm really proud of is with me coming in and changing things, these girls were willing to change the style," he said. "I pretty much had to teach them to play zone defense. They shot lots of threes last year, and I felt like we could be more of an inside team. I'm kind of old school."
Pleasant Hill, 2-0 in the Mountain Valley, can take sole possession of first place Friday with a home win over Elmira (6-3, 3-0).
Baker hitting stride
Senior forward Jozie Ramos led Baker (11-1), No. 1 in the OSAAtoday 4A coaches poll, to two big wins this week.
Ramos scored 22 points as the host Bulldogs defeated No. 6 La Grande 53-38 on Tuesday in the Greater Oregon League opener for both teams.
Ramos and senior guard Macey Moore each had four points in a 10-0 run as Baker extended its lead to 40-25 in the third quarter and coasted to the win. Moore finished with 13 points. Sophomore Kayle Collman had 20 points for La Grande (8-4).
On Wednesday, Baker went on the road to beat 3A No. 5 Nyssa 57-37. Ramos scored 22 points, including 11 in a decisive 17-3 run that turned a 31-30 deficit into a 47-34 lead in the fourth quarter.
Baker, which also got 11 points from sophomore guard Ashlyn Dalton, outscored Nyssa 27-6 to finish the game. Baker had an advantage on free throws, making 20 of 26, compared to 8 of 16 for Nyssa (11-3).
Nyssa's Gracie Johnson, a 6-5 senior who has signed with Utah State, scored 18 points before fouling out with 5:23 left in the game.
Cobras on top
No. 2 Central Linn (13-1, 6-0) assumed sole possession of first place in the 2A Valley Coast Conference on Thursday with a 56-51 home win over No. 9 Monroe (10-4, 5-1).
The Cobras had four players score in double figures in senior Maya Rowland (12), freshman Addie Wolff (11), junior Rhian Hollister (10) and freshman Jayne Neal (10). Senior Gemma Rowland added five points, six rebounds and three steals.
Central Linn trailed 25-24 at half and led 38-37 after three quarters before taking over in the fourth quarter. Cobras coach Wendi Farris credited Wolff and Neal for stepping up and making big shots.
Central Linn won despite being plagued by illness.
"We're running at about 65 percent," Farris said.
The Cobras have a one-game lead over Monroe and No. 4 Bandon (12-3, 5-1). They won at Bandon 30-23 on Jan. 7.
Maya Rowland is averaging 15 points, five rebounds and four assists and Gemma Rowland is contributing 13 points and 10 rebounds per game for Central Linn, which is averaging 19 steals per game.
Notes: Wilsonville freshman Gabriella Moultrie had 28 points, 10 assists and 10 steals in a 71-32 home win over Milwaukie on Monday. Moultrie scored 44 points in a loss at South Albany on Dec. 21, the second most points ever scored by a freshman in state history, behind Milwaukie's Cali Denson (46 points in 2019). … Lakeview's Kenna Stratton, a 6-0 junior, excelled in back-to-back wins over Lost River and Rogue River last week. She put up 38 points, 18 rebounds and eight steals, making 17 of 24 shots from the field for the 3A No. 6 Honkers (11-2).