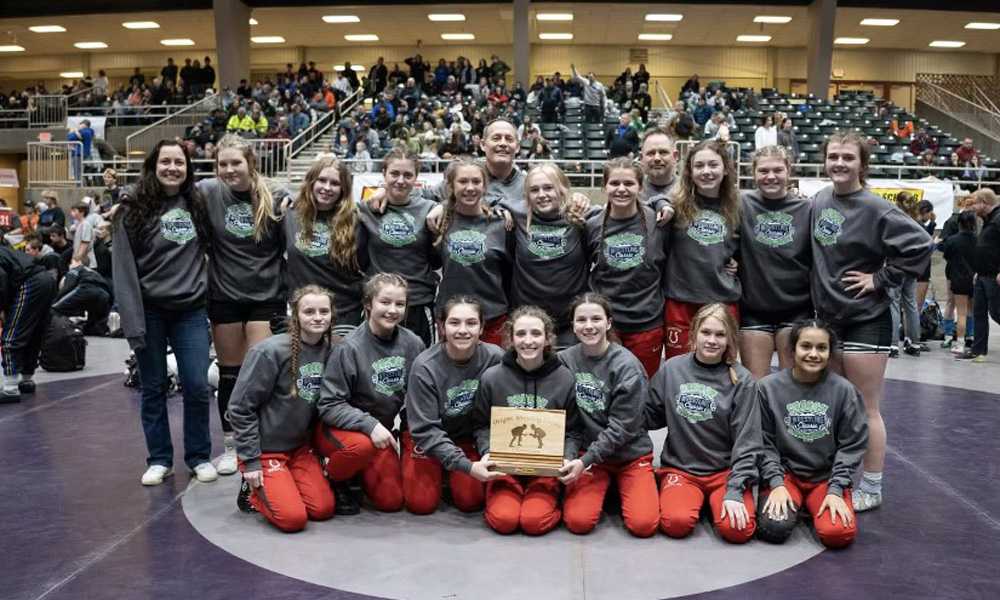 Thurston Girls feeling Colt-ish at Classic
Thurston won its second consecutive Oregon Classic Girls HS Duals tournament this past weekend in Redmond, edging La Grande in the championship match. The Colts went 6-0 in the dual match format to best the other 11 teams there.
Thurston's win last year was accompanied by quite a bit of drama. The Colts needed to rally from down 18-12 to Sweet Home with four straight wins. This year's victory also was tight. Thurston and La Grande exchanged pins at the lower and higher weights but, in the middle, Kassidy Hadden won a majority decision at 132 and Kristal Zamora recorded a fall at 137 to give the Colts their 10-point margin.
La Grande had reached the final by edging both North Medford and Sweet Home in Championship bracket duals. The semifinal versus Sweet Home turned when La Grande won three straight bouts by fall at 112, 117 and 127, courtesy of Lyndie Isaacson, Florecita Villagomez and Delia Gulzow.
Thurston's path to the championship match also was anything but easy. After dominating their pool on Friday, the Colts edged Redmond in a quarterfinal, before taking a more comfortable win over McKay in the semis.
Indeed, the scores suggest that any of five teams, Thurston, La Grande, Sweet Home, North Medford and Redmond, with 1-2 different results, could have emerged as the overall champion. McKay and Scappoose were not far behind. That's how competitive this event was.
Thurston coach Mike Simons said that his team, which was able to fill all 10 weight classes, won with balance and camaraderie. They were led by two-time state champion Kaylee Annis (117) and Zamora, who placed third at state last year.
"Our girls are very coachable and are improving each week," he said. "They have been stepping up to every challenge put in front of them."
Sweet Home, which finished second a year ago, defeated McKay, 39-15, for third place. Bailey Chafin led the way in the championship bracket for the Huskies, recording three pins. Alyssa Peterson also went 3-0, with two pins.
Newberg…same as the old berg…
Newberg won the 6A division at the Oregon Classic for the fifth straight year. The defending state champion Tigers were dominant in the lower weights to down West Linn, 41-30, in the championship match.
Newberg opened the championship match with seven straight wins, including a 1-0 decision for Gus Amerson over 2022 state runner up Charlie Spinning at 147 pounds. West Linn recovered to win six of the final seven bouts, including a fall for Henry Dillingham at 154, but it wasn't enough. The Tigers clinched when Cougar Friesen won by fall in the third period at 172 pounds.
"It was a productive weekend for us in Redmond," Newberg coach Neil Russo said. "That Dual Meet Championship tournament is always circled in red on our schedule - we put a lot of stock in that event and it is a priority in our program. We took 23 kids over and every one of them got into the line-up at least once (and every one recorded a victory). It was a total team effort all weekend long and it was fun to watch our kids support each other and really emphasize the team aspect of the sport.
"West Linn is very good and poses some match-up problems for us. There were three or four 'swing matches' in that finals dual and we were fortunate enough to come out on top in most of them. That was the key.
"I was very pleased with our leaders, specifically, Isaac Hampton, Zach Keinonen, Gus Amerson, Patrick Negra and Cougar Friesen. They were not only hammers on the mat but really helped with our younger wrestlers who are trying to figure out how we do things here at Newberg High School. It helps that they were also all unbeaten on the weekend!"
Sandy edged Roseburg, 42-33, for third place. Successive third-period falls for Soran Dyal at 172 and Cole Rotzien at 184 provided the final margin.
Mountain Views from atop 5A
Back in 5A after a stint in 6A, Mountain View captured its first Oregon Classic title, dethroning last year's champion, Thurston, 45-32, in a tight championship dual. Klay Zuber, wrestling at 115 pounds, had the first of three consecutive pins and the first of four consecutive victories to swing the momentum in the Cougars' direction. Those four wins helped hold off the Colts, whose own run of three straight wins, including pins from Holton Halstead and Braylin Ruchti, followed. Mountain View answered with consecutive falls from Jackson Potts and Liam Byrne and then split the final four matches to clinch victory.
The win for Mountain View, which has just one league title in program history, validated the growth that's been evident over the past few years. The keys to success have been many, coach Les Combs said.
"Perseverance and belief we could continuously improve."
"Great coaching staff from mat club, to our middle school team and to our high school team."
"Our kids commit to being good athletes, and many are multi-sport athletes."
"Our kids wrestle in the off season - Freestyle and Greco and attend summer camps."
"Many take a strength and conditioning class, throughout the school year!"
Dallas won convincingly over Redmond for third. Eagle Point got by Ridgeview to finish fifth.
La Grande finale
La Grande won again in 4A, their third Classic title in a row dating to 2000. The Tigers dominated their competition through five duals before taking a workmanlike 47-22 win over Crook County in the finals. Crook County had edged third-place finisher Sweet Home in one semifinal.
The championship dual saw Crook County bolt to a 12-0 lead on the strength of two decision and a fall. La Grande responded with four straight wins, highlighted by a Joshua Collins fall at 140. Gavin Sandoval broke that streak at 154 with a majority decision, but La Grande then embarked on a more impressive streak, with pins by Dominick Carratello, Eli Bisenius, Cole Shafer, Jarrett Armstrong and Kenai Huff at the next five weights.
"Our senior class has not ever not won the Classic," coach Klel Carson noted.
La Grande had three wrestlers, Armstrong, Huff and Collins, finish among the top 10 in "Most Pins Least Time." Those three, along with Kai Carson, Tommy Belding, Shafer and Brysen Penaloza, were undefeated for the weekend.
Jacob Sieminski and Ethan Spencer pinned all three opponents in Saturday's championship brackets for third place Sweet Home.
Butterburgers for the win!
Culver steamrolled through the 2A/1A division. The Bulldogs now have won 17 Oregon Classic championships in a row.
Culver actually trailed, 18-15, in the championship match versus Illinois Valley before winning the last seven matches, five by fall, capped by defending heavyweight state champion Wylie Johnson winning in 33 seconds.
Illinois Valley was led by Micah Martinho at 113, Ebyn Lindsey at 126 and Ryan Martinho at 145. All three were undefeated for the weekend. Micah Martinho is 19-1 on the season. Ryan Martinho's only losses on the season have come to the same 6A wrestler from Grants Pass and Lindsey, in his first year at the school, has made the championship match of all of its tournaments, winning twice.
Controversy in 3A at the Classic
Harrisburg won the 3A portion of the Oregon Classic, for the first time in school history, in highly unusual circumstances. The entire field benefited by the team forfeit of reigning 3A champion La Pine. Harrisburg also benefited when Burns, the team the Eagles faced in the championship dual, forfeited six weight classes, accounting for 36 of the team's 42 points in Harrisburg's 42-32 win. Only Luke Cheek at 115 pounds won his bout versus Burns. Cheek went 3-0 – all pins – in the championship bracket on Saturday.
"Burns outwrestled us in the finals and, when we won, you couldn't have told by our team's reaction that we had won," noted Harrisburg coach Desmond Bennett. "We lost a couple close matches and a few of our top guys didn't get a match, so it took some of the winning feeling away. I was happy with how our kids reacted because our coaching staff always talks about performance and effort over outcome. And you could tell our wrestlers were not happy even after winning the OWC for the first time in school history. They understand that we have a lot of work to do if we're going to reach our goal at the state tournament. That being said, our kids wrestled very hard and performed very well in our first five duals of the tournament. We had all 20 wrestlers on our roster win at least one match during the tournament. It was a good team effort."
Now, about La Pine, a weigh-in issue with one wrestler caused the Hawks to be disqualified as a team. Here's what La Pine coach Aaron Flack wrote, in pertinent part, in a Facebook post:
"I know there are questions as to what happened to the Hawks Wrestling Team at the Oregon Classic. I want to set the record straight so there is no speculation as to what happened. On Friday morning, the Hawks left the school at 4:30 am and every athlete was under weight. When the team weighed in on one of the scales at the expo center, I watched every kid come across the scale under the specified weight. I normally write down the weights on the weigh-in sheet but I had to give it to the guy weighing them in to record the weights. One of our athletes had their weight recorded incorrectly making him .2 lbs over, instead of .8 lbs under. I was unaware of the mistake as was the athlete. If the athlete was in fact over, he would have the capability of challenging on a different scale. He was not given that opportunity nor was anything flagged on the weigh-in sheet. I did not receive the stack of weigh-in sheets of all the 3A schools until right before our 1st dual of the day. At that point I should have looked and seen that one of our athletes was recorded incorrectly, but I didn't. I instead was looking at the teams we were facing to look at the matchups. The individual wrestled 3 duals on Friday at the weight that we all thought he was recorded at, therefore making him an ineligible wrestler. At the end of the day, OSAA weighed in on what needed to be done in this situation along with the tournament committee. They came to a conclusion that we needed to forfeit the three matches that he wrestled and award the other team those points. The wrestler was going to be allowed to weigh-in the next morning and wrestle. Saturday morning, everyone weighed in with no issues and we wrestled Warrenton in the quarterfinals, beating them 66-12. Shortly after that I was called into a room with the tournament directors, and they said according to the OWC SOP's, any athlete that wrestles at a wrong weight must forfeit the entire dual. Therefore, we were forced to forfeit the 3 duals on Friday, which eliminated us from competition on Saturday. This was a very unfortunate situation and anyone that thinks that was intentional obviously does not know me very well. The wrestler could have wrestled up at the next weight and won every match and we would have been fine if we had known. We beat all three teams on Friday by over 40 points. We didn't need his points. I don't want to take away from the fact that our kids were wrestling tough and they didn't deserve to have this stripped from them."
North Valley, seeded eighth in 3A, beat its seed by two. The team won three matches, with Ryan Gaskin going 6-0 to improve to 20-1 on the season. Mason Core went 5-1, including a big win over Harrisburg freshman Brody Buzzard at 152 pounds.
News and notes
Hillsboro not only captured the 17-team Southridge Invitational on Saturday, the Spartans won every weight class from 182 pounds through heavyweight. Preston Echevarria, Sebastian Echevarria, Jaden Echevarria and Gregory Wallace all went 4-0 – all by falls – to claim their respective brackets.
Hillsboro's girls team also won at Southridge. The Spartans had two individual champions, Nina DeLeon at 100 and Rebecca McGee at 140…
Top Frosh!
We have asked coaches to tell us about the top freshmen in the state. New entries are denoted with an asterisk (*).
Leyton Adams, Hood River Valley, 113 (5A) – Adams, ranked 15th in his division, has a bright future after starting his career with a 7-5 record. "Leyton continues to show his leadership skills, even as a freshman," noted coach Tony Rolen. "He hasn't missed a practice, competition, or team event this season!"
Tommy Belding, La Grande, 132 (4A) – One of two key freshmen that have made the defending 4A champs that much stronger, Belding has won both the Estacada and Muilenburg tourneys early in the season. He is ranked third at 132 pounds.
Delanie Burton, North Valley, 115 (4A/3A/2A/1A) – Technically sound and smart on the mat, Burton is 10-6 as a freshman against boys and girls. She's placed third in back-to-back girl tournaments at very competitive weights.
Brody Buzzard, Harrisburg, 152 (3A) – A football star and consummate workhorse, Buzzard is 19-5 on the season and ranked third in the state in his division. He took first place at the Liberty Invitational over a returning 6A state placer.
*Drew Dawson, Glide, 106 (3A) – Dawson is 21-6 overall and ranked second among 3A wrestlers in his weight division. An emerging vocal leader in the mat room, this hard worker has three wins this season over two-time 2A/1A state champion Michael Miller of Illinois Valley.
Alexander De La Torre, The Dalles, 152-160 (4A) – De La Torre is 10-3 on the season with his signature move being the blast double leg takedown. He won his bracket at the Kelly Bledsoe Invite, the first tourney of the year, and is showing himself to be the hardest worker on the team.
Marlon Giron, Gervais, 120 (2A/1A) – Giron started his career with a 6-1 record. "Marlon always seems to be the aggressor in his matches, getting multiple takedowns in a match," said coach Iban Gomez. "He has an unbreakable cradle that no one has been able to escape from."
Skyler Hall, North Medford, 105 (6A/5A) – Hall is undefeated on the season (14-0) against all competition, is 3-0 versus the boys and owns a win over the No. 2 ranked 6A boy. Ranked sixth at 106 in 6A, Hall won her division at the Coast Classic, Tyonne Woods and Winter Classic.
Colton Livingston, La Grande, 113 (4A) – One of two key freshmen that have made the defending 4A champs that much stronger, Livingston has just one loss on the season. He won his division at Muilenburg and was second at Estacada. Livingston, who is ranked fifth in the state; and Belding are the first two freshmen to win Muilenburg in 27 years!
Kiya Roe, Knappa, 100 (4A/3A/2A/1A) – Roe is 10-3 to start her career, with just one loss coming versus another female wrestler. She pinned last year's third-place state finisher, is currently ranked sixth overall at 106 pounds and has an unbeatable crackdown finish.
Peyton Wafer, Douglas, 113 (3A) – Wafer has been very competitive at the start of his prep wrestling career. "Peyton has a dominating double leg with a never-give-up attitude," said coach Kadin Baker.
Legends of the fall
In this section, we list wrestlers recording pins this season in under 20 seconds.
5 seconds
Eric Larwin, Soph., Bend, 132, Dec. 2
7 seconds
Wylie Johnson, Sr., Culver, 285, Dec. 2
8 seconds
Wylie Johnson, Sr., Culver, 285, Dec. 2
9 seconds
Jon Wiese, Sr., Newport, 182, Jan. 14
10 seconds
Brash Henderson, Soph., Silverton, 220, Dec. 3
11 seconds
Victor Perez, Soph., Newport, 113, Jan. 7
12 seconds
Jon Wiese, Sr., Newport, 182, Jan. 7
13 seconds
Breanna Meek, Soph., North Valley, 235, Dec. 3
16 seconds
Lilliyan Jaramillo, Jr., Rogue River, 235, Dec. 3
17 seconds
Quinton Foster, Sr., Oregon City, 170, Dec. 3
19 seconds
Kaci Anderson, Sr., Baker / Powder Valley, 145
Mason Thynes, Soph., Redmond, 126, Dec. 3
20 seconds
Landyn Philpott, Soph., La Pine, 132, Dec. 2
Kristal Zamora, Soph. Thurston, 145, Dec. 10
Undefeateds
In this recurring category, we list wrestlers with 12 or more wins who are currently undefeated on the season.
24-0 – Kai Carson, Jr., La Grande, 4A (126)
22-0 – Sadie Hall, Soph., North Medford, 6A/5A (125)
22-0 -- Skyler Hall, Fr., North Medford, 6A/5A (105)
20-0 – Aundre Chacon, Sr., North Salem, 6A, 113
18-0 – Estella Gutches, Sr., North Medford, 6A/5A (135)
15-0 -- Logan Clayburn, Jr., Myrtle Point, 2A/1A (220)
14-0 -- Jonavin Keller, Soph., Oakridge, 2A/1A (113)
13-0 – Kali Williams. Fr., Oakridge, 4A/3A/2A/1A (120)
Pin to the end
In this section, we list wrestlers who pinned their way through an even with four or more wins.
Haley Vann, Sr., Cleveland, 135, War of the Roses, Dec. 10, Average pin: 42 seconds
Marwan Aman, Beaverton, 152, Tyrone Woods Memorial, Dec. 3, Average pin: 43 seconds
Mason Buss, Sr., Siuslaw, 195, North Bend Coast Classic, Dec. 9-10, Average pin: 44 seconds
Derek Torres, Sr., Culver, 138, Adrian Irwin Memorial, Dec. 2-3, Average pin: 44 seconds
Gregory Wallace, Jr., Hillsboro, 195, Southridge Invitational, Jan. 14, Average pin: 48 seconds
Logan Clayburn, Jr., Myrtle Point, 220, Eagle Point Invitational, Jan. 7, Average pin: 48 seconds
Jaden Echevarria, Sr., Hillsboro, 285, Southridge Invitational, Jan. 14, Average pin: 55 seconds
Wylie Johnson, Sr., Culver, 285, Adrian Irwin Memorial, Dec. 2-3, Average pin: 57 seconds
Sebastian Echevarria, Sr., Hillsboro, 225, Southridge Invitational, Jan. 14, Average pin: 1:22
Cole Steketee, Sr., Sprague, 285, Tyrone Woods Memorial, Dec. 3, Average pin: 1:24
Corbin Roe, Jr. Knappa, Phil White Classic, Dec. 29. Average pin: 1:27
Brody Lybarger, Soph., Mountainside, 113, Tyrone Woods Memorial, Dec. 3, Average pin: 1:40
Noah Morris, Sr., Mountainside, 170, Tyrone Woods Memorial, Dec. 3, Average pin: 1:41
Ryan Gaskin, Soph., North Valley, 182, Dan Vidlak Invitational, Dec. 3, Average pin: 1:43
Gage Singleton, Jr., Roseburg, 113, North Bend Coast Classic, Dec. 9-10, Average pin: 1:51
Logan Clayburn, Jr., Myrtle Point, 220, North Bend Coast Classic, Dec. 9-10, Average pin: 1:55
Kristal Zamora, Soph. Thurston, 145, War of the Roses, Dec. 10, Average pin: 2:04
Preston Echevarria, Jr., Hillsboro, 182, Southridge Invitational, Jan. 14, Average pin: 2:05
Madi Randels, Jr., Tualatin, 155, War of the Roses, Dec. 10, Average pin: 3:06
100 % COMMITTED!
In this section, we identify those wrestlers who have made commitments to wrestle in college.
Hudson Davis, Sr., Newberg, 197 -- Wyoming
Riley Davis, Sr., Sprague, 174 -- Wyoming
DJ Gillett, Sr., Crescent Valley, 133 – Oregon State
Vaun Halstead, Sr., Thurston, 197 – Oregon State
Daschle Lamer, Sr., Crescent Valley, 174 – Cal Poly San Luis Obispo
Justin Rademacher, Sr., West Linn, 174 – Oregon State
Destiny Rodriguez, Sr., West Linn, 152 – McKendree University
Hayden Walters, Sr., Crater, 197 – Michigan
Andrew Worthington, Sr., Mountain View, 133 – Minot State
If you are a high school varsity head coach and want to know how you can contribute to future Notebooks, contact John Tawa at [email protected]