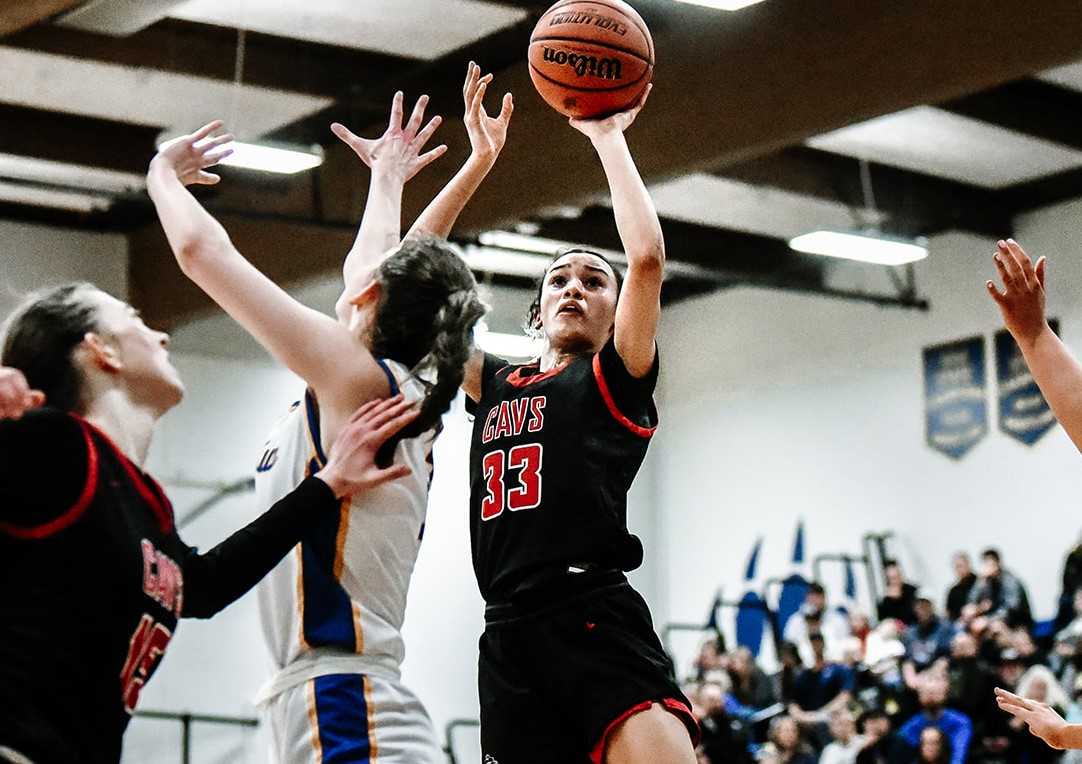 GRESHAM – Top-ranked Clackamas showed the poise and savvy of a veteran team in its most important game of the girls basketball season Friday night at No. 6 Barlow.
Down by eight points in the third quarter, and struggling to get good shots against Barlow's stifling 1-2-2 zone defense, the Cavaliers kept their cool and fought back for a 50-42 win in a battle for first place in the 6A Mt. Hood Conference.
Sophomore star Jazzy Davidson scored eight points in a 13-0 run that spanned the third and fourth quarters as Clackamas (12-4, 6-0) pulled ahead 38-31 and held off the Bruins (13-4, 5-1) down the stretch.
"Just believing in each other and believing in ourselves, that's the biggest area of growth for our team," said the 6-foot-1 Davidson, who made 12 of 20 shots and finished with a game-high 25 points, 10 rebounds and four blocked shots. "Towards the end of the second quarter, there was definitely some nerves, but we pulled it together really well."
Senior guard Rhyan Mogel added 11 points, seven rebounds and five assists for Clackamas, making 7 of 8 free throws in the fourth quarter to help seal the win.
"I never really saw a panicked look on their faces, which gave me a lot of confidence that we were going to figure it out," Cavaliers coach Korey Landolt said. "We didn't shoot particularly well, and in the first half, we threw the ball all over the place. They just wanted to battle back. I have a lot of fighters on my team."
The teams, co-champions in the Mt. Hood last season, entered the game tied for first place at 5-0. Clackamas and Barlow were averaging 83.4 points and 79.4 points, respectively, in conference play, but Friday's game was played at a much slower pace. Barlow's zone defense was effective in covering three-point shooters, shutting down passing lanes and creating turnovers.
"They were kind of swarming us on defense," Davidson said. "We were on our heels. We weren't playing offense how we normally play offense. We weren't attacking, we weren't being aggressive."
Behind a boost from senior guard Olivia Payne, who hit two three-pointers late in second quarter, the Bruins led 20-18 at half. Payne added two more three-pointers, and when senior Haidyn Sobella scored on an inbound play, Barlow was up 30-22 with 4:26 left in the third quarter.
The Bruins led 31-25 when Clackamas made its pivotal 13-0 run, which featured four baskets by Davidson, three of them on slashing drives to the hoop.
"Just flipping the switch to, like, take it to the hoop, draw fouls," Davidson said. "I think we all feel responsibility to provide for our team. I knew what I had to do to pitch in and help us get the win."
Davidson, who is averaging 22 points per game, lit the spark for the Cavaliers.
"I could just kind of see a little difference in her eye, like, 'I've got to start doing a little bit more,'" Landolt said of Davidson.
Davidson not only provided plenty of offense, but she kept Barlow senior point guard Kennedie Shuler in check. The Oregon State-bound Shuler had difficulty getting off shots against the long arms of Davidson and finished with 11 points, below her 17-point average.
"She's an amazing player," Davidson said of Shuler. "We played with each other for two or three years on AAU, so I know all her tricks. I knew what she was trying to get me to do. I just tried my best to not leave my feet and just stay in front of her."
Shuler said it was "really hard" to deal with Davidson.
"She's long, so I just have to kind of outplay her athleticism, I guess," Shuler said. "Just slow down a little bit, get her in the air, try to be a little more crafty."
With Davidson holding down Shuler, Barlow sputtered on offense, shooting 26 percent from the field (13 for 50), including 6 of 22 from three-point range. Payne finished with four three-pointers and a team-high 13 points, but senior guard Annie Koenig, who averages 15 points, could not break free from the Cavaliers and did not score.
The Bruins will get another crack at the Cavaliers when they meet again at Clackamas on Feb. 21.
"I'm proud of our fight," Shuler said. "We came out short. They're super talented. They deserved that win. But next month, it'll be another good game."
Up next for Clackamas is a Monday home date with Washington power Camas, which defeated the Cavaliers 70-68 in the POA Holiday Classic on Dec. 29.
Corbett gets even
No. 4 Corbett knocked off top-ranked and previously unbeaten Banks 49-33 in a 3A Coastal Range League game Thursday.
Junior Ally Schimel scored 26 points as the host Cardinals (17-3, 7-1) pulled even with the Braves (17-1, 7-1) atop the league standings. Corbett coach Bill Schimel said his players were "really looking forward to avenging" a 43-41 loss at Banks on Jan. 6, a game won by Madyson Bigsby's layup with 1.5 seconds left.
"This one gives us momentum heading into the back stretch of the season," Bill Schimel said.
Corbett led 35-17 at half, but Banks won the third quarter 10-0 to draw within 35-27. The Cardinals rediscovered their offense in the fourth quarter to hold off the Braves.
"Our defense was stingy the whole night, even with foul trouble," Bill Schimel said of his team, which had two starters foul out in sophomore Lilly Schimel and sophomore Taylor Donahue.
Donahue and junior Ella Holwege added 10 and eight points, respectively, for Corbett.
No. 1s square off
Senior guard Sierra Hale scored 15 points to lead 1A No. 1 Damascus Christian to a 41-38 home win over 2A co-No. 1 Gervais on Monday in a cross-classification showdown of top-ranked teams.
The Eagles (14-1) opened a 10-2 lead and held off a late rally by the Cougars (15-3), who pulled even in the fourth quarter. Gervais had a chance to take the lead in the final 10 seconds, trailing by one point, but Damascus Christian sophomore guard Ava Mai came up with a steal and layup with one second left to secure the win.
"It's cool for our girls to know that they can compete at the higher level," Eagles coach Robert Day said. "We have girls who just love to compete. They've definitely showed up in all the big games. We're taking each opportunity we get to play against these teams as a good learning experience. If we win, all the better."
Senior post Julia Mitchell scored 13 points and freshman guard Lainey Day added seven rebounds, six assists, five blocks and six steals for Damascus Christian, which has lost only to 1A No. 4 Nixyaawii.
It is the Eagles' first season under Robert Day, a former standout at Benson (2000 graduate) who played at Western Oregon and had a 12-year professional career. He has coached his daughter, Lainey, and in the Damascus Christian middle school program.
"We have a lot of talent," Robert Day said. "I have high expectations for us. I don't think we're even close to our ceiling. We're a much better team than we've showed up until now."
'Courage and heart'
One of the more impressive efforts this season is by a team that has yet to win a game.
Reedsport, which did not have enough players to field a team last season, was able to put together a 12-player squad to play in the 2A Valley Coast Conference this season. The only two players who have previous high school basketball experience were members of the boys JV team last season.
"These 12 young ladies had the courage and heart to come out for basketball this year to help us restart our program," coach Bill Shaw said. "They have improved every week of the season. They have consistently played all the way to the final buzzer in every game they have played."
Reedsport (0-16, 0-11) has lost each game by double digits, except for one, a 37-35 home defeat to Illinois Valley on Jan. 10. The team has lost 28 in a row since winning the finale of the 2019-20 season, when it finished 1-23.
Shaw said that his players, who have a cumulative GPA of 3.625, have helped create a positive atmosphere at the school.
"This is a great group of students willing to help in their school and their community," Shaw said. "They have all participated in fundraisers, student leadership, spirit activities, community projects and blood drives. These young women have a positive attitude and a competitive spirit that makes me very proud to have had the chance to work with them."
Bright spot
Junior Maddie Ward has been on a roll of late for 3A St. Mary's of Medford (1-13, 1-7 Far West League).
Ward erupted for 22 points, 11 rebounds and nine blocked shots in a 38-33 home loss to South Umpqua on Jan. 21. In the two previous games, both losses, she had 16 points, 11 rebounds and five blocks against Douglas and 14 points, four rebounds and three blocks against Sutherlin.