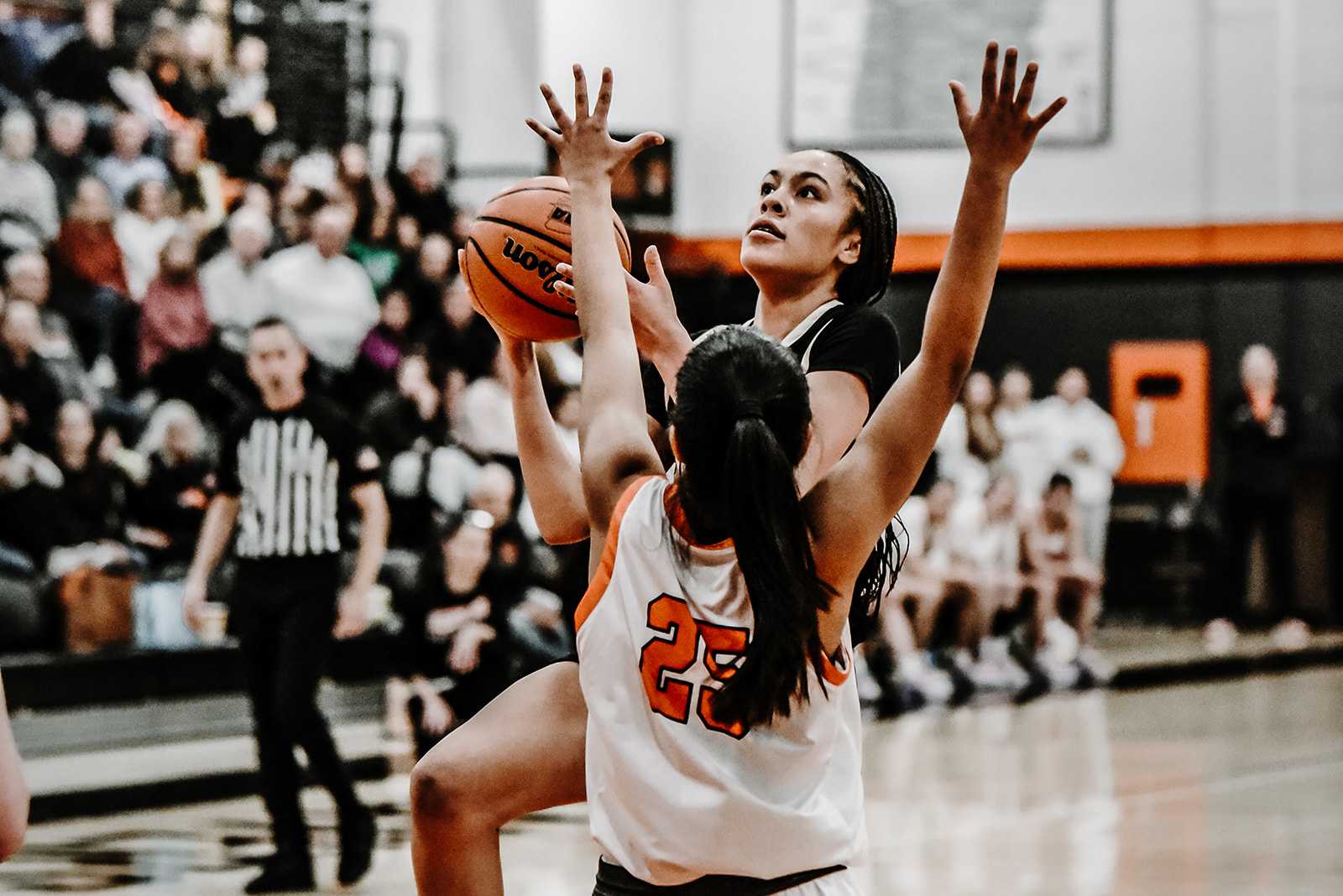 BEAVERTON – Jesuit's girls basketball team knew it was getting a difference-maker when Sofia Bell transferred over from St. Mary's Academy in the middle of last season.
Tuesday night, the 6-foot-1 senior guard illustrated her impact, showing the way on both ends of the court as the No. 2 Crusaders won at No. 3 Beaverton 43-30 in a game between teams tied for first place in the 6A Metro League.
The Oregon-bound Bell scored a game-high 22 points and played lock-down defense on Beaverton's leading scorer, senior guard Zoe Borter, holding her to four points. It was a signature performance for Bell, who had to sit and watch last season as the Beavers won both meetings between the teams and went on to the 6A title.
"It means a lot for us," Bell said of Jesuit's first victory over Beaverton since the 2018-19 season. "Especially for the girls that have been here since their freshman year, it's kind of like getting over the hump, I guess. It's a really big win for us. We've been thinking about it all year. So to come out and execute the way we did, it's really exciting."
Bell's play set the tone for her teammates.
"Sofia's a great player," Crusaders senior guard Tessa Randall said. "Her pace she plays, it opens up a lot of opportunities both on offense and defense."
The Crusaders (15-2, 6-0) finished the first half with a 10-0 run, getting seven points from Bell, to take an 18-9 lead. The Beavers (12-7, 5-1) could get no closer than eight points in the second half.
Thanks to its defense, Jesuit was able to win comfortably despite struggling to finish from close range and making 8 of 20 free throws. Bell held Borter well below her 15-point average and Randall limited senior Lainey Spear to nine points, off her 14-point average.
"We make some free throws, we make some layups, it could've been a little bit more," Jesuit coach Jason Lowery said. "But I think we did what we needed to do defensively. Sofia was being Sofia on Zoe, one of the state's best players. Tessa was amazing on Lainey. So if you can make it tough on them, you can make it tough on Beaverton."
Bell said the Crusaders played "super well' on defense.
"We understood our matchups well, and we came out real hard and played with a lot of energy," Bell said. "There are always things we can do better. We missed a lot of free throws, we missed close ones around the basket. We get to play them again on senior night, so yeah, we're excited."
Jesuit has won nine in a row since losing to No. 1 Clackamas 47-29 in the POA Holiday Classic.
"We've been putting a lot of work in since the new year and since the PIL tournament, so this is kind of a testament to that," Bell said. "We've gotten a lot better."
Bell was glued to Borter, who has signed with UC Santa Barbara. Borter's only offense was a free throw midway through the third quarter and a three-pointer with one minute left.
"Really just stay in her space," Bells said of her strategy. "I've known Zoe since the fifth grade, and she's a really good player, obviously, and a key part of their success. So just stay in her space and limit her offensively."
Bell entered the game averaging 19.7 points overall and 26.0 points in league play, including a 36-point outburst against Mountainside on Jan. 13 in which she made 7 of 8 from three-point range.
Against Beaverton, Bell was able to get to her spots despite being defended by the University of Portland-bound Spear, a versatile 6-1 forward who is widely regarded as one of the state's best defenders. She scored on stutter drives to the basket and short jumpers and hit two three-pointers.
"She was incredible," Beaverton coach Kathy Naro said of Bell. "She was the best player of the floor tonight. I just thought she had an ease about her offensively.
"I was not pleased with us defensively. I felt like defensively we had certain plans and ways we were going to do things, and we just didn't execute those very well. But that's also because she's so good. She's such a tough guard. She changes speed, she kind of lulls you to sleep a little bit, and then she attacks."
Lowery said that Bell is getting a chance to show what she can do after a "disjointed high school career" that was interrupted by COVID and the transfer.
"Sofia, she's Sofia. She's the total package," Lowery said.
Senior guard Emma Sixta added nine points, four rebounds and three assists for the Crusaders, who also got four points and 15 rebounds from 6-1 junior post Kendra Hicks. Jesuit owned a 37-27 edge in rebounds.
Spear's nine points led Beaverton, which shot 10 for 42 from the field (23.8 percent), including 4 of 22 from behind the arc.
"I thought they did a great job defensively, and I thought we gave in and conceded a little bit," Naro said. "They dictated everything. We were on our heels. We were not setting screens and using screens. We were standing. Lot to learn from.
"I know we're way better. But I also thought they had a great game plan and they did a really nice job."
Score one for Oregon
Clackamas found some redemption Monday against visiting Camas (Wash.) in an interstate showdown between top-ranked teams.
Sophomore Jazzy Davidson had 29 points and seven rebounds as the 6A No. 1 Cavaliers won 60-50, evening the score for a 70-68 loss to the Papermakers in the POA Holiday Classic on Dec. 29.
The 6-1 Davidson scored 11 points in the first quarter to give Clackamas (13-4) the early edge, and when she converted a three-point play midway through the second quarter, the Cavaliers were up 22-15.
Camas (15-3), the top-ranked big-school team in Washington, fought back to take a 34-33 lead in the third quarter. Clackamas responded to lead 41-36 after three quarters, and Davidson had eight points in the fourth quarter to repel the Papermakers.
Davidson finished 13 of 19 from the field. Sophomore guard Sara Barhoum and senior guard Rhyan Mogel each added eight points for the Cavaliers, who extended their winning streak to nine games.
In the previous meeting, Clackamas led by 12 points after three quarters but could not close it out. All four of the Cavaliers' losses this season have come against out-of-state teams.
Lighting it up
Senior Maya Rowland caught fire from deep in the last two games for Central Linn (19-1, 12-0 Valley Coast Conference), which is No. 2 in the OSAAtoday 2A coaches poll.
In a 62-39 win at Lowell on Thursday, Rowland hit 9 of 14 shots from three-point range and finished with 34 points, six rebounds, five assists and four steals.
In a 48-34 win at Waldport on Saturday, she was 8 of 16 from behind the arc and collected 27 points, three rebounds, four assists and nine steals.
The nine three-pointers against Lowell puts her tied for 10th in state history. The record is held by Milwaukie's Cali Denson, who made 14 against Parkrose last season.
Rowland is averaging 16.7 points per game.
Far West showdown
Senior guard Micah Wicks scored 30 points, making five three-pointers, to lead No. 3 Sutherlin to a 52-41 win at No. 6 Lakeview on Saturday with first place in the 3A Far West League on the line.
The game was tied 39-39 after three quarters, but Wicks scored nine points in the fourth quarter as the Bulldogs (20-2, 11-0) outscored the Honkers 13-2. The loss ended a 10-game winning streak for Lakeview (17-3, 9-1).
"We're happy to get out of there with a win," Sutherlin coach Josh Grotting told the Roseburg News-Review. "They're really physical and we did a good job of playing physical, and handled their pressure well. Our big girls did a great job rebounding the ball."
Sophomore center Madison Huntley and junior forward Madison Wagner added nine and seven points, respectively, for Sutherlin. Senior guard Breanna Strubel led Lakeview with 14 points.
The Bulldogs ran their winning streak to 12 on Monday with a 47-14 win at South Umpqua.