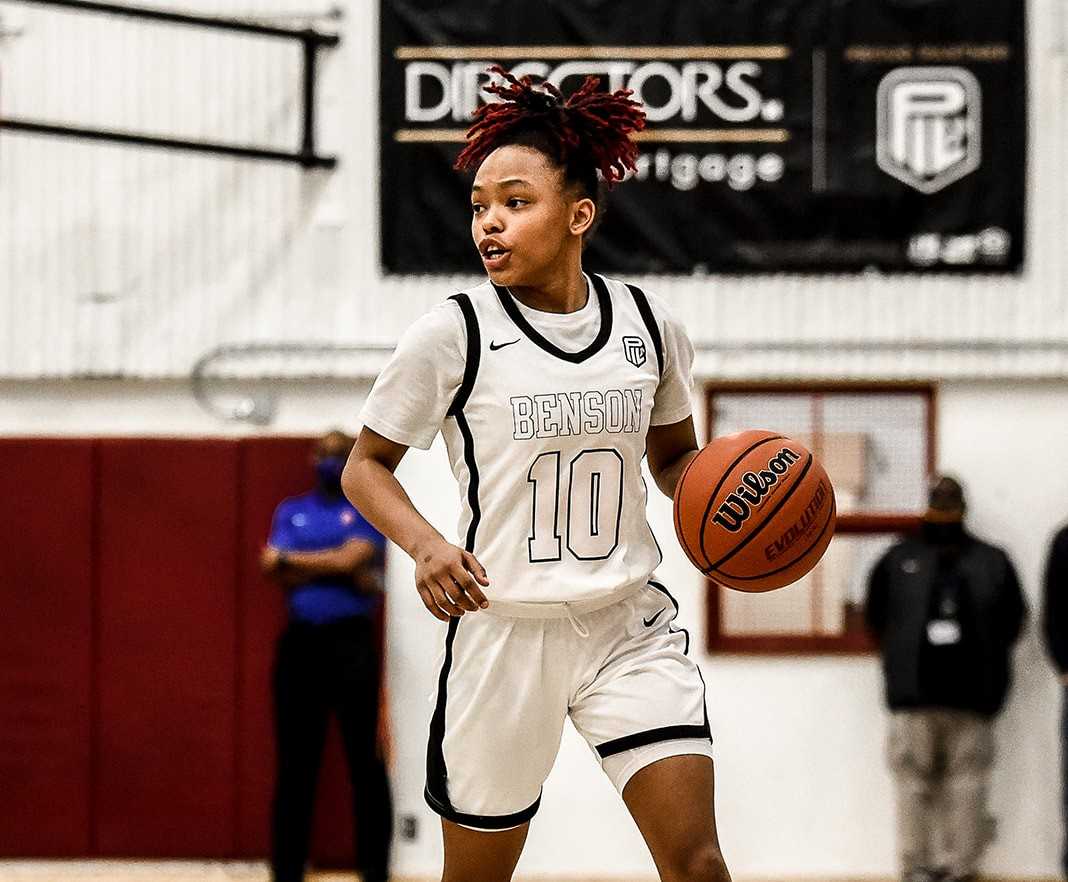 No. 6 Benson turned to an unlikely source for its most important basket of the season in a Portland Interscholastic League girls basketball showdown at No. 9 Jefferson on Tuesday night.
Junior guard Olivia Hinck, who had not taken a shot all game, drove the length of the court for a layup with 2.5 seconds left as the Techsters (12-7, 10-0) escaped with a 62-61 win over the Democrats.
The victory, which extended Benson's PIL winning streak to 40 games, gives the Techsters a two-game lead over second-place Jefferson (12-7, 8-2) with six league games left.
"She doesn't take many shots, but she's the heart and soul of our group," Benson coach Eric Knox said of Hinck. "The cool thing is she's been so deferential her whole career, it's awesome for her to have that opportunity to win the game for us. She's so unappreciated. And what she does doesn't show in the stat sheet."
The 5-foot-4 Hinck faked a pass to 6-2 junior forward Mahogany Chandler-Roberts to create space for her layup, which she banked off the glass.
"I wasn't shocked that she saw herself as the best option," Knox said. "Her drive was the great shot, and she didn't give it up."
Benson, which defeated Jefferson 60-48 in the PIL Showcase at Franklin on Jan. 7, was in control for most of Tuesday's game. The Techsters led 19-6 after one quarter, 40-27 at half and 55-44 after three quarters.
But the senior-less Democrats – whose Oregon losses have come against Benson, No. 4 Beaverton, No. 5 Barlow, No. 7 Tualatin and No. 2 Jesuit – rallied in the fourth quarter. Jefferson got to within 60-59 on a rebound basket by sophomore Chauncy Andersen with 56 seconds to go and took a 61-60 lead on two free throws by sophomore Leila Nunez with 7.7 seconds remaining, setting up Hinck's winning play.
Knox said his team lost some focus when it got flustered by the officiating. Two starters – junior guard Mauriana Hashemian-Orr and freshman wing Samarah Massey – fouled out in the fourth quarter.
"The referees started calling the game tighter, and our kids didn't adjust," Knox said. "Once that happened, I think our kids got a little discouraged and wrapped up in what the referees were doing. Based on our style of play, it kind of takes away what we like to do."
Chandler-Roberts had 18 points and Massey added 12 points for Benson. Sophomore guard Abrianna Lawrence scored 18 points to lead Jefferson, which also got 17 points from Nunez and 15 points from Andersen.
Techsters senior guard Onna Brown, a starter who has been dealing with an ankle injury, scored 11 points in a reserve role. Brown, who sprained her ankle at the Nike Tournament of Champions in December, was out until Jan. 7 against Jefferson but aggravated the injury the following game and sat until Friday's game at McDaniel.
"She's hasn't been quite the same all league season," Knox said. "I'm going to sit her down and make sure she gets that ankle all the way right."
The game was the latest chapter in a budding rivalry between the teams. Last season, Benson won all three meetings, including a 64-62 thriller in the 6A playoff round of 16.
"It was a great crowd. It's something that the community gets to celebrate," Knox said. "I got to be a part of it early in my Benson career when we were chasing down Grant, trying to take them off the mountain."
Aside from the two competitive games against Jefferson, Benson has won its other PIL contests by an average margin of 63.6 points. The Techsters are unlikely to be tested again until the 6A playoffs.
"We needed that game, to be honest," Knox said of Tuesday's win. "That was a playoff environment. We needed a moment like that because it's a character builder. They'll remember this moment. It'll give them confidence that they can pull out a win when their backs are against the wall."
Titans overcome McNary
West Salem solidified its lead in the 6A Central Valley Conference by going on the road to beat second-place McNary 68-63 on Tuesday.
The visiting Titans (15-5, 8-0) trailed 45-36 late in the third quarter before rallying past the Celtics (14-6, 6-2) to open a two-game lead atop the standings.
West Salem pulled to within one point after three quarters, took the lead 49-47 two minutes into the fourth quarter and made enough plays down the stretch to get the win over McNary, a team it defeated 60-30 in the first round of conference play.
Freshman Emma Zuniga scored 19 points to lead the Titans. Senior Madelyn Diaz and sophomore Braeli Marin added 16 and 14 points, respectively, in the win.
Senior Aubri Cabral and junior Ava Rubio had 17 points apiece for McNary.
The teams meet again in the third round of conference play Feb. 21 at West Salem.
South Wasco clinches
No. 9 South Wasco County clinched the top seed in the 1A Big Sky League playoffs with a 53-48 home win over second-place Trout Lake on Tuesday night.
The Redsides (22-2, 14-0) shook off an 11-0 deficit to beat the Mustangs (16-5, 12-2). They drew within 24-19 at half and led 35-34 after three quarters.
Junior Julie Hull and senior Kylie Iverson scored 19 and 18 points, respectively, for South Wasco County. Coach Carly Johnson said the play of Hull, the point guard, was key.
"She did a fantastic job reading the floor and managing the game in the second half," Johnson said.
The Redsides, who were eliminated by Trout Lake in the league playoffs last season, won at Trout Lake 61-54 in the first round of league play Jan. 10. They have won 16 in a row.
"It takes all of us, which makes us tough to play against. We have multiple scoring threats," Johnson said. "They share the ball well, and love playing together. They are such a fun team to coach."
Nyssa edges Vale
Senior forward Gracie Johnson scored 12 of her 13 points in the second half to propel No. 6 Nyssa past visiting Vale 43-41 in a pivotal 3A Eastern Oregon League game Tuesday night.
Sophomore guard Brynlee Harley added eight points for reigning 3A champion Nyssa (19-4, 9-0), which leads second-place Vale (14-9, 7-2) by two games. Nyssa won at Vale 46-39 in the first meeting Jan. 14.
The 6-5 Johnson, who has signed with Utah State, is averaging 18.3 points and 10.3 rebounds this season.
Garus goes off
Trinity Lutheran junior Ava Garus made nine three-pointers to lead the Saints past 1A No. 5 Prairie City 64-52 on Tuesday.
Garus shot 9 of 14 from three-point range and finished with 27 points and seven rebounds as Trinity Lutheran (15-7, 4-2 1A Mountain Valley League) won the nonleague game.
She is averaging 10.3 points, 8.0 rebounds and 3.0 blocks per game.