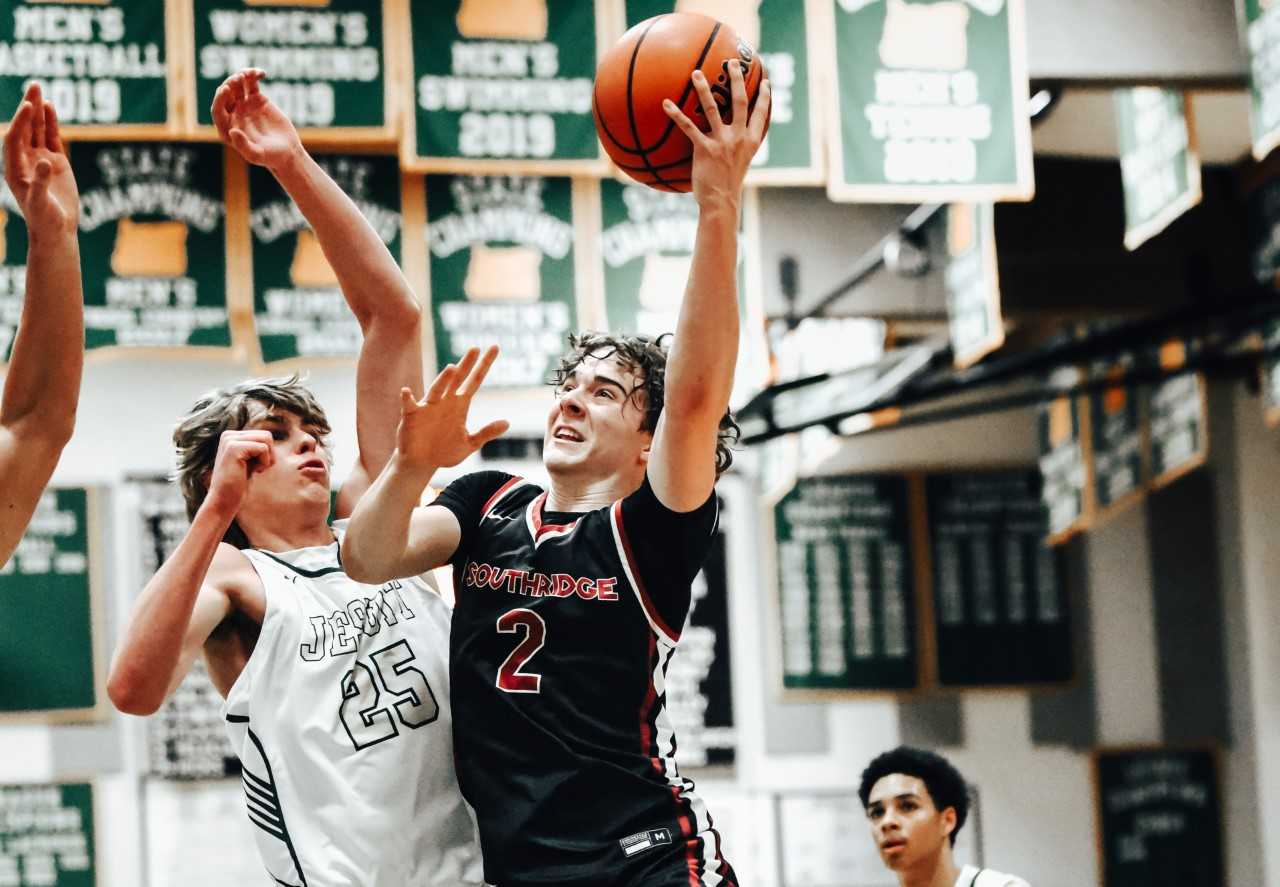 PORTLAND – Southridge added some suspense to what already has been a highly unpredictable Metro League boys basketball race Tuesday night.
The Skyhawks kept their hopes for a Metro title alive with a 72-60 win at first-place Jesuit, which had a chance to put a stranglehold on the league with a victory.
Junior guard Carter Fortune scored 15 of his game-high 22 points in the second half for Southridge (17-5, 7-3), which has handed the Crusaders (13-8, 7-2) both of their league losses this season. The Skyhawks led 29-26 at half before opening a 17-point gap in the third quarter and holding on for the win.
"If they would've won this, they would've been league champions," Fortune said. "We came in here knowing we had to play hard defense and get really dirty on the boards, too. It's a huge win. Not many teams have done it this year at Jesuit."
No. 8 Jesuit still holds a slim edge over Southridge, No. 5 Beaverton (15-7, 6-3) and No. 6 Mountainside (14-7, 6-3). Southridge plays host to Mountainside on Friday. Jesuit plays at Beaverton in the regular-season finale Feb. 24.
Southridge, which starts three juniors and two sophomores, bounced back from a 64-52 home loss to Beaverton on Friday. Southridge coach Phil Vesel said the Beavers "kind of spanked us," but liked how his team played defense and followed the game plan Tuesday.
"When you're a young team, sometimes it's hard to respond," Vesel said. "I think our guys are figuring that out. This is a tough league. You're going to drop some games, as everyone has. But you've got to be ready to play the next one, and they did that."
The performance against the three-time reigning Metro champion showed how the team is maturing.
"We've grown a bunch," Fortune said. "We're a young team, and we're still trying to find ourselves, but right now we have really good chemistry together and good defense."
The 6-foot-3 Fortune sparked the third-quarter run with aggressive drives to the basket. He scored eight points in the quarter, making all six of his free throws. He finished 16 of 19 from the free throw line.
"That's what he can do," Vesel said of Fortune, who averages 14.5 points per game. "He's a big, strong guard, and we're trying to get him to play downhill more and more. … He's a hard matchup in the paint. I was proud of his effort tonight."
Fortune made a point of taking the game to the Crusaders in the third quarter.
"I knew they were going to start hacking up," he said. "Coming out of the first half, they were going to play a lot more physical. They were down, they were angry, they wanted to get some turnovers."
The Skyhawks made their first 15 free throws of the second half. They hit 24 of 27 free throws in the second half, going into the penalty with 1:39 left in the third quarter. For the game, they were 28 of 34 from the line.
"We were aggressive going to the hoop," Fortune said. "We really didn't shoot that many threes. They kind of ran us off the line, so we just tried to get down to the basket and get some foul calls."
Southridge's Vitomir Petcov, a 6-6 junior center, scored back-to-back baskets and junior guard Kaden Groenig added two free throws to finish a 12-2 run as the lead grew to 51-34 late in the third quarter.
"We came out and we knocked some shots down," Vesel said. "I thought defensively, we mixed up our defenses and it gave them some trouble. They missed a few shots they usually might make."
Groenig, Southridge's leading scorer this season with a 15.7 average, scored 16 points. Sophomore guard Keenan Reckamp added 13 points, hitting one of the team's two three-pointers.
The win provides the Skyhawks with a boost for the stretch run. Last season, they finished 5-7 in the Metro, 12-12 overall.
"Road wins in our league are tough," Vesel said. "RPI-wise, it's great to get a road win. We're in the hunt for the Metro League title still. I think it gets our guys motivated to keep grinding. This is that time of year when you're kind of grinding a little bit. It gives you something to play for, for sure."
Junior wing Nico Rafalovich scored 17 points to lead Jesuit, which also got 16 points from senior wing Cade Collins and 14 points from senior guard Isaiah Crane. It was the Crusaders' first game since Feb. 7, when they won 61-60 at Mountainside on a buzzer-beater by Crane.