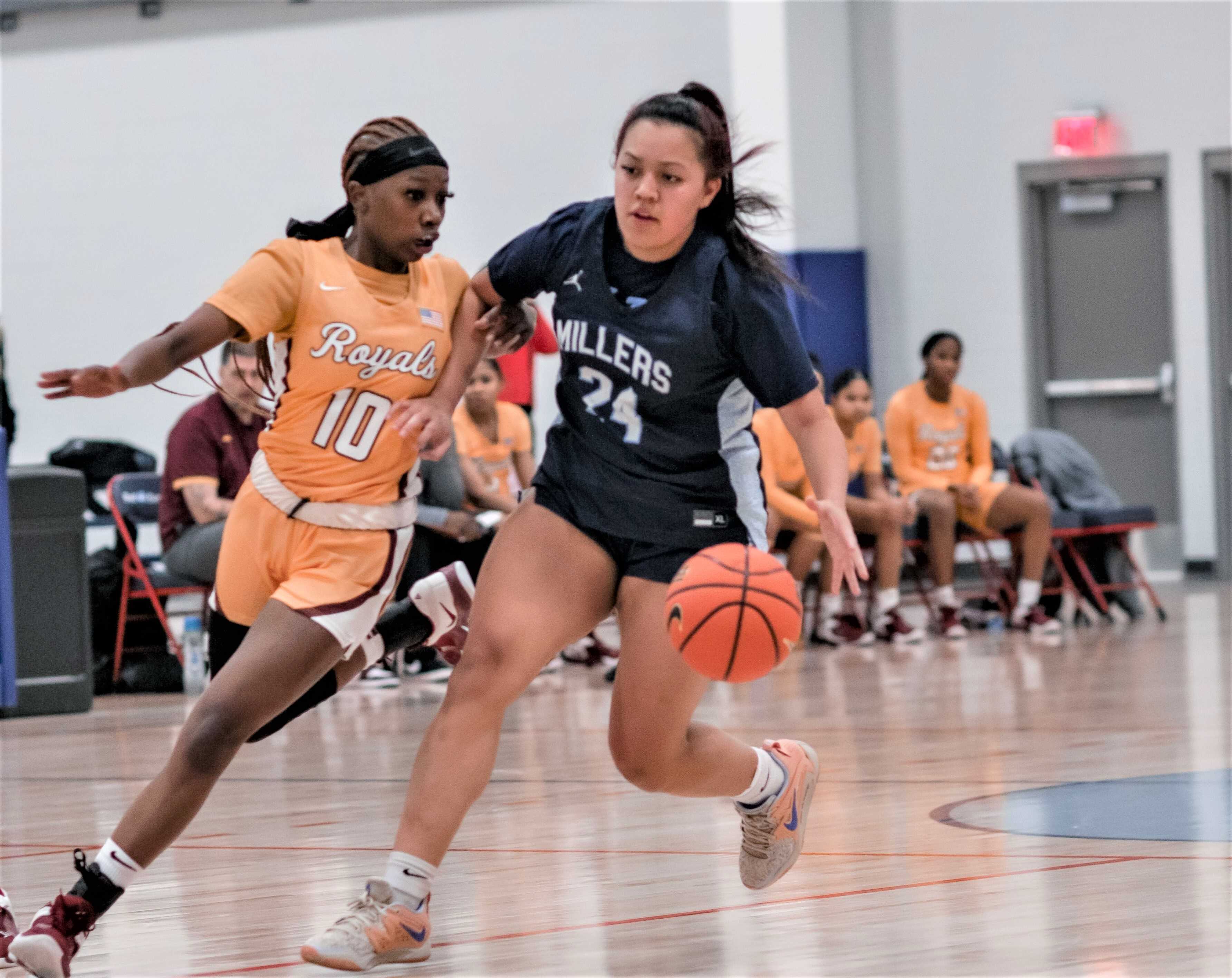 Last season, Springfield's girls basketball team emerged from the shadows to make a magical playoff run, reaching the 5A final before falling to Crescent Valley.
"That was kind of cool to do what we did with nobody expecting it," coach Joe Williamson said.
This season, labeled with the No. 1 ranking in the OSAAtoday preseason 5A coaches poll, the Millers are getting plenty of attention from opponents. And so far, they have been up to the task, still carrying that top ranking as the state playoffs approach next week.
"There's been more expectations on us," Williamson said. "For the most part, we've upheld where we wanted to be. Now we're focused on getting back to the state tournament and trying to make another run."
Springfield is 18-5 overall, 10-0 in the 5A Midwestern League, with two games remaining. The Millers' only losses have come against three 6A teams and two teams from outside of Oregon.
They handled No. 2 Silverton 54-39 on Dec. 10 and won two league games against No. 7 Crater, prevailing 46-41 at home Jan. 6 and 47-42 on the road Feb. 3.
With four starters back from last season, including the 5A player of the year in junior point guard Danaeja Romero-Ah Sam, and the addition of a key transfer from Georgia in sophomore point guard J'Bionna Robinson, Springfield has made marked improvement over last season's 21-8 team.
"Last year a lot of times it was a struggle, having to play above our age," Williamson said. "This year, they kind of know what it takes to win. They have that year under their belt, going through that playoff run and state."
The 5-foot-9 Romero Ah-Sam is the catalyst. She is averaging 15.3 points, 3.6 rebounds, 3.7 assists and 3.1 steals while providing a steady hand against opponents' pressure.
"She's able to have the ball in her hands every time down the floor," Williamson said. "She does a little bit of everything. She's kind of our Luka Doncic. Plays a lot like him, her change of pace, how she uses her body."
The other starters back from last season are senior forward Alexi Morgan (5-9), sophomore forward Juju Henderson (5-11) and senior wing Kylie Rankins. Henderson is contributing 8.8 points, 4.7 rebounds and 1.2 blocks per game.
Injuries have kept Rankins out of the lineup for most of the season, but she is healthy of late and ready for the playoffs.
"When she plays, she's a difference maker for us," Williamson said.
Robinson, the daughter of assistant coach Jermaine Robinson, has joined the starting lineup and is averaging 10.5 points, 2.5 rebounds, 2.6 assists and 4.5 steals. Others who have started are sophomore Ryan Marshall (6-1) and junior guard Kayla Morris, a starter for Midwestern champion Willamette last season.
Willamette moved up to 6A this season, and Springfield and Crater (16-6, 8-2) – teams that tied with Churchill for second place last year – have battled it out for the league title.
In the teams' first meeting, Springfield led Crater by 16 points late in the third quarter and held on to win 46-41. In the second meeting, Springfield was up by 12 late in the third quarter before Crater came back to tie inside the final minute, but Morgan came up with a big steal and layup to propel the Millers to the win.
Springfield lost to Sherwood 58-47, 6A No. 9 Willamette 40-31 and 6A No. 3 South Medford 61-37. In the Jan. 28 game against South Medford, Romero Ah-Sam and Morgan were slowed by injuries and saw limited action.
"We were hurting at the time," Williamson said. "It was good for us to go out against a team that plays at the level they do. It was really nice for the girls to see, this was a gold standard."
Springfield, which last won a state title in 2012 under coach Bill Wagner, hopes it is resetting its own high standard. When Williamson took over in 2020-21, the Millers were coming off a 3-22 season. They have made steady progress under Williamson, who also has coached at East Linn Christian (1998-2002), Corvallis (2007-09) and Lake Oswego (2010-12).
"When I was hired, some of the talks I had with players, they didn't have a lot of belief in themselves, confidence in themselves," Williamson said. "We wanted to turn around the culture, the expectations in the program. I feel like that has changed. I think it's set up to stay that way."
Burst to first
Mountain View completed its stunning surge into first place in the 5A Intermountain Conference with a 57-51 home win over No. 10 Summit on Friday.
The Cougars (15-6, 10-3) have won eight in a row to move ahead of Summit (14-7, 9-4) and Ridgeview (12-10, 9-4) with two games remaining.
Mountain View plays at Ridgeview in the regular-season finale Friday in a game with conference title implications. The Cougars could clinch the outright title or end in a three-way tie for first place.
In Friday's win, Mountain View shook off an early 10-point deficit to overtake the Storm. Junior guard Kasey Booster and 6-2 junior center Avery Andrews scored 23 and 22 points, respectively, for the Cougars.
The return of Andrews, who missed much of the first half of the season after an injury in the season opener, has fueled Mountain View's winning streak.
"I think the more we play, the more comfortable she is," Cougars coach Jon Corbett told the Bend Bulletin. "Now that we have her back in the rotation, it has made a huge difference."
Coastal Range rubber match
No. 1 Corbett edged No. 3 Banks 47-41 in the final of the 3A Coastal Range League playoffs Friday at Rainier High School.
The Cardinals, who played without starting sophomore guard Taylor Donahue, led from start to finish. Banks closed to within two points in the fourth quarter, but Corbett got two free throws from junior guard Ally Schimel with 1:20 left and two free throws from junior guard Ella Holwege with 50 seconds remaining to put it away.
Holwege and sophomore guard Lilly Schimel scored 17 and 15 points, respectively, to lead Corbett. Ally Schimel, held in check by a box-and-one defense, had nine points.
The teams shared the Coastal Range title after splitting two games in league play, each winning on their home court. They move on the 3A playoffs, where Banks (24-2) is seeded first and Corbett (22-3) is seeded third.