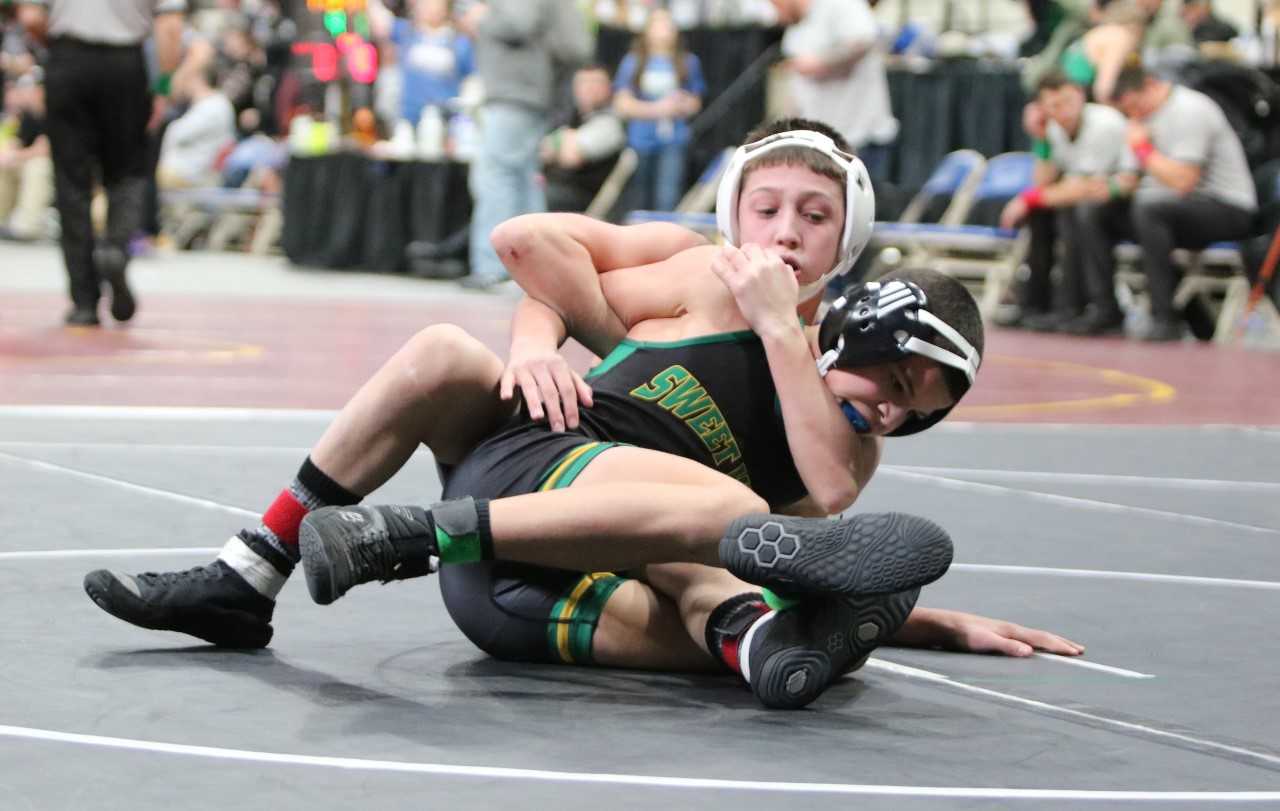 By JIM BESEDA/for OSAAtoday
PORTLAND -- La Grande's Kai Carson (126), Joshua Collins (138), and Bryan Penaloza (145) won individual titles as the Tigers successfully defended their 4A title in the OSAA/On Point Community Credit Union 4A wrestling championships Friday at Veterans Memorial Coliseum.
Ridge Kehr (152), Wyatt Livingston (182), and Kenai Huff (220) added second-place finishes and eight other Le Grande wrestlers found their way onto the podium as the Tigers racked up 299 points to runner-up Sweet Home's 253.5.
Crook County finished third with 230 points and Scappoose took home the fourth-place trophy with 157.
"We had several kids that kind of wrestled above where they were supposed to be at this weekend and beat kids that they weren't supposed to beat, so that was really cool," La Grande coach Klel Carson said. "They wrestled with a lot of heart. The kids just competed and had a lot of desire as they competed today. I'm just super proud of them."
After qualifying 17 wrestlers to state, the Tigers built early momentum by going 13-4 with 12 pins in Friday morning's opening round.
"There are no byes in a 16-man bracket at state, so it's really nice when everyone has an opportunity to wrestle in the first round and get those bonus points," Klel Carson said.
Kai Carson, the coach's son, kept the ball rolling in the finals when he won by a 6-2 decision over Scappoose's Anthony Comer at 126. It was the second consecutive individual title for the La Grande junior, who claimed the 120-pound title a year ago.
Collins, making his fourth consecutive appearance in the finals, also became a two-time champion when he caught Mazama's Treyce Horton and put him on his back in the closing seconds of the first round of the 138-pound final.
"Just to win state, that was the main goal," said Collins, who pinned three of his four opponents and beat the other by a 10-1 major decision. "It was all about staying calm under pressure, being smart, working on my moves, not letting the spotlight get to me, and working hard throughout.
"In the final, I was on top and he went for a switch and I hip-hoisted over the top of him and caught him in a double over-hook. I just love doing that for my team and putting the team points up there."
Penaloza put the finishing touch on La Grande's team title when he pinned Crook County's Cutter Marsh with 44 seconds remaining in the third round of the 145-pound final.
"I trained all year for that. All four years, actually," said Penaloza, who opened a 7-4 lead before turning Marsh's shoulders to the mat. "I knew it was going to be a tough match, but I came out on top.
"It ended up a lot closer than I wanted it to be, but I just kept fighting. He's really good in the top position and I knew it was going to be hard to get out from the bottom, but when he tried to cradle me, he got too high. I popped my hips up and sent him to his back and just held him there."
La Grande's 299 team points were the most scored by a 4A team at the state tournament since 2015 when Crook County won with 327. It also was the Tigers' third title in four seasons.
"I just feel blessed," Klel Carson said. "We have a lot of great coaches and a community of people that really supported us and put a lot of time into these kids, and I really appreciate all of them."
In other 4A highlights:
Top-seeded Bryce Haltiner of Tillamook pinned Crook County's Chance Yancey in the second round to claim the 106-pound title. Haltiner won his first match by an 8-0 major decision and then closed out the tournament with three consecutive pins. … Sweet Home junior Kyle Sieminski became a three-time state champion with a 6-3 decision over Crook County's Alberto Flores at 113. … Henley junior Dylan Clark, seeded fourth at 120, won by a 17-8 major decision over top-seeded Mason Wolcott of La Grande in the semifinals. Clark then won by an 18-8 major decision over second-seeded Conrad Baxter of Stayton in the final. … Sweet Home's Jacob Sieminski also became a three-time state champion when he pinned Crook County's Cash Wells with four seconds remaining in the first round of the 132-pound final. All four of Sieminski's wins Friday were by pins — three in the first round and one in the third. … Crook County's Gavin Sandoval, the top seed at 152, pinned La Grande's Kehr in the second round of their final. ... Scappoose senior Ben Rintoul rallied from a 9-6 deficit and pinned top-seeded Carson Henderson of Junction City in the third round of the 160-pound final. ... Scappoose senior Trey Dieringer won by a 9-2 decision over top-seeded Kadin Zajic of Sweet Home to claim the 170-pound title. ... Sweet Home's Ethan Spencer pinned his way to the 182-pound title, stopping La Grande's Livingston, the top seed, with 10 seconds left in the second round. … Top-seeded Wyatt Anicker of Scappoose pinned his first three opponents and then won by an 8-1 decision over Cascade's Blake Perlichek to claim the 195-pound title. … Unseeded Matthew McCoy of Henley beat La Grande's Huff, also unseeded, by a 3-0 decision in the final at 220. … Astoria heavyweight Matthew Evans pinned all four of his opponents in the first round and needed only 28 seconds to put away Cascade's Nicholas Lopez in the final.
3A
La Pine showed up at Veterans Memorial Coliseum and took care of job one — winning a third consecutive team title,
La Pine landed three individual champions — Landyn Philpott at 132 pounds, Devon Kerr at 138, and Tag DeLuca at 160 — two go along with three second-place finishes, one third, and two fourths as the Hawks piled up 195 team points.
Burns scored 175.5 points to finish second for the second year in a row, followed by Harrisburg with 156 and Banks with 142.5.
The Hawks also made history by becoming the first program to sweep both boys' and girls' state titles in the same season across all classifications.
"This was all about how hard they worked," La Pine coach Aaron Flack said. "This is where you reap the benefits is at a tournament like this. It's just awesome how it all came together."
"Wrestling season is a grind. We've had a lot of ups and downs in our program this year. We had some key injuries late in the season to a couple kids who would have been right up there and had a shot at placing.
"I told these guys, 'You guys have got to step up if you want this to happen and you want to win another state title. It's going to take every single one of you. It's not just one. It's not just two. It's the entire team' And they did. They definitely stepped up."
One of the best examples of that was in the 120-pound weight class where La Pine's Mason Webb won by a 5-2 decision over the No. 3 seed in the quarterfinals, followed by a 2-1 win over unseeded Preston Hill of Burns in the semifinals.
In the finals, Webb met his match, falling to top-seeded Canon Winn by a 12-0 major decision, but the overall effort netted the Hawks 18 points toward their team goal.
La Pine put five others into the finals and scored big with their three individual state champs.
Philpott, the Hawks' 132-pound sophomore, became a two-time state champion when he overwhelmed Jack Vandehey of Banks and won by a 12-0 major decision.
"I got out there and I took him down fast," Philpott said. "I felt good and felt in control that whole match. I could have done a little bit better with that armbar and maybe pinned him, but he wrestled tough and it was a good match.
"Words can't explain it. Being a two-time champion, I'm happy, and now that I've got two, I'm going to try to go for three and maybe four. Just keep working up."
At 138, Kerr won each of his first round matches with first-round falls and then won his second consecutive individual title with a 9-5 decision over Elmira's William Walton.
At 160, DeLuca, the No. 3 seed, defeated second-seeded Devin Martin of Harrisburg 3-1 in overtime in the semifinals. He then knocked off top-seeded Sage Baker of Douglas 3-1 — again in OT — for the title.
In addition to Webb's second-place finish, Tyson Flack at 106 and Cache Montgomery at 170 also earned runner-up honors for La Pine.
"We had six kids in the finals and they wrestled their butts off," Aaron Flack said. "I'm just so proud of the guys. My own son, Tyson, losing his senior year, that was tough for me as a dad and as a coach, knowing how hard he work and how badly he wanted it.
"At least he gets to shine and be part of that team state championship."
Added Philpott: "The team title means everything, going back-to-back. Then having the girls' team win … it's a dream come true for our program.
"When we finished second (to Burns) at district, I was like, 'We can do better than that.' Our team just came together this week and formed a really tight bond and got it done."
2A/1A
When Illinois Valley pushed five wrestlers into Friday night's finals and then came away with four individual titles, the Cougars also walked away with the first 2A/1A state title in school history.
Riding the strength of individual titles from junior Mike Miller at 106 pounds, sophomore Micah Martinho at 113, senior Ryon Martinho at 138, and senior Ryan Griffin at 152, the Cougars held off defending champion Culver 154-149.5.
"It feels amazing," Ryon Martinho said. "Words can't express it. I've been working toward this for 12 years, so it's pretty special to me, especially to do it with some of my best friends who I have been wrestling with since I was a little kid, and doing something that our school has never done.
"That's pretty impressive to me."
The team race essentially came down to two Illinois Valley-Culver head-to-head matches — Micah Martinho against Culver's Debren Sanabria, and Griffin against Kevin Abbas at 152.
Both matches also were rematches of last year's finals. Micah Martinho won by a 9-5 decision over Sanabria at 133, while Abbas edged Griffin 4-2 at 145.
This time, Micah Martinho scored the initial takedown and a near fall to take a 4-0 lead before Sanabria was forced to resign because of injury with 30 seconds remaining in the second round.
After a scoreless first period in the 152-pound final, Abbas scored an escape to take a 1-0 lead, but Griffin countered with a takedown for a 2-1 lead midway through the second period. Griffin was then in the bottom position for the third round and used his long, tall frame to prevent Abbas from scoring as the 2-1 advantage held up to the final whistle.
"I knew not to get too overly confident and to stay slow, work hard, and be smart about it," Griffin said.
At some point in the third round, it might have made sense for Abbas to cut Griffin loose and then go for a takedown to possibly force overtime.
"I thought so, too," Griffin said. Honestly, Abbas is a stud. He's a beast. But he knew he couldn't beat me on takedowns. That's my specialty, so … I don't know. He knew he wouldn't be able to win that way, so he was going to try to go for the leg ride.
"But I knew I wasn't going to get turned, so I was cool on the bottom. I knew the match was won when we had 30 seconds left. It feels amazing. I know my dad (Cougars assistant Gene Griffin) has been waiting for this for a long time, so it feels good to finally give it to him."
In the other finals involving Illinois Valley wrestlers, Miller edged teammate James Conn 7-5 at 113, while Ryon Martinho won by first-round pin over Toledo's Nic Kaufman at 138.
Illinois Valley's wrestlers also tipped their cap to Colton senior Roger Moore who scored an escape and a takedown in the third overtime period to edge top-seeded Reeden Arsenault of Culver in the 145-pound final, helping the Cougars' title run.
"Everybody had to play their part," Ryon Martinho said. "I played my part, and we needed a little help from another kid (Moore) from another school, and he did his job. Once Moore did that and Griffin went out there and collected that 'W,' that was it. That was all she wrote."
Illinois Valley coach Jesse Clark said he knew he "had the team to do it."
"I never doubted them," Clark said. "And when I had five guys make the finals, that's what did it. These guys are blessed with prayer and God and all that good stuff going on in their lives right now. I'm a little on edge right now. When I shed tears, I do it on my own, but I'm there.
"This is the most humbling thing I've ever had happen to me in my life other than being married and our kids being born. This community deserves this. I mean, this wrestling program out there has been grinding for a long time."
Culver was denied in its bid for what would have been the Bulldogs' ninth team title in the last 10 seasons.
"It was a good day to be an Illinois Valley Cougar, I'd say," Culver coach JD Alley said. "They've got some kids that can wrestle and they showed up today, so hats off to them. They did what it took to win."
4A/3A/2A/1A girls
For a team with only five state qualifiers, La Pine's girls had a little more firepower than any of the other top contenders were prepared to match.
La Pine senior Kira Kerr (155) clinched he second consecutive individual title and three other Hawks placed second in their respective weight classes as they captured the inaugural 4A/3A/2A/1A girls team title.
Riley Allison (145), Juletta Leal (130), and Jade Seymour earned runner-up honors in their respective weight classes for the Hawks, who finished with 77 teams points — just enough the hold off Baker/Powder Valley with 71 points, Sweet Home with 71 points, and La Grande with 63.
"Those girls have been tough for us all year long," La Pine coach Aaron Flack said. "We went to some big tournaments — the Rollie Lane Invitation in Idaho and the Sierra Nevada Classic in Reno. Our girls all placed in those big tournaments and that helped prepare them for a tournament like this.
"That was one of the things coming into this, we were hoping to get four of them into the finals. I thought we had a good shot at it and we did just that."
Sweet Home kept things interesting when freshman Bailey Chafin pinned La Pine's Seymour in the first round of the 125-pound final, lifting the Huskies into a 71-71 tie with the Hawks.
Kerr then put La Pine back in front when she pinned Baker's Marli Lind 26 seconds into the first round of the 155-pound final — her third first-round pin in as many matches.
"That's kind of my thing — get in and get out," Kerr said. "We got in a tie and I had an arm turn me. My brother and I were joking about how I threw a head-and-arm in my semifinal match and he told me if it came down to it, throw another one. I never hit head-and-arms, but that's how I won my state title and that's how my older brother won his state title. It just felt right."
Sweet Home still had an outside chance to catch La Pine but needed a pin from Alyssa Peterson in the 170-pound final. Instead, Baker's Oakley Anderson put Peterson on her back with 37 seconds remaining in the third round, lifting the Bulldogs into a second-place tie with Sweet Home and helping to secure the team title for La Pine.
"These girls have worked so hard all season," Kerr said. "They've spent extra time wrestling each other and beating the snot out of other girls. All those girls went out there and wrestled their hardest and left it all on the mat. This is their team title. They deserve it more than anyone."
Over the past four seasons, the girls' tournament featured all six classifications. But with the growing numbers in the sport over the past few years, the OSAA this year split the girls' tourney into two separate tournaments — one for big schools (6A/5A) and one for small schools (4A/3A/2A/1A).
"Even when we competed with all classifications, we were in the top 10 the last two years and we brought home a fourth-place trophy a few years ago, so we've always been right there," Flack said. "When they split it up a little bit, it gave us a chance, because we just don't get a lot of girls out.
"This year, we had a total of seven girls, and five of them qualified. We don't get the numbers like Thurston and some of those big schools that get a lot of girls out, so we can have a hard time competing with some of those bigger schools."
Flack was thrilled that the tournament came off the way did, considering things looked a little iffy on Wednesday night. Record snowfall blanketed Portland and the OSAA was forced to scrub Thursday's scheduled opening rounds and reduced the small-school tournaments for both boys and girls to a one-day marathon event.
"As long as we're wresting, that's the important thing," Flack said. "I think it would have been terrible for our kids not to be able to compete, especially our seniors to not have an opportunity their senior year. I was a little worried on Wednesday night, for sure.
"But as long as we get it in, I'm happy either way. It's just another tournament for us and to get it all done in one day, that's only one weigh-in and that's good for the kids."