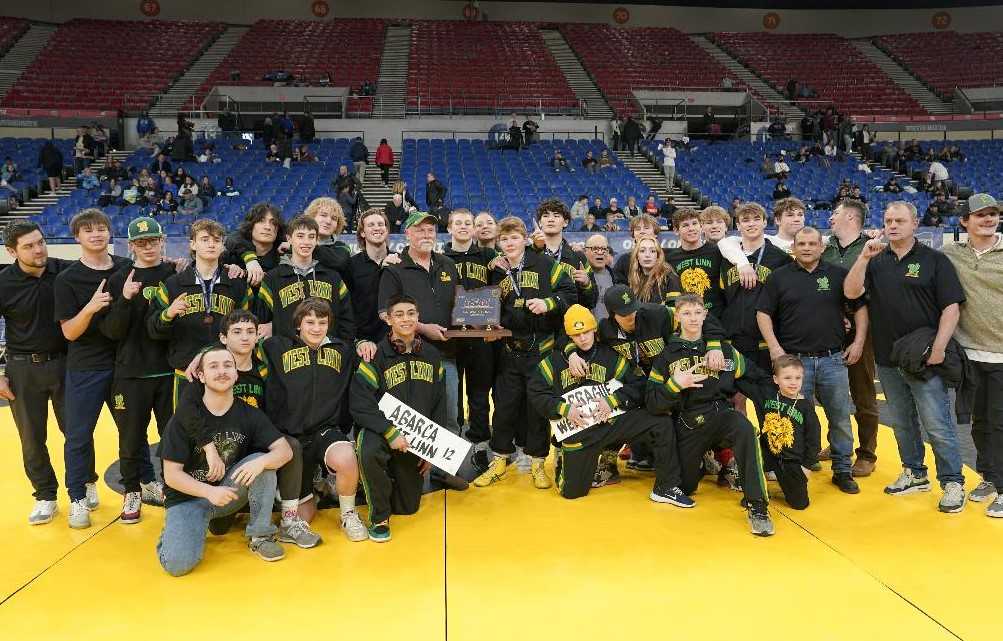 PORTLAND – For much of the wrestling season, West Linn couldn't get over the hump against three-time reigning 6A champion Newberg.
The Tigers got the best of the Lions in the Rose City Championships, Northwest Duals, Oregon Classic and Reser's Tournament of Champions.
"As the year went on, I got more and more doubt," West Linn coach Kevin Keeney said of his team's chances of winning a state title. "Newberg was hammering us."
But the Lions knew they would get another crack at Newberg in the OSAA/OnPoint Community Credit Union 6A championships this weekend at Veterans Memorial Coliseum. And they made it count.
Getting key contributions up and down the lineup, West Linn captured its first state championship Sunday. The Lions got titles from senior Justin Rademacher (182 pounds), juniors Charles Spinning (145) and Henry Dillingham (152) and sophomore Oscar Doces (126) to outscore Newberg 288-262 for first place.
"It was just an unbelievable team effort," Keeney said. "I've seen this before from the Craters of old, from Hermiston. I've seen this from Newberg multiple times, where they just kind of get on a roll and it's like, it's just their day. And for some reason this weekend, it just became our weekend. The matches we lost all year, now we're winning."
Finishing second didn't sit well with Newberg, a proud program that has won 13 OSAA state titles and an unofficial championship in 2021.
"This tournament is an animal of its own," Tigers coach Neil Russo said. "Collectively, we didn't get what we wanted, what we came here for. But we've got plenty to be proud of. Our standards are not going to change. When you're disappointed about getting second place, that says something about your expectations and where you are as a program."
Spinning epitomized West Linn's tournament. In the 145 final, he met top-seeded Newberg sophomore Gus Amerson, who had narrowly beaten him in all three meetings this season. This time, Spinning pinned Amerson in the second round.
"I knew he didn't really have my number, because I knew I was a better wrestler the whole season," Spinning said. "I knew what I had to work on. … I wanted to face him. I've been working my tail off for months. I lost a controversial one early in the year, and I knew I had to leave no doubt. That's what I went out and did."
The Oregon State-bound Rademacher won his first title by pinning Westview senior Jason Cephus in the second round. It was redemption after finishing second as a freshman and junior.
"In the beginning, I wanted it so bad, after a while it was like, 'I've got to get over it,'" Rademacher said of winning a title. "I knew it would come, to be honest. I worked so hard. I knew I was going to get this."
The top-seeded Dillingham trailed South Medford sophomore Bridger Foss 4-2 late in the third round, but received a penalty point for Foss stalling with 10 seconds left, then executed a reversal to take a 5-4 lead with two seconds left. Doces, the No. 3 seed, completed his inspired run by knocking off the No. 1 seed, Aloha junior Moises Lopez, 8-2 in the final.
Newberg's three reigning champions – juniors Isaac Hampton (120) and Zachary Keinonen (132) and senior Hudson Davis (195) – all came through with titles.
Keinonen came back from a 3-0, third-round deficit to defeat Tigard senior Cade McCallister 5-3 in overtime for his third title. The burly McCallister had Keinonen on the ropes.
"Oh man, those muscles. He's a horse," Keinonen said. "I just got those muscles tired, and I wrestled my match."
Trailing late was an unusual position for Keinonen.
"Normally, I'm not there," he said. "I was scared. But I knew that I had him tired. When I got that stall call, I knew I was getting the takedown, and I knew I was winning in overtime."
Hampton pinned all four of his opponents in the tournament to win his second title.
"I've been reassuring myself that I'm the best guy in the arena, that I'm the best guy in the bracket, that I don't need to worry," Hampton said. "I need to wrestle my match and not worry about what somebody else is doing. That was mostly my mindset coming in here, defending my title."
Clackamas junior Jeremiah Wachsmuth (113) came through with one the tournament's biggest upsets, winning 6-2 over Roseburg junior Gage Singleton, the top seed and a two-time champion. The second-seeded Wachsmuth had lost the last three matches to Singleton, the last one by one point.
"This time I just felt like it was my time to shine," Wachsmuth said. "I bumped up my practices a little bit more. … I feel like I had to be a little faster on my feet. Last time, he got to my ankles a few times. This time, I adjusted. I was quicker on my feet. He couldn't get to my feet."
6A finals results
106 – Max Blanco (McNary) 22-3, Jr. over Brody Lybarger (Mountainside) 45-2, So. (SV-1 9-7)
113 – Jeremiah Wachsmuth (Clackamas) 26-1, Jr. over Gage Singleton (Roseburg) 39-5, Jr. (Dec 6-2)
120 – Isaac Hampton (Newberg) 42-3, Jr. over Elliot Mauck (Westview) 22-5, So. (Fall 2:30)
126 – Oscar Doces (West Linn) 32-10, So. over Moises Lopez (Aloha) 48-4, Jr. (Dec 8-2)
132 – Zachary Keinonen (Newberg) 38-3, Jr. over Cade McCallister (Tigard) 46-5, Sr. (SV-1 5-3)
138 – Owen Hull (Grants Pass) 54-4, So. over Logan Medford (Cleveland) 36-5, Sr. (Dec 2-1)
145 – Charles Spinning (West Linn) 37-6, Jr. over Gus Amerson (Newberg) 33-2, So. (Fall 2:49)
152 – Henry Dillingham (West Linn) 33-5, Jr. over Bridger Foss (South Medford) 41-2, So. (Dec 5-4)
160 – Chase Dennis (Tigard) 49-2, Sr. over Anton Chacon (South Salem) 25-2, Sr. (Dec 4-3)
170 – Josh Friesen (McNary) 32-5, Sr. over Cougar Friesen (Newberg) 37-5, Sr. (Fall 1:43)
182 – Justin Rademacher (West Linn) 44-1, Sr. over Jason Cephus (Westview) 38-5, Sr. (Fall 2:57)
195 – Hudson Davis (Newberg) 31-1, Sr. over Benjamin Winjum (West Linn) 32-6, Sr. (Dec 4-0)
220 – Steven Ramos (David Douglas) 32-2, Sr. over Alex Decrozuic (South Salem) 28-2, Sr. (Dec 8-6)
285 – Grady Hamilton (Roseburg) 33-10, Sr. over Parker Jarvis (Grants Pass) 44-4, Sr. (For.)
Team points – West Linn 288, Newberg 262, Westview 143.5, Sandy 113.5
5A
Three wrestlers became four-time state champions in the 5A finals Sunday.
Crescent Valley's DJ Gillett (138) and Daschle Lamer (170) and Crater's Hayden Walters (220) put the final touches on their impressive high school careers with victories.
Gillett defeated Thurston sophomore Holton Halstead 4-0, Lamer pinned Thurston senior Sawyer Casarez in 47 seconds and Walters pinned Silverton sophomore Brash Henderson in 1:22.
Lamer followed in the footsteps of his brothers, Legend (2016-19) and Chance (2018-21), also four-time state champions.
"I'm speechless. This is what I've dreamed about my entire high school career," said Lamer, who has committed to Cal Poly. "Just to live up to the legacy of my older brothers, it's just a dream come true.
"I wanted to live up to the expectations because I know a lot of people were wanting it. It was a lot of pressure, but I'm a diamond, I get created under pressure. That's when I shine the most."
The Oregon State-bound Gillett said winning four titles has been his goal since the fifth grade.
"Everything I've done has been working towards this," Gillett said. "So I'm happy to finally achieve it. … I think fifth grade was my first time coming here as a spectator. Every year I looked up to these guys like my idols. And now I'm one of them."
Gillett's title was emotional for Lamer.
"It got me choked up a little bit," Lamer said. "That guy's pretty much my brother. I mean, I love that guy. We were partners freshman year and we ended as partners senior year. It's awesome to see him win that fourth title because he deserved it, worked hard for it."
Walters, who joined Gillett and Lamer on Crescent Valley state title teams the last three seasons before transferring to Crater for his senior year, also savored the connection.
"I'm super happy for them," Walters said. "I grew up with those guys, freshman year through junior year. Really got to know them. Love those guys."
Walters' fourth title appeared in jeopardy when he suffered a dislocated right wrist in mid-December, but he made it back just in time for his district tournament.
"I didn't know if I was going to come back," said Walters, a Michigan commit. "It was kind of last second, being able to compete. But I'm so excited that I could. Most of my senior year wasn't obviously what I had planned, but God's got a different plan."
Other reigning champions winning titles were Crater sophomore Elijah Bayne (113), Mountain View senior Drew Jones (132) and Thurston seniors Kolton Malone (145) and Vaun Halstead (195).
Malone went 35-0 this season and ends his career on a 78-match winning streak. Dunigan outlasted Thurston senior Braylin Ruchti 3-1 in overtime to complete a 40-0 season after finishing as runner-up the last two years.
"That really motivated me," Dunigan said. "Finishing second twice in a row, that wasn't going to happen again. I needed that state title. … It means so much. I've been wrestling since I was five. All this time that I've put in, it finally paid off. I'm happy about it."
Mountain View junior Jackson Potts, the No. 2 seed at 160, knocked off the reigning champion, top-seeded Ridgeview senior Dylan Lee, 4-3 in the final.
Redmond, which placed fourth the last two years, won the team title with 204.5 points, outscoring Thurston (197.5), Crater (171) and Mountain View (170.5). It is Redmond's second title, the other coming in 1959.
5A finals results
106 – Kanoe Kelly (Thurston) 42-4, Jr. over Carsen Atterbury (Dallas) 33-9, Fr. (Dec 10-9)
113 – Elijah Bayne (Crater) 26-6, So. over Ryder Lee (Redmond) 39-11, So. (Fall 1:48)
120 – Scout Santos (Mountain View) 31-5, Jr. over Billy Jackson (Redmond) 36-9, So. (Fall 2:22)
126 – Ansen Widing (Redmond) 42-3, Sr. over Colton Annis (Thurston) 34-8, So. (Dec 7-0)
132 – Drew Jones (Mountain View) 37-2, Sr. over Jaden Ellis (Thurston) 28-11, So. (Dec 8-2)
138 – DJ Gillett (Crescent Valley) 32-6, Sr. over Holton Halstead (Thurston) 41-3, So. (Dec 4-0)
145 – Kolton Malone (Thurston) 35-0, Sr. over Derek Sossie (West Albany) 43-3, Sr. (Dec 6-1)
152 – Ethan Dunigan (Central) 40-0, Sr. over Braylin Ruchti (Thurston) 30-4, Sr. (SV-1 3-1)
160 – Jackson Potts (Mountain View) 39-3, Jr. over Dylan Lee (Ridgeview) 45-5, Sr. (Dec 4-3)
170 – Daschle Lamer (Crescent Valley) 41-1, Sr. over Sawyer Casarez (Thurston) 35-6, Sr. (Fall 0:47)
182 – Preston Echeverria (Hillsboro) 32-2, Jr. over Steven Powell (Silverton) 36-6, Sr. (Dec 8-4)
195 – Vaun Halstead (Thurston) 36-0, Sr. over Tyler Konold (Canby) 27-6, Jr. (Fall 1:27)
220 – Hayden Walters (Crater) 16-1, Sr. over Brash Henderson (Silverton) 40-6, So. (Fall 1:22)
285 – Ben Hartman (Crescent Valley) 26-10, Sr. over Ashton Fields (Redmond) 30-10, Jr. (Fall 5:59)
Team points – Redmond 204.5, Thurston 197.5, Crater 171, Mountain View 170.5
6A/5A girls
West Linn's Destiny Rodriguez became Oregon's first four-time state champion by pinning Hood River Valley senior Lauraine Smith in 47 seconds in the 155 final.
Rodriguez, ranked No. 1 in the nation at 152 by FloWrestling, pinned her three opponents in 41, 47 and 47 seconds in the tournament. She finishes her high school career with a 71-0 record and 69 pins.
Rodriguez, who made the U20 World Team, will compete in the World Team Trials in April. She will wrestle in college at Division II McKendree University in Illinois.
Rodriguez takes pride in helping girls wrestling get off the ground in the state.
"I put in a lot of work trying to get more girls to come out," she said. "It's just been crazy seeing the girls the last couple of years. Our state tournament wasn't split up my freshman year, and now it's split up because we're a lot bigger. I wish it was still one big state tournament, but it's awesome to see how big the numbers got."
Thurston senior Kaylee Annis (110) and Cleveland senior Haley Vann (130) picked up her third titles.
Vann recorded a 10-0 decision over Forest Grove freshman Renae Cook to improve to 43-0 this season and extend her winning streak to 77. She said she likes to believe that she is an inspiration to other girl wrestlers.
"That's a really big thing for me here," Vann said. "I love watching everyone that comes up to me and says that they've watched me as a way to take inspiration."
Annis won her three titles after finishing as runner-up as a freshman. She defeated Redmond freshman Mia Pedersen 7-0 in the final Sunday.
"I was thinking about it last night and it was bringing me to tears," Annis said of her accomplishment. "I'm the first three-time state champion in Thurston history. No boy's done it, no girl's done it, I'm the first. And it just feels so amazing."
Annis said the stress from picking a college was a big reason why she struggled early in the season, dropping two matches. She said committing to Southern Oregon University helped her get back on track.
"Thanks to making that decision, it really skyrocketed my season," she said.
West Albany senior Ariana Martinez (115) won a title for the second year in a row, dominating Wells freshman Zorina Johnson 12-1. Martinez went 45-0 with 43 pins this season.
North Medford senior Estella Gutches, the 110 champion as a sophomore and 120 runner-up last year, won the title at 135 by pinning West Albany junior Maci Pearson. Gutches finished the season 23-0.
North Medford, which also got a title from freshman Skyler Hall (100), won the team title with 78 points. Thurston (65), reigning champion Forest Grove (64) and Cleveland (49.5) were next.
6A/5A girls finals results
100 – Skyler Hall (North Medford) 29-2, Fr. over Sarahi Chavez (McKay) 27-3, So. (Dec 6-5)
105 – Polly Olliff (Dallas) 30-3, So. over Sienna Caruso (Crater) 22-3, Sr. (Dec 6-1)
110 – Kaylee Annis (Thurston) 37-2, Sr. over Mia Pedersen (Redmond) 31-10, Fr. (Dec 7-0)
115 – Ariana Martinez (West Albany) 45-0, Sr. over Zorina Johnson (Wells) 12-1, Fr. (MD 10-2)
120 – Mariko Sonis (North Salem) 26-3, Jr. over Sadie Hall (North Medford) 31-1, So. (Dec 9-4)
125 – Kailea Takahashi (Forest Grove) 41-3, So. over Gracee Grenfell (Liberty) 32-5, Jr. (Dec 6-2)
130 – Haley Vann (Cleveland) 43-0, Sr. over Renae Cook (Forest Grove) 31-11, Fr. (MD 10-0)
135 – Estella Gutches (North Medford) 23-0, Sr. over Maci Pearson (West Albany) 41-7, Jr. (Fall 2:29)
140 – MacKenzie Shearon (Redmond) 35-2, So. over Kennedy Blanton (Forest Grove) 44-6, So. (TB-1 4-2)
145 – Reese Lawson (West Salem) 22-0, Jr. over Icela Sanchez Rodriguez (North Salem) 14-2, Sr. (Fall 0:58)
155 – Destiny Rodriguez (West Linn) 22-0, Sr. over Lauraine Smith (Hood River Valley) 30-5, Sr. (Fall 0:47)
170 – Jasmine Brown (Wilsonville) 22-4, Jr. over Jasmine Lopez (Woodburn) 29-7, Sr. (Dec 9-4)
190 – Ali Martinez (McNary) 41-2, Jr. over McKenzie Mills (David Douglas) 24-6, So. (Fall 1:59)
235 – Marilyn Ramirez- Carmona (Southridge) 20-1, Sr. over Bianca Miranda (Liberty) 13-8, So. (Fall 2:55)
Team points – North Medford 78, Thurston 65, Forest Grove 64, Cleveland 49.5