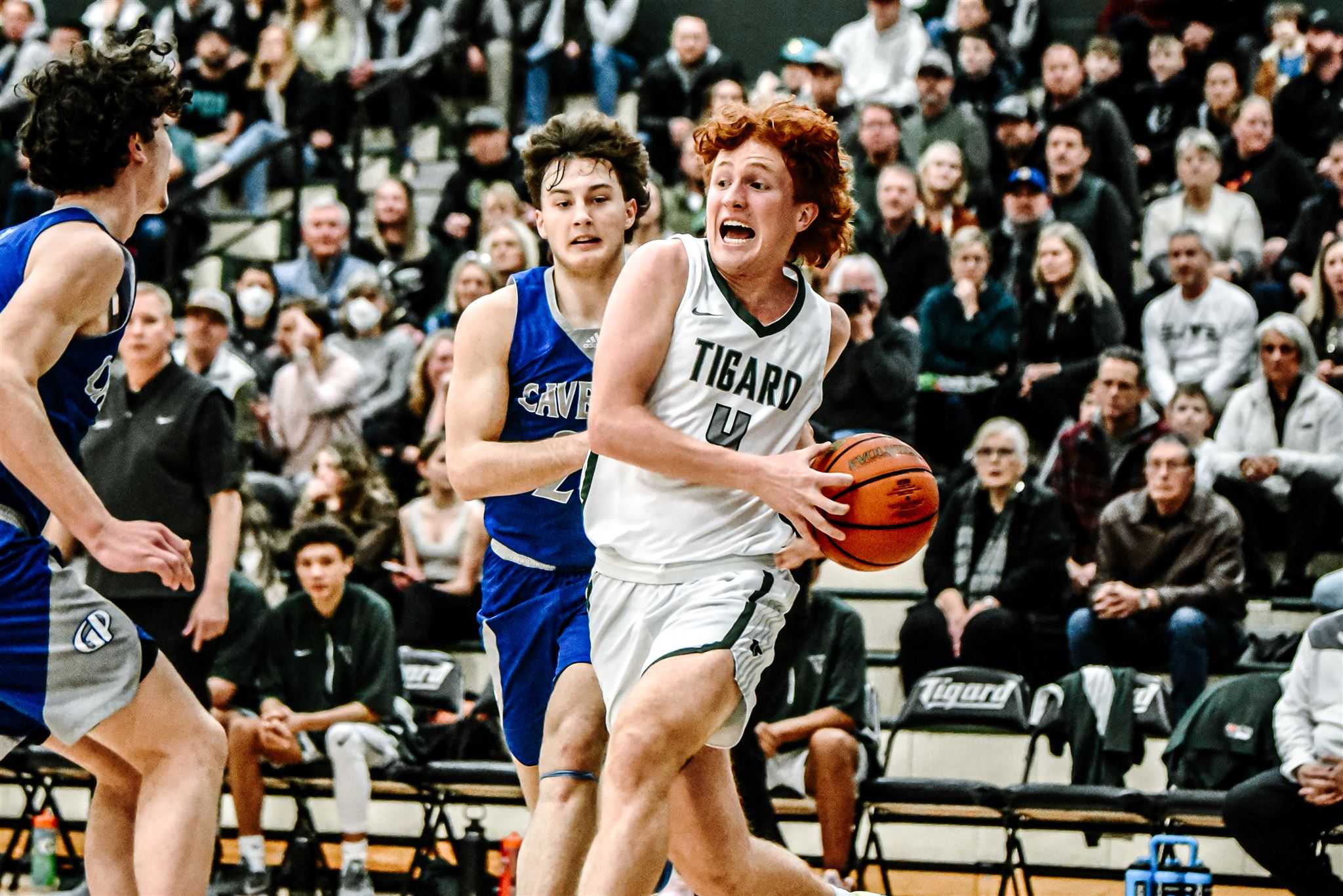 TIGARD – On the rare convergence of senior night and a state playoff game, Tigard's veteran-laden boys basketball team wasn't going to be denied Wednesday.
The Tigers, whose last regular-season home game was wiped out by inclement weather, came out on fire and scorched visiting Grants Pass 73-53 in a 6A first-round game.
Senior wing Sawyer Wolf had the game of his life, surpassing his career high with a 25-point first half and finishing with 35 points. Riding his hot shooting hand, Tigard built the lead to 31 points in the middle of the third quarter and coasted to the win.
"That was a special game," said the 6-foot-3 Wolf, who entered averaging 13.1 points and had a previous high of 23. "I loved being out there with my teammates. They kept finding me when I was hitting shots. It was a special night for all of us. Everything was clicking. Everything was going our way."
Tigard coach Shawn Alderman liked what he saw.
"Obviously they played really well," Alderman said. "Sawyer was pretty unstoppable. It was a great one to start the playoffs. Now we've got a tough one on Saturday."
The No. 14 seed Tigers (15-9), who haven't made the state tournament since 2019, can earn a spot in the eight-team field with a win Saturday at No. 3 Tualatin (19-5), their Three Rivers League rival. They lost both games to the Timberwolves this season, 66-64 in double overtime at home on Feb. 7 and 92-71 on the road Saturday in their regular-season finale.
"I love it. I want to play them," Wolf said. "But no matter who we get, I'm super excited to move on past the first round."
Tigard senior point guard Malik Brown said he feels good about the team's chances against Tualatin if they stick to their game plan and keep senior Josiah Lake and junior Jaden Steppe in check.
"They're two great players," Brown said. "As long as we can keep them under 15 points, I think we could have a shot. If we do what we need to do, it'll be a close game. It'll be fun."
Tigard, which lost at Barlow in the first round of the playoffs last year, came out with a sense of urgency against the No. 19 Cavemen (15-10). Getting seven points from Wolf and two three-pointers from senior wing Douglas Bailey, they raced to a 15-5 lead.
"We watched Grants Pass on film and we knew they were scrappy," Brown said. "So we had to apply the pressure first, and that's exactly what we did. We never let up the whole game."
Tigard was rolling despite missing its leading scorer in senior guard Kalim Brown (17.9 points per game), Malik's twin brother. Kalim Brown suffered a head injury in Saturday's game against Tualatin and sat for all but the final 12 seconds Wednesday.
"I don't see him coming back Saturday, but we'll see," Malik Brown said.
Wolf more than made up for Kalim Brown's absence. He made six three-pointers, five in the first half. Four of his triples came in an 18-point explosion in the second quarter as the lead grew to 43-19.
"That's what he usually does in practice," Malik Brown said. "I'm used to it. It didn't surprise me."
The 6-1 Brown began to put on a show in the second half. He spun around his defender for an acrobatic layup to make it 60-29 in the third quarter, then rose for an alley-oop dunk off a pass from senior Riley Fauth to electrify the crowd in the fourth quarter.
Brown said the lob pass usually is designed for the team's big men.
"I asked Coach in the huddle if I could catch it," said Brown, who finished with 15 points. "I finished it, so that was exciting."
Malik Brown said Tigard's offense – with Wolf and Bailey firing from the wings – can put opposing defenses in a bind.
"I can break the defense down, and if they collapse on me, I can find my shooters," he said. "Once they start sticking down on the shooters, that gives me the ability to get to the hoop and find my shots."
Grants Pass got 17 points from senior Mason Bennett and 12 points from junior Luke Morgan.