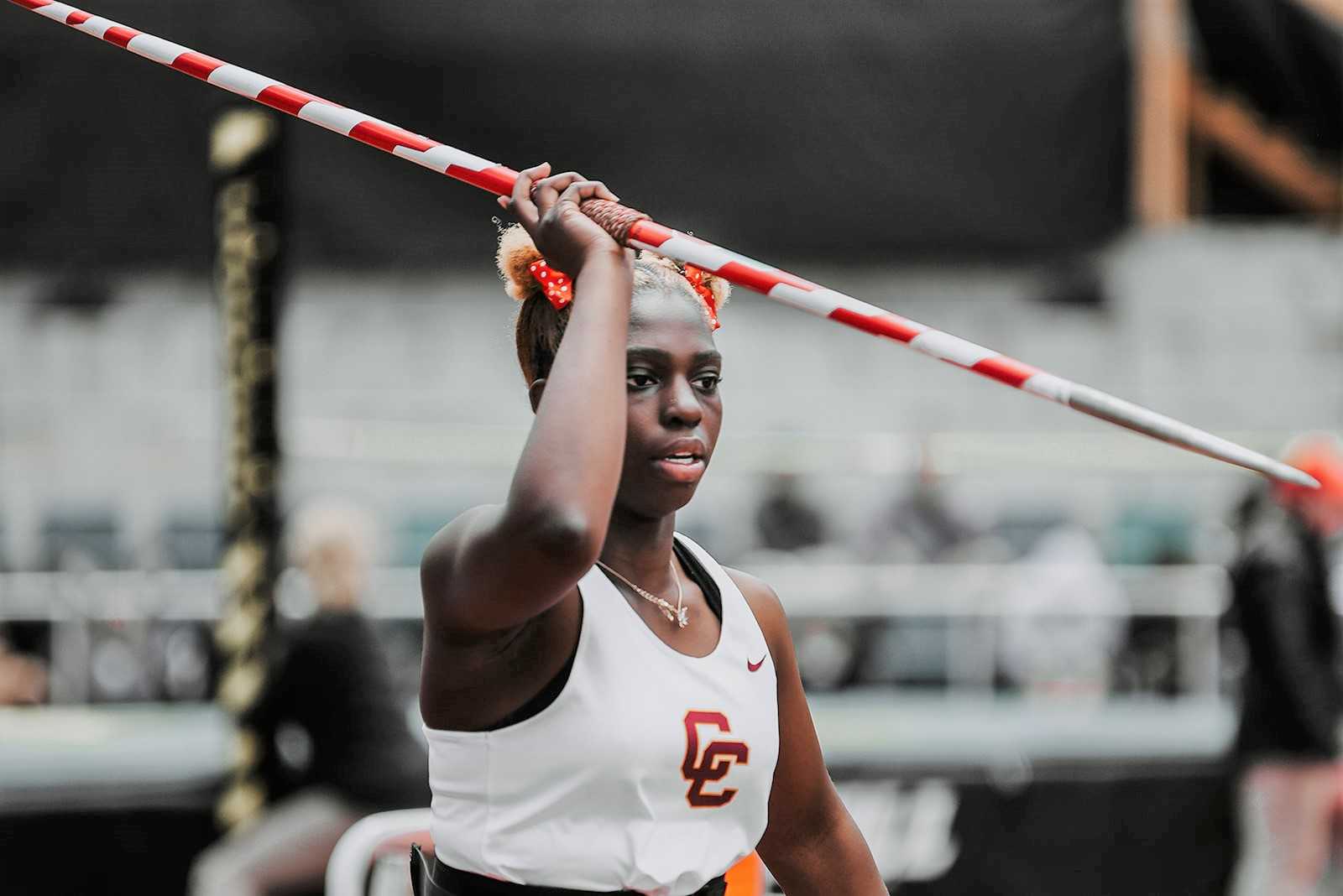 Scott Halley remembers his first meeting with Kyeese Hollands at a youth track clinic at Concordia University.
The athleticism of Hollands was obvious, and she could have taken up just about any event. But she had her mind set on a specific pursuit.
"She comes from a family of sprinters, and she's the only one that didn't want to do any kind of running," said Halley, Hollands' private coach. "She wanted to throw stuff."
Hollands' instincts were proven correct as the Central Catholic senior has evolved into the state's best thrower. As a junior, she recorded the state's top marks in the javelin and discus. Last summer, she placed high in both events at Nike Outdoor Nationals and won a Junior Olympic National title in the discus.
Now the 5-foot-7 Hollands is primed for a big senior season before beginning her college career at Texas Tech.
"I feel like I've really developed since last year," Hollands said. "I can feel the difference, getting stronger. During the offseason, I like to just focus on technique and fixing the weak points. During the competition season, then I see where it's at and how it's going to progress. Transitioning from the practice routine to the meet routine is what I have to figure out now."
She will get an idea of her progress next week when she competes in the Texas Relays at the University of Texas.
"Honestly, I'm really excited," Hollands said. "Usually I don't get that type of competition until the end. And that type of competition really brings out the competitive part in me, other than me just going against myself. It's good to try to chase people."
Hollands began her high school career at Benson. After her freshman season was wiped out by COVID, she broke out as a sophomore, placing second in the discus, third in the javelin and sixth in the shot in the season-ending 6A meet.
She opted to transfer to Central Catholic as a junior.
"Around COVID, they seemed to be a little bit more resourceful as far as education," Hollands said.
Despite the pandemic restrictions, Hollands was able to develop as a thrower.
"She kept training," Halley said. "Actually, some of those years were the best progress she made because there weren't that many distractions. She switched over to Central Catholic, and they really just let her be the thrower that she wanted to be, and encouraged that."
Hollands finally got a full season last year, and she made it count, posting the best marks in the state in the javelin (152-7) and discus (150-1 ½). In the 6A championships, she won the javelin (146-6) and placed fifth in the discus (129-2). A few weeks later, in the Nike Outdoor Nationals at Hayward Field, she took third in the javelin (152-7) and sixth in the discus (145-0 ½). In late July, she won the discus (144-7 ¾) at the Junior Olympic Championships in Sacramento.
She bounced back after a disappointing finish in the discus at state.
"I don't really dwell on those losses. I learn from them," she said. "I make it better for the next meet, which happened at the Outdoor Nationals a few weeks later. I made the top six for discus, so that was definitely a comeback."
Hollands has continued to train in the javelin with Halley, the throws coach at Gresham, and works out in the discus with Scott Skipper of the Super Thrower Track Club. At Central Catholic, she is under the tutelage of Jordan Miller.
Hollands showed promise in the shot – she threw 39-10 as a sophomore, the No. 10 mark in the state that season – but decided to focus more on the javelin and discus.
"I'll dab in the shot here and there. It's not that I'm less successful at it, but it's just not my favorite," she said. "It's hard to master three different events, especially the javelin and discus being two completely different events. I just think I'll have a little bit more success in the future in buckling down and mastering the two instead of all three."
Hollands believes she is ready to reach new levels this year, but is being patient with the results. Through the first two weeks of the season, she is ranked first in the state in the javelin (141-1) and discus (138-9) and is third in the shot (38-1 ½).
"I'm excited to see it. I'm just taking it step by step, not trying to rush anything," she said. "I'm looking at getting into the 160s for both events. That's my goal, and to do it at a state meet, or national meet."
In state history, only four girls have reached 160 in the discus. Seven have done it in the javelin.
Halley said that Hollands is "getting to the point where physically she's kind of growing up. She's much more coordinated, much more focused. I think technically, as soon as the weather gets better, things are going to take off for her. I'm hoping she'll be throwing in that 160 range at the end of the season."
Hollands is barely scratching the surface of her potential.
"She's still young." Halley said. "She's in a great position fundamentally because she's had such a great base. She's primed to really take off in college."
Hollands' longtime commitment is starting to pay dividends. She has come a long way from her early days, when Halley said he gave her candy to convince her to do drills.
"She's stuck with me through all these years," Halley said. "I've seen her grow up. I'm super proud of who she's become."