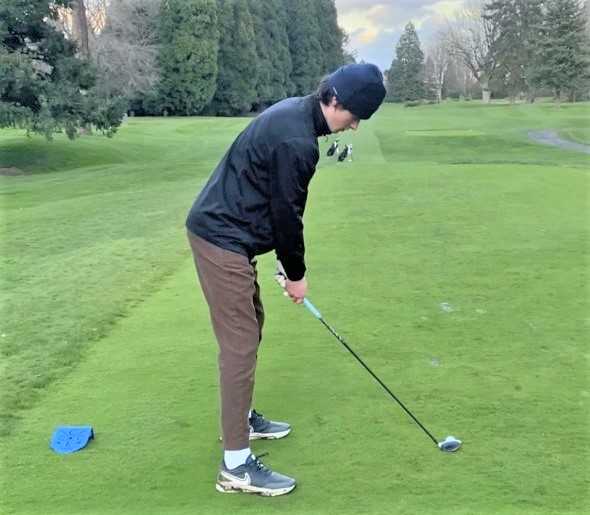 For much of the past decade, Lincoln has carried the banner for Portland Interscholastic League boys golf.
From 2011 to 2021, no PIL team other than the Cardinals earned a spot in the 6A tournament.
That changed last year when Grant joined Lincoln in the state field. And this season, with Wells rising to contend with the Cardinals and Generals, the PIL has become one of the most hotly contested leagues in the state.
"It's good to see a lot of competition," Lincoln coach Mike Zupan said. "Last year we won by like 60 strokes, and coming into this year, I thought it was going to be an easy one. But it's awesome to see good competition challenge us to be better."
The PIL has played three tournaments this season, with Lincoln winning the first one at Rose City Golf Course and Grant taking the next two at RedTail Golf Center and Eastmoreland Golf Course. Wells finished second at Rose City and RedTail and Lincoln was second at Eastmoreland.
"It's awesome that the league is so competitive this year," said Grant coach Aanen Trelstad, who guided the team to its first state tournament in 12 years last season.
The Generals returned four players from a team that tied for eighth at state last year in seniors Andrew Ballard and Rowan Eddie and juniors Emerson Storer and Charles Papak. They also brought back senior Davis Woofter and added senior Henry Kling, a standout competitive skier.
"I've got six strong," Trelstad said. "I'm really happy with my group. It's just going to be fun to watch down the stretch. I really think it's a special group that could potentially do something at state. And Lincoln is, too. They're stacked."
Grant has the two lowest scores in the PIL this season. In the win at RedTail, Eddie (74), Storer (75), Ballard (79) and Woofter (79) shot a total of 307. In Wednesday's win at Eastmoreland, the Generals scored 305 behind Eddie (74), Ballard (74), Storer (75) and Kling (82).
After finishing 17 strokes behind first-place Lincoln at Rose City, Grant finished first by eight strokes over Wells at RedTail and by seven strokes over Lincoln at Eastmoreland.
"We didn't play super well in the first match, but we kind of came correct and were more ourselves in the last two matches," Trelstad said. "That's what we expect to see from here on out."
Eddie, Ballard and Storer are the heart of the team. Eddie was Grant's highest finisher at state last year, tying for 24th.
"They're kind of the three amigos. They're interchangeable," Trelstad said. "I would be comfortable putting any one of them at No. 1. It's a nice problem to have. Those three kind of feed off each other. They get competitive with each other, which is great. They all want to be the guy. On any given match, any of those three could be the guy."
Trelstad said that once the weather improves and the courses dry out, Eddie, Ballard and Storer will be shooting under par. He expects the others to be pushing par.
"My top three are really, really good, and my second-wave three make us deep," he said. "If I can get those top three guys to play how they can play, and just get one of the other guys to throw a score that could count, and go low, we could do some damage."
Lincoln shot 320 in the first two PIL tournaments and fired a 312 on Wednesday behind senior Kyle Moon (75), freshman Ethan Chang (75), sophomore Quinn Hefele (78) and senior Henry Reuland (84).
The addition of Chang has helped make up for the loss to junior Tanner Overby, who tied for seventh at state last year in helping the Cardinals finish fourth behind Summit, Tigard and Sunset. Zupan said that Overby decided not to play this season for personal reasons.
"That's a big bummer, but we've still got a good squad," he said.
Chang won the first PIL tournament with a 77. He is challenging Hefele, who tied for 10th at state last year, as the team's No. 1 player.
"He's steady," Zupan said of Chang. "He's got a short game that I wish I had. For a freshman, he's not fazed by a lot."
Lincoln has four players from last year's state tournament team in Hefele, Moon, Reuland and senior Peter Renwick. Zupan, who finished third at state for Lincoln as a junior in 2010, is counting on that experience to pay off.
The Cardinals, Grant and Wells will get an idea of where they stand when they play in the 6A/5A State Preview tournament Thursday at Emerald Valley Golf Course in Creswell. No PIL team has won a state team title since Madison in 1975.
"I think we can compete, but we're also just trying to play free and not put too much pressure on it," Zupan said. "Next week will be a really good way to see how we stack up."
Wells, which finished third in the PIL last year, is much improved. The Guardians are getting solid play from junior Lucas Devlin, a returning state qualifier, as well as Dawson Auvil, Otto LePrete and Ben Korach. Auvil shot 74 at RedTail to tie Eddie for first place.