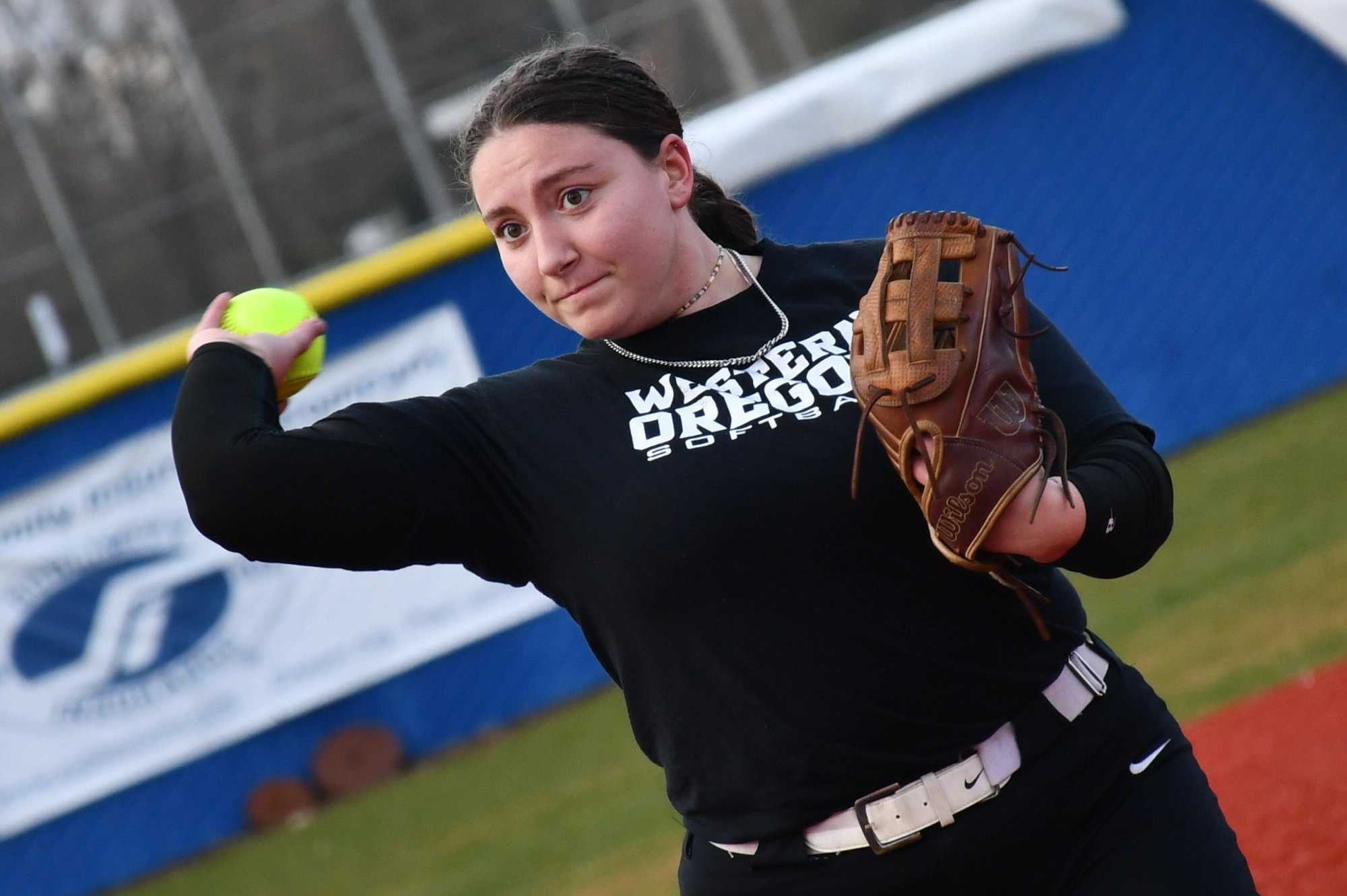 Entering the softball season, Stayton senior Jessica Rule knew it would be difficult to top a junior year in which she hit .553 and drove in 42 runs for a 4A semifinal team.
Somehow, though, Rule has reached another level. Through 19 games, she is batting .623 with seven home runs and 45 RBIs for the Eagles (16-3, 9-0 Oregon West Conference), who are No. 1 in the OSAAtoday 4A coaches poll.
Rule said first-year coach Ryan Borde, who won 102 games in five seasons as the coach at 5A West Albany (2016-21), has helped fine-tune her approach at the plate.
"He's helped me a lot," Rule said. "I had a decent approach, but he's helped me focus on getting my pitch and being aggressive, and giving me the confidence that I can hit anything that comes across the lines. That confidence really took my batting a long ways because I didn't have that confidence before. He instilled that in me, and it's definitely helping me out."
Borde said that much of Rule's success has to do with her even-keel demeanor at the plate. She has bought into his philosophy of looking for a specific pitch to hit and patiently waiting for it.
"Out of her hits, there's been maybe two or three bloopers all year," Borde said. "They are complete laser line drives. We haven't messed with her swing. She doesn't take a stride. It's just so quick. She's got quick hands. The only thing we talked to her about is what you're looking for."
Borde coached several sluggers at West Albany, including college players Kennedy Jantzi (Mt. Hood CC, Oregon Tech), Hailey Davis (Mt. Hood CC, Cal State East Bay), Presley Jantzi (Montana) and Ellie Babbitt (Portland State). According to Borde, Rule belongs in the same category.
"I've told any college coach that's called that Jessica's just as good," Borde said. "It would be great to see what she could do against 6A competition."
Rule said she plans to play in college. She has yet to commit to a college, but said she is considering going to Chemeketa Community College before transferring to Western Oregon.
Rule increased her power production from last season, when she hit three home runs. She said it reflects on the time she has spent with Borde in the batting cages.
"I think that helped with pitch selection, too," she said. "Even if a pitch goes by, I won't be as worried because of the confidence that he has put in me. It's like, 'I'll come back, I've got this, all day. I'll be fine.'"
Rule also is the team's ace pitcher, going 12-1 with a 3.18 ERA. In 88 innings, she has allowed 88 hits, struck out 118 and walked 30. She has struggled with consistency, but can dominate.
"When she hits her spots, she's pretty dang unhittable at this level," Borde said.
Borde stepped down as West Albany's coach to watch his son Ty play baseball at Stayton. When Stayton was looking for a coach to replace Bill Baxter last summer, they asked Borde, who has assisted in Stayton's football program for the past six years.
Borde worked out an arrangement where he could coach the team and still be able to attend some baseball games. Ty, who has signed to play football at George Fox, is a senior center fielder for Stayton.
Borde inherited a team that returned seven starters from last season, when the Eagles finished 22-6. The Eagles believe they have the pieces to chase after their first state title since 2002.
"Ryan drills it into our heads that we're going to go far this year because we have the potential to be a great team," Rule said. "We just have to believe in it. I think we've really achieved the next level of the game."
Stayton also is getting good production at the top of the order from junior Christian McCants (.323, 30 runs), senior Isabelle Trevino (.385, 11 RBIs, 27 runs) and sophomore Kenzi Hollenbeck (.4.00, 20 RBIs). Juniors Abby Archuleta and Riley McCalmant have 20 and 14 RBIs, respectively.
The Eagles are 64 of 67 on stolen-base attempts. McCants is 15 for 15 and freshman Mylie Walker is 12 for 12.
"I want to put pressure on other teams," Borde said. "If they get us out, then you tip your hat to them."
Burns sets record
Reigning 3A champion Burns set a state record by extending its winning streak to 46 games with a doubleheader sweep of visiting Riverside on Wednesday.
The Hilanders (16-0, 8-0), ranked No. 1 in the OSAAtoday 3A coaches poll, defeated Riverside 15-0 and 17-2 in the Special District 4 games.
Burns broke the previous record streak of 45 games, set by 6A Tualatin in 2018 and 2019. After losing to 2A/1A Grant Union 4-0 in their season opener last year, the Hilanders won their last 30 games, beating Yamhill-Carlton 3-1 for the state title.
Burns had two close games to start this season, but held on to beat 4A No. 2 Pendleton 4-3 and 3A No. 3 Yamhill-Carlton 2-1. The Hilanders have outscored their opponents 174-19 this season.
Bowmen outlast McMinnville
No. 7 Sherwood maintained sole possession of first place in the 6A Pacific Conference with a 4-3, nine-inning home win over No. 3 McMinnville on Friday.
Sophomore Abby Gibson led off the ninth inning with a single and was replaced by a pinch-runner, sophomore Camryn Knight. The Bowmen advanced Knight to third base and she scored the winning run on a wild pitch.
Sherwood sophomore Destiny Cornwell allowed three hits and struck out seven in 4 2/3 innings and junior Faith McHill gave up five hits and fanned nine in 4 1/3 innings.
The Bowmen (14-3, 6-0) took a 2-0 lead in the first inning on a two-run triple by sophomore Mckenna Parmalee. McMinnville (13-4, 4-2) rallied to lead 3-2 in the fifth inning, but Sherwood tied it 3-3 in the bottom of the fifth on an RBI single by junior Payton Abiley.
On Wednesday, Sherwood picked up a 3-0 win at second-place Glencoe (10-10, 5-1). Cornwell tossed a three-hitter with seven strikeouts, freshman Daisha Cornwell went 4 for 4 with a double and junior Elaina Harris drove in two runs.
Comets rise
No. 8 Crater (11-5, 9-0) picked up three pivotal wins over No. 10 Eagle Point (13-6, 9-3) in 5A Midwestern League games this week.
The Comets won at Eagle Point 12-3 on Tuesday and swept a home doubleheader Friday, routing the Eagles 9-0 and 14-5. Crater has a one-game lead over Thurston (9-6, 7-0) in the conference.
In Tuesday's win, the Comets broke open a 3-1 game with nine runs in the seventh inning. Senior Madison Sheadel went 3 for 5 with five RBIs, hitting an RBI double in the fifth inning and a three-run double in the seventh inning.
In Friday's opener, Crater erupted for seven runs in the first inning and rode the pitching of junior Alexis Perez, who threw a seven-hitter shutout with seven strikeouts. Sheadel went 3 for 4 with a double and an RBI and senior Abigail Foster doubled and drove in two runs.
The Comets rallied from a 5-2, fourth-inning deficit to win Friday's second game. Senior Taylor Kenworthy homered and drove in three runs and junior Grace Aldrich went 3 for 3 with two RBIs. Junior Suzanne Foster drove in two runs and pitched four shutout innings in relief.
Crater also swept a doubleheader at Churchill on Wednesday, rolling 14-3 and 27-0. Suzanne Foster went 6 for 7 with a double, two home runs and 10 RBIs in the two games.
OC surges in TRL
No. 2 Oregon City (16-3, 7-1) moved to the top of the 6A Three Rivers League with four wins this week.
The Pioneers gained the inside track with an 8-6, eight-inning win at second-place Tigard (10-8, 6-2) on Monday.
Senior Gina Allen, playing in her first game since being sidelined with an injury in the first week of the season, hit a two-run homer in the top of the eighth inning. Senior Allyson Nordling followed with a solo shot.
Sophomore Ellie Joseph went 3 for 3 with a double for Oregon City. Joseph and junior Lily Riley split time in the circle against the Tigers, who had 10 hits.
The Pioneers won at West Linn 8-1 on Tuesday, held off Lakeridge 2-1 at home Wednesday and blanked West Linn 9-0 at home Friday.
Hawks in first
Nelson stands alone in first place in the 6A Mt. Hood Conference after a 9-1 home win over Central Catholic on Friday.
Sophomore Bailey Hill pitched a four-hitter with seven strikeouts and senior Ailee Young went 3 for 3 with two RBIs to lead a 13-hit attack for the Hawks (12-6, 5-1), who had nine stolen bases.
Nelson holds a one-game lead over Central Catholic (5-11, 4-2), Barlow (10-8, 4-2) and Gresham (10-8, 4-2). The Hawks' only conference loss came against Barlow.
Seniors Ella Kiehl (.625, two home runs) and Kaylie Christopher (.565, two home runs) are leading Nelson in conference play. Young is batting .455 with eight stolen bases.
College commits
A rundown of Oregon players who have committed to play in college, as reported by coaches:
Gina Allen, Oregon City (Mt. Hood CC)
Lexiss Antle, Yamhill-Carlton (Linfield)
Chloe Bauer, Valley Catholic (Rollins College, Fla.)
Payton Burnham, Sheldon (Oregon State)
Kiley Campos, Pleasant Hill (George Fox)
Ava Carroll, Canby (Mt. Hood CC)
Abby Carsley, McMinnville (Kansas)
Olivia Davies, Sunset (Northwest Nazarene)
Paige Doerr, Marist Catholic (Oregon State)
Addisen Fisher, Bend (UCLA)
Gracie Goewey, Bend (Siena, N.Y.)
Libby Hardee, McMinnville (Pacific)
Desi Hatfield, South Salem (Willamette Univ.)
Brooke Herren, Canby (Clackamas CC)
Alivia Holden, Lebanon (Western Oregon)
Delaney Hoyle, Lakeridge (Portland State)
Briley Ingram, Yamhill-Carlton (Yakima CC)
Anna Jardin, Wilsonville (Rhode Island)
McKenna Kraft, Canby (Arizona Christian)
Emily Larsen, Knappa (Blue Mountain CC)
Presley Lawton, North Medford (Oregon)
Elle Merlino, Central Catholic (Santa Clara)
Samara Miles, North Medford (Oregon Tech)
Annabelle Navarrete, Ontario (Idaho State)
Allyson Nordling, Oregon City (Fairmont State, W.V.)
Kinley Pappas, Sheldon (Utah Tech)
Allison Parker, Bend (Oregon Tech)
Lily Riley, Oregon City (Utah Valley Univ.)
Meara Sain, Sheldon (Linfield)
Mackenzie Scott, South Salem (Fort Lewis College, Colo.)
Karen Spadafora, Tigard (Seattle Univ.)
Abby Standsbury, Scappoose (Eastern Nazarene, Mass.)
Rowan Thompson, South Salem (Oregon)
Mercedes Walters, Astoria (Eastern Oregon)
Mia Zachary, West Salem (Saint Martin's Univ., Wash.)