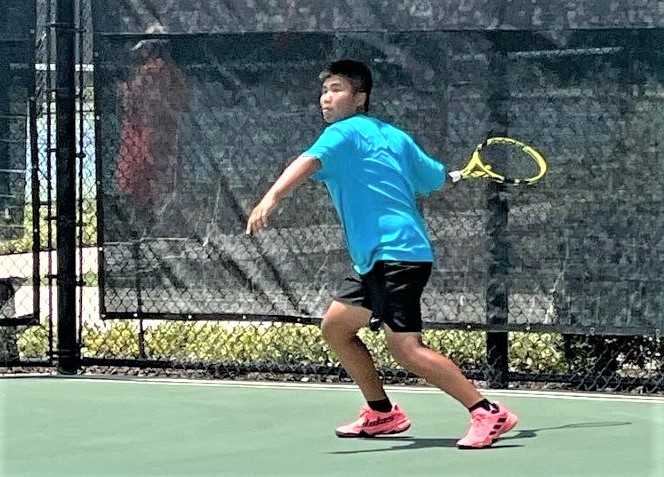 Milwaukie has never had a state tennis champion. If freshman Aiden Yeung has his way, though, he will put the Mustangs in the record books.
Yeung has dominated in his rookie season, losing only five games in winning six matches. His record includes a 6-1, 6-0 win over La Salle Prep junior Aidan McBride, the reigning 5A champion.
"Being my freshman year, I really want to win state this year," Yeung said. "But I won't be too bummed if I don't because I've still got three more years ahead."
He made an impression on La Salle Prep coach Mike Stone, who believes Yeung should be the top seed in the 5A tournament.
"I haven't seen anybody yet that would beat him," Stone said. "I don't see anyone in our area beating him. He's just a level above most players at the high school level. He's pretty quick. He just knows the game."
Milwaukie coach Craig Sneed said that Yeung is "definitely the real deal."
"The future is bright for him," Sneed said. "He's only a freshman, so that's what's scary. I'm looking at him now as a freshman and I'm like, 'Imagine what this kid's going to be doing by his senior year.'"
The 5-foot-6 Yeung isn't a big hitter, but uses his quickness to cover more court than his foes.
"I don't usually hit the ball as hard as most people do," Yeung said. "My game plan is usually just to run after the ball. Besides my speed around the court, I feel like everything else can improve a lot."
Yeung's game is well-rounded, according to Sneed.
"He has the total package," Sneed said. "The kid has got skills that a lot of kids don't pick up until later down the road. The thing about him is he's still not done. He has a lot more to give.
"He's not super muscular, he just knows how to use his body. He's got good speed, good quickness. He can get to the ball. He can do some tricks on the court, too."
In the U.S. Tennis Association junior rankings for the Pacific Northwest, Yeung was No. 13 in 14-and-under before moving up to 16-and-under, where he is No. 25. Even though he has extensive experience on the junior circuit, he is largely unfamiliar with Oregon high school competition.
"I didn't really know what it was going to be like because I've never really watched or played high school tennis," he said. "I haven't played against people in Oregon that much."
He knew the April 24 match against McBride would be a good barometer.
"I didn't go in with a lot of expectations, to be honest," he said of the match. "Obviously, I wanted to win the match, but I wasn't going to be mad if I lost it. I think I played pretty well. I don't know if he was playing his best, but we had a couple good games and a couple good points."
Sneed sensed that Yeung was hungry for the test.
"It was pretty intense," Sneed said. "I think he knew, like, this could be it right here, this is the match. He definitely brought his 'A' game that day."
Yeung, who trains at Vancouver Tennis Center almost every day, has been home-schooled since the eighth grade. The switch to Clackamas Web Academy has given him the flexibility to balance his tennis pursuits.
"I had a good amount of missed days because of tournaments and traveling," said Yeung, whose junior sister, Tiara, is 8-0 for Milwaukie. "I didn't have a lot of time for in-person school, so I had to do online just so I'd have enough time to get both of them done."