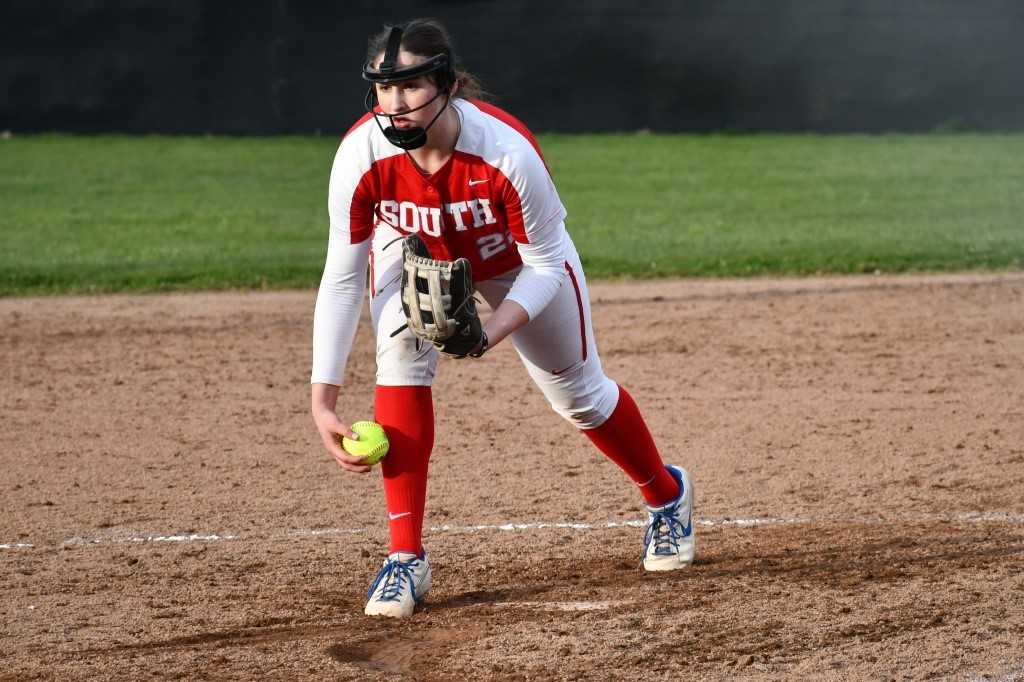 South Salem softball coach Scott McCormick didn't know what to expect from his team this season after replacing four starters from last year, when the Saxons lost in the second round of the 6A playoffs.
"It was really kind of a mystery," he said.
As it has turned out, the continued evolution of junior pitcher Rowan Thompson and a rebuilt defense has South Salem (17-5, 8-3 Central Valley Conference) looking like a threat to make a playoff run.
"Rowan really carried us through the early part of the season," McCormick said. "That kind of helped us figure out our defense. Once we got that figured out, we've been playing really solid defense. I feel really good about our defense right now."
The 5-foot-11 Thompson, who has committed to Oregon, is having a sensational season in the circle for the Saxons, ranked No. 6 in the OSAAtoday 6A coaches poll. In 123 2/3 innings, she has allowed 70 hits, struck out 236 and walked 39. She has an ERA of 1.19.
McCormick, the state's all-time leader in wins with 731 in 41 seasons, said Thompson is a rare talent.
"She could be the best pitcher I've had," McCormick said.
That says a lot, considering McCormick also coached Katie Donovan, who pitched South Salem to the 2014 state championship before a highly successful college career at Utah.
"Rowan throws a lot harder than Katie," McCormick said. "Katie had a variety of pitches, and she could pick a fly off the top of a ball. She could put it where she wanted, and she had a devastating changeup. Right now, Rowan is figuring out her body. She's a big, strong-looking kid. As she grows into that body, she's going to be really good."
Thompson seems to be getting stronger as the season progresses. In a 1-0 win at No. 5 McMinnville on May 6, Thompson tossed a two-hitter with 16 strikeouts and one walk. In a 7-0 win over No. 9 Mountainside on Friday, she threw a no-hitter with 15 strikeouts and five walks.
It was the second seven-inning no-hitter of the season for Thompson. The other was a 1-0 home win over West Salem on April 25.
Thompson is highly effective with her screwball and two-seam fastball, which she throws in the low- to mid-60s mph.
"She can really throw it," McCormick said. "The thing with her that we've noticed this year is her ball, in the last 10 to 15 feet before it gets to the plate, it really explodes. You see kids swinging at pitches and they're six to eight inches under. From the side, you see it kind of jump."
Thompson struggled with consistency as a freshman, when she shared time in the circle, but began to improve her control as a sophomore. She has taken a big step forward this season.
"She's just taking off. She owns it right now," McCormick said. "She can go down 0-2 and come back and strike out a kid. Before, we were afraid of even wasting a pitch. She's been really good at being able to locate her pitches.
"And she's become stronger mentally, as far as controlling the game, not letting things get to her."
Thompson also is batting .400 in the No. 5 spot. She has a team-high six home runs and is tied with senior Hallie Olson for the team lead in RBIs with 31.
Olson, a returning starter at first base, is batting. 443 with four home runs. Senior catcher Mackenzie Scott (.389, three home runs), senior shortstop Desi Hatfield (.375, 15 RBIs) and senior right fielder Hannah Tapusoa (.327, 15 RBIs) – all returning starters – also are producing at the plate.
South Salem is in second place in the Central Valley behind No. 8 McNary (17-6, 10-2) heading into Tuesday's final conference game against Sprague (9-15, 4-7). McNary defeated South Salem 6-5 and 6-0 in conference games.
Home run record
The Dalles, the champion of the 4A Tri-Valley Conference, has blown away the state record for home runs in a season.
The Riverhawks (21-3, 15-0) have clubbed 63 homers this year, shattering the old mark of 53, set by Marist Catholic in 2017.
The Dalles has seven players with at least four home runs: freshman Madalynn Sagapolutele (14), sophomore Despina Seufalemua (12), juniors Zoe LeBreton (11), Jeilane Stewart (8), Keiliani Crichton-Tunai (7), and Kaleyah Crichton-Tunai (5) and sophomore Madison Brock (4).
Sagapolutele and Seufalemua lead the team in RBIs with 38 and 37, respectively. The Riverhawks are batting .430 as a team and averaging 12.2 runs per game, second in 4A to Pendleton (12.96).
Tie goes to Bucks
No. 4 Pendleton needed a tiebreaker to claim the 4A Greater Oregon League title over No. 6 La Grande.
The Buckaroos (20-5, 10-2) split a doubleheader at La Grande (20-4, 10-2) to finish the league season Friday, the second time the teams have split a twinbill this season.
The teams finished tied for first place, but Pendleton was awarded the title and the league's top seed by outscoring the Tigers 27-26 in their head-to-head games.
The difference turned out to be a two-run home run by Buckaroos junior Avery Krigbaum in the top of the seventh inning of Friday's second game, won by Pendleton 17-12.
La Grande won Friday's opener 3-0 as sophomore Carlee Strand tossed a one-hitter with eight strikeouts. The Buckaroos came back to take the nightcap behind a big game from Krigbaum, who went 4 for 5 with a double, home run and three RBIs.