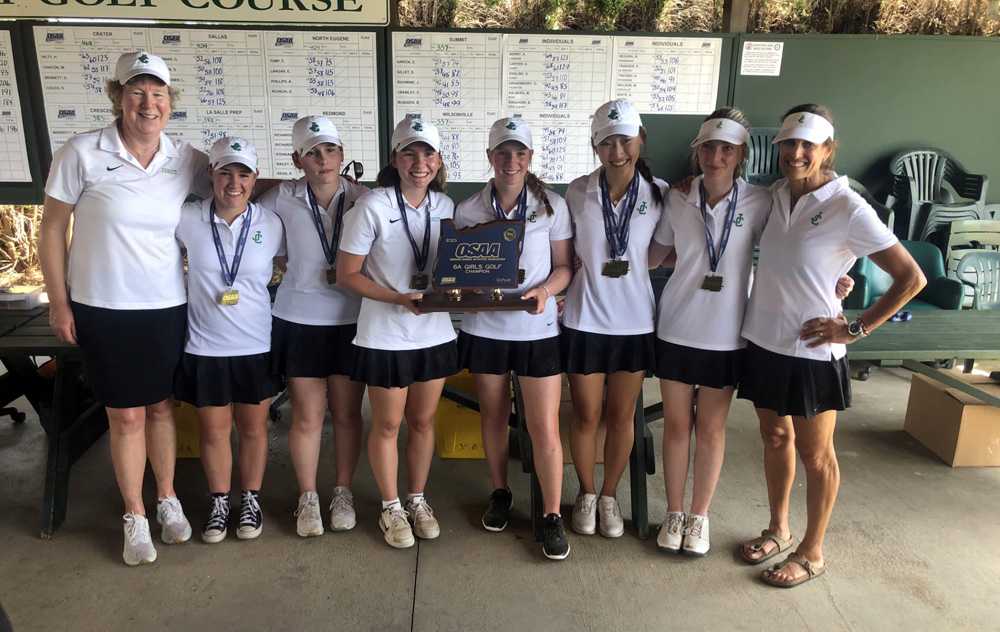 BANKS -- Francesca Tomp repeated as 5A individual medalist and Summit's strong Day 2 pushed the Storm past defending champion Wilsonville for the 5A team championship at the OSAA / OnPoint Community Credit Union Girls Golf State Championships, which concluded yesterday from picturesque Quail Valley Golf Club in Banks.
In 6A, senior Helen Brodahl, a four-stroke leader after Day 1, warded off challenges from all over the golf course to win her first individual title and Jesuit relied on its depth to do just well enough to hold off Lake Oswego for its fourth consecutive team title.
The 4A/3A/2A/1A tournament, at Trysting Tree in Corvallis, saw Ava Austria and Maddie Dustin tie for low honors in a fantastic finish that saw that other players finish within two shots of the lead. Crook County, after a stint in 5A, returned to 4A and dominated, winning its first team championship by 15 strokes.
5A individuals
When Francesca Tomp, a sophomore at North Eugene, pondered the 12-foot birdie putt on the last hole of her 2023 state tournament, she had no idea where she stood in her quest to repeat as 5A medalist.
Did she have to sink the putt or would par be enough?
Summit senior Zoe Garcia led by one stroke over Tomp after the first round and had the advantage of playing in a competitive threesome with the No. 1s from the teams vying for the team championship.
Tomp, on the other hand, went off with the last group of the day on No. 10, with playing partners who would shoot 108 and 119, respectively. While the fans and media followed the groups on the other side of the course, Tomp played in anonymity, forced to create her own energy even as the withering heat and humidity and slow play threatened to sap it.
"It was a grind for sure," Tomp admitted. "It was a little exhausting. It took a lot of patience. I had to keep a good mental state today."
Garcia got off to a tough start on the easier front nine, shooting 4-over 40. Tomp recovered from a string of five straight bogeys on the back to shoot 3-over 39.
The championship was tied with nine holes to go, with Wilsonville freshman Evie Dunn still within striking distance four shots back.
Tomp started her back nine with four straight pars. Garcia's first four holes on the back side yielded a par, two bogeys and a double. The trouble for the Summit senior began when her drive on the short par-5 10th landed in a divot. Her second shot squirted left of the green into the long grass and her third shot barely made the greenside bunker. Garcia was able to save par, on a hole that should have been an easy birdie for her, but she played the next three holes – the toughest stretch on the course – in 4-over.
Tomp didn't know it, but she was suddenly in command.
Being in command and staying in command, however, are two very different things, The sophomore was about to experience her own adversity.
It started innocently enough, on a par 5 that should have been par at worst. A long drive down the middle and fairway metal put her within shouting distance of the green, but her pitch trundled just over the green and she needed three putts to find the hole for a bogey six. Tomp needed three putts on the par 3 sixth as well, after her iron shot finished 25 feet above the hole.
On the short par 4 seventh, after an indifferent wedge left her on the top tier of a two-tiered green some 30 feet away, any comfort Tomp felt playing the easier nine was gone. She needed to two-putt!
Meanwhile, Garcia, whom Summit coach Dan Murnan called "probably one of the toughest players I've coached," was getting back on track. After doing some good breathing to calm herself down, Garcia responded with birdies at 15 and 17. Standing on the 18th tee, she was +8 for the tournament.
Tomp's birdie putt on 7 was woefully short. The sophomore barely crested the hill and her putt did not roll out as expected. She was facing a third straight three-putt that would put her at +9 for the tournament and out of at least a share of the lead for the first time all nine. With the pressure on, she sank it!
Tomp said reminding herself about last year, when she had to make big putts late on Day 2 to keep a big lead she built after the first day, really helped.
"That was big," Tomp said about the 10-foot par save on 7. "I had to make that putt to get back to feeling good about myself."
Tomp made par out of the rough at No. 8 thanks to a nice chip and stood on the ninth tee, unbeknownst to her, of course, with a one-stroke lead.
Tomp hit her longest, best drive of the day, and her approach, to 12 feet left of the cup, was a thing of beauty, surpassed only by the putt that curled into the hole for a closing birdie.
"I originally wasn't too happy about my round until I finished with that birdie," Tomp admitted. "That made it a good day."
Tomp finished at + 7 151 for the tournament, at or about the time that Garcia stepped onto the tee at No. 18. She needed birdie to tie.
The 18th at Quail Valley is a brutal driving hole, because unless you play a natural draw, you must contend with trees in your way to find the fairway. Garcia's tee shot went left, into the thick stuff. She could only hack out, play a pitch shot to the front of the green and two-putt for a closing bogey. Her courageous play late in the round certainly helped Summit clinch the team title, but she finished two shots out of tying Tomp for individual medalist honors.
5A team competition
After one day, Wilsonville, last year's champion; and Summit, which returned this year to 5A, where it had been dominant in girls golf, winning every state title from 2009 through 2016; were tied for the top spot, with no other team close.
It would be a two-horse race, with the players from each team in the same five groups.
After nine holes, Summit was ahead by seven. Wilsonville would not be able to close the gap, as the heat and pace of play seemed to catch up to everyone.
Everyone, except Bridget McQueen it seemed. The senior, who had never broken 90 ever before Tuesday, did so on the biggest stage, firing an 87 that gave her team a nine-stroke boost on her ball alone. Add in Garcia's resurgence in the second half of that back nine and the result was a 12-stroke win and return to the top of the pedestal for the Storm.
"Wilsonville is a good young team," Murnan said. "We were lucky to get by them. We have some great senior leadership. I think the star was in our 5-spot. Bridget McQueen. Her goal was to break 90 this year. She just did it for the first time. Good timing."
6A individuals
Ida B. Wells senior Helen Brodahl held a commanding four-stroke lead after one round, but nothing came easily on Tuesday for the 2022 runner up in her quest to win her first individual state title.
Teeing off on No. 1 well before most of her pursuers, she had the chance, on the scoreable opening six holes, to put the tournament out of reach before the others even hit their first shots.
Brodahl's driving game and full swing approaches were on point from the start. The rest of her game? Not so much. She chipped from short range on the par 4 first hole beyond the back of the green and had to make a par save. She three-putted for bogey from 15 feet below the hole on No. 2 and three putted from less than 10 feet for bogey on No. 4.
She was nervous.
"It was putting today," Brodahl said. "I had a good number of three puts that should not have been three putts."
While Brodahl was struggling to a +1 start after the first six, Cleveland freshman Kate Ly, Brodahl's PIL rival and the sister of 2022 6A champion Kyra Ly, sizzled from the start. Ly, who started the day six behind the leader, drove the par 4 second and tapped in for birdie. She birdied 4 and 5 and 6 and had a four-footer on seven to go five under and take the lead. She missed that putt on the low side, but recovered two holes later, draining a six-footer for birdie for a career-low nine-hole score of 31.
Brodahl was three-over through her first eight holes, thanks to a weed-aided double bogey on No. 8, a treacherous par 4. Brodahl righted the ship on No. 9 with a gorgeous approach to within four feet for birdie, then added on with a two-putt birdie on the par 5 10th.
"My birdie on 9 was great," she said. "It really picked my spirits up again."
Although Ly withered in the heat on the back nine, and finished at 2-under 70, Brodahl faced other challengers.
At some point during the round, as close as I can tell without real-time scoring, both Anna Poulin of Jesuit and Erika Kobayashi of Sunset, playing in a foursome with Brooke Alderson of Grants Pass and Hailey Lim of Lake Oswego, shared the lead with Brodahl at one point or another.
Poulin, who started the day four strokes behind, turned at 2-under after recovering from an opening bogey with birdies on 3, 5 and 7. She played steady on the back nine, but made no birdies and could not further close the gap on Brodahl, who closed with a birdie on 18 to post one-over for the tournament, two strokes ahead of both Ly and Poulin.
Kobayashi, who also started the day four strokes back, was even par on her Tuesday front nine and not gaining the strokes she needed to contend, until she made birdie on 10 thanks to a great bunker shot and followed up with a birdie on 11, a surprising score considering her drive was a duck hook into the rough. Kobayashi was now 2-under and her score stayed that way on 12, thanks to a par putt that hung on the lip for a few seconds before dropping; and a great chip over the sand trap on the par 3 13th to within two feet.
Kobayashi's scrambling caught up to her on No. 14, when her low approach shot on the par 4 found the water. Her fourth shot sailed over the green and an indifferent chip and two putts left her with a triple bogey and out of contention.
Brodahl made a mess of the par 5 17th hole, resulting in bogey, which might have opened the door for someone to catch her late. She closed like a champion, however, making birdie from 20 feet on 18 to seal victory.
"I like a good amount of pressure on me," Brodahl explained. "There were people standing around and a camera and I thought, 'I'm going to make this.' It was fun."
Brodahl admitted afterwards that she was worried.
"I didn't play my best today and was terrified that I'd let myself down with my three putts," she explained. "It's my senior year…last attempt ever. I am thrilled to have won."
6A team competition
How do you stay 6A champions on the tough back nine of a two-day tournament played in blistering heat?
Stay dry.
Stay out of the weeds.
Stay below the hole,
Jesuit did that enough on Tuesday to eke out a two-stroke win on Tuesday, rallying for its fourth title in a row. For the second straight year, the Crusaders had to come from behind after trailing Metro League rival Sunset by four after the first day.
"Our girls stayed steady and played smart all the way to the very last hole," said co-coach Michele Gray. .
The 6A team competition was very close after Monday's round, with Sunset up by four strokes on both Jesuit and Grants Pass, and Lake Oswego two strokes further back.
All four teams played together – 1s versus the 1s, etc. – meaning the coaches could get a sense of how things were going.
After nine holes, the four-team chase had become two: Jesuit and LO. Poulin was under par for the Crusaders, while Kate Lee, Grace Odegard and Quinn Burke all posted nines of 42 or better.
Lake Oswego was in even better shape. Lim, who had a tough first day, was on her game and under par. Cierra Ferguson and Ansley Kang hovered near par and both Berkeley Ward and Olivia Mygrant were in the low 40s.
"After the first nine we knew it was going to come down to us and Lake Oswego," Gray said. "The back nine here can produce some big numbers. We coached our girls to eliminate the big number. If it's a bogey it's a bogey."
When the final scores were posted, this inexperienced eye saw Lake Oswego winning its first title by two strokes. That was in error, because every team puts out five players every day, with the top four scores counting. Cecili Hayes' Monday 91 counted. Quinn Burke's Tuesday score of 92 also contributed to the team. Add consistent senior Grace Odegard and both Poulin (72) and Lee (74) going low on Tuesday and that was just enough for the Crusaders to eke out the win. Lee made a spectacular birdie on 14, hitting the pin with her approach, with the ball scaring the cup before settling two feet away for an easy 3.
"Team game, team competition," Gray said. "Every single member contributed."
Poulin said that emerging from the pack to win was a bit of a surprise.
"This year was a tossup," the senior said. "There were lots of teams that were really close. We knew going into it that it was anyone's game. It was going to come down to a few strokes."
Poulin added that the back nine was a particular grind for everyone.
"I was playing really good on the front," she said. "On the back we started having to wait. It got hot. I think everyone was anxious because we knew it was close. I just tried to stay focused and stay in it and did the best I could."
4A/3A/2A/1A individuals
Five players could have emerged from Trysting Tree yesterday with individual medalist honors. When the dust settled on a tournament that was closer than close, juniors Maddie Dustin and Ava Austria tied for low score at 3-over 145, with senior Tora Timinsky one shot back and freshman Vishaka Priyan and junior Esha Reddy, the leader after Day 1, two shots behind.
Reddy, from Marist Catholic, was in control at the turn on Tuesday, but a 41 on the back nine proved her downfall.
Timinsky, from runner up Dufur, made a double bogey on 16 and bogeyed 17, else she might have emerged as medalist.
Priyan, a Catlin Gabel freshman, bogeyed three of her final four holes to drop back.
Dustin, who attends Cascade after transferring from South Salem, was +1 over the final four holes. She played in the same group as Austria of Catlin Gabel, who held the lead outright after 14 holes, but bogeyed 15 and 16 to fall into a tie for first.
Austria, who was in fifth place, five strokes behind, after the first day, said winning wasn't on her mind starting Round 2.
"I wanted to go low and play well for sure, but it wasn't something I was constantly thinking about during the round," she said. "I was just trying to take it one shot at a time. My speed control on the greens improved drastically the second day and I think this definitely helped me go lower."
4A/3A/2A/1A team competition
Crook County led by just four strokes after the first day over Dufur, but was the better team by 11 on Day 2 to pull away for a 15-stroke team win, giving the Cowgirls their first state title in golf. Crook County's No. 1 golfer, junior Merritt O'Gorman, recovered from a tough opening-round 92 to post a 77, 15 strokes better. That helped the Cowgirls fend off any challenges Dufur could mount.
"My team played so well these past few days!" said coach Sarah Shinkle. "These two scores were their best team scores of the year. Watching them make the turn yesterday they were happy, excited and knew they were playing well. They were so consistent this week and could rely on each other for support. I cannot wait for next year this team is going to do great things."
Shinkle said that the team was aided by the improvement of senior McKenzie Jonas, who kept putting up lower and lower numbers the past few weeks of the season. She shot 87-88 and really helped the team, as did sophomore Sawyer McDonald, whose Tuesday 89 was a personal record. O'Gorman's 77 also was a personal record and sophomore Haylee Noland fired a front-nine PR of 40 on Tuesday.
"I couldn't have asked for a better tournament and a way to end the season!" Shinkle said.