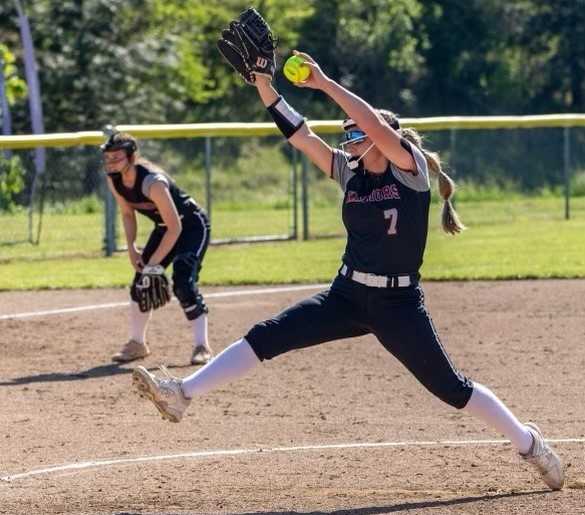 It's been four years since North Douglas won the 2A/1A softball title, the team's second championship in a three-season span with star pitcher Nicki Derrick.
And now, as the Warriors bid to get back on top this season, they are finding motivation from three seniors who had sisters on the 2019 champion.
"They were all watching that title game, and now they want to have that chance," coach Jesse Rice said of seniors Asia Ward, Lailah Ward and Star Alcantar, the sisters of Hope Ward and Joanna Alcantar. "They want to get there so bad. My seniors are really fired up. They are pushing this team and motivating them to get us where we are today."
The Warriors' expectations were modest entering the season considering they lost four starters, including ace pitcher Halli Vaughn, from a team that went 26-2 and lost in the state quarterfinals. But they have been dominant, finishing the regular season 24-0 and rising to No. 2 in the OSAAtoday 2A/1A coaches poll.
North Douglas and reigning 3A champion Burns (25-0) are the only undefeated teams in the state. Rice, who is 158-30 in seven seasons with the Warriors, never had a team go unbeaten in the regular season before.
"We have definitely gone past my expectations," Rice said. "I told the girls, 'I don't know where we're going to end up, but man, it's been a great year so far.'"
North Douglas passed perhaps its biggest tests of the season Thursday when it won 7-1 at Marshfield, champion of the 4A Sky-Em League. Sophomore left-hander Brooklyn Cyr threw a six-hitter with 11 strikeouts and senior first baseman Brooklyn Williams hit a double and triple and drove in three runs.
The emergence of Cyr (22-0, 0.53 ERA), an outfielder and backup pitcher last season, has been key for the Warriors. In 106 innings, she has allowed 47 hits, struck out 156 and walked 41.
"She's throwing smoke. She has really come on," Rice said. "As a left-hander, it just gives her this weird movement. It sometimes fools the hitters because they're not used to seeing it come from that side. And then it's got that little bit of wiggle."
Cyr is having a big season at the plate, too, hitting .571 with nine triples, five home runs and 46 RBIs. Junior shortstop Maddy Vaughn (.476, four home runs, 37 RBIs) and Williams (.460, 28 RBIs) also are putting up big numbers for the Warriors, who are batting .400 as a team and scoring 12.8 runs per game.
In an 18-0 win at Camas Valley last week, Vaughn and Cyr hit back-to-back home runs twice. Rice said they have a friendly rivalry.
"Those two are very competitive, but it's all in a good way," Rice said.
Vaughn and Williams were starters last season, as were senior catcher Lailah Ward and senior second baseman Asia Ward, who moved from shortstop. Asia Ward was feared to be lost for the season after suffering a torn ACL in volleyball, but she returned to the lineup three weeks ago.
The new starters are freshman third baseman Tehya Noffsinger, sophomore left fielder Paige Decker, sophomore right fielder Katie Miller and junior center fielder Graycie Rodgers.
"Those younger girls have really stepped up. It's been fun to watch," Rice said. "I have to give kudos to our park and rec department. They do such a great job of bringing those girls up."
Final game for Engelstad
Debbie Engelstad, a member of the Portland Interscholastic League Hall of Fame, has retired after nearly four decades of coaching at Grant. She coached her last game Wednesday, when the Generals (4-20, 3-16 PIL) lost to Lincoln 8-6 at Erv Lind Stadium.
Engelstad graduated in 1982 from Grant, where she was all-league in softball and soccer. She went on to a college softball career at Portland State, playing for legendary coach Teri Mariani.
Engelstad coached JV softball at Grant for two seasons before taking over as the head coach in 1989. She also coached JV soccer for 21 seasons and JV basketball for three seasons at the school. She was Benson's varsity girls soccer coach for three seasons (1987-89).
Under Engelstad, the Generals won back-to-back PIL softball titles in 2007 and 2008. She had planned to retire from coaching last year but opted to continue for one more year, giving her a chance to coach at Grant's new on-campus softball facility this season.
She was instrumental in pushing the Portland School District to upgrade Grant's softball facilities, which weren't included as part of the school renovation that was completed in 2019.
"Stepping onto the new field was an amazing feeling," Engelstad said. "That was something to be really proud of. But again, knowing that it would be one year, it was kind of a little bit melancholy, a little bit of, 'This feels good, but then it doesn't feel so good.'
"I'm proud of what we've done, and what we've left for the kids and coaches that come next. Everything is there for them. The table is set. Hopefully most of the hard work is done."
Engelstad plans to stay involved in softball. She said she has talked with Grant's youth program about doing clinics for coaches.
"I'm not too far away," she said.
Engelstad retired from teaching PE at Grant last year but was rehired on a one-year contract.
Scio stops Kennedy streak
Scio ended Kennedy's 20-game winning streak Thursday in a battle of small-school powers, beating the Trojans for the second time this season.
Sophomore Myleigh Cooper stood out in the 6-1 road win for the Loggers (21-1), ranked No. 2 in the OSAAtoday 3A coaches poll. She threw a two-hitter with 16 strikeouts, not allowing an earned run, and went 3 for 4 with a double, two home runs and five RBIs. Sophomore Taryn Ramsay also had three hits, including a double, and sophomore Meagan Trissel had an RBI single.
Senior Jenna Hopkins struck out 15 in taking the loss for Kennedy (21-3), ranked No. 3 in 2A/1A.
Scio won at home over Kennedy 5-0 in the season opener for both teams March 15.
Cooper has been on a roll for Scio. In a 7-0 win over Santiam Christian on May 9, she threw a no-hitter with 17 strikeouts and went 3 for 4. She had two triples and four RBIs to help beat Sheridan 21-0 on May 12, and tossed a three-hitter with 14 strikeouts to stop No. 4 Lakeview 3-1 on Saturday.
Hopkins sparked Kennedy to the Special District 2 title with two wins over second-place Blanchet Catholic in the past week. She struck out 20 and drove in the game-winning run in a 3-2, nine-inning home win Saturday, and tossed a shutout in a 6-0 road win Tuesday.
For the season, Hopkins has struck out 277. She has five home runs and 31 RBIs.
Burns tunes up
Reigning 3A champion Burns' state-record winning streak is intact at 55 after beating 4A No. 4 Pendleton 5-0 on Tuesday and 2A/1A No. 1 Grant Union 2-0 on Thursday.
In the win over Pendleton, at John Day, junior Ayla Davies pitched a two-hitter with 17 strikeouts and seniors Mattie Woodbury and Merissa Medley and junior Analeesa Thomas had two hits apiece. Thomas had a home run and three RBIs.
Davies threw a two-hitter with 13 strikeouts in the home win over Grant Union. Senior Lacie Tiller drove in both runs for the Hilanders, who got doubles from Woodbury and sophomore Gracie Mello.
Burns (25-0), No. 1 in the OSAAtoday 3A coaches poll, also beat Pendleton in March and Grant Union in April
Notes: McMinnville senior Abby Carsley has hit five home runs in the last four games, giving her a state-leading 18 for the season. She is tied for the big-school state record, set last year by former teammate Brynn McManus, and is closing in on the all-time state record of 21, set by Marist Catholic's Lauren Burke in 2016. For the season, the Kansas-bound Carsley is batting .541 with a 1.227 slugging percentage and 61 RBIs. … Central Catholic senior Gracie Huston struck out 51 in three wins last week. She fanned 20 in a 4-3, nine-inning win at Reynolds, threw a three-hitter with 15 strikeouts n a 2-1 win at Gresham and pitched a two-hitter with 16 strikeouts in a 3-1 win at Sandy. … West Albany junior Taylor Thompson hit three home runs and had eight RBIs in an 18-7 win at South Albany on May 8. She added another home run May 12 to help beat Crescent Valley 22-5. … Crook County junior Kaylyn Fildes had a monster game May 11 against Molalla, going 4 for 4 with a triple, three home runs and eight RBIs.