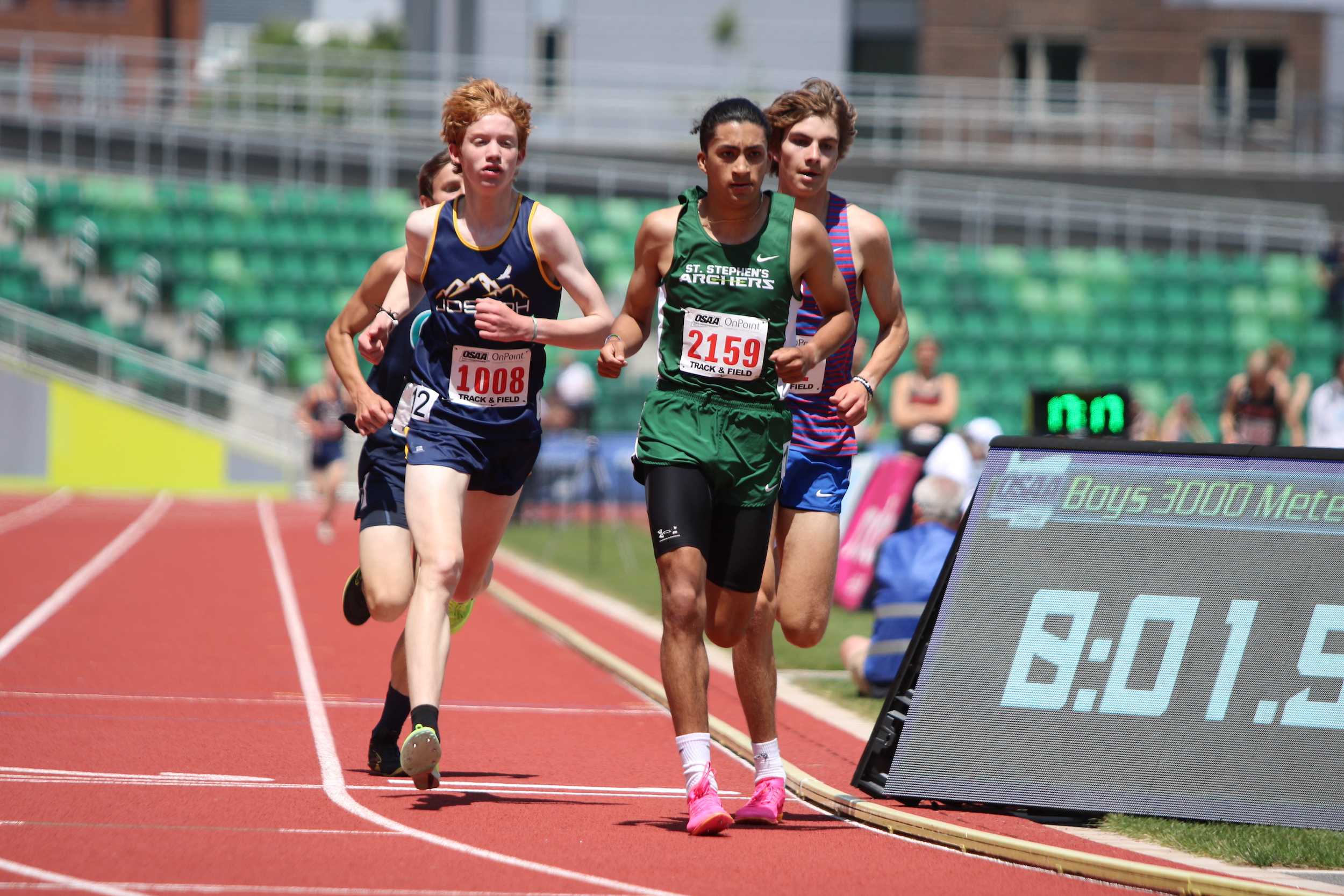 EUGENE — Joseph sophomore Jett Leavitt likes to think that for a distance runner, he has a decent kick. A good one, not great.
On Thursday afternoon, his kick indeed bordered on great.
Leavitt nipped Condon junior GradyGreenwood at the finish line by an incredibly narrow margin — one one-hundredth of a second — to win the 1A boys 3,000-meter run during Thursday's finals of the OSAA/On Point Community Credit Union Track and Field Championships at Hayward Field.
Leavitt finished in a personal best of 9 minutes, 2.40 seconds, trimming more than 17 seconds off his previous best. Greenwood was second in 9:02.41 and St. Stephen's Academy's Nathan Contreras was third in 9:07.17 as six of the top seven finishers posted PRs.
"This feels amazing. It's like a dream come true," Leavitt said. "My game plan was to stick behind whoever was leading — today it was Grady — and try to pass him at the end.
"I thought I'd have a little more room to spare at the end, but … my plan worked pretty well."
With one lap remaining, it was a four-man race with Contreras, Greenwood, and Leavitt running stride for stride alongside one another and Crosspoint Christian's Luke DeVault nipping at their heels.
Greenwood then surged to the lead and looked as if he was ready to bring it home coming off the final turn.
"At the top of the stretch, Grady was like five meters ahead of me," Leavitt said. "Maybe not quite that much, but he definitely had a lead with 100 to go. I just tried to kick it as much as I could. I didn't know what was going on. I was just trying to run as fast as I possibly could.
"I think I have an OK kick. I'm not the best kicker, but I definitely think it was a good kick today."
Greenwood said he ran the race he wanted to run — right up until the end.
"I knew that Jett Leavitt and Nathan Contreras were going to be right with me," Greenwood said. "I was thinking, this is going to come down to whoever has the most guts, and I think Jett did a good job of displaying that.
"I really thought I could get it, but Jett beat me and there's no excuses. Nothing. Just got to work harder. You know, I have another year, so I'll be back. I'll get a state title."
Actually, Greenwood has another opportunity Friday in the 1,500 where he owns the season's fastest time of 4:10.84 among the state's 1A runners.
In Thursday's other highlights:
3A boys
St. Mary's of Medford senior Kyan Hidde found some pop in the shot put ring Thursday afternoon that had been missing all season.
Hidde unleashed a personal-best throw of 46-11.5 on his final throw of the competition to claim top honors by more than a foot and a half over Cascade Christian's Matthew Moses (46-2.25) and Elmira's Jacob Janeczko (45-1).
"I threw a little better than I expected," Hidde said. "I've been fighting through some knee issues this season, but everything just kind of came together today and I got a good throw in — a couple of 'em."
Hidde threw 46-4 and finished as the runner-up to La Pine's Stephen Machin at last year's state meet. Then came the issues with his right knee this season, which hampered him throughout the regular season when the best he could muster was a mark of 43-8.5 at the April 8 Prefontaine Invitational in Coos Bay.
"It's my right knee," he said. "I glide and I push off my right knee, so that was part of it. And then the actual pivot part and my foot movements were irritating my knee throughout the season."
He had a couple of other throws over 43 feet to close out the regular season, but nothing that moved him higher than No. 5 on the season-best list among 3A throwers heading into the state meet.
"I was hoping for a top-three finish today," Hidde said. "But in saying that, I also was coming in as a lower seed than normal, because I hadn't done very well this year. But I was pretty confident in my abilities and what I could do."
Hidde opened Thursday's competition with a throw of 42-11.75, which put him sixth heading into the finals. His fourth throw of 44-4.75 moved him into third behind Moses and Banks' Daevon Vereen. He then took over the lead with a mark of 46-6.5 on his fifth attempt and then closed out the competition with his best throw of the day.
"My knee has been healing ever so slowly the last month or so and today it worked," Hidde said. "I just had a couple of form issues that I needed to figure out and once I could actually put them all together, they clicked."
2A boys
East Linn Christian senior Kaleo Wellman won the long jump with a leap of 22-0.25, helping pace the Eagles of Lebanon to the first-day lead in the team race.
East Linn's Elliott Nofzier placed sixth in the long jump and Evan Christenson added a seventh-place finish in the pole vault, giving the Eagles 15 points through four events. Eight other teams were within five points of the lead, with Knappa and Salem Academy tied for second with 13 points each, followed by Santiam (12.5), Heppner (12), Regis (11), Blanchet Catholic (10), Clatskanie (10), and Culver (10).
Heppner senior Trevor Nichols ran away from the field in the 3,000-meter run, winning in a personal best 9:03.58 and crossing the finishing line more than eight seconds ahead of runner-up Wyatt Johnson of Knappa. Nichols' winning time shattered his previous PR of 9:14.77 set at the May 5 Big Cats Invitational in Stanfield.
1A boys
Adrian senior Jace Martin set three state meet sprint records during Thursday's preliminaries.
First, he paced the field in the 100 with a time of 10.6 seconds, breaking the record of 10.99 that he set a year ago.
Next, he won his 400 heat in 49.8, surpassing the record of 49.82 set by Adrian's Maurus Hope in 2007.
And, finally, he led the way in the 200 in 21.88 to eclipse the record of 22.35 that was first set by Triad's Jake Ovgard in 2011 before Martin matched it a year ago.
"It really doesn't get much better than this. It's pretty cool," Martin said. "Today, there was good weather, my body was feeling good, one thing led to another, and I just kept on a roll."
What does the Air Force Academy-bound speedster hope to do as an encore in Friday's finals? More records? Perhaps a second consecutive team title for the Antelopes?
"You know, that's hit or miss," Martin said. "I can't say for sure. I know today I was really gunning for good times. Tomorrow, I'm going to try to just be consistent, get good placings, hope to do well in my events, and then save enough in the tank to be competitive in our 4x4 relay at the end of the day.
"This is a real experience. This is so cool."
3A girls
Coquille sophomore Holli Vigue gave all the other discus throwers something to shoot for when she unleashed a personal-best throw of 125-9 on her first throw of the day.
Nobody touched it.
Top-seeded Caitlyn Horrell of Burns finished with a throw of 123-3, but that was as close as anybody came to knocking Vigue off the top of the podium.
"It really came together today," Vigue said. "I got my mind focused and all I thought about was winning. I didn't really have any doubts in my mind. I just focused on winning."
She finished third at the district meet with a throw 104 feet-even, which was well off her season's best of 117-6, but was good enough to earn her a wild card into the state meet.
Given the opportunity to compete at Hayward Field, Vigue made the most of it.
"I knew I had it in me," she said. "I've been throwing since I was in sixth grade and today I felt like it just all clicked."
Vigue's victory came on the heels of a 1-2 finish by Coquille's Callie Millet and Trinidy Blanton in the javelin. Millet won with a personal best of 125-9 and Blanton placed second at 116-11, helping pace the Red Devils to an early 41-19 lead over Burns in the team race.
"I've been pretty inconsistent this season, so it was really nice to finally see some PRs," said Millet, who eclipsed her previous best of 119-10. "I figured it was going to be either me or Trinidy today, but I just wanted our team to do well.
"I would have been happy if she won, but I'm also happy that I got my PR by as much as I did."
In the high jump, Catlin Gabel sophomore Caroline Mauro easily claimed her second state title, winning with a leap of 5 feet, 7.25 inches while also shattering her previous personal best of 5-4.
2A girls
Willamina senior Hallee Hughes dominated both of Thursday's throwing finals, winning her third consecutive discus title with a throw of 139-7.25 and her second consecutive javelin crown with a toss of 139-3.75.
Neither mark was a personal best, but her winning throw in the javelin broke the state meet record of 138-6 set by Grant Union's Kaylee Wright in 2018.
"Competing is one thing, but I'm mostly just trying to improve my marks so I can get up on the board again," Hughes said. "Today, I was trying to go for all the meet records. The discus record here is 145, so I was like 8 feet off. But I broke the javelin record. That was pretty cool."
In the javelin, Hughes opened with a throw of 127-4 but then didn't see any improvement until her mark of 132-6.75 on her fifth throw and her record-breaking toss on her final attempt.
"I didn't do as well as I should have in the first round," she said. "I was throwing it too low and I was opening up a lot sooner than I should have. I was in the lead, but I should have had more of a lead.
"My last throw was my best throw. I was mostly just trying to get it out there. All my other throws were super low, and with the javelin I have, the flex is so high, if I throw it too hard, it bends too much and almost breaks.
"The last throw, I finally got so height on it, got on my back foot, and pulled it through."
In the discus, Hughes outdistanced the field with her first throw of 138-7.75. Then, similar to her javelin series, she closed out the competition with her best throw of the day.
"I think I had the lead throughout," she said. "When I compete, I do not pay attention to any other competitors. I do not look at anyone else's throws. I do not look at any of the marks. I only look at my marks and what I need to work on. Just me.
"It's a simple sport. People who don't do well at big meets are people who stress out and overthink it. When you're spinning in a circle with a one-pound disc, if you're at least 150 pounds, you shouldn't have any problem throwing it far."
1A girls
St. Stephen's Academy sophomore Macy Marshall could see Thursday's 3,000-meter run slipping away with one lap remaining.
Then she got serious.
Marshall held off a strong challenge from Union senior Kaleah Hines, pulling away down the stretch to win the first running event of Thursday's session in a personal best of 11:21.76.
"My dad always tells me, 'Just run for God's glory and whatever time He lets you get, it's working for you,' " Marshall said. "I was just really psyched to be here. So, that PR was just incredible. I'm so thankful."
Marshall set her previous PR of 11:43.41 at the April 15 Rob Frank Invitational in Banks. Her goal Thursday was to go out and set the pace, aiming at 90-second splits that would put her in a position to set a new personal best.
"Normally, I kind of stick behind whoever is in first and let them run their race," Marshall said. "Today, I decided I really wanted to run the race the way I wanted to. So, I went out and led, which I normally don't do, so that was interesting."
Marshall's plan was working fine right up until the start of the bell lap when Hines surged into the lead.
Race over?
"At first, I was like, 'Well, I had a good run. I don't think I can catch her,'" Marshall said. "Then I snapped out it like, 'I worked too hard for all of this. I can't just give up.' So, I just gave it my all."
Hines finished second in 11:23.22, crushing her previous PR of 11:51.03, but it still wasn't enough to keep pace with Marshall.
"I was expecting to place somewhere in the top three," Marshall said. "That was my goal. I wanted to go out for first, but I did not know what to expect.
"This is really, really awesome. I'm really grateful. Honestly, I'm really humbled because I did not think that was going to happen."