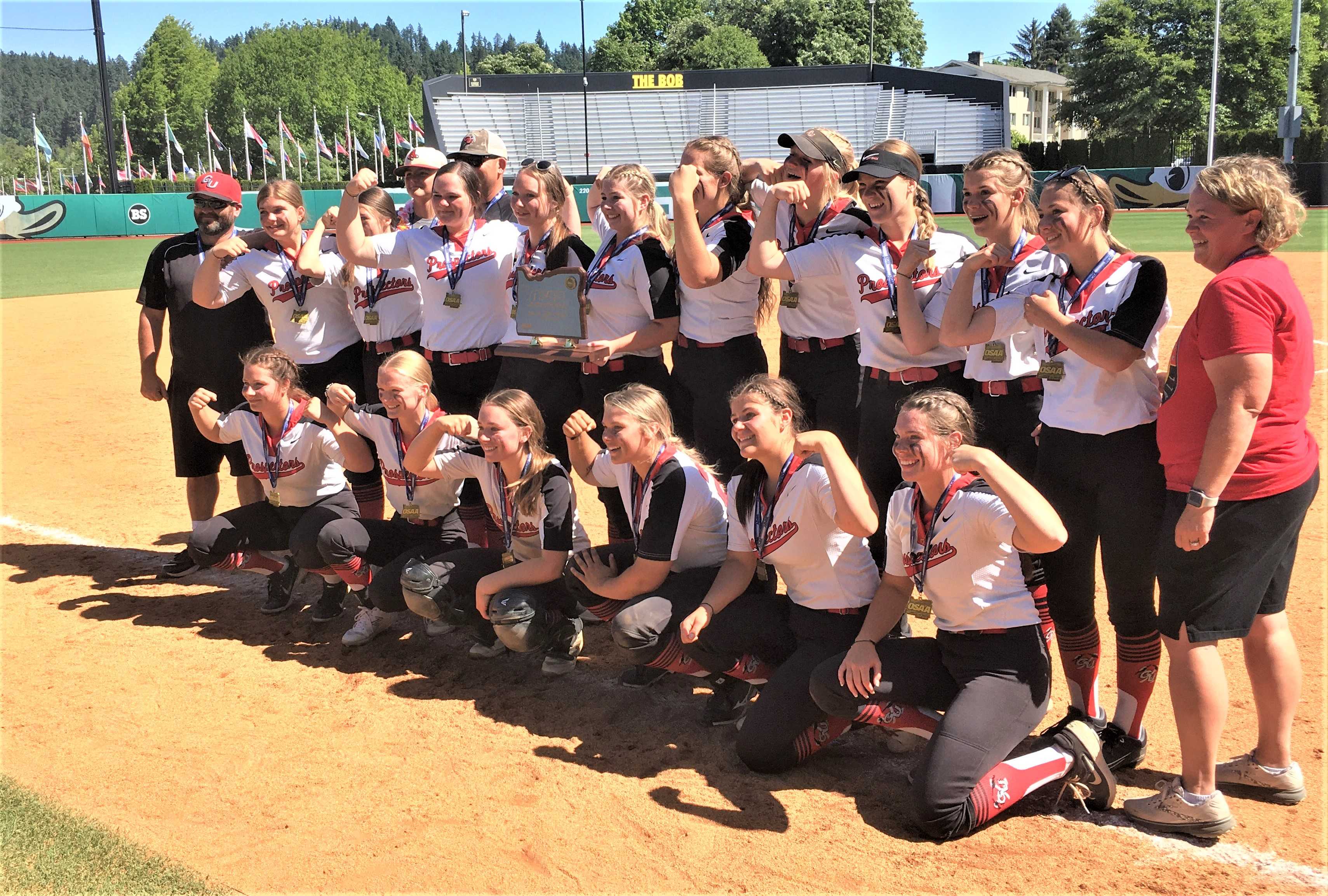 EUGENE – No one had to tell Grant Union/Prairie City about the difficulty of beating a team a third time when it faced district rival Weston-McEwen/Griswold in the OSAA/OnPoint Community Credit Union 2A/1A softball final Friday at the University of Oregon.
Last year, the Prospectors had defeated Lakeview twice, but with a chance to grab their first state championship, fell to the Honkers in the final.
Having to play the TigerScots again had Grant Union feeling a bit uneasy.
"I did not want to play a league opponent," Prospectors coach Zach Williams said. "It's always a battle when we play them. I would have rather played someone we didn't know. Trying to beat a team a third time is just more pressure."
But second-seeded Grant Union (26-3) didn't blink, rolling to a 10-0, six-inning win over the No. 8 TigerScots (21-8) to claim its first state title. Junior Drew Williams pitched a three-hitter with 10 strikeouts and the Prospectors rapped 12 hits, clinching the victory when sophomore Reece Jacobs scored on a wild pitch.
Junior Halle Parsons drove in two runs with a double and single and sophomore Savannah Watterson had two RBIs on a triple and sacrifice fly for Grant Union, which scored a 2A/1A-high 356 runs this season.
"Coming in here last year, we were really nervous, big stadium and everything," Parsons said. "This year we came in, we felt like it was our home field. We just came and played our game. Last year we kind of overlooked Lakeview. We couldn't do the same thing again."
The Prospectors, who beat Weston-McEwen 6-0 and 5-2 in a Special District 6 doubleheader, came focused and got the job done. They have won their last 11 meetings against the TigerScots.
"Just to be back here, we came in calmer, we knew what we were getting into," said Drew Williams, the coach's daughter. "We definitely came in with a whole different perspective. We've played them for all our seasons, and they're a competitive team. We just had to come out tough."
After losing in the final of the unofficial state tournament in 2021 and in last year's championship game, Grant Union was eager to capitalize on the opportunity Friday. The Prospectors were unbeaten against 2A/1A teams this season, falling only to 3A Burns (twice) and 4A Pendleton.
"I feel like a thousand-pound weight is off my shoulders," Zach Williams said. "It was just getting heavy. We've done travel ball with these girls for so long, we just wanted the hours to pay off. You work at it and you're No. 1 a lot, you know you're one of the best teams in the state, and it showed up in the title game this year."
Parsons, who drove in 65 runs this season, said not winning the title last year was "really irritating."
"We only know how hard we work, our fans know how hard we work," Parsons said. "It's pretty exciting that we finally got here and actually got a hold of it this time."
Many of the Prospectors won a state title on a youth team coached by Zach Williams. They have been anticipating duplicating the feat in high school.
"It's a really big deal for all of us," Drew Williams said. "This is what we've been waiting for since we were eight years old in ASA. It means a lot to win with my dad. I wanted to win really hard for him."
The future is bright for the Prospectors considering they started only two seniors Friday. Expectations will be high again next year, but with a title under their belt, Zach Williams believes they will have less pressure.
"We've done it, we know what we can do," he said. "I think we'll play looser and I think it'll be a good year."
Weston-McEwen, which lost in the final in 2007 and 2015, also was going for its first title. But the TigerScots struggled in the field, committing five errors, and couldn't solve Drew Williams.
"This game we definitely did not come prepared like we should have," sophomore third baseman Ava Sams said. "We just didn't bring our best game today. I feel like we definitely could have played better."