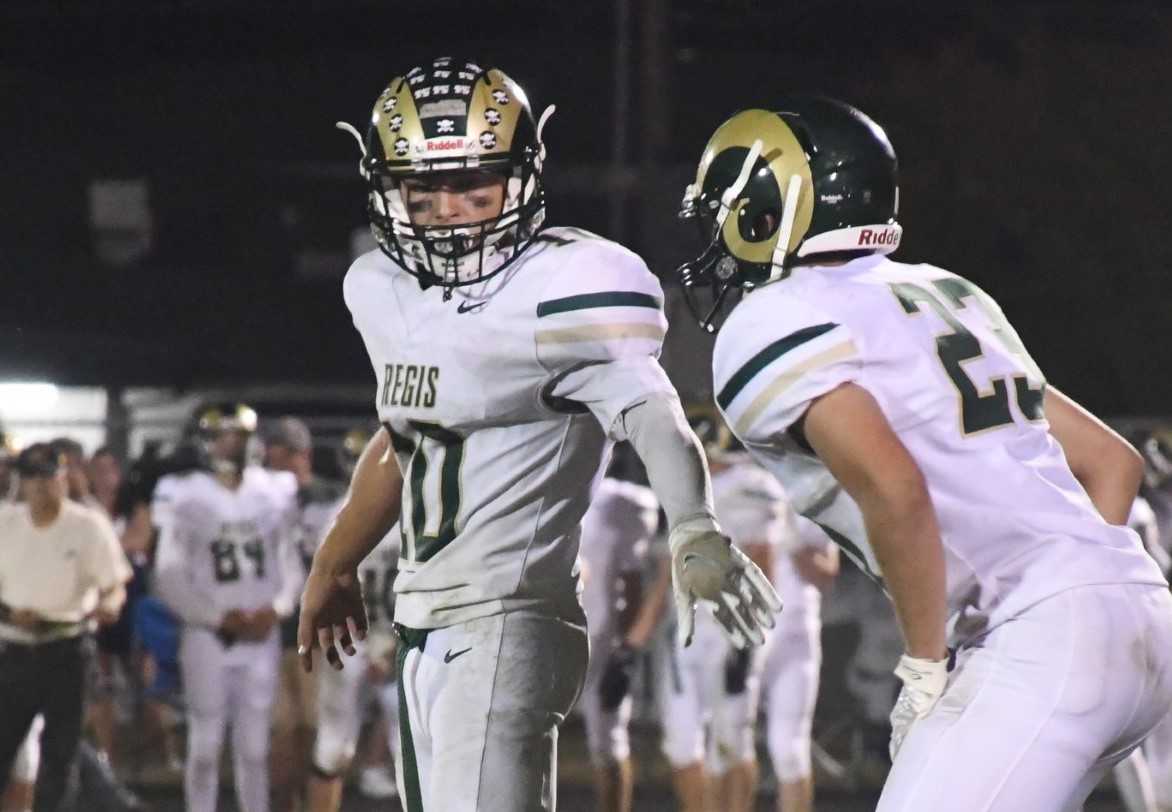 Last football season, Regis' Kollin Schumacher was a raging success as a first-time quarterback, passing for 31 touchdowns.
This season, the 5-foot-9, 150-pound senior has continued his stunning rise. Through three games, he has passed for 1,011 yards and 15 touchdowns with two interceptions.
Thursday night, he passed for 441 yards and five touchdowns as the Rams (3-0), ranked No. 6 in the OSAAtoday 2A coaches poll, won 44-24 at No. 9 Gervais in their Tri-River Conference opener. He also ran for a score.
"He's made a huge step," Regis coach Joe Manibusan said. "The biggest thing now is he's learning how to read defenses. I gave him the power to audible out of certain coverages. That was the big thing last year, I called the play and he just ran it. Now he's starting to read and he knows a little bit more about reacting to the defense. He watches more film than I do."
Schumacher threw for 301 yards and six touchdowns in a 48-0 win over Gaston in the opener and passed for 269 yards and four scores to beat Grant Union 58-0 in Week 2.
He has developed good chemistry in the Air Raid offense with seniors Noah Koenig (18 catches, 386 yards, seven touchdowns) and Parker Bartholomew (17 catches, 342 yards, six touchdowns).
"Our pass game opens up our run game," Manibusan said. "Our skill players are the strength of our team."
Manibusan said the Rams, who are averaging 50.0 points per game, are more cohesive that last year, when they put up 38.6 points.
"Last year was more of a learning curve," he said. "With Kollin behind the wheel, we weren't quite sure where to go with him. And then he just emerged. Now he's being more of an actual quarterback back there. The nice thing is we've got big, fast receivers, so that helps him out a lot."
Schumacher started his high school career as a receiver but moved to running back in 2021 in the triple-option offense. When Manibusan came over from South Albany to co-coach the Rams with Alex King last year, they planned to install a spread offense, but didn't have a proven thrower.
They identified Schumacher as a dual threat.
"Kollin is smart and mobile," Manibusan said. "We were thinking more like wildcat. He came to summer workouts, and he was watching YouTube videos on how to throw., and he just came out and started launching it 50 yards down the field. We were like, 'All right, you're a quarterback, buddy.'
"Kollin just came out of nowhere."
League of their own
The 6A Three Rivers League is more than living up to its reputation as the SEC of Oregon high school football.
For the third week in a row, TRL teams ran the table in nonleague games. The league's six teams are a combined 18-0 heading into their final week of nonleague play.
"It's one of the reasons I was super excited to take this job," said first-year Oregon City coach Aaron Skinner, a former assistant at West Linn. "The challenge of it weekly makes it fun as a coach, to have to prepare that way."
Skinner's Pioneers are the only unranked team in the league. The TRL has five teams in the top seven of the OSAAtoday coaches poll in No. 1 West Linn, No. 3 Tualatin, No. 4 Lake Oswego, No. 6 Lakeridge and No. 7 Tigard.
"The depth in the league, the talent, it's pretty special," Skinner said. "And it's going to make for a fun five weeks to close the season."
The task ahead is daunting, but Oregon City believes it is making progress under Skinner. The Pioneers, who defeated Century 45-0 on Friday in what he called their most complete game, have outscored their opponents 92-6. The only points they have allowed came on an interception return.
Skinner said the seniors, who are playing for their third coach in four years, "had every reason to question another coach" but have embraced the staff's philosophy.
"They've been through so many changes, they could have quit or transferred schools," Skinner said. "These kids bought in right away and were open to a new philosophy. They've done a tremendous job buying into what we're asking of them."
The defense is led by senior outside linebacker Clay Martineau (6-3, 210), a Boise State commit. Senior middle linebacker Blake Lucas, senior defensive end Ryder Swanson and senior cornerback Thomas Borden also have been integral.
Borden (6-1, 170) has three interceptions and two punt-return touchdowns.
"His ability to view the field and see things develop in front of him, and trust his instincts, he's doing some special things at corner," Skinner said. "He's fun to watch."
Ahead of schedule
Thomas Casey vowed to restore the Corvallis "magic" this year when he took over as coach of the Spartans, who entered the season with a 14-game losing streak.
Friday night -- when Corvallis honored the 1983 state championship team, including former Oregon State and NFL receiver Robb Thomas, and the team's coach, Gary Beck -- that magic was palpable.
The Spartans (2-1), who ended their losing streak in Week 2 by beating Central, built on that momentum with a 21-14 home win over their crosstown rival, No. 8 Crescent Valley (2-1), in a 5A Mid-Willamette Conference game.
"In the locker room, it was awesome," said Casey, a 1989 Corvallis graduate who spent two decades assisting in college programs. "Lots of hugs. It was a special night, that's for sure. It feels good. I figured we would get to this place at some time, but it's happening sooner than I probably expected."
Senior RJ Young rushed for 133 yards and two touchdowns on 12 carries and the defense came up big by slowing down Crescent Valley senior quarterback Rocco McClave.
McClave, who accounted for 573 yards and eight touchdowns last week against South Albany, had 306 yards Friday before being disqualified late in the third quarter after his second unsportsmanlike conduct penalty. He completed 19 of 26 passes for 228 yards and two touchdowns and rushed for 78 yards on 11 carries.
Casey, the defensive coordinator for Western Illinois from 2005 to 2011, hatched a plan to keep McClave in check.
"We only played with one defensive lineman," Casey said. "Rocco throws the ball, he runs the ball, and nobody can keep contain. So we played with a double outside linebacker type, and we just let them sit on the edge. The minute he declared, they started chasing him."
Casey praised the play of freshman defensive lineman Sylvester Nguyen (5-9, 200) and senior linebacker Jaxon Lengwin, who spent the night chasing McClave.
"It was a great effort," Casey said. " They believed in the plan, even though they looked at me like I had two heads when I told them."
'Dynamic' Devil
Lowell running back JaMar Thurman continued the sensational start to his junior season Friday as the No. 3 Red Devils (3-0) routed visiting Central Linn 55-14 in a 2A Special District 2 game.
The 5-9, 170-pound Thurman scored touchdowns on all four of his touches before calling it a night midway through the second quarter. He scored on runs of 77, 70 and 5 yards and caught a 60-yard touchdown pass. He also had four two-point conversion runs and was among the team's leading tacklers from his cornerback position.
For the season, Thurman has rushed for 725 yards and 11 touchdowns.
"He's a pretty dynamic individual," Lowell coach Ray Yarbrough said. "I think our kid is pretty special. I have not seen anybody on film yet that I think is as good of a football player as he is.
"I think everybody in the state in 2A on our schedule is probably aware of who he is. You've got to use that to the best of your advantage, and that's not always getting him the ball. Sometimes it's using him to pull defenders away from other guys."
Thurman not only lines up at running back, but also plays slot and quarterback.
"We tried to get a little more creative with him this year, just moving him around," said Yarbrough, who replaced Pat Todd as coach this season after joining the staff as an assistant last year.
Yarbrough said Thurman is the team's hardest worker.
"He loves football. He's passionate about football," the coach said. "Obviously he has natural talent, but he's also trying to evolve into a better football player."
Up next for Thurman and the Red Devils is a nonleague game at No. 1 Weston-McEwen/Griswold, which beat them 27-21 in the state quarterfinals last year.
Honkers break through
Unranked Lakeview produced one of the more noteworthy wins of the week when it toppled No. 6 South Umpqua 28-16 in a 3A Special District 3 game.
The Honkers lost to South Umpqua 41-0 last year, when they made the move up from 2A and finished 5-5. With Friday's win, they improved to 3-0 under first-year coach Jeff Graham, the son of former Burns and Cascade coach Terry Graham.
Senior Denver Johnson caught two touchdown passes from senior Benny Alves, junior Miles Maxwell threw a scoring pass to Alves and senior Brandon Markus had a touchdown run for Lakeview, which seized control from South Umpqua (2-1) after trailing 10-6 at halftime.
"It means everything. Everybody's super excited about it," said Jeff Graham, whose team is tied for first place with top-ranked and reigning state champion Cascade Christian. "We were pretty confident going into the game, what we were trying to accomplish. It wasn't a surprise to us. We hadn't really been tested in our aggressiveness yet, and we wanted to see where we were at."
South Umpqua entered averaging 47.5 points but struggled against a Lakeview defense led by senior outside linebacker Adrian Stubbs (5-11, 185). The Honkers overcame five turnovers by holding the Lancers to 169 total yards and getting six takeaways.
Graham said his players were confident despite trailing at half.
"We were pretty much able to counter anything they wanted to try offensively," Graham said. "We just said, 'Keep doing what we're doing, we know what they're going to do. We'll just keep playing defense against them, and the offense will come along.' And it did."
Lakeview plays at Cascade Christian on Oct. 13.
Other highlights in Week 3:
6A
No. 2 Central Catholic opened Mt. Hood Conference play by blitzing Sandy 68-7. Cru Newman passed for 156 yards and four touchdowns, two to Niko May. Tyler Newbury rushed for 102 yards and two scores. Phoenix-Orion DiCosmo and James Wade III scored touchdowns on defense. … Clackamas thumped David Douglas 48-0, getting an interception return for a touchdown by Max Maehara to start the scoring. Luke Baker returned a punt for a touchdown and Justin Larsen caught two scoring passes and a two-point conversion. … Newberg defeated Aloha 49-0, rushing for 320 of its 389 yards. Isaac Heveron rushed for 145 yards and three touchdowns, Jayden Goetz ran for two scores, Lucas Vaughn had an interception and two fumble recoveries and Dylan Portlock had two interceptions, returning one 50 yards for a score and the other 26 yards to the one-yard line. … Traeger Healy completed 10 of 18 passes for 250 yards and two touchdowns for North Medford, which beat West Salem 33-12. Jeremiah Robbins ran for two touchdowns and Cayden Morris kicked field goals from 34 and 39 yards. …
South Medford rolled past McNary 35-0. Ryder Scheid ran for three touchdowns for the Panthers, who were playing without standout running back Kameron Rague. … South Salem's Athan Palmateer passed for two touchdowns and ran for two scores in a 40-6 rout of Grants Pass. … Jamahl Wilson rushed for 207 yards and two touchdowns on 17 carries for North Salem in its 39-13 win over Roseburg. Braxton Singleton caught two scoring passes from TC Manumaleuna II for the Vikings. … Wells notched its first win over Grant since 2015, beating the Generals 30-21. Wyatt Andler scored two touchdowns for Wells, which led 24-7 in the third quarter. … Roosevelt came back from a 12-0 deficit in the fourth quarter to edge Jefferson 13-12. … Franklin's Will Reid completed 18 of 25 passes for 354 yards and five touchdowns to spark his team past Cleveland 42-6. … Luke Fahner lifted Barlow over Gresham 33-14 by rushing for 127 yards and one touchdown and scoring off a fumble return and a blocked punt. …
Lakeridge downed Westview 24-10, getting two touchdown runs from Ansu Sanoe and a scoring catch from Joey Olsen. … West Linn defeated Jesuit 43-14, dropping the Crusaders to 0-3 for the first time since 1977. Baird Gilroy threw for 216 yards and four touchdowns, two to Danny Wideman. Jesuit's Lonnie Burt ran for 99 yards and two scores on 22 carries. … Lake Oswego's Liam Davis completed 15 of 24 passes for 226 yards and four touchdowns as the Lakers beat Mountainside 28-14. … Sunset stopped Liberty 54-19. Justin Cragwell ran for three touchdowns and returned a kickoff for a score and Blake Hurley had a punt return for a touchdown. … Sherwood recorded its second consecutive shutout by smothering 5A power Summit 29-0. The Bowmen held the Storm to 90 total yards (nine rushing) and had five sacks. Sherwood rushed for 298 of its 390 yards. … Tualatin rushed for 263 yards and forced four turnovers to beat Wilsonville 22-13. Quarterback Nolan Keeney rushed for 116 yards and one score and the Timberwolves got three interceptions – two by Kenen Elder and one by Jayden Fortier. Kallen Gutridge completed 23 of 46 passes for 320 yards and one touchdown and rushed for 54 yards and one score for Wilsonville.
5A
South Eugene outlasted Willamette 28-25 as Ronan Schmidt rushed for 204 yards and three touchdowns on 15 carries and Isaiah Francis caught a scoring pass. … Canby picked its first win, dispatching Beaverton 42-7. Tyler Konold rushed for 241 yards and three touchdowns on 14 carries and Kellen Oliver passed for two scores. … Zayvian Webster ran for 100 yards and one touchdown on 18 carries to lead Dallas past Lebanon 36-20. The Dragons got interceptions from Eli Hess, Hunter Rivers and Talon Krieger. … Eagle Point's Kaden Huff had 18 carries for 122 yards and three touchdowns, including the go-ahead score from 32 yards in the fourth quarter, in a 28-22 win over Churchill. The Eagles trailed 22-14 ta half. … Zack Sherman threw two touchdown passes to Luke Babbitt and ran for a score to propel Springfield past Crater 49-13. Connor Dye ran for 119 yards and one touchdown on 18 carries for the Millers. …
Thurston's Noah Blair passed for 266 yards and six touchdowns, four to Walker Bonar, who had 140 receiving yards in his first game back since breaking his collarbone this summer. Luke Newell caught two touchdown passes and returned an interception for a score for the Colts. … Lukas Hews passed for two touchdowns and had three one-yard scoring runs for West Albany, which dropped Woodburn 77-7. … Ivan Barrios returned the opening kickoff 97 yards for a touchdown to spark Caldera past Madras 45-0. Tommy Morris passed for four touchdowns and ran for a score. ... Mountain View thumped Forest Grove 49-0 as Angel Valenzuela rushed for 166 yards and three touchdowns on 13 carries and Connor Crum completed 12 of 19 passes for 169 yards and three scores. The Cougars had a 472-169 edge in total yards.
4A
Tillamook converted an interception and blocked punt into touchdowns in the first quarter and went on to bury Southridge 49-6. Andrew White rushed for 96 yards on eight carries and Seth Wehringer ran for three scores for the Cheesemakers, who rushed for 280 yards. … Logan Whitlock ran for five touchdowns – none longer than three yards – and returned a kickoff for a score as Henley dominated Ashland 46-15. … Hidden Valley turned back Klamath Union 20-7 as Braxton Brierty scored touchdowns rushing and receiving and Samuel Larson ran for a 66-yard score. Klamath Union's Jeff Spooner caught 12 passes for 178 yards and one touchdown from Lamar Cuellar, who was 27 of 50 for 274 yards and one score with three interceptions. …Scappoose defeated Hood River Valley 41-21 as Max Nowlin completed 45 of 60 passes for 490 yards and five touchdowns. ...Caleb Russell completed 16 of 28 passes for 327 yards and four touchdowns in Philomath's 41-17 victory over Cottage Grove. CD Nuno (five catches, 116 yards, one touchdown), Warwick Bushnell (five catches, 101 yards, two touchdowns) stood out for the Warriors, and Rocco De La Rosa scored touchdowns rushing, receiving and on an 81-yard fumble return. Cottage Grove rushed for 280 yards as Clayton DeWitt (26 carries, 179 yards) and Gavin Grogan (16 carries, 102 yards, two touchdowns) found daylight. ...
Pendleton fell 39-12 at Lewiston, which plays in Idaho's big-school classification. Jace Otteson passed for 221 yards and two touchdowns, both to Thaiden Cannin, and Trey Boston ran for 100 yards on 15 carries in the loss. … Nick Hudson threw an 18-yard touchdown pass to CJ Giustina with 1:24 left to lift Marist Catholic over Mazama 33-29. … Junction City opened a 28-0 halftime lead and cruised past Stayton 48-13. Cooper Rothenberger passed for one touchdown and ran for another and Dalton Vogt ran for two scores. … Reigning state champion Estacada avoided an 0-3 start by coming back from a 14-8 deficit in the fourth quarter to beat La Grande 16-14. The Rangers drew even on a 28-yard halfback pass from Lincoln Rathmanner to Ryan Thielke and pulled ahead on a two-point conversion. ... La Salle Prep won at Centennial 44-28 as Mason Mueller had three catches for 177 yards and two touchdowns, two scoring runs and a fumble recovery for a touchdown. Paul Skoro passed for 225 yards and two touchdowns. JJ Kuunifaa had 19 tackles, three tackles for loss, 1.5 sacks and a safety.
3A
Reid Woodson kicked a 27-yard field goal as time expired to give Sisters a 25-22 win over Elmira. Dawson Roberson returned a fumble punt for a touchdown to put Sisters ahead 22-19, but Elmira tied it 22-22 on a field goal with just over one minute left. … Dayton rushed for 403 of its 536 yards in rolling past Newport 45-0. Zach Smith rushed for 162 yards on 10 carries and Boston Hodges threw a touchdown pass to Pedro Cisneros, who also ran for a score. … St. Mary's edged Phoenix 10-6, getting a touchdown run from Indiana Olson. Phoenix's Cody Martin ran for 125 yards and one score on 12 carries. … Banks' Kade Long completed 15 of 24 passes for 262 yards and five touchdowns, two each to Brayden Bigsby and Max Walker, in a 49-12 win over Rainier. The Braves had seven sacks. ...
Cascade Christian led 56-0 at half in beating Brookings-Harbor 63-0. Ashton Moody passed for three touchdowns, ran for a score and returned two interceptions for touchdowns. Dylan Westlake and Kellan Kleker also had interception returns for scores. … Vale squeaked past Baker 8-7. Colten Stepleton threw a touchdown pass to Skyler Cade (four catches, 70 yards) and Kase Schaffeld rushed for 100 yards on 20 carries. … Siuslaw's Will Johnson ran for two touchdowns and scored on a 61-yard catch and 82-yard kickoff return in a 60-20 win over La Pine. He is the brother of Siuslaw coach Sam Johnson. ... Sutherlin came from behind to beat Douglas 41-34, taking the lead in the fourth quarter on a 29-yard run by Kaleb Filipi. The Bulldogs rushed for 394 yards, getting big games from Ty Terry (22 carries, 147 yards, three touchdowns) and Tucker Mack (13 carries, 153 yards, two touchdowns). Douglas' Bryson Baird rushed for 105 yards and three scores.
2A
Mason Harrison ran for 129 yards, passed for a touchdown and made a strip-sack that led to a 37-yard fumble return for a score by Xander Olman as Irrigon held off Umatilla 36-30. Josiah Morena ran for two touchdowns and Lee Harrison had two sacks for Irrigon. … Oakland had a 399-114 edge in total yards in flattening Reedsport 44-0. The Oakers rushed for 338 yards, getting 172 yards and two touchdowns on five carries from Gabe Williamson. James Baimbridge caught a touchdown pass and returned a fumble for a score. Braydon Webb scored touchdowns rushing and receiving. …Quarterback Eli Freitag had 18 carries for 198 yards and three touchdowns for Bandon/Pacific, which defeated North Douglas/Yoncalla 31-14. ...
Heppner led 38-0 after one quarter and dispatched Colton 50-12. Landon Mitchell threw two touchdown passes, ran for a score and had two interceptions, returning one for a touchdown. Hayden McMahon (137 rushing yards), Caden George (104 rushing yards) and Cameron Proudfoot each had touchdown runs. … Riverside/Ione handled McLoughlin 40-6 as Riley Lantis threw three touchdown passes, two to Cooper Cemore, and ran for a score. Colby Crowell had an interception return for a touchdown. … Monroe ran all over Waldport 42-16 with Nate Young (30 carries, 354 yards, three touchdowns) and Braiden Ellis (10 carries, 61 yards, four touchdowns). … Blanchet Catholic outlasted Willamina 31-28 despite another big game from Bulldogs junior Jacob Hadley, who ran for 184 yards and four touchdowns on 29 carries.
1A-8
Enterprise dominated Pilot Rock 64-6, holding the Rockets to fewer than 100 total yards. … Lost River blew out Camas Valley 59-24 as Connor Dunlea rushed for 189 yards and three touchdowns on 10 carries and had a 70-yard punt return for a score. Kayden Hartman had 12 carries for 150 yards and three touchdowns, Joel DeJong had three sacks and Brock Lacy added two sacks. … Chase Bacus did it all for Crosspoint Christian in a 64-25 victory over Chiloquin. He rushed for 111 yards on 10 carries and scored touchdowns rushing, receiving and on a kickoff return and punt return. Kody Sparks tossed three touchdown passes, two to Keaton Murphy, who had a kickoff return for a score. ...
Crane scored on a 48-yard pass from Josh Zander to Carter Nichols with 12 seconds left to beat Imbler 30-26. The Panthers had taken a 26-22 lead with less than one minute left on a fourth-down pass from Trevor Treat to Justin Frost. Imbler had edges in yards (348-320), first downs (14-12) and time of possession (30:37). ... St. Paul outgained Stanfield 373-173 in a 32-0 win. George Pohlschneider completed 14 of 19 passes for 222 yards and one touchdown, Branson Cook ran for 97 yards on 12 carries and Clay Smith rushed for two scores. ... Myrtle Point rocked Bonanza 60-20 with Logan Backman passing for 216 yards and five touchdowns and running for a score. Billy Reynolds excelled rushing (104 yards, one touchdown) and receiving (100 yards, two touchdowns) and had three tackles for loss. Evan Warner caught two scoring passes.
1A-6
Prairie City/Burnt River rushed for 300 yards in brushing aside Dayville/Monument/Long Creek 68-7. Cayden Howard rushed fo 115 yards and three touchdowns on five carries and had 10 tackles, a pass breakup and an interception. Tucker Howard (seven carries, 127 yards) and Maison Teel each rushed for two scores. ... North Lake turned back Days Creek 46-24 as Jack Roscoe scored on touchdown runs of 35, 66 and 37 yards and Hayden Joye threw scoring passes of 70 and 46 yards to Bryce Williart. Days Creek's Wyatt Geiger passed for 304 yards and three touchdowns, two to Clark Warner, who had 155 receiving yards and 105 rushing yards, including an 81-yard score. ... Parker Crowe rushed for 270 yards and five touchdowns on 13 carries and had an interception and a tackle for safety for Alsea, which dominated CS Lewis Academy 64-12. Gavan Hinchberger had seven carries for 154 yards and returned a punt for a score. Ethan Cantrell had five tackles for loss and two sacks.