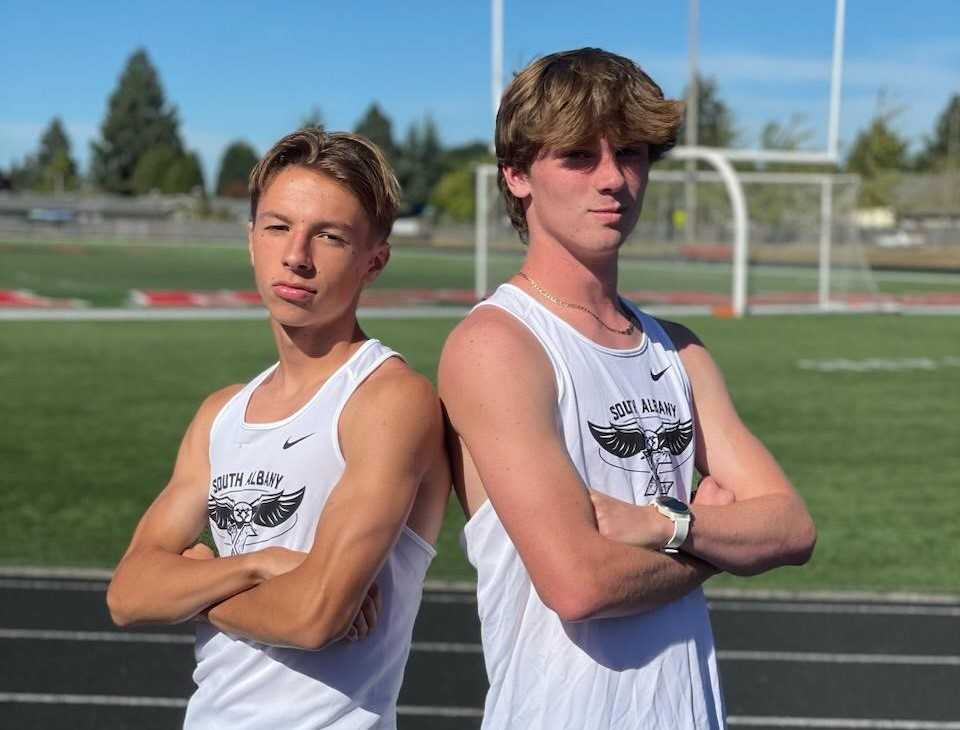 Two of last week's top cross country invitationals became a showcase for duels between South Albany teammates Matthew Resnik and Zander Campbell.
Resnik, a senior, and Campbell, a junior, finished 1-2 in the 20-team Silver Falls Oktoberfest Invitational at Silver Falls State Park on Wednesday. Two days later, Campbell got the victory as he and Resnik went 1-2 in the 30-team Meriwether Classic at Meriwether National Golf Club.
"It was super exciting," South Albany coach Branson Bartlett said. "They're super good buddies, always running with each other. It's a friendly competition. They're both competitors, so they like to get after it."
Resnik blitzed to victory in 15:19.8 on a moderately hilly course at Silver Falls, a 23-second personal best and the top 5,000-meter time in the state this season. Campbell was second at Silver Falls in 15:30.1, taking 25 seconds off his PR and climbing to No. 5 on the state-best list.
Resnik and Campbell rank No. 1 and No. 2 all-time at South Albany in the 5,000.
"They came off a pretty good track season and put in a ton of work over the summer," Bartlett said. "We came into the meet with, 'Hey, let's go for it.' I knew they could run fast. Honestly, I didn't expect 15:19 out of Matthew. I expected maybe 15:35, 15:40. That was a pleasant surprise."
Campbell, who settled for second place at Silver Falls after winning the meet last year, got his turn two days later at the Meriwether Classic. He made a move at the two-mile mark and won in 15:33.51, comfortably ahead of Resnik at 15:41.82.
"Both of them were a little tired from Wednesday night's race, but I just told them, 'Get up there, be patient, see what you guys can do,'" Bartlett said. "I could tell Zander was pretty pumped for Friday."
The early success points to Resnik and Campbell being serious contenders in the 5A championships. Resnik has placed 17th and 19th the last two years; Campbell was 34th and 16th.
Resnik and Campbell helped the RedHawks finish third in the 5A meet in 2021, the highest finish in school history. The team won its first official district title in more than three decades in 2022, but fell back to sixth place at state.
"We were kind of disappointed last year," Bartlett said. "We felt like we could have run better."
South Albany graduated a key contributor in Wyatt Sparks, who was 23rd at state, but has solid No. 3 and No. 4 runners in seniors Kaleb Bennett (sixth at Silver Falls) and Robbie Johnston (22nd at Silver Falls).
The RedHawks finished second at Silver Falls to Mid-Willamette Conference rival Corvallis, which outscored them 35-63. They placed ninth at the Meriwether Classic, their 251 points putting them well behind first-place Central Catholic (103).
Resnik and Campbell are making their mark at South Albany in track, too. Resnik ranks second and third all-time at the school in the 1,500 and 800, respectively. Campbell is No. 4 in the 800.
Rams, Lakers win
Central Catholic's boys outscored runner-up Columbia River (Wash.) 103-122 to win the Meriwether Classic. The Rams were led by junior Mason Hawkins (sixth) and sophomore Greer Shorr (seventh).
Lake Oswego took the girls division at Meriwether, scoring 34 points to beat Lakeridge (61). Lakeridge junior Chloe Huyler won in 18:14.38, the No. 4 time in the state this season. Valley Catholic junior Jaya Simmons (18:36.89) and Lake Oswego junior Sofie Howard (18:47.04) were next.
Corvallis sweeps Silver Falls
Corvallis ' boys placed three runners in the top five – junior Cole Fiegener (third) and seniors Calvin Atkinson (fourth) and Joseph Parmigiani (fifth) to win at Silver Falls.
The girls race also went to Corvallis, which topped second-place Silverton 25-104. The Spartans were led by senior Kate Middleton (second) and sophomore Lucia Williams (third), who finished behind the winner, East Linn Christian junior Daisy Lalonde.
Notes
Crescent Valley junior Emily Wisniewski finished seventh against some of the nation's top runners in the prestigious Woodbridge Classic at Orange County (Calif.) Great Park on Saturday. Wisniewski, who has the state's best girls 5,000 time this season (17:00.0), finished the 3.06-mile course in 15:56.8. The winner was the reigning Utah champion, Timpview junior Jane Hedengren (15:32.5). … Sheldon sophomore Malachi Schoenherr recorded the No. 2 boys 5,000 time this season in winning the Oregon City Invitational on Saturday. Schoenherr clocked 15:22.32 to win by 20 seconds over his teammate, senior Adam Reeder. Grant outscored PIL rival Jefferson 82-90 to win the 23-team event. … Roseburg got wins from senior Timothy Johnson and junior Sylvia Eckman in the Prefontaine Memorial Run on Saturday at Marshfield. Crook County's boys and Grants Pass' girls won the team titles.