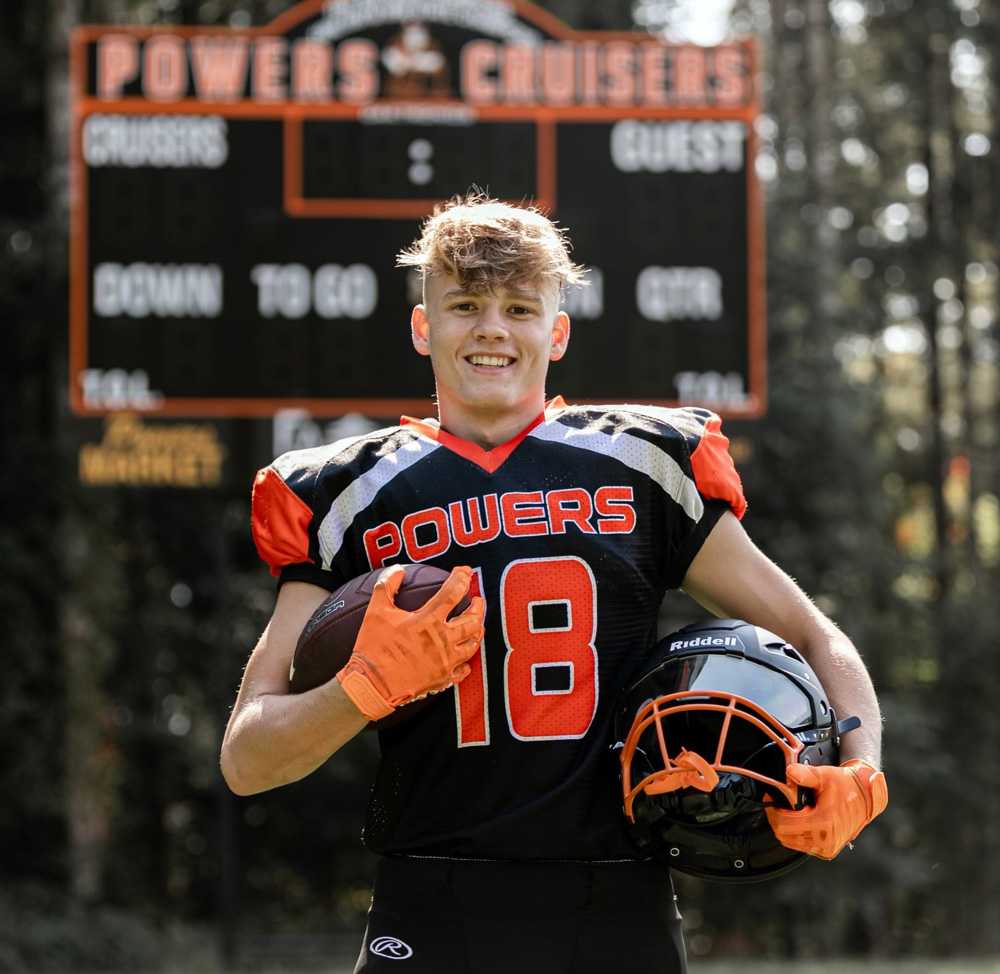 OSAAtoday is tracking football stat stars this fall, identifying both single-game and season-long achievements.
Below, find Week 3 and season-long stat stars who have met the specific thresholds listed below.
Varsity head coaches only, or their proxies, may email [email protected] to make additions or modifications to the list, which will come out every Thursday.
Note: the symbol * in the season-long categories means that the player has achieved the season-long threshold, but we do not have complete results for him.
Single-game achievements
Week 3
Passing yards (250 or more yards through the air)
490 – Max Nowlin, Jr., 6-4, 200, Scappoose (4A)
441 -- Kollin Schumacher, Sr., 5-9, 150, Regis (2A)
354 – Will Reid, Sr., 6-0, 185, Franklin (6A)
327 – Caleb Russell, Jr., 5-11, 160, Philomath (4A)
326 – Kallen Gutridge, Sr., 6-3, 185, Wilsonville (5A)
304 – Wyatt Geiger, Sr., 5-10, 185, Days Creek (1A-6)
274 -- Lamar Cuellar, Sr., 5-10, 185, Klamath Union (4A)
266 – Noah Blair, Jr., 6-2, 175, Thurston (5A)
262 – Kade Long, Sr., 5-10, 155, Banks (3A)
Touchdown passes (3 or more)
6 – Noah Blair, Jr., 6-2, 175, Thurston (5A)
6 -- Armando Fajardo, Sr., 5-8, 200, Taft (3A)
5 -- Kollin Schumacher, Sr., 5-9, 150, Regis (2A)
5 – Will Reid, Sr., 6-0, 185, Franklin (6A)
5 – Max Nowlin, Jr., 6-4, 200, Scappoose (4A)
5 – Kade Long, Sr., 5-10, 155, Banks (3A)
5 -- Logan Backman, Sr., 6-0, 185, Myrtle Point (1A-8)
4 – Cru Newman, Sr., 5-11, 175, Central Catholic (6A)
4 -- Baird Gilroy, Jr., 6-5, 210, West Linn (6A)
4 – Liam Davis, Jr., 6-1, 175, Lake Oswego (6A)
4 -- Tommy Morris, Jr., 5-11, 175, Caldera (5A)
4 – Caleb Russell, Jr., 5-11, 160, Philomath (4A)
4 -- Tyler Knapp, Jr., 5-10, 155, Enterprise (1A-8)
3 – Connor Crum, Sr., 6-0, 180 – Mountain View (5A)
3 – Ashton Moody, Sr., 5-11, 165, Cascade Christian (3A)
3 -- Riley Lantis, Sr., 6-2, 179, Riverside / Ione (2A)
3 -- Kody Sparks, Jr., 6-0, 160, Crosspoint Christian (1A-8)
3 – Wyatt Geiger, Sr., 5-10, 185, Days Creek (1A-6)
3 – Houston Wittenberg, Jr., 6-1, 165, Culver (2A)
Rushing yards (150 or more on the ground)
354 – Nate Young, Sr., 5-10, 145, Monroe (2A)
330 -- Jarrett Martin, Soph., 5-11, 175, Gaston (2A)
301 -- Chris Sickles, Jr., 5-11, 170, Falls City / Kings Valley Charter (1A-6)
270 – Parker Crowe, Jr., 6-3, 190, Alsea (1A-6)
241 -- Tyler Konold, Sr., 6-0, 220, Canby (5A)
233 – Jamahl Wilson, Sr., 5-10, 185, North Salem (6A)
214 -- DeAndre McDonald, Sr., 6-0, 185, Redmond (5A)
214 – Jack Roscoe, Jr.., 5-6, 110, North Lake (1A-6)
210 -- Jake Westerman, Sr., 5-10, 165, Gold Beach (2A)
204 – Ronan Schmidt, Sr., South Eugene (5A)
198 – Eli Freitag, Sr., 6-0, 175, Bandon / Pacific (2A)
189 -- Connor Dunlea, Sr., 5-11, 180, Lost River (1A-8)
184 – Jacob Hadley, Jr., 5-9, 170, Willamina (2A)
179 -- Clayton DeWitt, Jr., 5-9, 172, Cottage Grove (4A)
178 – Connor Dye, Sr., 5-10, 165, Springfield (5A)
172 -- Gabe Williamson, Jr.., 6-0, 185, Oakland (2A)
166 – Angel Valenzuela, Soph., 5-11, 190, Mountain View (5A)
162 – Zach Smith, Sr., 5-11, 210, Dayton (3A)
154 -- Gavan Hinchberger, Jr., 5-7, 175, Alsea (1A-6)
153 -- Tucker Mack, Soph., 5-8, 200, Sutherlin (3A)
152 – JaMar Thurman, Jr., 5-9, 170, Lowell (2A)
150 – Kayden Hartman, Jr., 6-0 180, Lost River (2A)
Receiving yards (100 or more)
206 – Cash Landau, Jr., 6-2, 210, Franklin (6A)
178 -- Jeff Spooner, Jr., 6-4, 175, Klamath Union (4A)
177 -- Mason Mueller, Jr., 6-1, 162, La Salle Prep (4A)
175 -- Nick Crowley, Jr., 5-10, 180, Wilsonville (5A)
160 – Parker Bartholomew, Sr., 6-2, 160, Regis (2A)
155 – Clark Warner, Sr., 5-11, 155, Days Creek (1A-6)
148 – Noah Koenig, Sr., 5-10, 170, Regis (2A)
140 – Walker Bonar, Sr., 6-3, 180, Thurston (5A)
124 – Luke Newell, Sr., 6-3, 205, Thurston (5A)
116 – CD Nuno, Soph., 6-2, 180, Philomath (4A)
108 – Wyatt Burgess, Sr., 6-0, 185, Cove (1A-8)
105 – Nolan Kelly, Jr., 6-2, 180, North Medford (6A)
101 -- Warwick Bushnell, Jr., 6-2. 165, Philomath (4A)
Return yards (100 or more)
131 -- Canon Winn, Jr., 5-6, 145, Burns (3A)
113 – Mark Wiepert, Jr., 6-1, 180, Wilsonville (5A)
Tackles (10 or more)
19 – Mark Wiepert, Jr., 6-1, 180, Wilsonville (5A)
19 -- J.J. Kuunifaa, Jr., 6-1, 206, La Salle Prep (4A)
15 -- Mana Tuioti, Jr., 6-0, 230, Sheldon (6A)
14 -- Ryder Jackson, Soph.,, 5-6, 140, Seaside (4A)
14 -- Cean Sanchez, Sr., 5-7, 175, Gold Beach (2A)
13 -- Vincent Noble, Sr., 6-0, 185, Eagle Point (5A)
13 -- Will Ingle, Jr., 6-0, 215, Wilsonville (5A)
12 -- Jesse Bauldree, Sr., 5-9, 150, Salem Academy (3A)
11.5 -- Derek Corder, Jr., 5-8, 165, Phoenix (3A)
11 -- Tevin Laird, Jr., 6-2, 195, Tigard (6A)
11 -- Ty Smith, Sr., 6-0, 180, Wilsonville (5A)
10.5 -- Chris Sickles, Jr., 5-11, 170, Falls City / Kings Valley Charter (1A-6)
10 -- Cayden Howard, Sr., 5-8, 125, Prairie City/Burnt River (1A-6)
10 -- Jacob Thayer, Jr., 6-1, 210, La Salle Prep (4A)
10 -- Hayden Rice, Sr., 5-10, 229, Redmond (5A)
10 -- Nelson Wilstead, Sr., 6-0, 190, Gold Beach (2A)
10 – Adrian Stubbs, Sr., 5-11, 185, Lakeview (3A)
Interceptions (2 or more)
3 – Louden Cole, Sr., 5-9, 145, South Umpqua (3A)
2 -- Kenen Elder, Sr., 6-1, 180, Tualatin (6A)
2 – Ashton Moody, Sr., 5-11, 165, Cascade Christian (3A)
2 – Landon Mitchell, Sr., 6-2, 180, Heppner (2A)
2 – Elliott Foust, Sr., 5-11, 155, Falls City / Kings Valley Charter (1A-6)
2 -- Colton Sprenger, Sr., 6-0, 171, Scappoose (4A)
2 – Colt Ness, Jr., 5-11, 160, Tigard (6A)
2 – Trenton Battle, Jr., 5-8, 150, Taft (3A)
Sacks (2 or more)
3 -- Joel DeJong, Sr., 6-0, 190, Lost River (2A)
2 -- Brock Lacy, Jr., 6-1, 165, Lost River (2A)
2 -- Lee Harrison, Jr., 5-11, Irrigon (2A)
2 -- Ethan Cantrell, Sr., 5-11, 235, Alsea (1A-6)
2 -- Peyton Smith, Jr., 5-10, 165, Eagle Point (5A)
2 -- Landen Bauer, Sr., 6-0, 170, South Umpqua (3A)
2 - Jayce Shorb, Jr.,, 6-0, 205, Powers (1A-6)
2 -- Alex Esuk, Soph., 6-0, 232, Sunset (6A)
2 -- Enrike Aguilar, Jr., 6-3, 240, North Salem (6A)
Touchdowns scored (3 or more actually scored (rushing, receiving and return); does not include TD passes))
7 -- Chris Sickles, Jr., 5-11, 170, Falls City / Kings Valley Charter (1A-6)
6 – Logan Whitlock, Sr., 5-8, 180, Henley (4A)
6 -- Jarrett Martin, Soph., 5-11, 175, Gaston (2A)
6 -- Jake Westerman, Sr., 5-10, 165, Gold Beach (2A)
5 – Parker Crowe, Jr., 6-3, 190, Alsea (1A-6)
5 -- Mason Mueller, Jr., 6-1, 162, La Salle Prep (4A)
4 -- Braiden Ellis, Sr., 5-10, 150, Monroe (2A)
4 – JaMar Thurman, Jr., 5-9, 170, Lowell (2A)
4 – Justin Cragwell, Soph. 5-11, 200, Sunset (6A)
4 – Walker Bonar, Sr., 6-3, 180, Thurston (5A)
4 – Will Johnson, Soph., 5-10, 165, Siuslaw (3A)
4 -- Connor Dunlea, Sr., 5-11, 180, Lost River (1A-8)
4 – Chase Bacus, Sr., 5-10, 165, Crosspoint Christian (1A-8)
4 – Wyatt Andler, Jr., 5-10, 195, Ia. B. Wells (6A)
4 – Jack Roscoe, Jr.., 5-6, 110, North Lake (1A-6)
3 – Kayden Hartman, Jr., 6-0 180, Lost River (2A)
3 – Billy Reynolds, Sr., 6-0, 195, Myrtle Point (1A-8)
3 – Nate Young, Sr., 5-11, 145, Monroe (2A)
3 – Ty Terry, Jr., 6-0, 175, Sutherlin (3A)
3 – Bryson Baird, Sr., 5-8, 150, Douglas (3A)
3 – Isaac Heveron, Sr., 6-0, 190, Newberg (6A)
3 – Ronan Schmidt, Sr., South Eugene (5A)
3 -- Tyler Konold, Sr., 6-0, 220, Canby (5A)
3 – Kaden Huff, Sr., 5-10, 170, Eagle Point (5A)
3 – Lukas Hews, Sr., 6-3, 190, West Albany (5A)
3 – Luke Newell, Sr., 6-3, 205, Thurston (5A)
3 – Angel Valenzuela, Soph., 5-11, 190, Mountain View (5A)
3 -- Rocco De La Rosa, Soph., 6-1, 170, Philomath (4A)
3 – Seth Wehinger, Sr., 6-0, 205, Tillamook (4A)
3 – Ashton Moody, Sr., 5-11, 165, Cascade Christian (3A)
3 – Eli Freitag, Sr., 6-0, 175, Bandon / Pacific (2A)
3 – Jacob Hadley, Jr., 5-9, 170, Willamina (2A)
3 -- Cayden Howard, Sr., 5-8, 125, Prairie City/Burnt River (1A-6)
3 – Cash Landau, Jr., 6-2, 210, Franklin (6A)
3 -- Ashtyn Irwin, Jr., 5-10, 175, Enterprise (1A-8)
3 -- Kol Tolan, Soph., 6-1, 165, Taft (3A)
Week 1
Find Week 1 stat stars at this link: https://www.osaa.org/today/article/3392/view?title=Football+stat+stars+%E2%80%93+Week+1
Week 2
Find Week 2 stat stars and season-long totals after two weeks at this link: https://www.osaa.org/today/article/3403/view?title=Football+stat+stars+--+Week+2+and+season-to-date
Season to date
Passing yards (750 or more through the air)
1,011 -- Kollin Schumacher, Sr., 5-9, 150, Regis (2A)
980 – Logan Backman, Sr., 6-0, 185, Myrtle Point (1A-8)
964 – Athan Palmateer, Sr., 6-2, 200, South Salem (6A)
955 – Max Nowlin, Jr., 6-4, 200, Scappoose (4A)
936 – Kallen Gutridge, Sr., 6-3, 185, Wilsonville (5A)
872 – Will Reid, Sr., 6-0, 185, Franklin (6A)
864 – Lukas Hews, Sr., 6-3, 190, West Albany (5A)
774 – Rocco McClave, Sr., 6-2, 175, Crescent Valley (5A)
Touchdown passes (9 or more)
15 -- Kollin Schumacher, Sr., 5-9, 150, Regis (2A)
15 – Logan Backman, Sr., 6-0, 185, Myrtle Point (1A-8)
11 – Max Nowlin, Jr., 6-4, 200, Scappoose (4A)
11 – Athan Palmateer, Sr., 6-2, 200, South Salem (6A)
10 – Lukas Hews, Sr., 6-3, 190, West Albany (5A)
10 – Cru Newman, Sr., 5-11, 175, Central Catholic (6A)
10 – Kade Long, Sr., 5-10, 155, Banks (3A)
9 – Rocco McClave, Sr., 6-2, 175, Crescent Valley (5A)
9 – Will Reid, Sr., 6-0, 185, Franklin (6A)
9 – Noah Blair, Jr., 6-2, 175, Thurston (5A)
9 – Jojo Harrower, Jr., 6-4, 180, Ashland (4A)
Rushing yards (400 or more)
725 – JaMar Thurman, Jr., 5-9, 170, Lowell (2A)
701 – Eli Freitag, Sr., 6-0, 175, Bandon / Pacific (2A)
*543 – Hunter Vaughn, Soph., 6-1, 175, North Douglas / Yoncalla (2A)
538 – Jacob Hadley, Jr., 5-9, 170, Willamina (2A)
537 – Angel Valenzuela, Soph., 5-11, 190, Mountain View (5A)
537 – Zach Smith, Sr., 5-11, 210, Dayton (3A)
524 – Chris Sickles, Jr., 5-11, 170, Falls City / Kings Valley Charter (1A-6)
520 -- Jake Westerman, Sr., 5-10, 165, Gold Beach (2A)
516 – Ethan Hendrickson, Sr., 5-8, 175, Ontario (3A)
516 -- Preston Fretwell, Soph., 5-7, 151, Dayville / Monument / Long Creek (1A-6)
508 – Connor Dye, Sr., 5-10, 165, Springfield (5A)
497 – Nate Young, Sr., 5-11, 145, Monroe (2A)
490 -- Rene Sears. Jr. , 5-10, 160, Powers (1A-6)
473 – Jamahl Wilson, Sr., 5-10, 185, North Salem (6A)
448 – Wyatt Andler, Jr., 5-10, 195, Ia. B. Wells (6A)
445 – Valentin Rodriguez, Jr., 5-9, 180, Crater (5A)
415 – Jacob Logan, Sr., 6-0, 195, South Umpqua (3A)
405 – Billy Reynolds, Sr., 6-0, 195, Myrtle Point (1A-8)
Receiving yards (300 or more)
498 – Evin Warner, Jr., 6-1, 175, Myrtle Point (1A-8)
415 -- Nick Crowley, Jr., 5-10, 180, Wilsonville (5A)
397 – Esteban Mendez, Sr., 5-6, 160, South Salem (6A)
386 – Noah Koenig, Sr., 5-10, 170, Regis (2A)
382 – Noah Holub, Sr., 6-6, 200, Valley Catholic (3A)
361 – Wyatt Burgess, Sr., 6-0, 185, Cove (1A-8)
345 – Eli Johnson, Sr., 6-4, 210, South Salem (6A)
344 -- Justice Anthony, Sr., 5-10, 175, McKay (5A)
342 – Parker Bartholomew, Sr., 6-2, 160, Regis (2A)
320 – Cash Landau, Jr., 6-2, 210, Franklin (6A)
307 – Blake Hurley, Sr., 6-3, 204, Sunset (6A)
Return yards (175 or more)
218 -- Gavin Aguero, Soph., 5-7, 150, McKay (5A)
204 -- Justin Craigwell, Soph., 5-11, 200, Sunset (6A)
186 – Simon Willis, Sr., 5-9, 155, Sandy (6A)
175 – Derek Craigwell, Sr., 5-9, 158, Sunset (6A)
Tackles (30 or more)
37 – Noah Holub, Sr., 6-6, 200, Valley Catholic (3A)
36 – Mark Wiepert, Jr., 6-1, 180, Wilsonville (5A)
34 -- Jesse Bauldree, Sr., 5-9, 150, Salem Academy (3A)
34 -- J.J. Kuunifaa, Jr., 6-1, 206, La Salle Prep (4A)
32.5 – Jerrik Wangler, Sr., 5-11, 195, North Salem (6A)
32 – Chris Sickles, Jr., 5-11, 170, Falls City / Kings Valley Charter (1A-6)
31 – Noah Scharer, Jr., 6-0, 195, South Salem (6A)
31 -- Stealth Franklin, Sr., 5-7, 160, Bandon /Pacific (2A)
30 -- Ivan Morales, Jr., 6-1, 220, Tigard (6A)
30 -- Jacob Thayer, Jr., 6-1, 210, La Salle Prep (4A)
Interceptions (3 or more)
5 – Colt Ness, Jr., 5-11, 160, Tigard (6A)
5 – Elliott Foust, Sr., 5-11, 150, Falls City / Kings Valley Charter (1A-6)
3 – Thomas Borden, Sr., 6-1, 170, Oregon City (6A)
3 – Louden Cole, Sr., 5-9, 145, South Umpqua (3A)
3 – Luke Larson, Sr., 6-2, 175, Wilsonville (5A)
3 – Aiden Metzger, Sr., West Albany (5A)
*3 – Mark Carpenter, Jr., 6-1, 170, Henley (4A)
Sacks (3 or more)
5 – Hatimu Letisi, Sr., 6-1, 250, South Salem (6A)
*5 – William Walker, Sr., 6-2, 195, Dallas (5A)
4 -- Grant Ellison. Sr., 6-5, 220, La Salle Prep (4A)
4 – Aaron Burgess, Sr., 6-3, 160, Falls City / Kings Valley Charter (1A-6)
4 – Konner Lussier, Sr., 5-11, 180, South Umpqua (3A)
4 – Logan Knapp, Jr., 5-10, 175, Bandon / Pacific (2A)
4 -- Enrike Aguilar, Jr., 6-3, 240, North Salem (6A)
4 -- Austin Stockwell, Sr., 5-9, 190, St. Helens (4A)
3.5 – Landon Risseeuw, Fr., 6-1, 190, Willamina (2A)
3.5 -- J.J. Kuunifaa, Jr., 6-1, 206, La Salle Prep (4A)
3.5 – Lucas Folau, Jr., 6-2, 240, Marshfield (4A)
3 – Jerrik Wangler, Sr., 5-11, 195, North Salem (6A)
3 -- Noah Lubisich, Sr., 6-4, 235, Wilsonville (5A)
3 -- Alex Esuk, Soph., 6-0, 232, Sunset (6A)
3 – Eli Clason, Sr., 6-2, 200, Mountain View (5A)
3 – Carter Elliott, Sr., 6-4, 260, South Salem (6A)
3 – Luke Fahner, Sr., 6-1, 205, Barlow (6A)
*3 -- Joel DeJong, Sr., 6-0, 190, Lost River (2A)
Touchdowns scored (7 or more)
15 – Chris Sickles, Jr., 5-11, 170, Falls City / Kings Valley Charter (1A-6)
14 – Logan Whitlock, Sr., 5-8, 180, Henley (4A)
12 – JaMar Thurman, Jr., 5-9, 170, Lowell (2A)
11 – Jacob Hadley, Jr., 5-9, 170, Willamina (2A)
9 – Ethan Hendrickson, Sr., 5-8, 175, Ontario (3A)
9 – Evin Warner, Jr., 6-1, 175, Myrtle Point (1A-8)
9 – Zach Smith, Sr., 5-11, 210, Dayton (3A)
8 – Jamahl Wilson, Sr., 5-10, 185, North Salem (6A)
8 – Wyatt Andler, Jr., 5-10, 195, Ia. B. Wells (6A)
8 – Angel Valenzuela, Soph., 5-11, 190, Mountain View (5A)
7 – Noah Koenig, Sr., 5-10, 170, Regis (2A)
7 – Eli Freitag, Sr., 6-0, 175, Bandon / Pacific (2A)
7 -- Rene Sears. Jr. , 5-10, 160, Powers (1A-6)
7 – Kane Sullivan, Jr., 6-2, 180, McMinnville (6A)
*7 -- Ty McLaughlin, Sr., Elgin (1A-8)
New category—FGs over 40 yards
None reported
New category – consecutive made extra points (10 or more)
22 – Martin Benites, Sr., Ontario (3A)
19 – Conner Calvert, Sr., 6-4, 205, Mountain View (5A)
15 – Drew Nees, Sr., 6-1, 191, Sunset (6A)
11 -- Vance Sheffield, Jr., 6-0, 150, La Salle Prep (4A)
10 -- Lucas Ikjaer, Jr., Crescent Valley (5A)