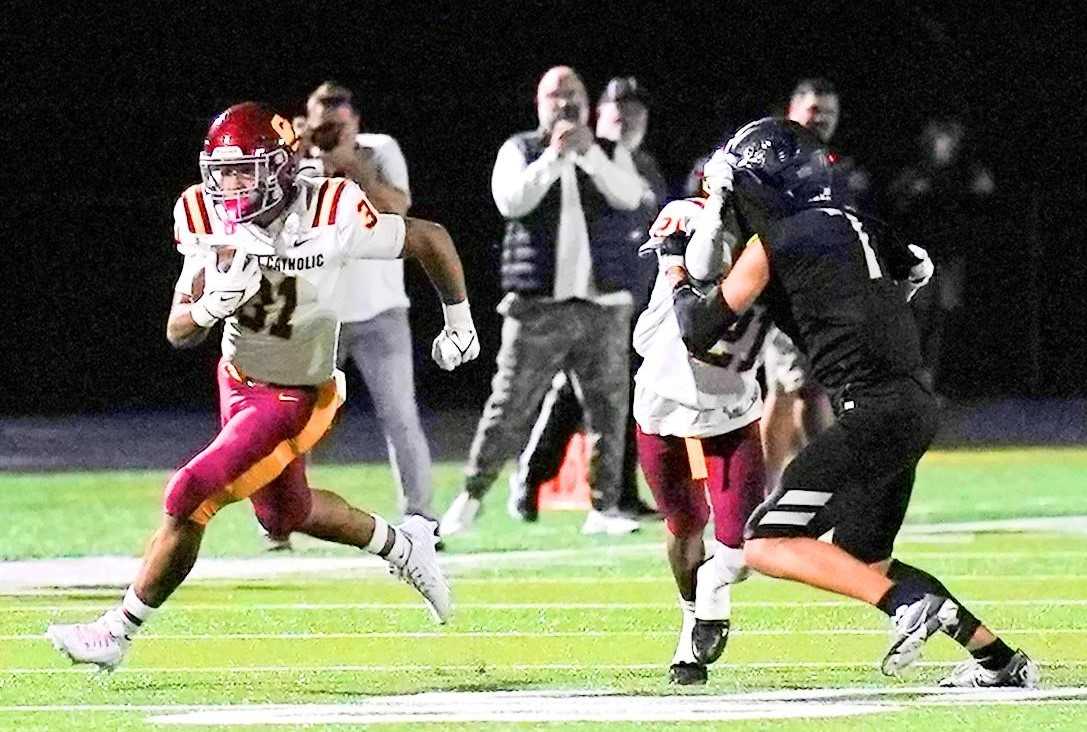 HAPPY VALLEY – As the overwhelming favorite in Mt. Hood Conference football, No. 2 Central Catholic knows that complacency could be its biggest hazard.
Staying vigilant was especially key for the Rams on Friday night at Nelson, last year's second-place team and one of the state's rising programs.
"We couldn't take them lightly," sophomore running back Tyson Davis said. "Coach (Steve) Pyne was saying that throughout the whole week. Locker room speech before the game, exactly what he was saying."
Central Catholic (4-0, 2-0) was on task from the start, getting a 57-yard touchdown run from Davis on the game's third play and pulling away for a 42-7 win over the Hawks (2-2, 1-1). The Rams forced four turnovers -- turning two into touchdowns – and gained 412 yards, with 367 coming in the first half.
The only blemish was a rash of penalties, most of them on offense.
"I thought we took care of business offensively and defensively," Pyne said. "I thought defensively we shut down most of what they wanted to do. Offensively, we did OK. We still are too undisciplined. We've got to clean up the penalties or we're going to get bit at some point in time."
Central Catholic took a 14-0 lead in the first quarter when junior defensive lineman Zach Davis stripped the ball from Nelson senior Eddy Keomany and raced 45 yards for a touchdown. The lead grew to 28-0 in the second quarter on a 50-yard run by senior quarterback Cru Newman and a 63-yard pass from Newman to Tyson Davis.
"One of our sayings at Central is, 'Let it swing,'" Tyson Davis said. "We came out here, we got it done. We just put it all on the field."
After the Hawks made it 28-7 on a seven-yard run by Keomany, Central Catholic put together its more impressive drive of the night, going 90 yards in 11 plays to lead 35-7.
Newman was masterful on the drive, completing 7 of 8 passes, including a seven-yard touchdown to senior D'Marieon Gates with 14 seconds left in the half.
Nelson fought off the running clock through the third quarter, getting interceptions from junior Noah Boria and senior Sam Lewis to deny the Rams.
Central Catholic didn't cue the running clock until senior cornerback Timmy Mitchell snagged a tipped pass – his second interception of the game – and raced 64 yards for a touchdown and a 42-7 lead with 9:56 left.
"He makes magic happen," Tyson Davis said of Mitchell.
Newman completed 16 of 22 passes for 228 yards and two touchdowns with two interceptions and ran for 84 yards and one score on six carries. Tyson Davis scored on two of his three official touches and had a spectacular 60-yard touchdown run nullified by a penalty.
Rams senior lineman Matix Carpenter praised the 5-foot-10, 195-pound Davis.
"It's so fun playing offensive line with him," Carpenter said. "You get a block, he's sitting there and playing it slow. He finds the hole, and he hits it hard when he does. He's dragging people down, three or four guys, breaking them off. It's just unbelievable. He's got young wheels, a lot of speed, a lot of power."
Central Catholic suffered a blow late in the first quarter when junior wideout Zhaiel Smith limped off the field after catching a 49-yard pass. Pyne said that Smith, who did not return, is likely to miss a couple weeks with an ankle injury.
Nelson had success moving the ball, finishing with 356 yards, but struggled to finish drives. Junior quarterback Avirey Durdahl completed 12 of 26 passes for 178 yards and Keomany rushed for 117 yards and one score on 22 carries.
The 5-9, 170-pound Keomany has rushed for 371 yards through four games.
"He's shifty, and he runs hard," Durdahl said. "We give him a little bit of space, he's going to make a play."
The Hawks had won two in a row since opening the season with a 37-0 loss at No. 1 West Linn.
"We've made great progress," Durdahl said. "At West Linn we struggled a little bit, but this game our offense looked very confident. We knew we could compete with them, it's just about finishing drives at the end.
"Hopefully we'll see those teams we lost to in the playoffs."
After facing the state's top-ranked 6A teams, how do they compare?
"They're 1A and 1B," Durdahl said.
Pyne tipped his cap to the Hawks and coach Aaron Hazel.
"They're better. They've improved a ton as a program," Pyne said. "We knew we had a battle tonight, and our kids responded to that challenge."