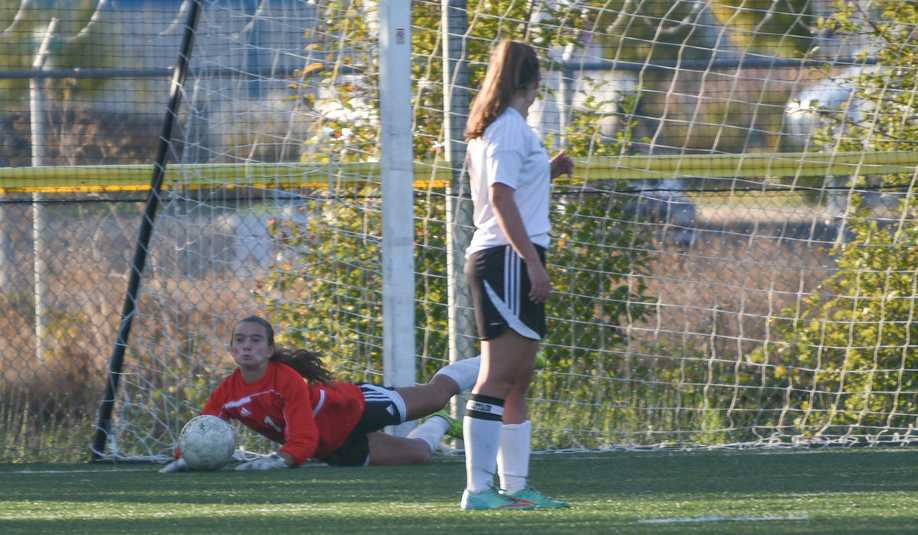 With the start of the 2018 season now just days away, let's take a brief look at news and items of interest from across the state in girls soccer:
"She's a Keeper!"
Before 2012, Cascade Christian (Medford; 3A/2A/1A) was a struggling program. The Challengers have been consistently good since then and, last year, narrowly lost to state runner up Catlin Gabel, 2-1, in the state quarterfinals. Though four starters have graduated, there are many indications that 2018 could be coach Mick Power's best year ever at Cascade. Six returning starters and a couple of key freshmen fuel that optimism. It certainly helps that one of the six returnees is three-time Conference "Keeper of the Year" Audrey Quast…
"Oh yes they call that the streak!"
At North Eugene High (5A), the Highlanders are in the midst of a very special run: no losses in the last 22 matches at home dating back to September 22, 2015 when they lost to Marist Catholic. Marist comes a-calling this Thursday, but it's just a jamboree and won't affect the streak, which will be tested early, said coach Brandy Wormdahl, because North Eugene will be very young in 2018, with as many freshmen on varsity (4) as seniors.
One of the freshmen is Avery Wormdahl. She has big shoes to fill if the Highlanders, with six returning starters, is going to make a bid to get back to the 5A state championship match. Her sister, Jordan, now playing at the University of Oregon, was Conference POY in 2017. Avery Wormdahl will be wearing her sister's No. 9 and trying to help her mom, now in her 23rd season, pile up more wins behind the Highlander bench…
"The Sunset of Sunset's Success?"
Sunset (Portland; 6A) has been in the state championship match the past two seasons, but returning for the hat trick may be a challenging proposition for the Apollos. The team lost five starters, will be very young, are a defensive-minded team that may find scoring goals to be a challenge and return only one All-Conference player, junior midfielder Stephanie Niebergall.
"Having a Honkin' Good Time at Lakeview"
Lakeview HS (3A/2A/1A) is a newer program that's gone from not winning a match in 2014 to reaching the state semifinals last season while compiling a 10-3-1 record. The Honkers graduated only three, but one was their standout keeper. Senior All-State forward Brette Graham is among nine key returning players, who should help this small Eastern Oregon school competing in a tough conference continue to build on their recent success…
"Storm Surges into Class 6A"
Summit High (Bend; 6A) took Class 5A by Storm in virtually every sport last season. Girls soccer was no exception, as Jamie Brock's team was 16-2 in 2017 and edged North Eugene by a goal at Hillsboro Stadium for the crown in what was supposed to be a rebuilding year but ended up being the Storm's sixth 5A title over the past eight seasons. Summit is moving up the Class 6A starting in 2018 and the going is bound to be tougher, especially with five de parted starters, two of whom were among the team's leading scorers. Summit also graduated a four-year starting defender and its starting goalkeeper. Coach Brock thought she had a strong net minder to take her place but the rising sophomore will instead play for the Thorn FC's development academy. The cupboard is far from bare, however. Summit brings back five All-League performers and First Team All-State middie Michaela Gorman for her senior season…
"Playing for Coach Nicole"
North Valley (Grants Pass; 4A) had won three straight Skyline Conference Championships and enjoyed an undefeated state championship campaign in 2016 under head coach Nicole Kersten. But Coach Kersten was forced to step away from the Knights program after last season and, in March, lost her life after a long fight against cancer. Assistant coach Paul Kelly was hired in May to take the reins and he has a good team back. The midfield will have a void after the graduation of two very strong players, but North Valley brings back 2016 state POY Baylee Touey, a forward, for her senior year along with six other returning starters. That includes junior midfielder Kaylee Touey, an All-Conference performer a year ago. Freshman defender Karlee Touey, who is speedy and skilled, is among four newcomers expected to impact the squad…
"Graduation Robbin' Hood"
Hood River Valley (Hood River; 5A) starts 2018 with a streak of having won a Columbia River Conference title for the past eight years. The Eagles, however, are now in the Intermountain Conference and, having graduated 13 off of last year's 9-4-2 team, including conference POY Yaya Chavarria, may find extending their conference streak a difficult proposition. Sophomore Mira Olson should be the key to HRV's attack in 2018…
"Quest for Gold Gives Catlin Gabel Mettle"
For three straight seasons, the Catlin Gabel Eagles (Portland; 3A/2A/1A) have finished as state runners up. The team hasn't worn Gold since 2010, the last of 12 straight titles under former coach Brian Gant. With only one defender having graduated and five players back who were either First Team or Second Team All-State in 2017, including Goalkeeper of the Year Ally Priest, this should be a terrific fall for the Eagles. Said head coach Chris Dorough: "We scheduled a tough preseason to test the girls right out of the gate, and push them to compete right away. It's a long season and a lot can happen, but we expect to compete for a state championship in 2018."
"A story that could have really sucked!"
Finally, we give you a story that's just a little batty. Last Thursday, with poor air quality preventing outdoor play at Mountain View HS (Bend; 6A), the Cougars were forced indoors to train in the auxiliary gym only to discover, upon entering, the presence of one who had not made the team. Flying around wasn't Dracula but his ever-flapping friend with a similar taste for blood.
Within no time (I could say, "right off the bat"), the winged creature had cornered the team and held them hostage for more than five minutes! Finally, thanks to the courage of two players who would not bat an eye in the face of the bat, the animal decided to seek refuge in a place a little clammier and a lot darker and departed through the open door for parts unknown.
Whereupon practice resumed. That's that about the bat…