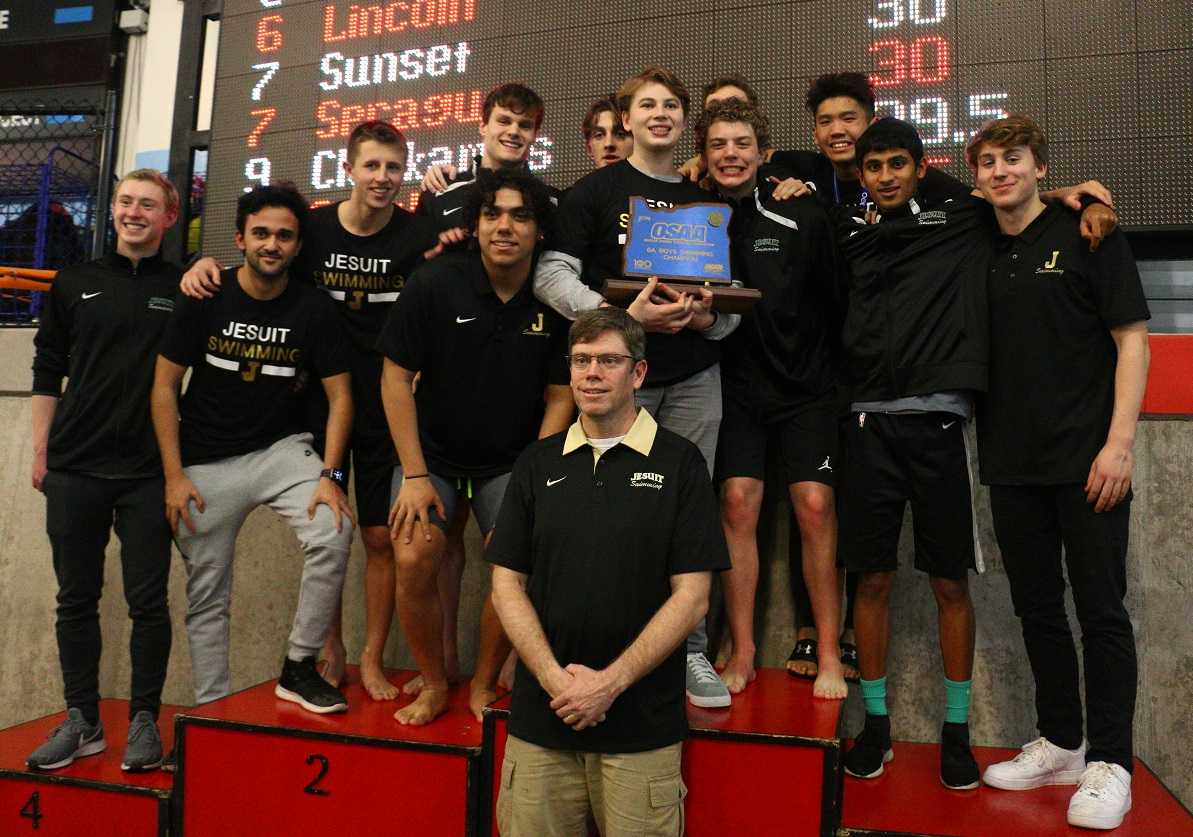 BEAVERTON -- If winning a fifth consecutive title wasn't enough for Jesuit in the OSAA/OnPoint Community Credit Union 6A boys swimming championships Saturday at Tualatin Hills Aquatic Center, the Crusaders added an historical touch.
Jesuit provided the exclamation point to its triumph on the final event, the 400-yard freestyle relay, by setting an OSAA meet record. Senior Trent Martinez, junior Noah Duyck, freshman Matthias Kreutzer and sophomore Marco Nosack finished in 3:07.67, breaking the old mark of 3:08.1 (Sunset, 2013).
"They wanted to break a record," Crusaders coach Bryan Butcher said. "Trent goes out and goes a 45, and it's like, wow, that sets the tone for the rest of them. After a long weekend like this, they still could do it at the end."
Jesuit also won the 200 medley relay, got a victory from Nosack in the 100 breaststroke and piled up points with its depth. The Crusaders amassed 101 points to outscore Central Catholic (77), Newberg (53) and West Linn (49).
The meet marked the return of Century senior Luke Thornbrue, who won the 200 freestyle and 500 freestyle as a freshman but did not compete in high school the last two years.
The Notre Dame-bound Thornbrue didn't disappoint, setting an OSAA meet record in the 200 freestyle (1:37.27) and winning the 500 freestyle. The USC-bound Martinez, the champion in both events the last two years, settled for two second-place finishes behind Thornbrue.
"Yeah, there were parts of me that missed it," Thornbrue said of high school swimming. "I don't regret anything, though, because there were parts that I missed and parts that I didn't miss.
"It was a lot of pressure with the college recruiting for my sophomore and junior year, mainly, so it was kind of nice to focus on club. But now that that pressure was off my back, it was fun to come back and do high school swimming for my last year."
Central Catholic, third last year, kept the heat on Jesuit to finish a strong second. Junior Kevin Keil (200 IM) and senior Spencer Adrian (50 freestyle) won titles for the Rams.
Other winners were Tigard senior Ben Miller (100 butterfly) and South Eugene senior Anzo DeGuilio (100 freestyle). Newberg's 200 freestyle relay – seniors Zach Jordan, Elijah Clements and Trey Fincher and sophomore Ty Patterson – set a 6A meet record (1:26.11).
5A
Springfield emerged from a pack of contenders to win its first championship. The Millers, who placed fourth last season, scored 53 points to edge West Albany (48), North Bend (44) and Churchill (32).
"We knew that we had a really good shot at winning. We didn't disappoint ourselves," Springfield sophomore Diego Reyes said. "Everyone performed the way they wanted to."
Reyes won the 100 breaststroke, senior Elijah Dapkus took the 100 freestyle and the Millers finished first in the 200 medley relay and 400 freestyle relay. The breaststroke win was a thrill for Reyes, who has dropped his time three seconds in the last two weeks.
"It's pretty crazy. I'm really proud of myself," Reyes said. "I started swimming eight years ago, and I was the slowest swimmer, the worst swimmer I've ever seen. I just loved it so much, and that's what really helped me."
The meet also had breakout performances from two freshmen in Churchill's Charley Page-Jones and Crater's Marcus Reyes-Gentry. Page-Jones won the 50 freestyle and 100 butterfly; Reyes-Gentry captured the 500 freestyle and 100 backstroke.
"I didn't think I'd be able to do this," Page-Jones said. "I came in thinking I might be able to get some good places, maybe drop a little time. But I did not expect this. This is a nice surprise."
West Albany won the 200 freestyle relay. The Bulldogs also got a title from senior Kieran Van Hors in the 200 freestyle.
4A/3A/2A/1A
Newport won all three relays on its way to a repeat title. The Cubs racked up 90 points to outscore Marshfield (46), La Grande (33) and Salem Academy (26).
Newport was able to reload this season after graduating several key contributors from last year's team.
"The guys we did graduate, we definitely had other members of the team that were ready to fill those positions," Cubs coach Angie Sremba said. "We knew we had this potential, but the state meet, you never know what's going to happen. They just performed well. They exceeded my expectations."
Newport senior Lucas Ellingson-Cosenza repeated as champion in the 500 freestyle and won the 200 IM. He led a Cubs onslaught in the 500 freestyle as three others placed in juniors Luke Bachart (second), Tristan Scarborough (fifth) and Kolby Spink (sixth).
Newport also got a title from junior Caden Shanks in the 100 backstroke.
With so many juniors eligible to return, the Cubs look like a threat for a three-peat.
"We'll see what happens next year, but we have a lot of strong leaders still on the team," Sremba said.
Nyssa senior Nathan Esplin won the 200 freestyle and 100 butterfly for the second year in a row. La Grande senior Garren Dutton repeated his title in the 100 freestyle and won the 50 freestyle to finish his career with five individual titles.
Photos of state championship events are available from Northwest Sports Photography at 4nsp.com