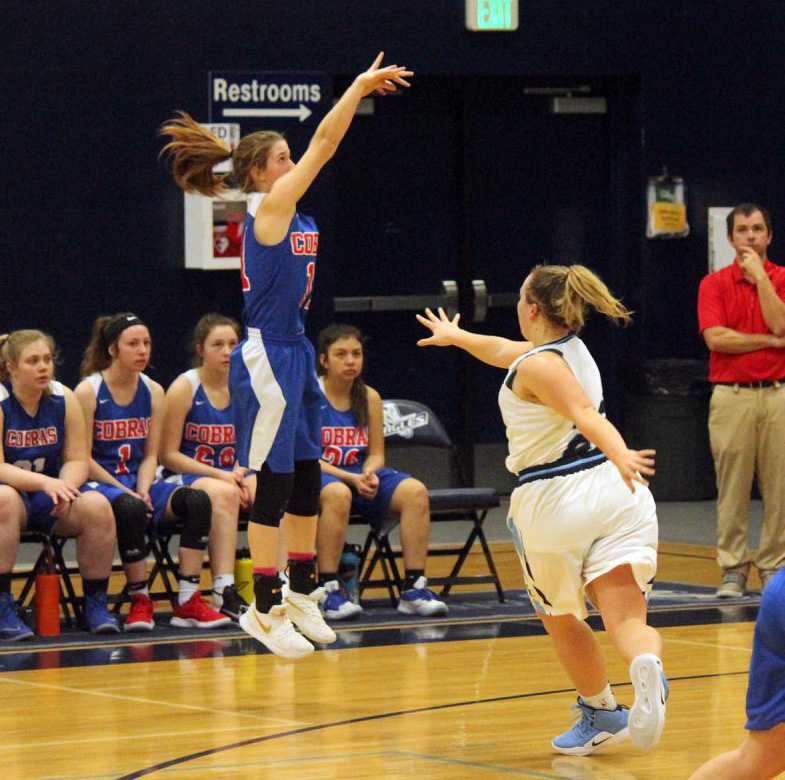 Central Linn hasn't been to the state tournament since 2006, the Cobras are 0-3 against the field at the OSAA / OnPoint Community Credit Union 2A State Basketball Championships that start tomorrow at the Pendleton Convention Center and they open against defending state champion Kennedy.
Despite what appear to be long odds, head coach Marcus Campbell said that his senior-led team, which is 21-5, will be ready.
"All of our losses came to teams in the top four in the state rankings," he explained. "I see us competing. We have a good chance to do some damage."
Central Linn is led by two First Team All-League seniors: wing Colleen McLaughlin, who averages 18 points and four boards per game; and point guard Jessica Neal, who contributes nine points, six rebounds, six steals and five assists per game. Sarah Conner, a senior post, averages eight points and nine rebounds per game. She recently won a state wrestling title for the fourth consecutive year.
Central Linn's plan to do damage is simple: on offense, the Cobras will shoot a fair number of three pointers and push the pace in transition. Defensively, they will apply full court pressure from the first tap. The team is experienced, won on the road to open the playoffs and play a lot of kids to try to wear down opponents. Next up: Kennedy.
***
Kennedy is the defending state champion at 2A, comes to Pendleton as the top seed and ranked first in the OSAAtoday coaches poll. But head coach Kerry Hall said that her Trojans, who are 26-1 on the year, are one of several teams that could leave the state tournament with the blue trophy.
"Every game at Pendleton will be a battle," she said. "We know this is going to be hard and our girls have to show up for every game."
Kennedy is 1-1 against the tournament field. The Trojans lost by seven to Oakland, which is No. 2 in the OSAAtoday coaches poll, on Dec. 21; then handed Coquille, No. 3 in the same poll, its only loss on the season one week later. Kennedy has a deep and well-round roster of 12, led by 6-0 junior post Sophie Carley, 5-10 senior guard/post Kalyssa Kleinschmit and 5-7 sophomore guard Ellie Cantu.
"We play high intensity defense and fast paced offense," said Hall. "We play as a team every night."
Oakland is 24-3 on the year and, at 3-1, has the best record against the field heading to Pendleton. But the Oakers, who finished sixth a year ago, have been dealing with a weather-related power outage for several days that has hampered their preparation.
"We are a group that prides itself on team offense and defense," said coach Don Witten. "All five of our starters have Pendleton experience: Seniors Hadley Brooksby, Cassidy Jones and Grace Witten, and juniors Gabriella Parnell and Andrea Bean.
"We will play hard, and know we will represent our school and community well."
Grant Union (18-5) is one of three teams representing the Blue Mountain Conference, located on the eastern side of the state, in Pendleton. The Prospectors won the conference, are 3-2 versus the field and No. 4 in the OSAAtoday coaches poll.
After finishing fourth at the state tournament a year ago, GU will be looking to do better with a roster led by three seniors: 5-7 forward Madison McKrola, who averages 14 points and six rebounds per game; 5-5 point guard Hailie Wright, who averages 13 points, five rebounds, three steals and three assists per contest; and Kaylee Wright, who contributes 17 points, four rebounds and five steals per.
The Prospectors, who have never won a state title, will run a fast-paced offense with quick ball movement and attempt to attack the basket. Finishing top three is the goal, but GU has the talent to be in the mix for the championship.
"This team is hard working, coachable and fun to be around," said coach Kristi Moore.
Coquille, which was No. 3 in the final OSAAtoday coaches poll, may be the X-factor in Pendleton. The Red Devils have played in the 3A state tournament the past three years, finishing fifth or better. Located on the coast near Bandon, Coquille didn't have to travel far to play in the 3A tournament in Coos Bay. Going to Pendleton more than 450 miles away is another story altogether.
"It's a new venue for us but our goal is still the same: to bring home some hardware," said coach Tim GeDeros. "We are ready to show Pendleton who the Coquille Lady Devils are."
Coquille will feature a well-balanced offense at State, led by Sunset Conference Player of the Year, Morgan Baird, a junior. Others to watch include First Team All-Conference senior Halle Layton and senior Abbey Dieu, the conference's Defensive Player of the Year.
"It's been a great season with some great girls," said GeDeros, who added there's more work to be done.
"Realistically, I want to win," he explained. "I mean, if you are not playing for first place, then you might as well stay home."
Heppner, another Blue Mountain Conference squad, went 0-2 at state a year ago. The Mustangs, who come to Pendleton with a 4-2 mark against the current field, have reasonable expectations to do better than that in 2019. The team is led by two First Team All-Conference guards: sophomore Sydney Wilson, who averages 22 points and nine rebounds per game; and Jacee Currin, who contributes 16 points, six rebounds, three assists and two steals per game. Also watch center Madison Combe, a senior who can be a presence in the paint.
"We will compete to the best of our ability and we will see what happens," said coach Robert Wilson.
Vernonia and Enterprise round out the field. Seeded 17th, Vernonia is the only team outside the OSAA top eight to get to the tournament. The Loggers got to State by shocking Monroe on the road on Saturday.
Vernonia was last in the state tournament in 2015, where it finished fourth (also beating Monroe). The Loggers haven't played a game against a team in the tournament but the win over Monroe, which finished fifth in the final OSAAtoday coaches poll despite the loss, is a testament to the team's ability.
The team is led by freshman guard Brooklynn Walters. She averages 17 points, six rebounds and four steals per game. (Actually, it's 5.6 rebound and 3.6 steals but the tournament is in Pendleton so we round up). Senior point guard Joyce Everett, a coach on the floor and defensive stalwart; and junior wing Jordan Walters are two others to watch. The team runs a complex motion offense designed to create scoring opportunities for everyone on the floor.
Enterprise missed the state tournament a year ago, but finished second this year in the Blue Mountain Conference and qualified for state by besting Portland Christian on the road. The Outlaws have a balanced offense led by senior guard Shelby Moncrief. She averages 10.5 points per game, but Mike Crawford's team has four more who average between six and eight points. Keep an eye on posts Karli Bedard and Ashlyn Gray. Both average nearly seven points and nine rebounds per contest.
***
Thursday's First-round matchups (at Pendleton Convention Center):
Grant Union v. Coquille, 1:30 p.m.
Central Linn v. Kennedy, 3:15 p.m.
Heppner v. Oakland, 6:30 p.m.
Vernonia v. Enterprise, 8:15 p.m.