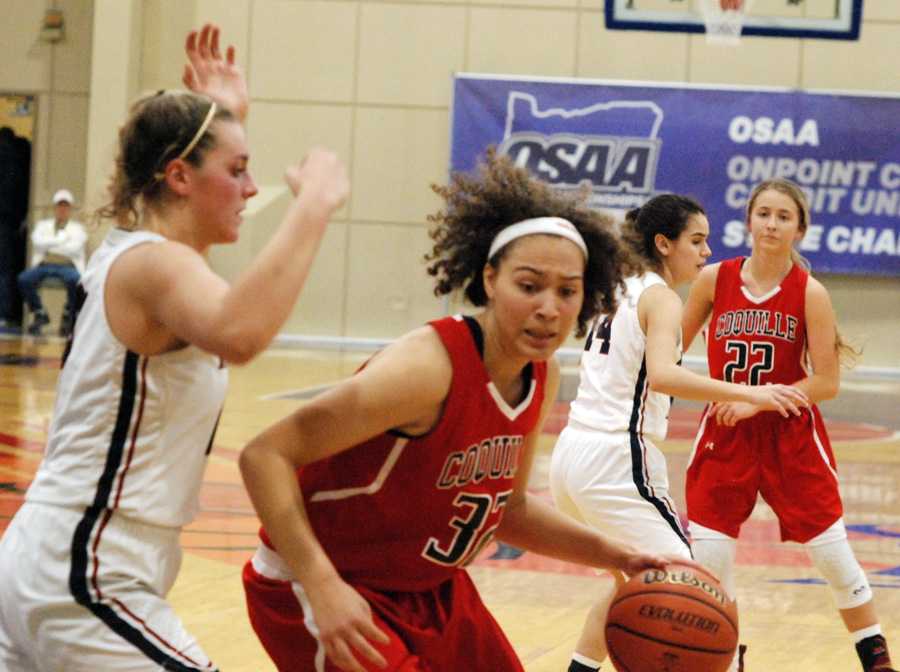 PENDLETON -- With the score tied at 35-35 late in overtime of the first 2A semifinal of the OSAA / OnPoint Community Credit Union Girls State Basketball Championship Friday evening in Pendleton, Morgan Baird knew she needed to make a play.
"I was just thinking, 'I need to get a bucket; I need to score for our team,' the Coquille junior explained. "I went up there and trusted that I could make it."
The Sunset Conference Player of the Year took the ball at the left elbow and drove to the basket, finishing with a sprawling left-handed circus shot that dropped to give the Lady Devils the lead once more over Kennedy, the top seed and defending state champion. Coquille, which trailed for only 32 seconds the entire game against the Trojans, did not relinquish the lead again. Drew Wilson and Baird each hit two free throws in the closing seconds to seal the 41-35 win that put Coquille into its first-ever girls basketball championship match.
"We've never finished higher than fourth," said Baird. "This is so exciting! We've worked hard all season. This is the top."
Coquille will take on Heppner in tonight's 2A championship game. The Mustangs defeated conference foe Enterprise, 39-32, in the other semifinal.
***
For most of the game, Coquille looked like it would go wire-to-wire to dethrone Kennedy. Baird hit a three pointer to open the first-quarter scoring, Wilson added a free throw and assisted on Carlee DeGeros' lay-up. The Red Devils led 6-0 with the game scarcely three minutes old.
Coquille kept at least a three-point lead for virtually the balance of the game. When Abbey Dieu scored on a sweet reverse and then completed an 8-2 run with a stick back to make it 20-9 Coquille, it appeared that the Lady Devils might never be challenged. But Hailey Arritola scored five straight points for Kennedy to close the half and Kalyssa Kleinschmit converted an old-fashioned three-point play to open the scoring in the third quarter to make it a game again.
With Baird supplying the offense for Coquille and Dieu playing terrific defense and rebounding, the Red Devils (27-1) took a five-point lead into the fourth quarter. Kennedy slowly chipped away. When Sophia Carley scored on a hook shot, the Trojans were back within three at 27-24.
Coquille had opportunities in the final period to put the game away but could not convert in transition and made mistakes which gave Kennedy chance after chance. Carley's put back got the Trojans to within 29-27 with three minutes to go. A steal and two subsequent free throws from Ellie Cantu cut the lead further, to just one with 86 seconds to play.
Dieu was fouled with 48 seconds left and went to the line with the chance to extend Coquille's lead. The senior hit the first free throw but missed the second and, in an act of aggressive frustration, committed a foul trying to get the rebound. Kleinschmit calmly knocked down two free throws to tie the game with 31 seconds left in regulation.
"My heart sunk," said Dieu about the foul that led to the game being tied. "I thought, 'If this comes to where we don't make it I'm going to put it all on my shoulders.'"
Neither team scored again in regulation and the teams headed to overtime tied at 31-31. To many it felt like déjà vu. Back in late December, Coquille and Kennedy played an overtime game with Kennedy prevailing by five, 53-48. When Cantu hit a jumper just inside the three-point line to start the extra four-minute session and give Kennedy its first lead of the game, it appeared history would repeat itself.
Coquille coach Tim GeDeros didn't think so.
"I just think they didn't want to lose," he said. "We've been waiting for them all year. We lost to them once in overtime. We didn't want to lose a second time."
Dieu, attacking the basket, was fouled and went to the line, hoping for redemption. Her free throws were pure, tying the game. It was a weight off her shoulders, she said.
Baird followed with a spin and scoop to give Coquille the lead once more, but Kleinschmit countered with a jumper to knot things once more and set the stage for Baird's season-defining, game-winning drive.
"She's been our go-to girl all year," said GeDeros.
"We just played how we've been playing all season," said Baird. "Everyone came together and everyone gave it their all."
Arritola, Carley, Kleinschmit and Cantu scored all but two points for Kennedy (27-2). The quartet also combined for 26 of the team's 29 rebounds. Kennedy, however, shot just 25 percent from the field for the game.
Baird finished the game with 20 points and 10 rebounds for Coquille. Dieu added 10 points and 10 rebounds. The win was No. 100 for the Coquille senior class.
Asked why the outcome was different this time around, GeDeros was succinct.
"We played harder," he said. "We just played harder."
In the other semifinal…
Heppner 39, Enterprise 32 – The Heppner Mustangs led start to finish in the fourth meeting this season with Enterprise, their Blue Mountain Conference rival. The Mustangs started the game on a 7-0 run – getting buckets from Jacee Curtin, Madison Combe and Madelyn Nichols – and resisted several Enterprise rallies to defeat the Outlaws for the third time this year. This evening, Heppner will seek its second-ever state title 33 years after capturing its first.
The outcome of this rivalry game was never certain until free throws by Jenna McCullough and Sydney Wilson in the closing seconds sealed Heppner's win. Athletic Enterprise responded to Heppner's 7-0 run to start the game with a six-point spurt of its own, featuring points by Karli Bedard and Zari Bathke, and the Outlaws always stayed close, seeming answering every Heppner scoring outburst with one of its own.
Heppner's lead was just one, 29-28, entering the fourth quarter. A huge three from Wilson from the top of the key and a sweet Currin jumper were key moments in the final period, when the Mustangs (21-8) outscored Enterprise, 10-4.
"Enterprise is a great team," said Heppner coach Robert Wilson. "We've played them four times now and knew what to expect. It was going to come down to little things like boxing out and rebounding. I just think we came out and competed hard."
Wilson led Heppner statistically with 16 points and 11 rebounds. Bedard and Lexi Gassett both reached double figures in the loss for Enterprise (20-7).
Recapping the consolation rounds from the 2A girls tournament:
Central Linn 53, Grant Union 30 – Colleen McLaughlin and Sarah Conner combined for 33 points for Central Linn, which broke open a close game by outscoring the Prospectors 13-4 in the third quarter. The Cobras (22-6) held GU (18-7) to less than 25 percent shooting for the game.
Vernonia 50, Oakland 38 – The Loggers (17-10) outscored Oakland in every quarter to reach the trophy game. Freshman Brooklynn Walters led the way with 27 points and eight rebounds. Hadley Brooksby scored 27 to lead Oakland, which finished its season with a 24-5 record.