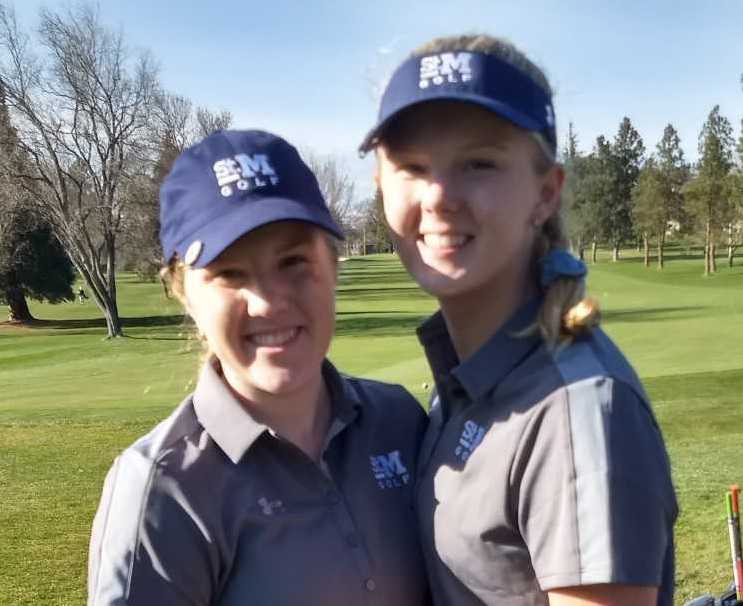 It looks as if it could be a while before St. Mary's of Medford is knocked off its perch in 4A/3A/2A/1A girls golf.
The names have changed since the Crusaders won their first of three consecutive state titles in 2016, but the team remains as strong as ever.
Last year, Baylee Hammericksen replaced the graduated Staesha Flock and won the individual title as a freshman. This year, the team has another standout freshman in Riley Hammericksen, who steps into the spot vacated by 2016 state champion Kamryn Ford.
"I've felt all along with Riley coming in, we're not really losing much," coach Kevin Klabunde said. "We're still going to be in pretty good shape come state tournament time. But I never want to say that we're a lock to win the state title."
The Hammericksens, daughters of South Medford boys golf coach Jamie Hammericksen, grew up playing in the junior program at Rogue Valley Country Club.
"They love the game. Everybody knows them because they're always out there," Klabunde said. "Since they were knee-high to a grasshopper, they've had a club in their hands."
Baylee Hammericksen was the team's No. 1 player all last season. In the state tournament at Quail Valley, she shot 2-under par to win by five strokes and lead the Crusaders to an 86-stroke victory over runner-up Heppner/Ione.
"She knows her game inside and out," Klabunde said. "She knows what she needs to do if things start to go awry. She's got a great head for the game. She's gained a little length this year over last year. She's still going to be a force to be reckoned with at the state level."
Riley Hammericksen, who at 6-foot-1 is about four inches taller than her sister, has a big swing arc, according to Klabunde.
"She pounds the ball," Klabunde said. "She's longer than Baylee on average, but she doesn't quite have the same game that Baylee does at this point. She's got a different personality. She's not as intense as Baylee is."
The Crusaders also have senior Kaylee Wu, who has finished fourth, second and fourth in the last three state tournaments. Wu has committed to play golf in college at Lipscomb University in Nashville.
Wu also comes from a golfing family. Her brothers – Dylan, Jeremy and Josh – won individual state titles for St. Mary's. Dylan went on to a successful college career at Northwestern and has turned pro. Jeremy and Josh are playing at Valparaiso and Air Force, respectively.
St. Mary's has a solid top three with the Hammericksens and Wu, but they need a strong No. 4. At this point, the leading candidate is junior Grace Johnson, who tied for 37th at state last year.
"We've got some developing to do, but we're solid for the next three years with the Hammericksens," Klabunde said.