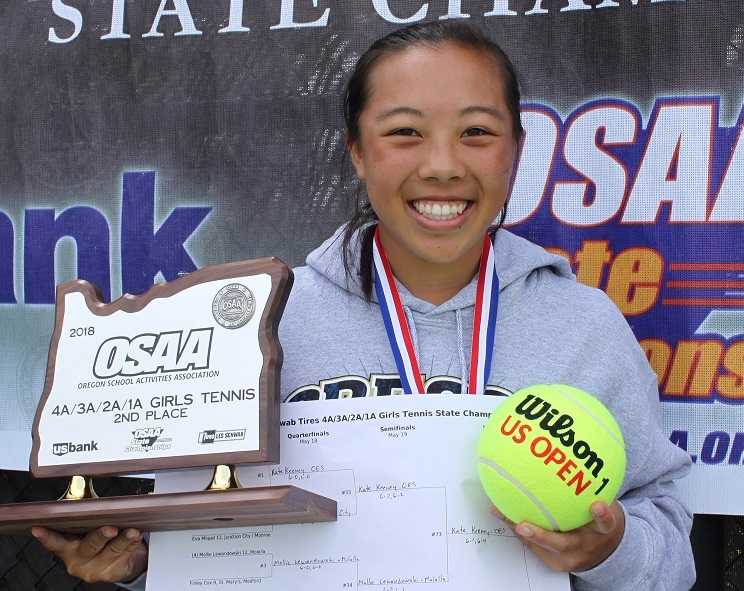 Klamath Union's Courtlyn Lam has had plenty of time to digest completing one of the most dramatic comebacks in the history of the state tennis tournament.
Looking back, she recalls how a moment of clarity allowed her to rally from a 5-2 deficit in the third set to win 7-5 against Oregon Episcopal's Kate Keeney in the 4A/3A/2A/1A girls final, giving the Pelicans their first singles champion since Jessyca Arthur in 1997.
"I just remember being 2-5 and knowing that this could be it, so I just played from my heart and didn't care about winning or losing at that point, because I kind of knew what the outcome was," Lam said. "Not that I gave up, but I just realized in the moment what was happening. From there, I just played my heart out."
Entering this season, Lam finds herself in an unusual position. She is a junior at Triad, a nearby 1A school without a tennis team. But because she started her OSAA eligibility as an eighth-grader on the team at Klamath Union, technically, she is a senior for the Pelicans.
She started her high school career early so she could focus on getting ready for college as a senior.
"I also knew that my eighth-grade year, I needed to play more, and I knew I could get that by playing high school tennis," she said.
So even though she won't graduate until 2020, this is her final season to make a mark.
"It's really sad because of the team aspect," she said. "It's going to be sad to see them practicing next year."
Lam – whose father, Frank, was the boys tennis coach at Klamath Union and whose brother, Hayden, played there – has already made quite an impression at the school. She has won three district singles titles and in 2017 led the Pelicans to their first district championship in more than three decades.
She won the singles consolation title at state in 2016 and placed third in 2017 before defeating the top-seeded Keeney for the title last year, helping Klamath Union finish tied for second place in the team standings.
"She's just been a big asset to our program," Pelicans coach Mary Young said of the 5-foot-2 left-hander. "Not only because she's such a talented player, but she's a great teammate. She's a wonderful example of determination.
"She's a fun player to watch. She's kind of short and small, but she hits with a lot of power and she's really got an all-court game. She's got that lefty serve that everybody hates."
Lam's biggest obstacle to improvement has been finding higher-level competition on a regular basis. Relatively unchallenged in her area, her biggest tests come when she plays in Universal Tennis Rating tournaments each month in southern Oregon, often facing boys.
"It's just getting the experience of being in a match setting and playing through a whole match instead of just practicing," she said. "That's kind of my downfall right now is just getting a lot of playing time. … What I lack is not from power, but from consistency."
She is likely to get a tougher test in Special District 3 this season, though, with the addition of Marist Catholic.
"I know some of the players there," Lam said. "That will be a new experience."