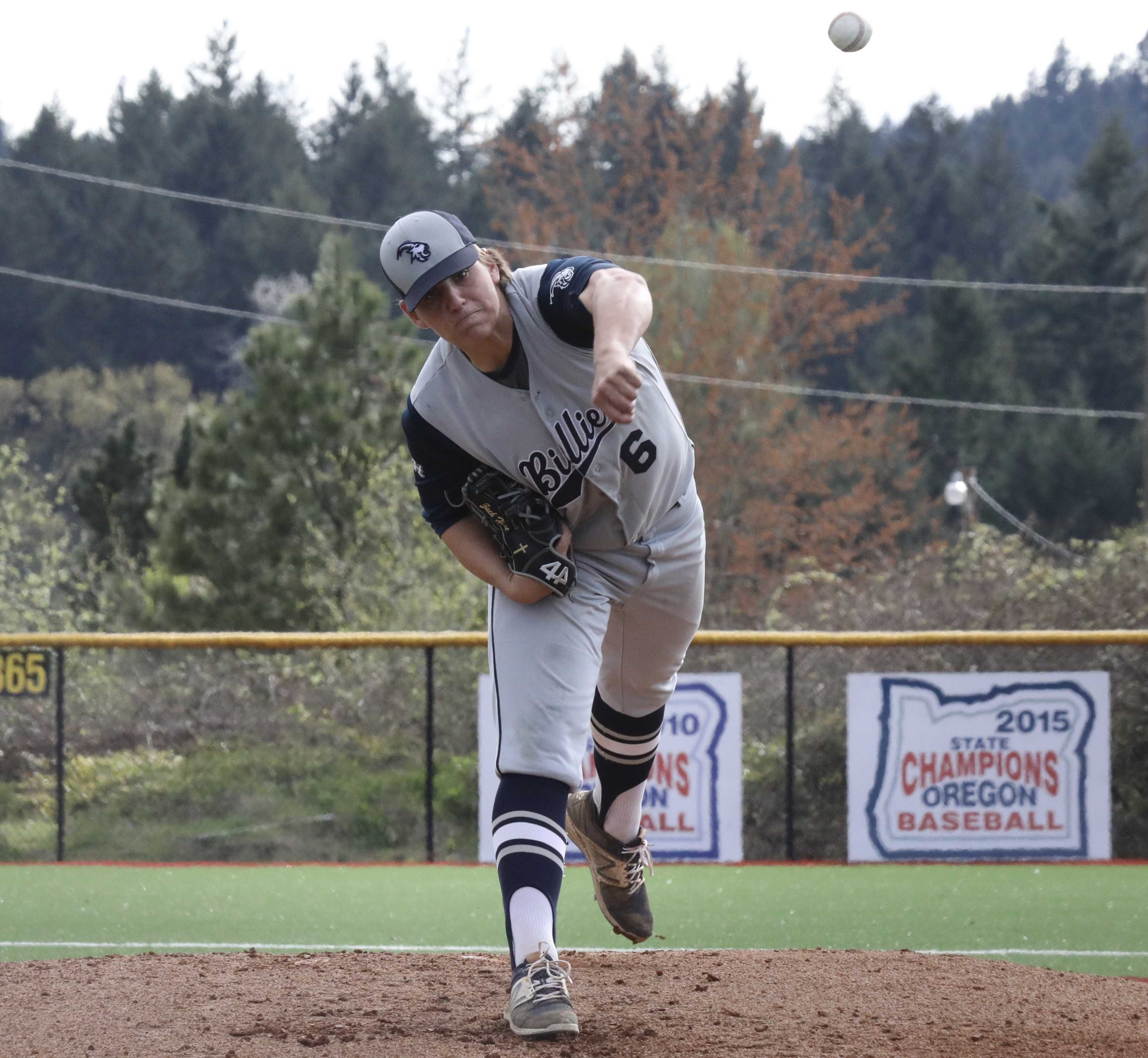 ADAIR VILLAGE — Pleasant Hill arrived for its critical 3A Special District 3 baseball game at Santiam Christian on Tuesday with all the equipment it needed for the showdown: Bats, balls, gloves and senior pitcher Zach Hart.
But the weekend-old chip on the fourth-ranked Billies' shoulders — all of them — may have had the most to do with their impressive 8-2 victory.
Hart threw 5 1/3 sturdy — if labored — innings for the Billies. He allowed only three hits — only one for extra bases — and struck out 10 Eagles. But he also walked five of them and wound up throwing a soaring 106 pitches.
At the plate, he had two singles, one run and another run batted in as the Billies teed off on Santiam Christian starter Sean Riley.
All nice, but what had Pleasant Hill (8-3, 2-1) really cranked up was last Friday's inexplicable 1-0 loss to Harrisburg. At home. Harrisburg entered the game with a 3-6 record.
"We still had kind a bitter taste in our mouths about that one," P-Hill coach Phil Dube said. "We're dealing 14-, 15-, 16-, 17-year-olds who might forget and take somebody lightly.
"You don't take anybody lightly, and Harrisburg is a lot better than their record. It was just one of those days where we hit balls right at people all day long."
The weekend practices were, uh, a little intense. But they didn't have to be.
"We knew we goofed," Hart said. "We practiced hard. We motivated each other."
No way, then, that the same thing would happen against the third-ranked Eagles on Tuesday. Santiam Christian (10-4, 1-2) is good every year, and a road win in a tight league like Special District 3 would be huge.
Properly motivated, the Billies arrived ready, and scored six of their eight runs in the first three innings.
Hart's two-out smash to left field in the first inning scored Stephen Parmenter for the early lead, then the Billies all but ensured the victory with a four-hit, four-run second.
It was Billie baseball at its best: Get 'em on and get 'em moving. Garet Skelton drove a single off an Eagle infielder, then got to third on Jonathan Oljace's blooper to center field. Oljace took second on the throw, then Jacob Hylemon fisted another blooper to right field to drive home the first run of the inning.
Parmenter singled to right bring Oljace in and took second on the throw to third looking to snuff Hylemon. Jake Pray dropped a perfect safety squeeze bunt that scored Hylemon, and the Eagles just weren't ready when Parmenter steamed around third and beat the throw to the plate.
It was left to Hart to hold it, and the big left-hander had no trouble. He was just wild enough to keep the Eagles from timing him, and had enough gas in his arm when he needed it.
It looked for all the world as if Dube was saving Hart for this particular game, but he wasn't.
"It just turned out that way (in the rotation)," Dube said. "We expect that whoever goes out there for us is our number one pitcher. He had quite a bit of adrenaline out early on and had some things working well for him, and he got ahead on the count."
Said Hart, "I felt good out there. That was about normal for me."
Santiam Christian coach Matt Nosack was complimentary.
"He's a big left-handed kid with good velocity," he said. "Early on we didn't do that well against him. We've still got some growing to do."
And not much middle room to do it. The league has the second-ranked team in the state (unbeaten LaPine), and the third and fourth played each other Tuesday.
Pleasant HIll gets LaPine (10-2, 3-0) three more times — including this Thursday — and Santiam Christian gets the Hawks twice more. And Santiam Christian and the Billies square off twice more themselves.
So it was too early Tuesday to forecast how it's all going to turn out. But it was not to late to recover, either.