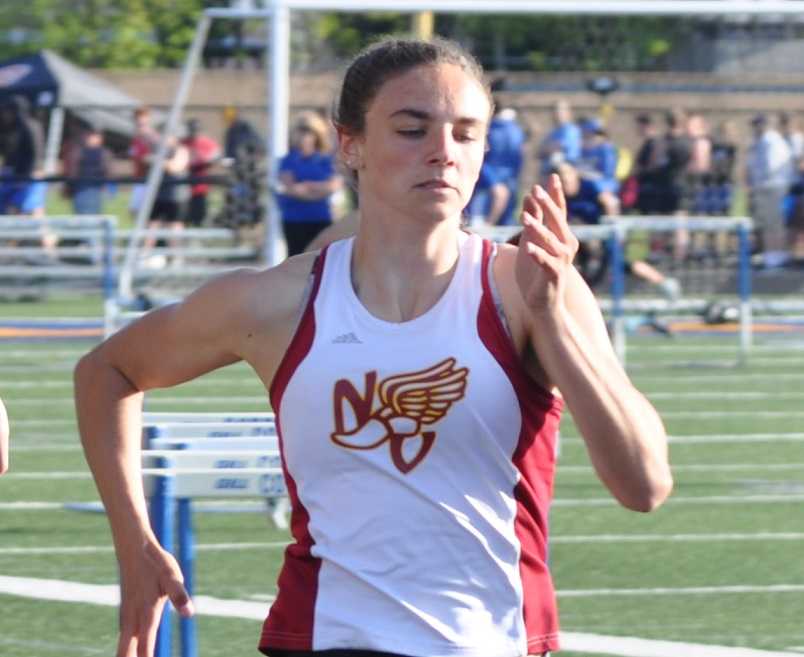 The tremendous high school athletic career of Baylee Touey at North Valley may be ending soon, but the senior remains motivated to check off a couple more boxes.
Ever since she enrolled at the 4A school located a few miles north of Grants Pass, Touey has had her eye on the school records in the sprints jointly held by twins and 2014 graduates Kerissa and Venessa D'Arpino.
Last Saturday at the 70th annual Grants Pass Rotary Invitational, Touey became just the third girl in state history to run under 24 seconds in the 200 meters. She ran a hand-timed 23.6 seconds, which converts to 23.84 for fully automatic timing. (Unfortunately, the girls 200 final was one of two races at the where back-up hand timing had to be used.)
It was a big moment for Touey, who passed Venessa D'Arpino (24.11) and Kerissa D'Arpino (24.39) on the all-time list. The sisters both remain on the state's top 10 list.
"I've been training really hard this year to break some records and push myself to be the best I can be," Touey said. "The heat helped. It was nice to run in 85-degree weather. It was really awesome to see that time after I ran. I felt like I ran really hard."
Touey has signed with Southern Oregon University, where she intends to play soccer and run track. She closed her prep soccer career last fall with 115 goals scored, the fifth most in state history.
But no challenge seems to great for Touey, who has spent four determined years trying to run as fast as the D'Arpinos, who are both fifth-year seniors at the University of Oregon.
"Coming into freshman year I heard about who they were and what their times were," Touey said. "(The D'Arpinos) are known around the school and town, and around Oregon. I thought I would really like to try and beat their times and be as fast as they were, or even faster."
Touey also ran a personal best 12.10 seconds in the 100 meters last weekend and would like to try and push that time below 12 seconds this week at the Skyline district meet or at the state championships next week at Mt. Hood Community College.
In that event, Kerissa D'Arpino is the school record holder at 11.94, Venessa is next at 12.00 and Touey is third.
In the 400 meters, Venessa is the leader at 54.68, followed by Kerissa at 55.63 and Touey at 57.04.
Touey believes she can go faster.
"I would be satisfied (to go under 12 seconds in the 100)," she said. "And if I could get into the low 56s (in the 400), I would be happy with myself. I know I'm capable. It's just the mental part I need to focus on. I just need to go out there and do it."
Last spring, she was clocked at 54.5 while running a leg of her team's 4x400 relay.
Touey has already made a lasting impression on the 4A meet. She has won eight state individual track titles and could push that total to 11 before she's done.
North Valley coach Aaron Samuelson said that beyond her athletic exploits, Touey has been a humble star throughout her time in high school.
"She leads by example and is kind to people," he said. "You would never know she was an eight-time state champion. She's unassuming in a lot of ways."
Touey hopes to become an elementary school teacher someday.
But now, she's got two weeks to leave her final and lasting imprint on the record book.
Doug Binder is the editor of DyeStat.com