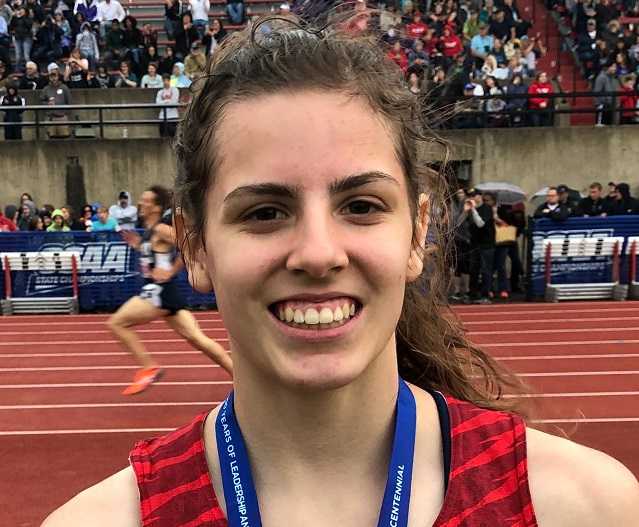 MONMOUTH -- Jordan White is only a freshman at Neah-Kah-Nie. She has excelled at track in middle school, but was new to the big stage Saturday in the OSAA/OnPoint Community Credit Union 2A girls championships at Western Oregon University.
Regardless, White entered the meet looking to win the 800 and 1,500 meters, and did just that, finishing the 800 in 2:24.52 and the 1,500 in 5:00.01.
In the 1,500, Julia Ketcham of Lakeview was right behind White, pushing her stride for stride.
"I wasn't sure how far the girl was behind me, but I was thinking about finishing," White said. "So far this season there hasn't been anyone to pace me yet, but here I finally had someone to pace me."
Monroe senior Kyndal Martin won her fourth title in the 100 hurdles. She clocked 15.18 to win by more than one second.
Enterprise won both relays to finish first in the team standings, edging Grant Union by a half-point, 64.5-64.
1A
Elgin sophomore Aaliyah Burton won the 100 and 300 hurdles in the 1A meet Saturday at Western Oregon.
As she came down the final stretch, she decided it was time for some self-motivation.
"I was talking to myself saying, 'You got this,' and, 'You can win this,' so I pushed myself to the ultimate max, and I got there," Burton said.
Before the 300 hurdles, thunder and lightning within five miles of McArthur Stadium forced the meet into a one-hour weather delay.
"It was a bit harder when we went in there, and I was getting a bit tight because it was colder inside, but I jogged in there came back out and warmed up," Burton said.
In the 100, Kaylee Wright of Grant Union-- who on Friday set the meet record in the javelin and won the high jump -- came up a fraction of a second short of a third state title. Wright came in second with a time of 12.750; Enterprise's Shelby Moncrief won in 12.749.
Adrian outscored St. Paul 57-54 for the team title.
Kyle Pinnell is a student at Southridge High School