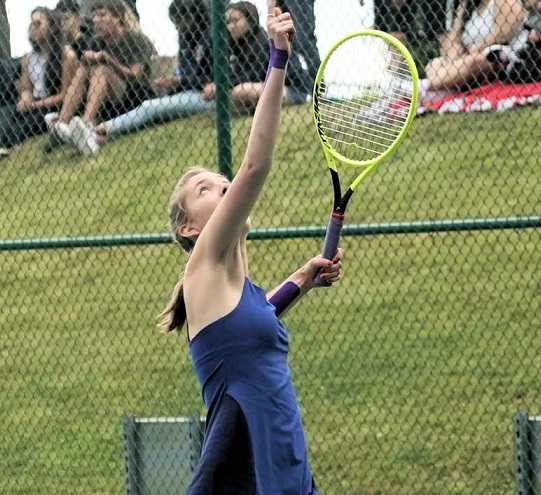 BEAVERTON -- The 2019 girls tennis season required some mental adjustments for Corvallis senior Anna Kern, the two-time reigning 5A champion.
Not only did she miss her sister, Tessa -- state runner-up the last two years before moving on to play at Linfield -- but Kern had to deal with injuries.
She was hindered by a chronically sore elbow, and if that wasn't enough, right before the Mid-Willamette Conference district meet, the left-hander injured her right wrist.
"It's been kind of a struggle," Kern said.
But when the smoke cleared after the OSAA/OnPoint Community Credit Union 5A tournament Saturday at Tualatin Hills Tennis Center, once again Kern stood alone at the top. She defeated West Albany senior Ceanne Elliott 6-3, 6-2 in the final for her third state championship.
"I haven't been able to really hit a two-handed backhand this whole time," the top-seeded Kern said. "It's a little bit harder to play at state with a one-handed backhand. That wasn't really what I expected, but it worked."
Kern's title was part of a big day for the Spartans. They got a repeat doubles title from senior Olivia McGough and junior Sarah Forester and put the final touches on their fifth consecutive state championship. Their 21 points lapped runner-up Ashland, which had eight points.
"It's been really fun. It's been a good four years," said Kern, who will play in college at Claremont McKenna (Calif.). "It's been really fun to represent my school, so it's kind of bittersweet."
McGough and Forester defeated the third-seeded North Bend team of senior Macy Metcalf and freshman Adrianna Frank 6-1, 6-1. They lost only five games in four state tournament matches.
"There was definitely more pressure this year," Forester said. "It motivated us to work that much harder."
6A
Sunset completed its own sweep in the 6A tournament at Tualatin Hills. The Apollos got a singles title from senior Serim Jin, a doubles title from juniors Bo-bae Yu and Jin Yu and wrapped up the team championship, their first since 1990, by outscoring runner-up Westview 28-12.
Jin, who made the semifinals as a freshman and was runner-up as a sophomore before opting not to play high school tennis as a junior, ended her career on top.
"It's really awesome," Jin said. "I had a lot of people come out to support me, and that meant a lot."
The top-seeded Jin defeated the No. 2 seed, Westview freshman Karolina Dobiecka, 6-2, 6-4 in the final, her fourth win over the Metro League rival this season. It came a week after she beat Dobiecka 7-6, 7-6 (2) in the district final.
"I guess the environment is different, because there's a lot of people, but it just felt the same," Jin said. "It was just me playing against her like I did the past three times. I came in with an open mindset. I just went out there and played my game."
The Yu sisters, seeded first, won an all-Sunset doubles final, beating the third-seeded team of junior Yara Chehab and sophomore Lucy Erickson 6-2, 6-4.
"It feels amazing," Jin Yu said. "I feel like it's escaped us for so long. I think that we improved this year, not in our tennis, but in our communication. We were more like a team rather than just like two really good players."
4A/3A/2A/1A
Klamath Union senior Courtlyn Lam repeated as singles champion in the 4A/3A/2A/1A tournament at Oregon State University.
The top-seeded Lam defeated unseeded Marist Catholic senior Chloe Lee 6-1, 6-2 in the final. Lam is a junior at nearby 1A Triad but began her high school eligibility as an eighth-grader on the team at Klamath Union.
Oregon Episcopal's top-seeded doubles team of freshmen Sonia Shenoy and Nicole Anderson came through with a title, defeating the No. 4 seed, Marist Catholic senior Nithya Vaikuntam and freshman Kira Weigel 6-4, 6-4 in the final.
Marist Catholic won its first team title since 1998. The Spartans scored 18 points to beat Catlin Gabel (13), Klamath Union (10) and two-time reigning champion Oregon Episcopal (10).