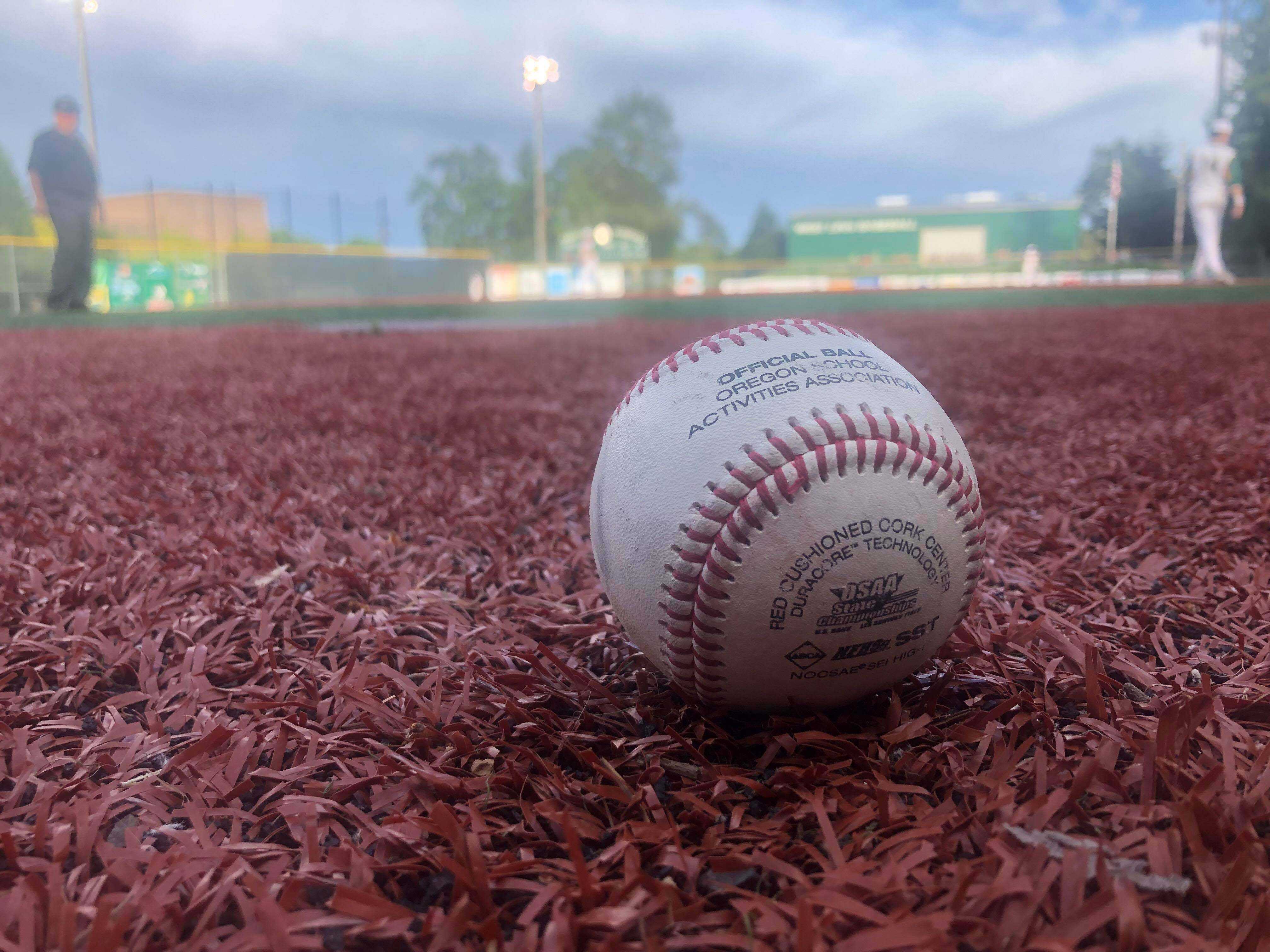 A look at Monday's 6A and 2A/1A first-round baseball games in the OSAA / OnPoint Community Credit Union State Championships:
6A
Jesuit 4, Wilson 0 -- The top-seeded Crusaders got 4 2/3 scoreless innings from junior Mick Abel and senior catcher Joe Angeli went 3-for-4 with two singles and a triple in the shutout win at home.
Southridge 6, Barlow 1 -- Zach Hald slammed two home runs and Michael Ball connected on a solo shot in support of Cameron Carlson, who went six strong innings on the mound for the Skyhawks, yielding just three hits.
McMinnville 4, Lincoln 3 – Freshman Kyran Hoskinson drove in two and McMinnville rallied from a 3-1 deficit with one in the fourth and two in the fifth for the home win.
Beaverton 1, North Medford 0 – Cooper Martineau's single in the bottom of the seventh scored John Oleson with the game's lone run. Kellen O'Connor threw the complete-game shutout for the Beavers, fanning nine. He outdueled North Medford's Ryan Sandoval, who gave up only four hit and one run in 6 1/3 innings.
West Linn 8, McNary 2 – Matty Kurtin hit a first-inning grand slam and JJ Hoover and Zach Bell also went deep in support of starting pitcher Jonathan Kelly, who tossed five hitless frames for West Linn at home. McNary's lone hit of the contest was a two-run home run in the seventh off the bat of senior catcher Tyler Covalt.
Bend 3, South Eugene 2 -- Kaden Miller of South Eugene handcuffed the host Lava Bears through six innings, but Bend put up a three-spot in the bottom of the seventh to walk off with the win. Tysen Scott had a two-run single to knot the score and Al Lovejoy came home on a passed ball for the game winner.
West Salem 2, Grant 0 -- Lucas Stanfield threw a complete game two-hit shutout for West Salem, which scored in the first courtesy of back-to-back doubles from Noah Juarez and Kyle Mitsuyasu. The Titans added a run in the sixth on Wilson Neitzel's pinch hit RBI single.
South Salem 9, Sheldon 4 -- South Salem scored eight runs on five hits in the bottom of the first inning, including a bases-clearing double from Sean Alvarado; to put perennial power Sheldon away early in the first-round game. Alvarado also was the winner, hurling five innings of scoreless ball.
Clackamas 5, Summit 4 -- The Cavaliers jumped out to a 4-0 lead after one and hung on for the win. Kaiden Miller set the Storm down in order in the top of the seventh to seal victory. Grant Schoen led the offense with three hits and two runs and scored the winning run in the bottom of the sixth.
Lake Oswego 7, Sherwood 0 -- Alex Giroux and Jacob Matlock combined on a no-hitter and Matthew Sebolsky went 3-for-3 with two doubles in the Lakers' home win. Gabe Deville and Brandon Day added two hits each for LO, which led 5-0 after three innings and was never threatened.
Sprague 4, Westview 3 -- Cole Herschbach threw 6 1/3 innings and Brett Hassoun finished up for the visiting Olympians, who got two hits each from Herschbach and Michael Soper. Soper drove home two runs. Mason Guera hit a massive homer in the fourth for Westview. "Westview is always in the mix of top teams in the state and it was a privilege going up to their place to play in a competitive game," said Sprague coach Luke Buchheit! "This time of year is always special because there is so much on the line for the teams. You practice and play for these specific moments and I like the way our kids fought."
Roseburg 3, Canby 1 -- Sean Wiese's RBI single broke a scoreless tie in the top of the sixth for Canby but Roseburg responded with three runs in the bottom of the frame to rally for the win. Caden Johnson finished 3-for-4 for the home team, including a two-run single in the decisive sixth inning.
Lakeridge 10, Grants Pass 5 – Senior Colin Hardy ripped a two-run double inside the third base bag to plate the go-ahead run as part of a three-run second-inning rally for Lakeridge in the home win.
Tigard 7, South Medford 6 – Senior CJ Rivers pitched a complete game and wriggled out of a seventh-inning jam to secure the home win for the Tigers. Senior Bennett Smith drove in five, including a three-run homer; in the loss for South.
Central Catholic 8, Tualatin 0 -- Dylan Maclean dominated on the bump for six innings and Jackson Elder led the offense with big hits and aggressive base running in the Rams' shutout win.
Century 9, Sandy 1 -- Micky Thompson went 5 2/3 innings with six strike outs to earn the win for Century, which recorded 14 hits, led by senior Gene Quitugua, who went 3-for-3 with a triple, two singles and a run scored. Senior Blake Baccay went 2-for-4 with two doubles and two RBIs.
2A/1A
Nestucca 1, Bandon 0 -- Logan Blackburn tossed a complete game one-hitter and Trey Wimberly singled home the game's only run in the first in Nestucca's win.
Glide 4, Lost River 0 -- Caleb Alexander tossed 6 1/3 inning of scoreless ball and Zach Holland, who had homered and tripled at the plate, came on for the save in the win for Glide.
Culver 13, Central Linn 1 -- Cord Gomes threw five shutout innings, Joe Russo delivered two extra base hits and Tadd Anderson plated two with a triple in Culver's win.
St. Paul 2, Santiam 0 -- Justin Herberger tossed a complete game shutout to give the Buckaroos their first state playoff win in program history.
Lakeview 5, Dufur / South Wasco County 0 – Alex Smith threw a complete game 75-pitch shutout and was supported by flawless defense in the Honkers' win. Jalen Lampmann and Bjorn Erickson combined to go 4-for-6 with three runs driven in to pace the offense.
Hosanna Christian / Triad 7, Pilot Rock / Nixyaawii / Ukiah 4 -- Jarrett Cline had three hits and was the game-winning pitcher for the TimberLions, who won their first-ever state playoff game.